There's been a lot of hype surrounding the launch of Yeti's new 6-inch-travel 'Super Bike'. Before it was even officially launched, Jared Graves was absolutely slaying enduro racecourses on it, and he won the grueling Crankworx Whistler Enduro in a dramatic come-from-behind finish aboard the SB6C. But, let's face it, Graves is a mutant, and he could probably win the Crankworx Enduro on a 40-pound clunker. What's more relevant is how the SB6c fares with mere mortals, like our Bike Mag Bible testers. Check out our 'Roundtable Reels' video to find out what we thought:
YETI SB6C X01 | $7,400 | YETICYCLES.COM
After just three years in production, Yeti scrapped its carbon all- mountain bike, the SB66c, and replaced it with this new model. Which had us wondering, WTF? Yeti claims that its new 'Switch Infinity' suspension linkage (the Kashima-coated, pigs-in-a-blanket device above the bottom bracket) makes this new version both a better climber and descender. We were skeptical. Then we rode it.
Traction on the loose, rocky sections of our climb was outstanding, though at least one of our testers noted that fans of superefficient pedaling machines may be making use of the 'Trail' position on the Fox Float X rear shock. With its 65.5-degree head angle, the Yeti also required (no surprise) some extra manhandling to clean tight switchback climbs.
That said, when you point this thing downhill, Yeti's tweaks truly shine. The SB6C features a longer and slacker cockpit than its predecessor and this, combined with its supremely plush and capable 6 inches of rear suspension, made cornering and plowing into technical sections an absolute dream. The term 'confidence inspiring' is cliché', but the Yeti earns that appellation honestly. On big, chunky terrain, the new SB6C simply smokes its predecessor and much of the competition.
Now for the not-so-rad news: We broke the rear triangle. Twice. Two different rear triangles gave up the ghost during two different crashes. To be fair, the damage that resulted could have shown up on any bike under similar circumstances, but when we break something, we tell you about it. Yeti examined the failures and later beefed up the carbon rear end to provide higher impact resistance. There were only a handful of bikes made with the layup we received, so SB6Cs on retail floors will have the updated rear end.
So, would we recommend the SB6C? From a pure riding perspective, it's hard to find fault with this bike. In fact, our testers never scored any aspect of the Yeti's performance less than a four out of five. It's one of the best-ranked bikes in this issue and flat out one of the best bikes we've ridden to date.
– Vernon Felton
Final Take:
Light, confident and capable–Yeti's new 'super bike' is a better climber and descender than its predecessor, and, quite frankly, much of the competition.
Click to learn more about our 2015 Bible of Bike Tests.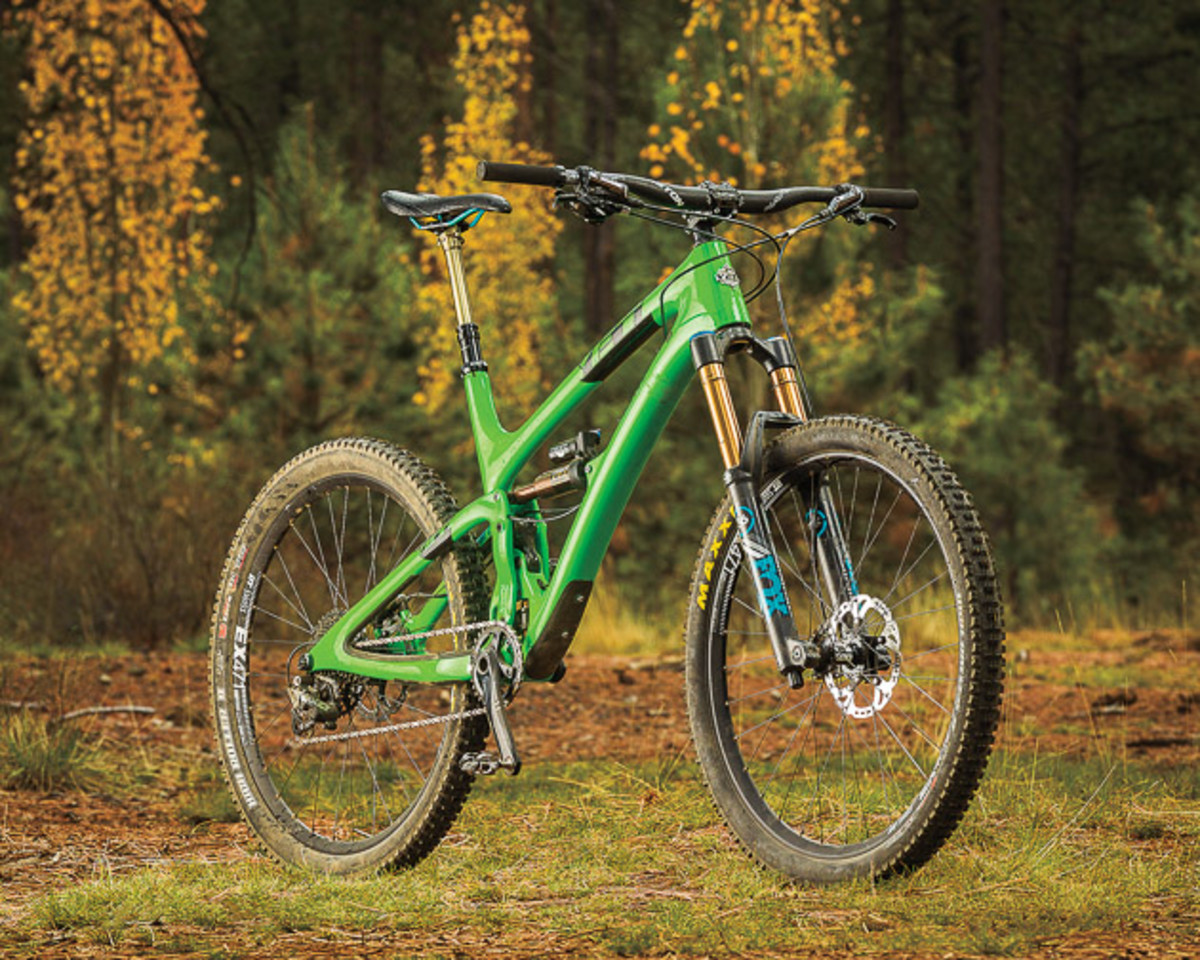 Yeti SB6C Question and Answer
We had questions about the new bikes before we even got our test rigs, so we sent out a few queries—the kind of things we thought you might be asking yourself when you're looking at this bike. Then we sent out another round of asks if any major questions or issues came up during testing. Here's the feedback we received from the company itself.
Consider this a bonus feature—just a little something extra to chew on if you're still hungry for information after you've watched our video reviews and flipped through the Bible of Bike Tests.
—Vernon Felton, Bible of Bike Tests Moderator
BIKE: Let's cut to the chase, we busted the SB6c's rear triangle on two separate occasions—in both cases during crashes. To be fair, they were the kind of wrecks that could have broken any frame, but I understand that you examined our broken rear triangles and made some changes as a result. What's the story there?
CHRIS CONROY (President, Yeti Cycles): The rear triangle(s) you tested came out of an original "press" run of 20 frames. After burning the frame down to confirm the lay-up, we discovered it was not made to our specifications. This resulted in the wall thickness being thinner and could explain why it didn't handle the impact as well as we would have liked.
We have updated our process controls with the vendor to ensure our production parts meet our specifications. Additionally, we added material to our seatstays/chainstays for better impact resistance. This increased the weight of the rear triangle 45 grams.
It's important to note, the SB6c was tested to our gravity standard, so impact aside, it is the strongest frame we've made to date.
The impacts your team encountered could have been just bad luck and would have damaged any frame. That said, we're committed to producing the best bikes on the market and have made improvements to ensure it is bombproof.
BIKE: What sets the new SB6C apart from its predecessor, the SB66c?
CC: The most obvious change is the Switch Infinity suspension. It improves the pedaling by having a firm-pedaling platform without giving up small bump sensitivity. It's also more sensitive as you move deeper into the travel – it's very well supported in the mid-stroke, but works better on square-edged bumps deeper in the travel.
In addition to the suspension kinematics, the geometry is different. The head angle is 65.5 degrees and the top tube is a bit longer. These changes were directly influenced by our enduro team. In fact, the medium was made to fit Jared Graves [Ed. Yeti racer and 2014 Enduro World Champion] perfectly.
BIKE: What sets the SB6C apart from other brands' bikes in this niche?
CC: I'll spare you the marketing speak. Our racers felt the SB5c was faster descending than the SB-66c, so once that bike came out, it kind of blurred the line on what constituted an enduro bike. The SB6c is mo' better. It's slacker, so it handles steep terrain better, but it's also more capable in the rougher terrain. Many editors / riders said the SB5c felt like a 6-inch travel bike. We also have many saying the SB6c rides like a much bigger bike. Except that it's relatively light and pedals very well.
BIKE: In the past, the SB66 was offered with both Fox 34 and Fox 36 forks. I preferred the 36 and am stoked to see the SB6C is offered that way. Just curious as to the change—is it an acknowledgement that this niche is knocking a little harder on gravity's door than it was, say, three or four years ago?
CC: We decided to make it a full enduro bike and utilize the best product in the category. Though spec'ing the bike with a Fox Float X and 36 adds some weight to the overall package, we have full confidence the spec also makes the bike ride better. Fox has done an amazing job working with our team and has been riding the Switch Infinity since it's early inception.
BIKE: As of this writing, the SB6C is offered as a complete bike—there's no frame-only option right now. There are people wailing and gnashing their teeth when they see that. Will you offer the SB6c as a frame in the future?
CC: Yes. We launched all of our bikes this year as complete bikes first, because it allowed us to plan better and supply the worldwide market. The frame only option will be available in early 2015.
More on the SB6C:
Jared Graves' Yeti SB6c prototype
Video: Jared Graves + Yeti SB6 + The Kootenays