Between the Trees from Savage Films on Vimeo.
Squamish offers a varied array of trails. From its manicured groomer-esque Half and Full Nelson trails, to old school rooty, rocky, primarily fall line trails such as Powersmart. This is what makes the town such a renowned area for mountain biking. As with most trails in BC, the logging industry has created roads through the pristine forests to facilitate the cutting and removal of trees. This in turn created access for mountain bikers to explore the terrain and create trails through tireless hours of hard work.
The down side to the access created by the original logging is, with the roads and infrastructure already in place, the area is also a perfect place to re-harvest. Throughout the past two seasons Powersmart and the lower Section Skookum are sprouting colorful patches of flagging tape marking cut boundaries, future skidder roads, and log landing areas. In time, this area will be re-forested and the trails will be, at least temporarily, lost.
In recent years, local logging has done an amazing job working with SORCA (the Squamish Off-Road Cycling Association) and trail users to minimize the impact on trails and to fund the re-construction of trails. This trail evolution cycle has become quite common throughout BC, it can cause anger, frustration, controversy, and is a great topic for debate. Logging helped create the original trail, reforestation will alter the original trail forever.

For our edit this fall we really wanted to capture the look and feel of the Powersmart and Skookum trails in their current state: fast, rooty, rocky, technical. This trail has not received any significant maintenance in the past few years as logging has been expected for some time. The current state of this trail is far from how it began its life, and farther from what it may become once the surrounding trees are removed.
This season we spent many rainy evenings working on a small playground of fresh take offs and landings between patches of lush West Coast foliage. Big jumps though the ferns was the goal while keeping impact on the living forest to a minimum. This new playground, although not physically linked to Powersmart/Skookum, was the final stop for our edit.
Director's notes:
Did they really spend all of last winter building out in the cold, wet forest? What did they build? How do they decide who hits the gap first? What if you crash? How do you warm up for hitting a new gap?
These are the questions racing through my head as I follow riders Pat Foster and Jeremy Norris to a new destination in the woods they've been telling me about for months. As I discovered, these are the same questions they ask each other as they eye up the new jumps. They look much bigger in person; intimidating to someone not used to flying on two wheels. Pat and Jeremy don't seem worried. They reassure me they can hit each multiple times so I can capture many angles. We start on an old almost forgotten trail high above Squamish quickly descending toward the new awaiting features.
Everything is in place. Pro videographer, pro photographer, two talented riders, big jumps and fast trails. It's time for the boys to start flying.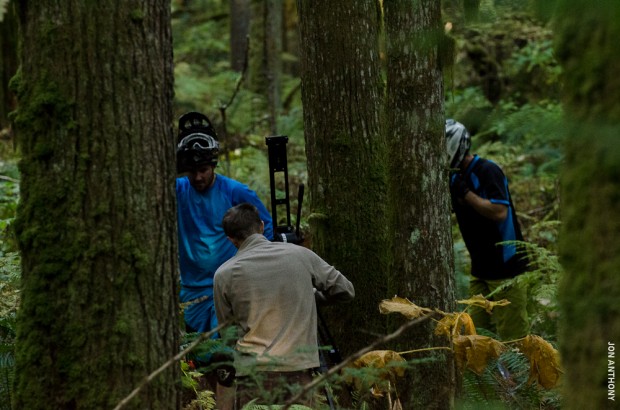 I actually had Jeremy and Pat answer my questions after our shoot. The answers aren't long winded, but they definitely set the stage:
Did you really spend all of last winter building?
Jeremy: Not all winter, only on the most miserable of days.
Pat: Nope, played in the snow, worked and built in the rain.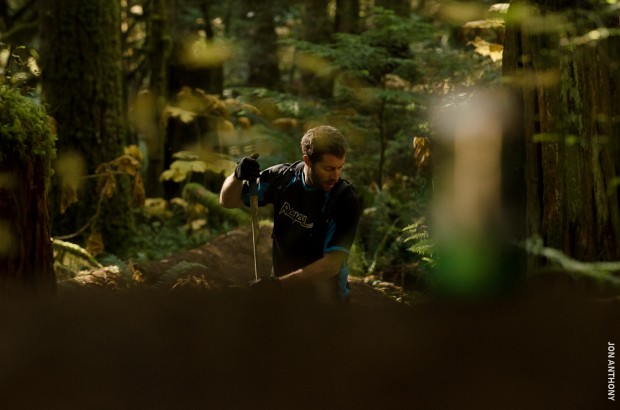 What did you build?
Jeremy: Jumps, 26″ specific.
Pat: Gap jumps. Just like when we were 12, but with more of a focus on aesthetics than the jumps made from pallets and plywood.
Why bother?
Jeremy: December blues.
Pat: Forest beers.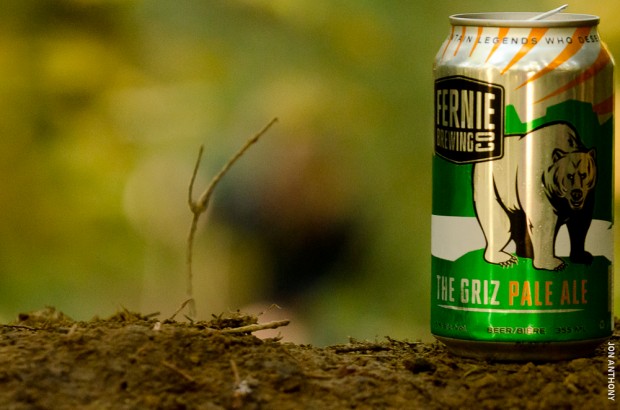 How do you decide who hits the jump first?
Jeremy: You'll be angry if it isn't you.
Pat: First guy that stops just rolling-in.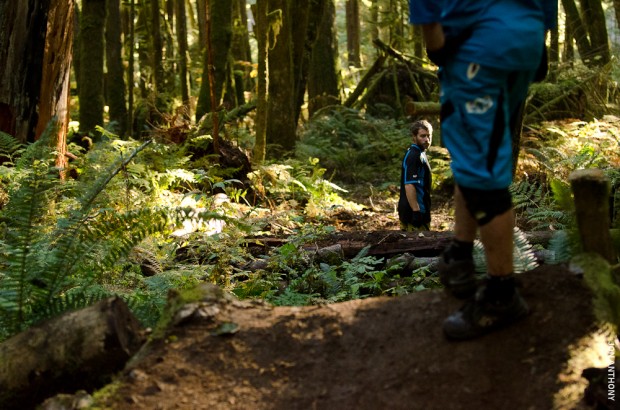 What if you crash?
Jeremy: Rarely afraid of crashing, only afraid of the post-crash hospital visit.
Pat: Not really the plan. Hopefully instincts sort that out, they have had their share of practice.
How do you warm up for hitting a new trail?
Jeremy: Pinning down an old trail first.
Pat: Roll-ins until you commit, then bank on instincts for the first run through.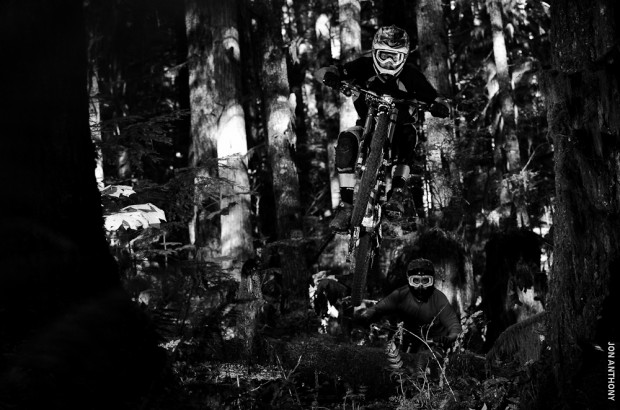 Video by Savage Films
Photos by Jon Anthony
Words by Jeremy Norris, Pat Foster, and Alex Savage