TRANSITION SMUGGLER 1 | $4,900 | TRANSITIONBIKES.COM
A new category started emerging in recent years. Frames designed with minimal rear travel and a little extra up front. Or maybe it's not a category but a concept that could eliminate categories altogether.
The Smuggler sports 115 millimeters of rear travel and 130 up front. But its appetite for gnar wasn't so easily quantified. One factor was the RockShox DebonAir shock. The larger volume air can is an example of how air shocks are becoming more supple and linear, while maintaining their tuneability and bottom-out resistance. The rest of the spec was just as solid. There is nowhere to mount a front derailleur, but we never missed it. And it was great to see a 6-inch dropper post right out of the box.
The rear shock setup was key to how this bike performed. Transition suggests a minimum of 35-percent sag, which our testers doubted at first. What would be left after over a third of the barely 4 inches of travel disappeared just by sitting on it?
Quite a lot, it turns out. Rather than wallowing in its travel, the Smuggler stayed supple but neutral on our unrelentingly rocky climbs. We credited this to the rear shock's late ramp-up and the frame's Horst-Link rear end. But the bike wasn't the lightest, and all that sensitivity kept it from being the uphill rocket you might expect given its short travel. Instead, it was an all-day marathon machine that turned technical climbs into wheelchair ramps.
The Smuggler packs a 130-mil Pike up front, and has Transition's reputation for shredding behind it. So we climbed into the saddle with guns blazing, and none was disappointed. It wasn't as simple as just calling it 'lively' or 'playful.' The relatively slack front end and soft rear end devoured the loose, mid-sized chop covering our trails, keeping the tires on the ground through the twisty chutes that sent similar bikes sliding. It was always ready to offer up all of its travel when you needed it. We buried the rear travel indicator nearly every run, but the bottom out was never harsh. To top it off, the tidy (though rattly) cable routing, straight lines and clean welds make the bike look downright mean.
– Travis Engel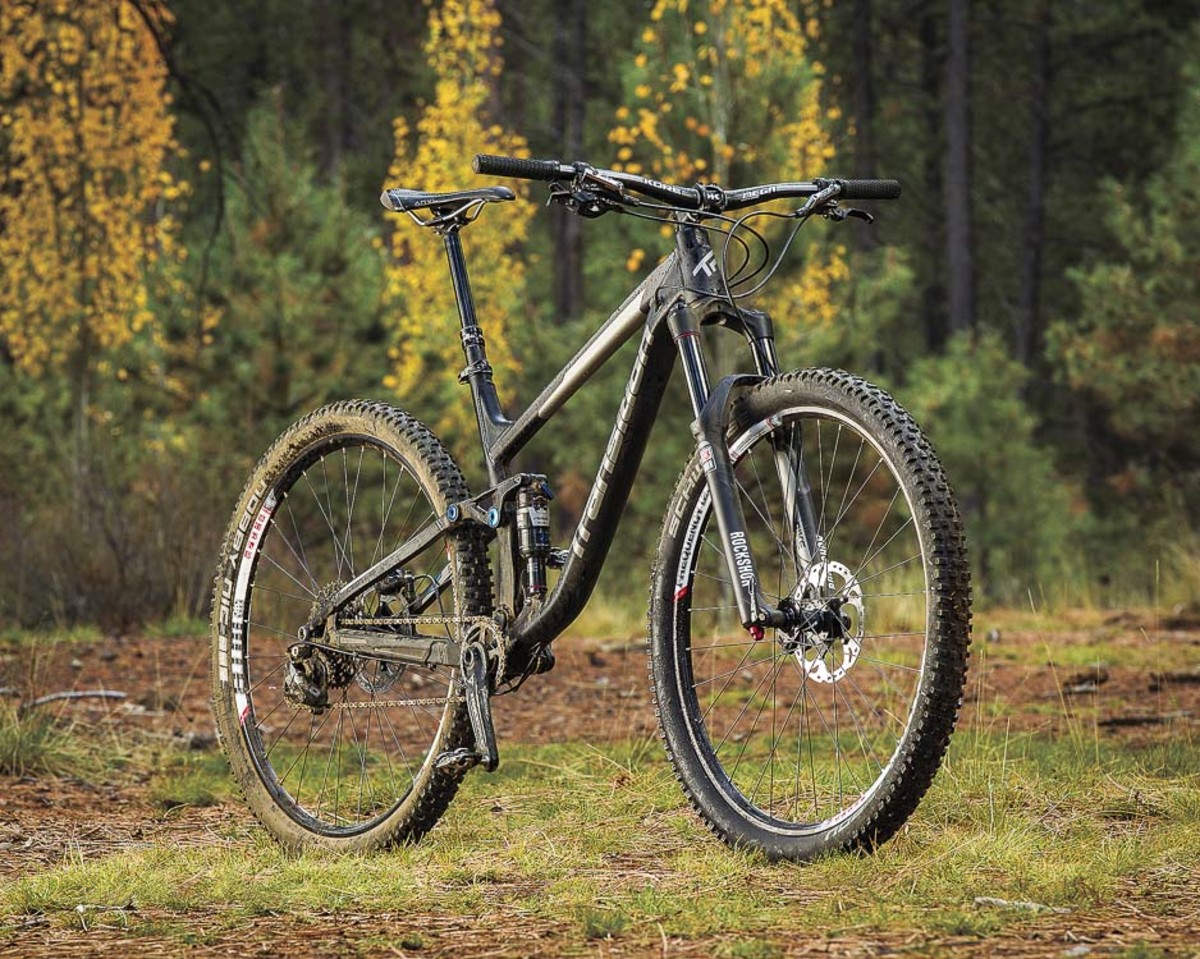 Q & A with Sam Burkhardt, product manager – Transition Bikes
We had questions about the new bikes before we even got our test rigs, so we sent out a few queries—the kind of things we thought you might be asking yourself when you're looking at this bike. Then we sent out another round of asks if any major questions or issues came up during testing. Here's the feedback we received from Transition Bike's product manager, Sam Burkhardt.
Consider this a bonus feature—just a little something extra to chew on if you're still hungry for information after you've watched our video reviews and flipped through the Bible of Bike Tests. – Vernon Felton, Bible of Bike Tests Moderator
VERNON FELTON: Who's the ideal rider for the Smuggler?
SAM BURKHARDT: The ideal buyer for the Smuggler is anyone that wants to take advantage of the increased rollover, traction and cornering grip of a 29er and still wants a nimble, responsive and fun bike that you can push hard. We positioned this bike to be a 29er option with generally similar riding traits to our 27.5 Scout.
The Smuggler (and the Scout) are essentially the sports cars of our lineup. They are catered to the connoisseur who has the skills to ride a bike hard, but doesn't want to lose the sensation of the trail. Alternatively, they are also great options for riders that don't have the riding style or terrain for our longer-travel Patrol or Suppressor, but still want a stiff frame and confidence inspiring bike.
With the Smuggler we aren't aiming to convert people to 29, and we don't claim that it is the wheel size everyone should ride. Some people simply prefer a smaller wheel, and that is okay too, but we feel the industry has made a push to say that 27.5 is the only size for aggressive riding and we think that simply isn't the case.
We think a 29er like the Smuggler with the correct features will ride awesome and offer legitimate advantages in grip and rollover. We are not positioning this as a race bike for any category, it is just a great all-purpose trail machine for people that like to push their bike hard.
By the way, Lars Sternberg had this to say: "In answer to the question, however, the perfect customer for this bike will be the in-betweener. Someone, who isn't afraid to get down and dirty every once in a while and will appreciate the ability to do so when needed. But primarily likes to put the miles in. It is not a cross-country bike as you can see by the numbers, but is our answer to the cross-country bike."
I basically agree with Lars, but I want to stress that what we think of "cross country" is different than how a lot of people envision that style of riding. We like to refer to this as BCXC, a bike for the kind of "XC" rides you would do in Squamish or Whistler. The climbs are hard and the descents are even harder. And that is kind of where the name comes from… Spandex wearing dudes might get the nickname Grape Smugglers or Plum Smugglers.
VF: Are you concerned that some of the target audience has shifted gears towards 650b and might not consider the Smuggler?
SB: We wouldn't say that we are concerned about people leaving 29 for 27.5. It's actually quite the opposite… We think we have a bike that might change a lot of peoples minds about a 29er bike. We hope that someone would ride a Smuggler and realize the wheel size doesn't have to feel awkward, and that a lot of the old stereotypes about 29 wheels are wrong. The Smuggler is more nimble than plenty of other 27.5 bikes that we have ridden. It definitely isn't a tractor and it actually has the most direct and responsive feel of any bike in our lineup. You can ride the bike much harder than plenty of longer-travel bikes, regardless of the wheel size or travel number.
VF: You guys are running a different suspension system for 2015 on most of your bikes. What attracted you to the basic Horst-Link style suspension platform?
SB: There are plenty of bikes in the market that happen to have a pivot located in the chainstay area, just like there are a lot of modified, single-pivot bikes or short, dual-link bikes. Those bikes definitely don't all ride the same or offer the same suspension feel and features just based on the general layout.
With the Giddy Up link we wanted to maintain the simple reliability we have been known for without any crazy gimmicks or proprietary shocks and parts. We wanted predictable suspension feel that is easy to tune/adjust and we wanted to keep the bike low, both in terms of weight placement and standover/looks. And of course we wanted to keep room for a normal water bottle inside the front triangle (where they belong), as well as supporting every reservoir and inline shock on the market.
The overall layout you see in our new bikes is popular for a reason, but the devil is in the details and every detail of the pivot positions and frame design add up to make the bike you experience on the trail. We had been talking about bikes with a pivot in the chainstay area for a long time… knowing that we could achieve a great ride this way without creating more downstream complications for clearance, stiffness, shock placement, etc. We had played with the concept of placing the shock along the top tube or orienting it vertically. Ultimately the vertical shock orientation lets us keep the exact same kinematics on every size (since the top tube and mid downtube shock mounting positions would change slightly with longer frames) and keeping the shock mounted near the BB area allows us to use double- butted top tubes and downtubes allowing better overall strength/weight ratios. Pretty much all the bikes we have ever made in the "trail" side of things have had a pivot in the seatstay… moving it to the chainstay really didn't do anything negative to our designs, but it did open up a lot of new opportunities for us.
VF: What did you do to make the bike your own?
SB: A bike is the sum of all its parts. Everything we have done with the suspension kinematics, shock tunes, parts spec and the overall bike geo contributes to the feel you get from the bike. We build our bikes to handle the way we want them to handle. They are built to be ridden hard and give the rider good feedback and control. It seems like some companies intentionally (or maybe inadvertently) dumb down their bikes to be "easy" to ride for slower-paced riders rather than fun and responsive for experienced riders.
We are definitely catering our bikes to more experienced riders, and we hope that less experienced riders can get on a Transition bike that gives them room to grow rather than buying a bike that becomes awkward as their riding improves. There is no single thing we have done to make the bike handle "right", it really is the complete package that creates the feel we want. It always makes us cringe to read reviews of bikes that say things like "Once I swapped out the stem and put on a wider bar, the bike felt great". It shouldn't have to be that way…
VF: What were you aiming for, in terms of riding traits, when you designed the Smuggler?
SB: We wanted to make a bike that showcased what the 29er wheel does best without trying to force it into a platform where it doesn't belong. I touched on this above, but we wanted a bike that was lively on the trail, responsive and fun to ride. Something that manuals and jumps easily, feels great on technical steep trails as well as flowy jump lines. We always focus on creating bikes that are fun on the descent, but we still wanted the bike to be fun and easy to climb. With the Smuggler and all the Giddy Up link bikes we are able to offer improved traction and control on technical singletrack climbing, without compromising the suspension performance. The goal for climbing/pedaling performance with Giddy Up bikes was definitely not "pedals like a hardtail" and you will see some suspension movement when you are climbing with the shock open. But that goes hand in hand with the improved traction, and it's part of why the bike doesn't feel like it's topping out and why you can keep the wheel on the ground over small trail chatter while pedaling. With the suspension pressure correctly set, the grip you get when climbing out of the saddle is unreal… you can feel the tire biting into the ground, but you don't feel the bike squatting or extending. The same goes for hard sprinting. I know that some other bikes might feel like they "firm up" more than our bikes, but we wanted to maintain that neutral feel where you don't overtly notice the suspension "doing" anything except what it is supposed to do.
VF: How did you, from a design and engineering perspective, achieve those goals?
SB: We have been working on these particular bikes for a few years now, longer than any project before, but on top of that we have drawn on experiences we have had with every previous model year as well as every bike we have ever ridden.
The industry moves fast, and you need to know your goals, pick a direction and know how to achieve those goals, both in terms of the product itself and the partners you work with. The people at Transition Bikes all know how to ride a bike well and we also know what makes a bike work well and that comes across in the designs. We focus on features that keep people happy on the trail rather than special features we can trademark or patent.
We had started working on changing up the lineup a few years ago, and we had a few potential general directions picked out. Right at the same time, Luke Beale (Level One Engineering) contacted us to pitch some suspension designs/systems. We liked what he had to say in general, and his approach to suspension design, but we didn't feel that any of the "systems" he was pitching suited our brand identity, and we really wanted to "keep it simple" which is a core value for us. That circled us right back to the layout you see here.
In meetings with Luke we determined that he could be a great resource for us to really dial in our designs and bring the kinematics to another level. It actually worked out perfectly; he was able to suggest small changes from our early samples and some subtle tweaks that helped to take the bikes to another level. His experience was super valuable in not only confirming our direction, but improving the details.
With this development process we looked at our entire trail bike lineup as a cohesive package and focused on strength, reliability and common parts wherever possible. We have one bearing kit for our entire 2015 trail bike lineup, they all share the same pivot kit and we have one derailleur hanger model for all the 2015 full suspension and hardtail trail bikes. At a shop level we want to make things easy, but that trickles down to the rider on the bike too. If you break a hanger out on a road trip, you are much more likely to find the right one. And it makes everyone's life easier if shock bolts aren't crazy proprietary pieces, and bearings are standard sizes, etc. That kind of stuff makes bikes more hassle free, easy to setup and maintain.
Want to know more about bikes like Transition's Smuggler? Check these out:
Banshee Phantom