RUMOR EXPERT EVO 29 | $5,000 | SPECIALIZED.COM
Back in the early days of wagon wheels, going full squish meant wallowing through suspension hell. I swore I'd never ride another full-suspension 29er, but when it comes to this bike, evolution isn't just in the name; the Rumor Expert Evo is good. So good that it had us checking and re-checking the wheel size in between bouts of laughter.
Specialized has shown real commitment to women's bikes in recent years, and this bike is no exception. It's fully tricked out with SRAM XO1, a Specialized Command Post dropper, 120-millimeter RockShox Pike RC 29 Fork, and a custom Fox Float shock with Autosag. Accents like the female-specific seat, short cranks and low-profile grips help balance out the aggressive build.
It's also worth mentioning that Specialized designs its women's frames from the ground up, not with men's bikes as a template. This means that rather than a smaller, pinker version of your boyfriend's bike, you get lower standover, a custom-fit and that elusive feeling of riding in the bike, rather than on it.
The new Rumor looks and rides much better than last year's with a less exaggerated but still swooping toptube. While we would have liked to see this frame in carbon, the M5 aluminum alloy felt plenty light and stiff. Also, for those who love adventure rides but don't love big packs, the Rumor frame accommodates both a bottle cage and a multi-tool.
While the build was créme de la créme, the three-position dropper felt limited compared to infinite-adjust posts. The Autosag took some time to set up, but once dialed it felt great.
All spec talk aside, the Rumor straight rips. The 44.17-inch wheelbase felt stable without being sluggish, and the 68.4-degree headtube angle made it easy to thread through tight technical sections. This bike absolutely gobbled up every feature the trail had to offer, railed every turn and even seemed to like dirt jumps. I felt like I could huck it off anything in the sketchiest manner imaginable, and it would fix my mistakes in midair. Sadly, it doesn't offer similar services when it comes to dating. – Lydia Tanner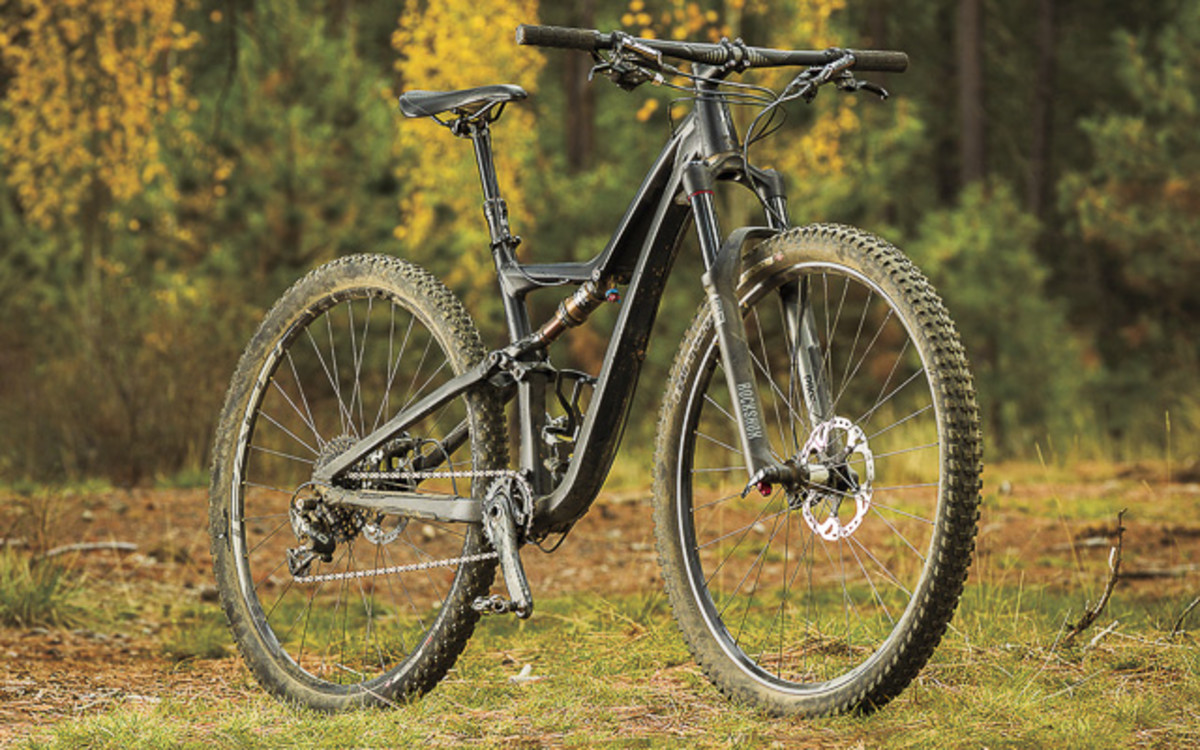 Q & A with Sean Estes, global public relations manager – Specialized Bicycles
We had questions about the new bikes before we even got our test rigs, so we sent out a few queries—the kind of things we thought you might be asking yourself when you're looking at this bike. Then we sent out another round of asks if any major questions or issues came up during testing. Here's the feedback we received from Specialized Bicycles' global public relations manager, Sean Estes.
Consider this a bonus feature—just a little something extra to chew on if you're still hungry for information after you've watched our video reviews and flipped through the Bible of Bike Tests.
—Vernon Felton, Bible of Bike Tests Moderator
VERNON FELTON: The marketing literature notes that the Rumor Evo is designed around Specialized's "Women's XC Trail 29er EVO Geometry". How would you describe the geo on this bike? Or in simpler terms, how is the geometry "right" for women who want a trail bike like this?
SEAN ESTES: When developing geometries we look at the rider and the experience they're looking for. Regarding our Women's geo in general, we focus on three main areas: stack, reach, and standover. Standover is the most important focus on the Rumor, and this is reflected visually on the bike. In specific, the Rumor Expert Evo is an evolution of our standard Rumor, with a few key spec and geo tweaks as compared with the standard Rumor models; we give the bike a slightly slackened head tube angle, a tad shorter reach with a wider bar, as well as a slightly lower bottom bracket for great handling and increased confidence on technical terrain.
VF: Does the Rumor Evo get a suspension tune that's aimed at female riders?
SE: Yes. We work with our in-house Suspension Team to ensure that each model's shock is tuned for lighter-weight riders to provide the perfect ride experience. They are also tested and approved by women.
VF: Is the Evo tune different than the tune on the other Rumor models? If so, in what way and why?
SE: We tune every fork and shock for that rider and the experience they are looking for out of that bike. In this case, the Rumor Expert EVO has 120 millimeters of travel (versus other Rumor models having 110 millimeters). The EVO kinematics also provide a more linear rate than the standard Rumor, for a bottomless suspension feel, and the shock is tuned accordingly for this as well.
VF: This is clearly a high-end bike with a smart component spec (RockShox Pike fork, SRAM X01 drivetrain, Shimano XT brakes…). One thing that consumers might be wondering, however, is why there isn't a carbon-frame option for the Rumor? They might, for instance, see the carbon Camber Evo models and wonder why there isn't a women's-specific equivalent in 2015.
SE: We are constantly conducting research and talking with riders to see how we can continue to evolve our Rumor line. We see carbon as a huge benefit and are definitely looking at ways to bring it in our women's mountain bike line. For 2015, we are excited to bring the Era (women's cross country carbon platform) back into our women's line.
VF: What, at the end of the day, sets the Rumor Expert Evo 29 apart from other trail bikes in this genre?
SE: We have done extensive field testing and research to help develop this bike and set it apart from other bikes on the market. The Rumor Expert Evo takes the Rumor to a whole new level of trail capabilities by offering EVO geometry, a nice bump in travel, the CommandPost dropper post, and suspension tuned specifically for women. This bike is women's-specific from the ground up, without sacrificing ride necessities such as room for a water bottle. Not to mention it comes standard with SWAT technology making the Rumor EVO truly ready to shreddy; to that end, the Rumor EVO comes with the Specialized Z Cage water bottle cage with SWAT technology including EMT micro multi tool and Top Cap Chain Tool.
More reviews of women-specific bikes:
Norco Sight Carbon Forma