NINER JET 9 RDO 3-STAR X1 | $5,400 | NINERBIKES.COM
RDO, in Niner nomenclature, is short for 'Race Day Optimized.' In the case of our test Jet 9, this is embodied in a carbon-fiber frame using Niner's patented CVA suspension to squeeze 100 millimeters of travel out of a Fox Float CTD shock.
Component spec is a price-conscious mix of a SRAM X1 drivetrain and Shimano Deore brakes offset by Stan's ZTR Arch rims shod with Schwalbe Rapid Rob/Racing Ralph tires. Flat 710-millimeter bars and a carbon-fiber seatpost finalize a build that is straight up XC race ready.
But wait! What's up with the fork? A full 120 millimeters of RockShox RCT3 Pike transform an otherwise purpose-built XC bike into something more ambiguous. The Pike was an option on our test Jet 9; the result of the swap was bigger stanchions, increased stiffness, 20 millimeters of extra travel, slacker head and seat angles by about a degree and an 8-millimeter-taller bottom bracket.
Even with the 120-mil fork, handling was still quick enough for a cross-country bike, leading testers to agree that the uncommon spec was the right choice. Cornering and descending manners are enhanced, and the bike feels like a capable all-rounder, something that can be raced on the weekends but provide plenty of trail-riding grins on all the rides in between.
The long front center and long 17.9-inch chainstays, when combined with the relaxed angles offered by the taller fork, spell out a 45.2-inch wheelbase on our size-large test bike, which is long by all-mountain standards and almost unheard of in the XC realm. This parlays into stability and comfort at higher speed. The tradeoff comes for trail riders when the limits of the 100-millimeter travel are soon reached, or for XC racers when the length of the bike can make it a little less responsive in tight terrain or muscling up switchbacks. – Mike Ferrentino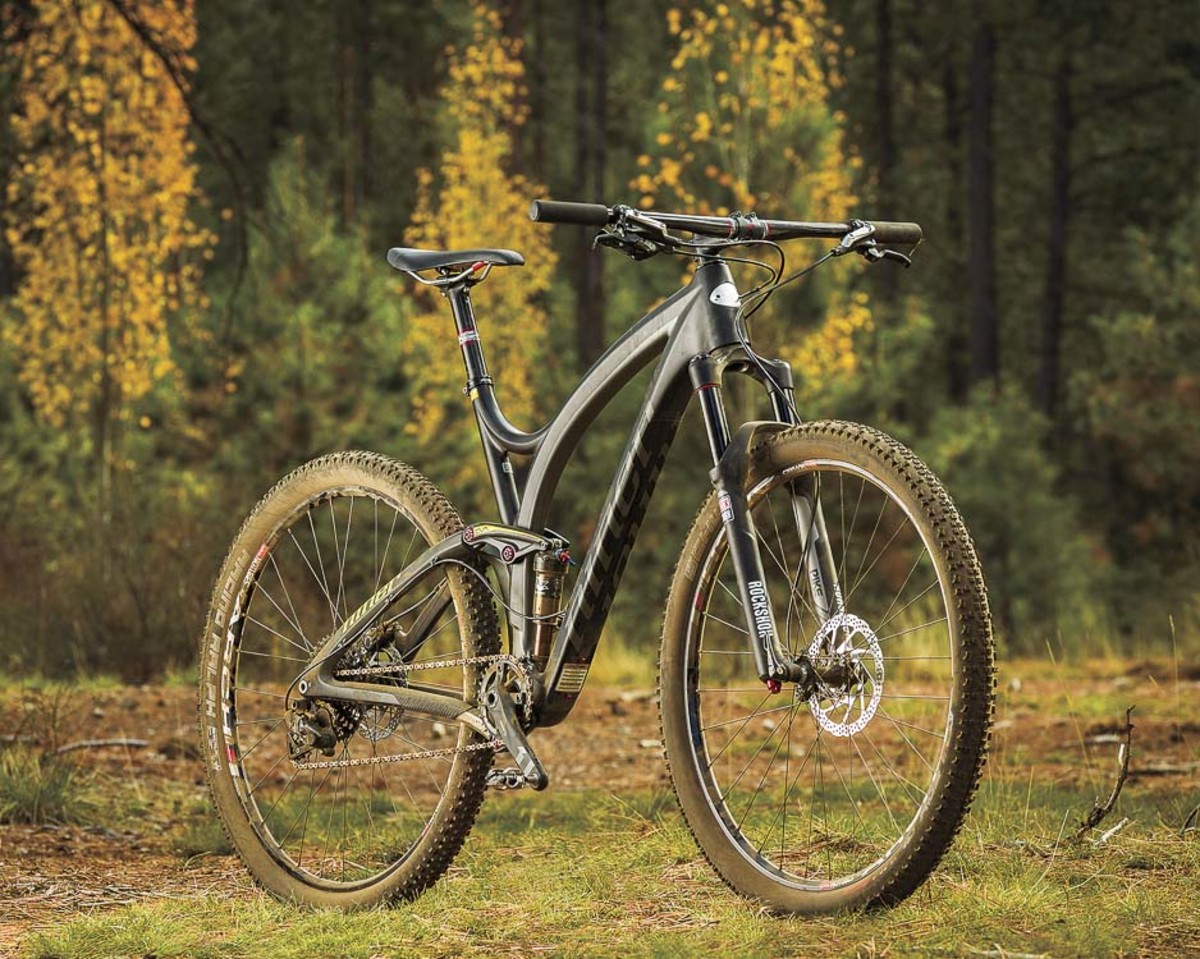 Q & A with Brad Cole, marketing manager – Niner
We had questions about the new bikes before we even got our test rigs, so we sent out a few queries—the kind of things we thought you might be asking yourself when you're looking at this bike. Then we sent out another round of asks if any major questions or issues came up during testing. Here's the feedback we received from Niner marketing coordinator, Brad Cole.
Consider this a bonus feature—just a little something extra to chew on if you're still hungry for information after you've watched our video reviews and flipped through the Bible of Bike Tests.
– Vernon Felton, Bible of Bike Tests Moderator
VERNON FELTON: What were the key riding traits that you were trying to impart on the Jet 9 when it was under development?
BRAD COLE: The focus of the bike has always been on efficient pedaling while maintaining active suspension action when needed. The bike is designed around our CVA suspension, which puts a heavy emphasis on pedaling efficiency but a smooth and plush action when pointed downhill or when traction is at a premium. That's always been a cornerstone of our bikes; we want to make a class-leading bike in terms of both pedaling efficiency and suspension compliance and action.
VF: How did you (from a design and engineering perspective) make those goals a reality?
BC: It started from the beginning and creating a suspension system that was unique to 29-inch wheels and the needs that they demand rather than adapting an existing design. Since then it has been a constant refinement in materials and pushing the boundaries of the CVA design. The group here at Niner isn't the type to be content, we always want to progress our designs and refine our bikes to provide riders with the best product we can.
VF: What sets the Jet 9 RDO apart from other bikes in this niche?
BC: Its versatility. The Jet 9 RDO is the right bike for a huge portion of riders. It climbs well, it descends with confidence and is capable of being raced as proven by Team CLIF Bar. It's the mountain biker's bike.
VF: I imagine you guys had a kind of ride (and thus a kind of rider) in mind when you designed this rig. Who is that ideal rider for this bike?
BC: It is definitely a cross-country bike, but the cross-country category is definitely quite broad. It's not a full-blown World Cup race bike, though it's capable of being raced. It really is designed for the rider that wants to have a bike that's going to be reliable and get them out on the trail and enjoy all aspects of riding. The Jet 9 RDO is an incredible bike when it comes to climbing or anytime pedaling efficiency is at a premium and it is certainly no slouch when pointed downhill. It really does fit the riding needs of a huge portion of riders.
VF: I hear people both praise Niner for the top-notch aesthetics and I hear others slam the company for the same reasons. The RDO, some might argue, is pretty for the sake of pretty. I've read the marketing copy that, basically, states that there's function to those curves. What are the functional benefits of the swoopy frame shaping on this bike?
BC: When we speak of the shape of tubes on the frame and their function we are speaking to the tubing profiles and the shaping we use there. The combination of flat surfaces that are seen throughout the frame in the tubing profile are specifically designed to offer both a leaf spring effect to create vertical compliance in our frames and, conversely, the combination of flat surfaces are used to create a profile that is resistant to deflection or flex when power is put into the frame to go forward.
VF: What sets CVA suspension apart from other short, dual-link suspension designs, such as Maestro, VPP, DW-Link, etc.?
BC: CVA is a Niner-patented design created specifically for the demands of the larger diameter wheel, it wasn't an adaptation of a current design to fit the 29er platform. The design has several attributes that are specific to it. With the lower pivot below the bottom bracket, when force is applied to the chain it tries to move downward while the upper pivot follows its natural upward path. It goes back to basic physics at this point and each action has an equal and opposite reaction. By having the two linkages connected by the unified rear triangle and the two forces trying to move apart from each other, you're left with a neutral pedal feel as the two opposing forces cancel each other out. The beauty of this is that the suspension still remains active under trail input while neutral to pedaling forces. In conjunction with this, the axle path of the rear wheel moves in a varying arc instead of a consistent arcing path. This movement of the rear wheel limits chain growth to nearly nothing and helps to isolate pedaling forces from the active suspension.
VF: Naturally, anyone looking at the RDO is going to also be looking at the Jet 9 Carbon. What fundamentally sets those frames apart from each other? How does that manifest out on the trail?
BC: This is an interesting one now that we just released (today) the new Jet 9 Carbon. The Jet 9 RDO is now the only full carbon option that we have available. The Jet 9 Carbon now utilizes an alloy rear triangle, but carries over all of the design and functional elements of the Jet 9 RDO. So now they are definitely different, which was one of the goals with the new Jet 9 Carbon–to create a clear line between the two bikes.
VF: Just curious as to what makes the second-generation internal cable routing "2nd gen?" Are there guides within the frame, for instance, that make routing the cables easier?
BC: The second-gen routing exits near the base of the down tube and runs externally along the seat stay. The first generation exited below the bottom bracket, entered the chainstay and exited at the rear derailleur. While this was super clean it created a lot of additional work for our dealers. This is something that they were pushing for and giving feedback on so we wanted to support them and came up with a solution to help aid the shop guys when building and servicing bikes.
Want to have a peep at the Jet 9 RDO's competition? Click for our review of Yeti's ASR C.