MARIN RIFT ZONE 9 CARBON | $6,700 | MARINBIKES.COM
One thing's for sure: This is one hell of a good-looking bike. All our testers agreed that the stealth bomber-esque tube shapes, subdued color tones and internal cable routing made this brand-new Rift Zone Carbon a real head turner.
This redesigned Rift Zone with 110 millimeters of travel out back and 120 up front joins the growing number of bikes with mismatched travel. Most bikes like this grey the lines between the trail and all-mountain categories, but instead this bipartisan bike crosses the aisle between cross-country and trail.
We realize that this contrasts the fact that Marin athlete Kyle Warner has won enduro races on this bike, but Kyle Warner didn't run a Fox 32 Talas. It's a fork that is definitely on the less-aggressive end of the spectrum, and it sets the bike up with a fairly steep 69.6-degree head angle.
This is primarily why this bike falls where it does along the spectrum. The fact that it can be piloted to an enduro win is a testament to its versatility, and testers certainly wondered how this bike would ride with more beef up front.
We all agreed that the fit of our size large test bike was spot-on–roomy in the cockpit with a balanced rear-center. The 25-inch toptube supports the general trends of going longer in favor of short stems, and adding in tightly-tucked rear ends. Everyone was comfortable drifting the rear wheel through corners, thanks to what felt like perfect-length seatstays.
Even though there's just 110 millimeters of rear-wheel suspension to go around, it felt nice and supple before the stubby- stroke Fox Float CTD shock began ramping up. And because there's not a ton of travel to be had, pedal bob isn't much of an issue. The bike does have some anti-squat built in, but the snappy feel and quick acceleration are mostly attributed to that teeny travel number.
Who's this bike for? Recovering XC racers who still want an efficient, quick-handling bike with a little extra radness.
– Ryan Palmer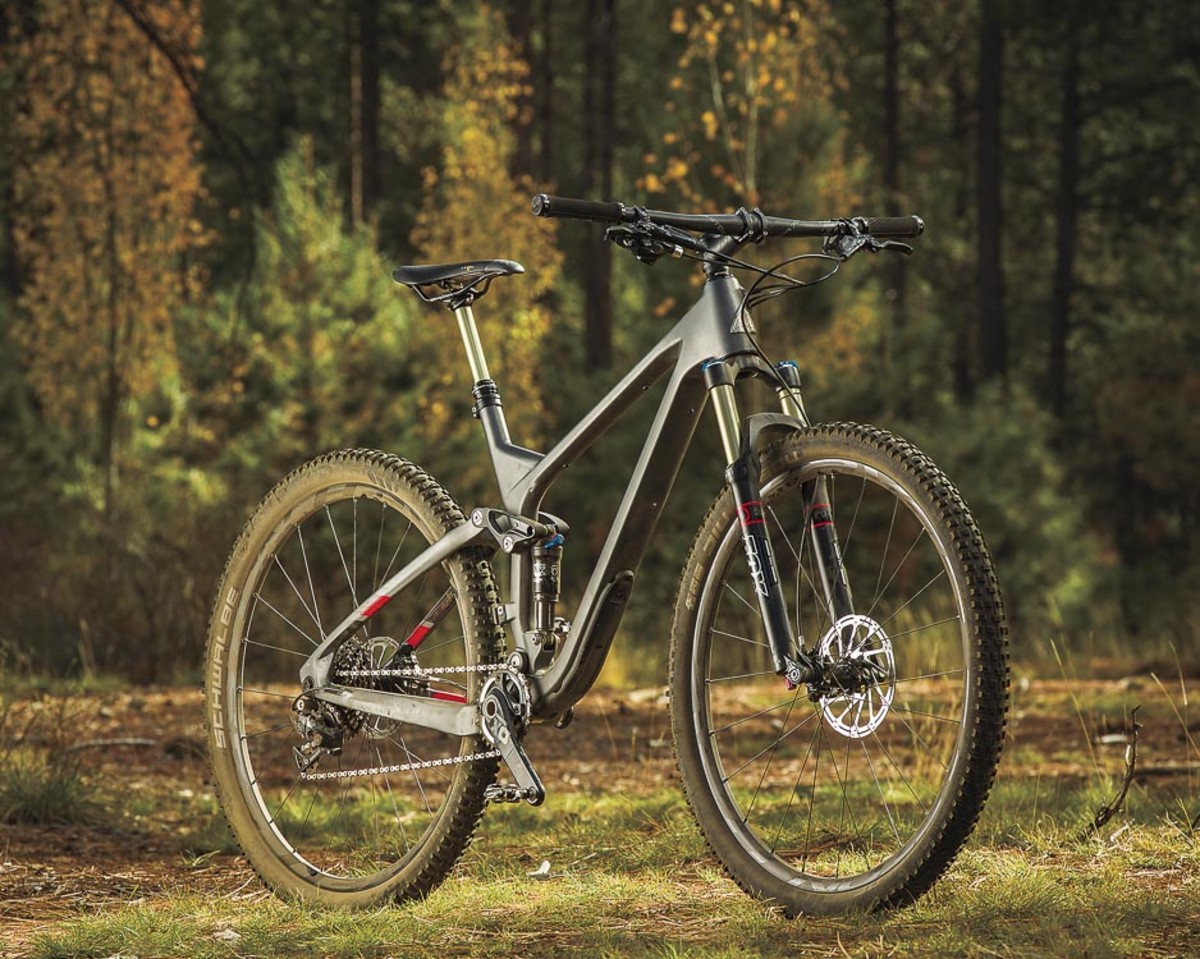 Q & A with Aaron Kerson, mountain bike product manager – Marin Bikes
We had questions about the new bikes before we even got our test rigs, so we sent out a few queries—the kind of things we thought you might be asking yourself when you're looking at this bike. Then we sent out another round of asks if any major questions or issues came up during testing. Here's the feedback we received from Marin MTB product manager, Aaron Kerson.
Consider this a bonus feature—just a little something extra to chew on if you're still hungry for information after you've watched our video reviews and flipped through the Bible of Bike Tests. – Vernon Felton, Bible of Bike Tests Moderator
VERNON FELTON: Kyle Warner was racing the Rift Zone in enduro events, which is kind of surprising. I'd think of the Mount Vision as being more of the weapon for that kind of ride application. This strikes me as more of a trail/aggressive XC rig. How do you guys see the Rift Zone? Who is the ideal rider? What is the ideal riding application/condition?
AARON KERSON: Kyle mentioned that for some of the US enduro courses, the 29er felt faster since there is quite a bit of pedaling on some stages and he's able to monster truck over the rough sections with ease. He also mentioned that many of the stages in the US aren't as rough or technical as say, the European events in the alps, so the 29er works fantastic for him. He's also a freak of nature on a bike, so really his preferences fit a very small percentage of the world's population!
We position the new Rift Zone as "29er Trail", which is what you mentioned, the perfect bike for trail/aggressive XC trail riding. Since the larger wheels present unique challenges such as keeping the bike low, agile and lightweight, we put special attention into creating geo's that make sense for a 29er.
The ideal rider is someone who appreciates the ability to climb extremely well, but who doesn't want to sacrifice the ability to have a blast coming back down. The short chainstays allow the bike to be very nimble, to the point where many riders who test the bike believe it's a 27.5. Most of us ride "trail" every time we go out, so the rider base is quite accessible. We all want a lightweight rig that climbs like an XC bike but blasts corners like a beast. The Rift Zone is designed for just that.
VF: While it's not unheard of, by any stretch, to run a bit more travel up front than in the back, why did Marin opt for the 120-millimeter travel fork and 110 millimeters of suspension in the back? Was the goal, for instance, to create a certain handling trait? Was it a question of fork availability (there are simply more options in 120 than 110)?
AK: This is a great question. We wanted to design a bike that pedals fantastic without a ton of pedal bob as you pedal the bike. The IsoTrac suspension platform has a linear leverage curve, so you are getting a true 110 millimeters of travel. Many platforms ramp up quickly and are overly progressive (in our opinions) for this style of riding, so you aren't actually getting a full amount of travel most the time. We wanted riders to have the 120-millimeter 29er Trail experience, but without penalty of having too much sag or pedal bob.
Since the Rift Zone is intended for getting a little rowdy, 120 millimeters up front is a perfect fit. Two of our carbon bikes are available with TALAS, so you can adjust for climbing. Additionally, since the 29er wheel size does a fantastic job of rolling over bumpy terrain, the bike feels more equivalent to the Mount Vision over the rough stuff, which has 140 millimeters of travel and 27.5-inch wheels.
VF: The travel did get bumped up slightly for 2015—why is that? What was Marin hoping to achieve?
AK: Since we were aiming to re-position the bike family to be equipped for more aggressive trail riding, adding more travel, along with significant geo changes, was a must. You can let this bike rip without feeling like your hands are going to fly off the bars.
VF: 17.3-inch chainstays are, at this point in the game, reasonably tight for a 29er. Was that a goal of the bike? To give it a nimble demeanor in tight conditions?
AK: The goal with shorter stays was to overcome the issues that can arise with 29ers having massive wheelbases and handling slow. The IsoTrac platform allows us to tuck the 29er wheel nice and close towards the BB, making the bike easy to manual, snap out of corners, etc. We could technically go a bit shorter with modification to the rear swing arm, but we were worried about losing climbing performance. We didn't want the bike to loop out easily on climbs, so 440-millimeters was the perfect balance we were looking for.
VF: I've seen reports of the highest-end frame weighing in at 4.4 pounds (2,000 grams). Is that correct? If so, I take it that is without shock?
AK: The frame is actually closer to 2,200 grams (4.85 pounds) without the rear shock, but with all linkages/hardware. The original 2,000-gram frame was a prototype without paint and a different layup than what we went with for final production.
VF: Why the flex pivot in the rear? What are the benefits? The drawbacks?
AK: The flexing stays allow us to create a very lightweight, low-maintenance design that also allows us to create a custom tune for the shock with the ride characteristics of the flexing rear, which I will explain below.
The drawbacks? Well, if you really love rebuilding rear pivots, you won't be allowed to do that anymore. No, but seriously, we have tested this design extensively with custom test equipment and modified the carbon layups to ensure they can handle the small stresses that the frame will experience during cycling of the shock.
VF: How did the flex pivot impact your choice of shock tune for the bike?
AK: So, I will do my best to explain this in writing. If it's hard for people to visualize what I'm saying here, we have video on our website, which shows how the frame flexes as it cycles (fast forward to 3:49 for this).
Many people believe the frame bows outward, but it is actually opening on a vertical plane. The video is of our alloy rear triangle, but the motion is the same, so you will get the idea. Since the frame is being forced to open, there is an inherent amount of spring pushback. We work with our shock suppliers to get their recommendations on tune first based solely on our leverage curve, but then factor in the amount of force generated to make the rear triangle flex. After extensive testing, we find that the frame does a fantastic job supporting a portion of the rider's weight on the initial part of the stroke, so we recommend running more sag than you typically would. Usually 28-30% sag does the trick.
As for specific shock tune, the bike works best with a slighter lighter rebound and compression tune. We also adjust the volume of the shock slightly and add additional damping to help fight bottom out on the end of the shock stroke since the bike has a more linear leverage curve. All of this combined creates a very stable pedaling platform with great small-bump compliance. It truly is a unique-feeling platform that I love to ride. I was blown away when I first rode the bike compared to more traditional systems out there.