KONA PROCESS 134 SE | $4,000 | KONAWORLD.COM
In a stable full of huge, temperamental stallions, this bike is like the little surefooted pony that could. Built not specifically for women but for smaller riders in general, it's got plenty of features to tempt those of us with a little less heft. What it lacks is a stripper name or related sacrifices to quality, durability or capability.
How can a bike be made for small people? Think low standover, whippably light 27.5-inch WTB KOM wheels, short seat tube allowing for a full-length dropper post and approachable 30-tooth chainring, just in case your quads make up less than 80 percent of your body weight. The cockpit initially felt short, but with a reasonable 23.6-inch toptube it's most likely a result of Kona's centered geometry and signature compact rear triangle, which reward a more active riding style.
Our test track wound through some ledgy rock features, which became big drops and airs on the way down. The Process felt nimble and responsive on tight climbs and super playful pointed down. With a 68-degree headtube angle and 134 millimeters of rear travel, it still somehow lacked the bottomless feel you get aboard some trail rigs but it handled admirably in a huge range of terrain and climbed like a goat. It's just not a bike you can sit back and expect to do the work for you; it's a bike that likes to be ridden hard.
While the Process flirts with the budget category due to its relatively friendly pricetag and somewhat chunky aluminum frame, it also boasts some designer accessories. The KS Lev dropper post, SRAM X1 drivetrain and RockShox Revelation fork had all of us salivating a little, and not just because girls like shiny stuff.
Konas are built with the no-nonsense attitude that mountain bikes should last. The Process embodies this philosophy, and felt not only current with the latest technology but like it would carry you happily through the mountains for years. It has features where they count, durability where it matters and all at a darn good price.
It will be interesting to see how it goes to market to smaller people rather than to women specifically. Still, if you're under 6-foot, don't turn green or habitually bust out of your shirts, or if you happen to be a lady, you'll find a willing, fun ride in the Process. – Lydia Tanner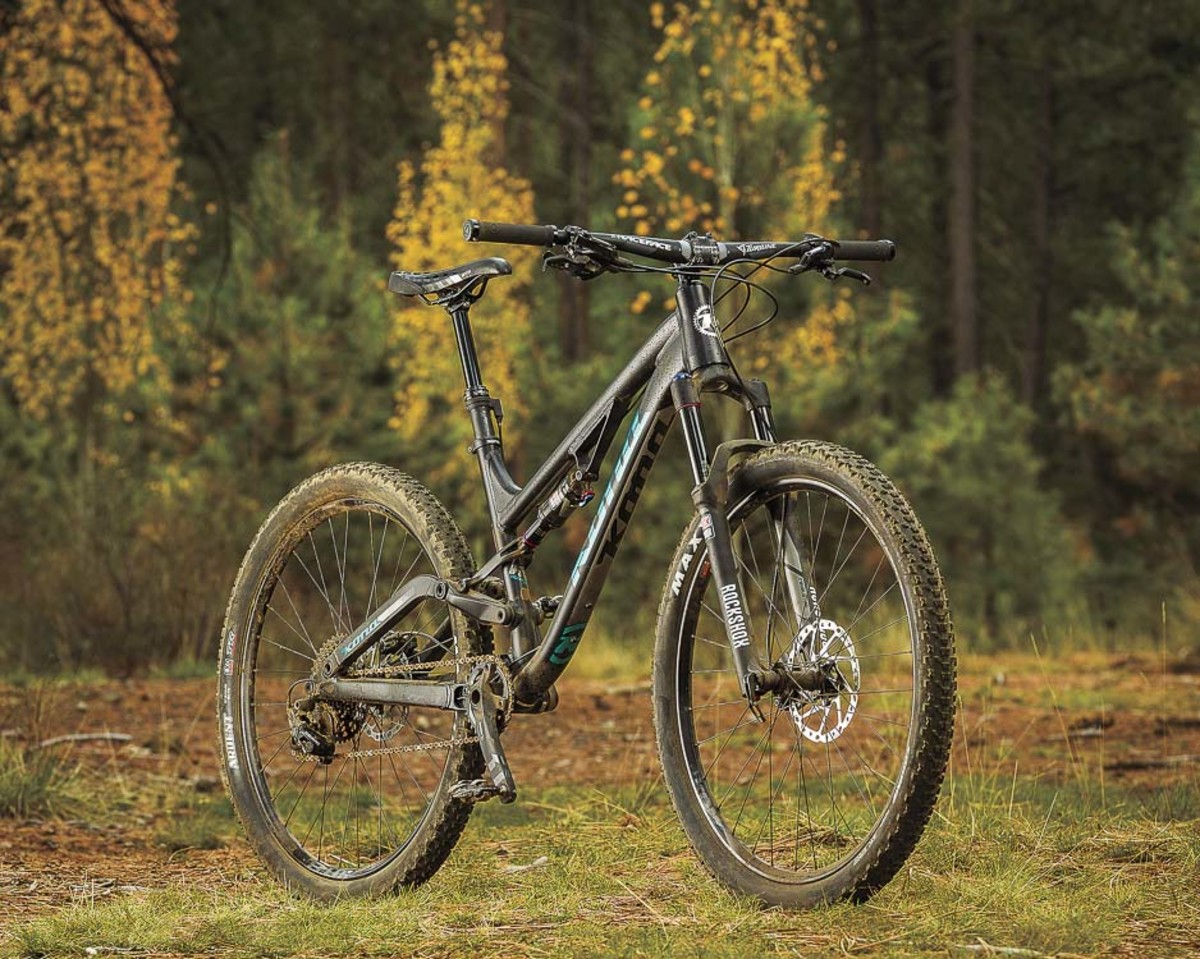 Q & A with Chris Mandell – Product Manager, Kona Bicycles
We had questions about the new bikes before we even got our test rigs, so we sent out a few queries—the kind of things we thought you might be asking yourself when you're looking at this bike. Then we sent out another round of asks if any major questions or issues came up during testing. Here's the feedback we received from Kona's Product Manager, Chris Mandell.
Consider this a bonus feature—just a little something extra to chew on if you're still hungry for information after you've watched our video reviews and flipped through the Bible of Bike Tests.
—Vernon Felton, Bible of Bike Tests Moderator
VERNON FELTON: This bike comes in the usual range of sizes, but you also have the XS version that'll fit very short riders. That's new for 2015. Are there any plans for expanding the XS size to the process 153 line?
CHRIS MANDELL: Not at this time.
VF: You're not outright calling this a "women's-specific" bike, but that XS size fills that niche in a pretty big way. You could have just painted this thing fuschia and probably sold a metric shit-ton more of the bikes. Why didn't you go that route?
CM: The parts kit and sizing range make the model well suited to "smaller, lighter riders". We did speak to many female riders about this model as we worked on it, Angi Weston and Becca Margulies provided internal feedback and many women in our community or from our shops also provided feedback. We also talked to the parents of young shredders, boys and girls. The feedback was that the watered down, cheap or comically cross-country spec is not what they wanted. That they wanted strong bikes with good geo and light parts. Looking at that market it is clear that there are plenty of fuschia bikes but not many in this middle ground, so that is the direction we went. I would also note that the XS is a special bike. It allows riders under the 5-foot mark to use a dropper post.
VF: What are some of the less obvious component spec choices that make the 134 SE a good choice for smaller riders?
CM: The rims, WTB i23, were selected as they are strong and light. The 35mm bar was also selected for weight. As was the Revelation fork.
VF: What sets the Process 134 bikes apart from other trail bikes? Hell, do you even consider it a "trail bike"?
CM: To quote Seb Kemp "This bike sits tidily in the trail bike category. Actually, this bike might sit atop the trail bike category. It's nimble and lithe across the ground, pedals very well uphill, is extremely playful, weighs a lot less than many carbon offerings but appears to be tough enough to outlast an army of Stinkys. In short, very impressive."
I do consider this to be a trail bike. The interplay between the geometry (fit and frame) and leverage rate curve is what sets this bike apart. Modern mountain bikes are still carrying the burden of their inception in road bikes. You can see this most clearly when a bike is sized by seat tube length or uses Effective Top Tube as a defining feature. But does that matter? Does that actually set the bike apart? Yes. It allowed us to think about rider fit between the contact points, when the bike is actually being ridden rather than sat on… Remember it is a mountain bike not a road bike. This is why we focused on lengthening the reach while using shorter stems in conjunction with slacker headangles and wider bars. Look at the reach numbers on our competition. With very few recent expectations our bikes are nearly a size up when reach is compared. That is because our competitor's bicycles are still designed to be ROAD bikes which you experience while seated.
VF: Who is the ideal rider (or trail) for this bike?
CM: Any mountain biker anywhere looking for versatility, durability and fun.