GT SANCTION | $2,170 (SOLD FRAME-ONLY IN THE US) | GTBICYCLES.COM
You wouldn't expect a bike GT puts in its gravity category right next to its bigger brother, the downhill World Cup-winning Fury, to be the least bit good at climbing. For a bike designed with input from former World Cup DH racer Dan Atherton, the Sanction sure can scoot up hills. To be clear, though, it's not a climber's bike–more like, as one tester put it, "It climbs with dignity." Its 66-degree head angle makes the front wheel flop around a lot, but pedaling efficiency isn't bad considering the bike's main focus. The Sanction was made for enduro racing, and rather than making a beefed up trail bike, engineers designed a mini downhill bike. With a racing format that pauses the clock for most of the climbing, it makes perfect sense. GT only offers the Sanction as a frame and shock in the U.S., mainly because enduro is "so huge in Europe"–so the only part spec for us to pick apart is the shock. The Sanction frame ships with a Fox Float X CTD Remote, and we see why. In a race situation, when fractions of seconds are at stake, firming things up on the fly is crucial. Not so much for us, so we actually never even routed the remote, making it was impossible to adjust the shock out of 'Descend' mode. Since the bike pedals efficiently enough, nobody seemed to miss the 'Climb' or 'Trail' modes.
Testers' most vocal complaint was with the bike's, well, vocals. It was the loudest bike in the test, thanks to vigorous chain slap. The chainstay is very close to the chainline–within the chain's striking distance in the smaller cassette cogs. It's nothing a thick chainstay protector can't fix, but worth noting.
Confident riders will have no trouble reaching vision-blurring speeds with conviction on the Sanction thanks to its stout aluminum frame, supple suspension and long wheelbase. It's not particularly light, but is remarkably stiff, making the bike feel secure at speed. When things slow down though, navigation takes a heavier hand. GT has a bit of a history going carbon only after the aluminum version has been fully proven. Aside from the chain clearance, we're convinced it has. – Ryan Palmer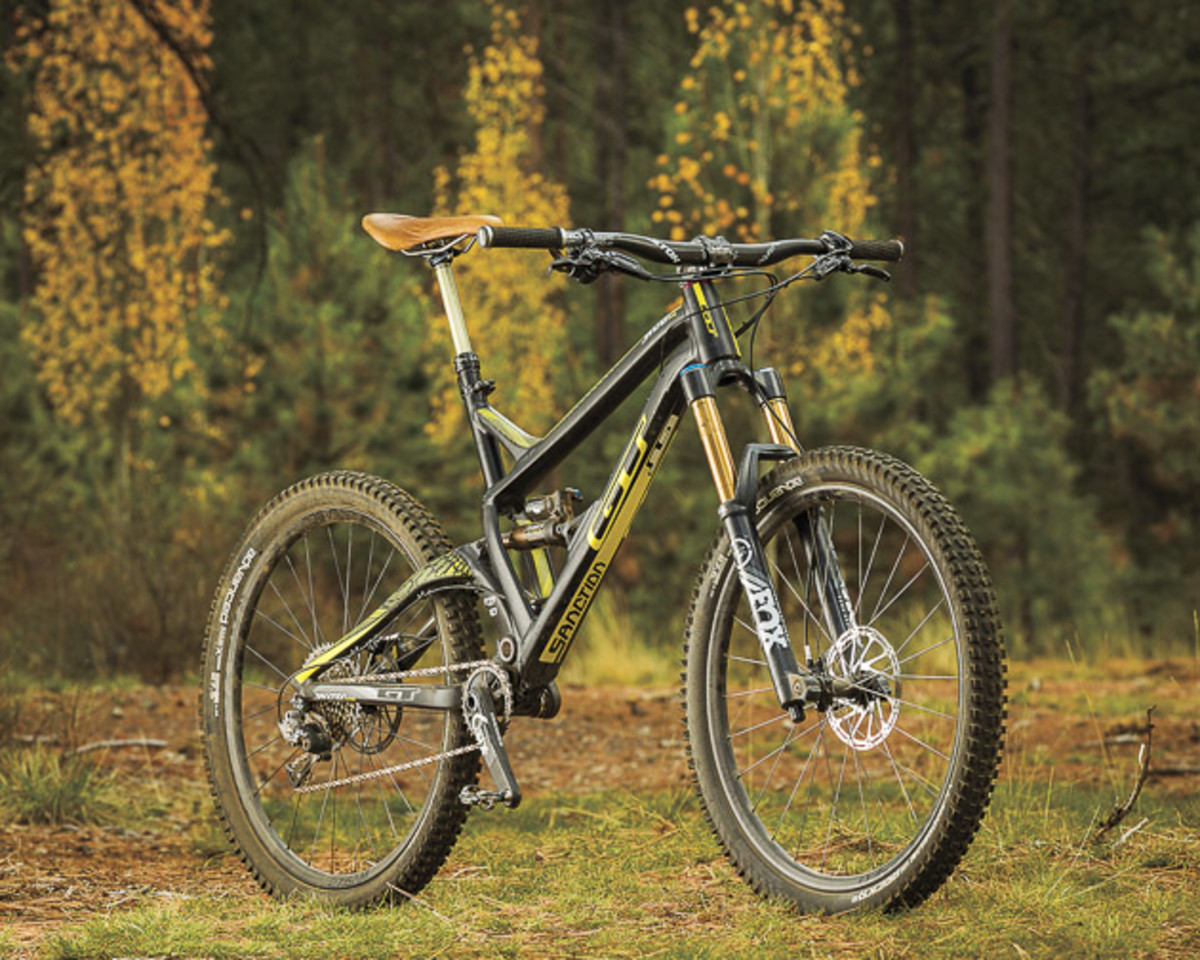 Q & A with Todd Seplavy, product manager – GT Bicycles
We had questions about the new bikes before we even got our test rigs, so we sent out a few queries—the kind of things we thought you might be asking yourself when you're looking at this bike. Then we sent out another round of asks if any major questions or issues came up during testing. Here's the feedback we received from GT product manager Todd Seplavy.
Consider this a bonus feature—just a little something extra to chew on if you're still hungry for information after you've watched our video reviews and flipped through the Bible of Bike Tests.
—Vernon Felton, Bible of Bike Tests Moderator
VERNON FELTON: After having ridden the 2014 Force and having been impressed like hell by it, I guess I'm curious as to why GT didn't use the same A.O.S. suspension design on the Sanction. What made, in other words, this particular iteration of I-Drive the better option for the Sanction?
TODD SEPLAVY: The Sanction is truly a gravity-specific model now, and really the hallmark of the I-Drive independent drivetrain system is its increased small-bump sensitivity. Our AOS design is just a little more biased towards climbing, whereas I-Drive offers a bit better straight-ahead downhill performance. The independent drivetrain system made more sense for a bike that was going to see action on very aggressive World Cup downhill trail conditions, which we are starting see on some of the Enduro World Series courses.
We worked a lot with Dan Atherton on this bike and one of the big things with the ID system that he liked is that it allows him to pedal really well over rough terrain. Now, that may not be what the average rider is going to do. A lot of consumers aren't charging that hard on a section of downhill trail like that, but in the Enduro World Series, where the top racers are trying to get every possible second out of a downhill track, it definitely matters.
VF: What sets this version of I-Drive apart from some others that our readers might have ridden on past GTs?
TS: So, similar to the Fury model, this new iteration of ID that we used on the Sanction is really designed for gravity use. We tweaked it for increased small bump sensitivity and, on the other end of the spectrum, better performance on big hits. That progressiveness is something that really sets it apart from the old Sanction, Furies and Forces. This version is designed to soak up bigger hits better when you're going Mach Schnell.
Also, by making the design more compact and tightening up that dogbone, we were able to increase stiffness dramatically on the frame. It's just a whole heck of a lot stiffer. And as with the Fury, the Sanction is designed to be used without a front derailleur. Designing it around a single-ring drivetrain allowed us to not be constrained by the need to just cobble a front derailleur into the design.
VF: I keep seeing the Sanction described as a mini-Fury: is that in keeping with what you guys wanted to get (performance-wise) out of the new bike?
TS: In many ways, yes it is like a mini-Fury. Pretty much from the first meeting with Dan Atherton, he expressed his need for a bike that wasn't just, as he put it, 'An all-mountain bike with a slack head angle and a few more millimeters of travel.' Dan saw the need for a chassis that was purpose built with a bias towards descending.
Since your not trying to gain time on the climbing transfer stages in an enduro race, you're really trying to wring out all the performance possible on the descending parts. So, yeah, the new Sanction is optimized like a mini-downhill bike, but it's a mini-downhill bike you can actually pedal up to the top of the hill.
The Sanction is also pretty versatile for riders who aren't actually racing enduro. You can use it on some downhill runs at the bike park or you can trail ride it. I mean, it's never going to flat-out replace an actual downhill bike at the bike park, but it can handle a heck of a lot.