FMB Diamond Series 2014: Crankworx Les 2 Alpes teaser
This weekend the FMB World Tour travels to the mountain biking haven Les 2 Alpes in France for the first FMB Diamond Series competition. The FMB Diamond Series is a new high-class series within the FMB World Tour, from which only one champion will emerge. With five FMB Diamond Series stops on the 2014 calendar – every result will count towards the overall standings, so each stop counts!
Once again, the French slopestyle pro, Yannick Granieri took on the task of designing the course. A flowy ride with gnarly kickers and a brand new feature–an open loop–is fit to challenge the world's best.
You can tune in live for the finals on Saturday July 5th on Redbull.com/bike and fmbworldtour.com.
Live viewing time of the FMB World Tour – Crankworkx Les 2 Alpes
Saturday, July 5 – 4:30 pm CEST (Local time, France)
Saturday, July 5 – 3:30 pm GMT
Saturday, July 5 – 10:30 am EDT
Saturday, July 5 – 7:30 am PDT
With the biggest names on the FMB World Tour all gathering in Les 2 Alpes, the battle for the first FMB Diamond Series points will be fierce.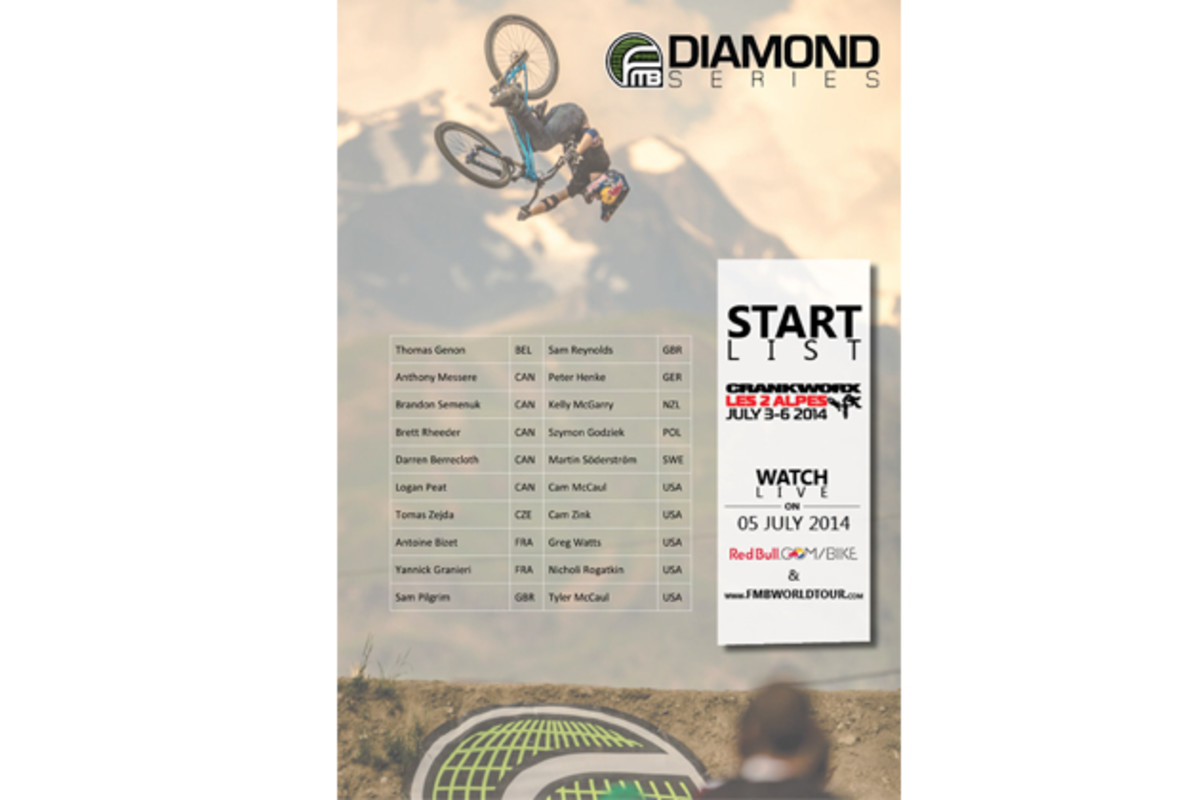 Antoine Bizet amazed the biking world a few weeks ago at 26TRIX with his debut double backflip no-hander. will he drop it again in Les 2 Alpes in front of a home crowd to secure victory?
Likewise, after the Gold event in Leogang, young-gun Nicholi Rogatkin has qualified in amongst the world's best. He seems to have the tricks and the guts to go big–huge in fact–but will it be enough to stay ahead of the more experienced athletes? Click here to watch a video of Nicholi Rogatkin rip and hear what his peers have to say about his rookie year.
After the contest, riders can submit their best POV photos for the brand new FMB World Tour Best GoPro Shot Award. Fans can visit the FMB World Tour Facebook page next week and vote for their favorite POV submitted by the riders themselves from Crankworx Les 2 Alpes. Visit fmbworldtour.com for more information.
More videos from Crankworx Les 2 Alpes:
Four weeks 'til Crankworx Les 2 Alpes
Brendan Fairclough in Les Deux Alpes