FELT EDICT 1 | $5,500 | FELTBICYCLES.COM
Much like the way production cars benefit from the trickle-down technology of their racecar brethren, the Edict reaps the benefits of Felt's FRD bikes. Textreme carbon technology, once relegated to those top-level FRD bikes, has made its way into the Edict 1 frame allowing additional strength and stiffness without the weight penalty. Felt squeezes 100 millimeters of travel out of the Edict's flexing seatstays, which replace the rear pivots, resulting in a snappy rear-end. Couple this with the svelte, stiff FRD layup and you get pure forward motion. Overall, it's a good-looking package–the Textreme material gives the carbon a unique look, the cable routing is super tidy and the frame has rivnuts on the toptube for dropper-post routing. Also, we were really chuffed to see a threaded bottom bracket (no single topic spawned more late-night debates than the scourge of press-fit bottom brackets).
The parts mix makes total sense for this bike with an agreeable mix of RockShox and SRAM. Highlights include the Sid 100-millimeter fork, X01 and X1 drivetrain and the very nice Easton EA70 XCT 29 wheelset.
On the trail, the Felt exhibited all the desired traits of a race bike–it simply blasted uphill. Its climbing kung fu goes toe-to-toe with anything else in this category. As could be expected, descending wasn't its strong suit but it wasn't bad either, actually far from it. With the shock open there is some initial suppleness early in the stroke and after that it ramps up quickly–actually kind of perfect for a race bike.
I've mentioned 'race bike' a lot, and that's honestly how it feels out on the trail, but throw a 120-millimeter fork on the front and I wouldn't mind betting that this thing would quickly shed its number plate and turn into a solid cross-country companion.
An Edict is defined as an official proclamation by an empowered person, so what's the Edict's edict then we ask? I think Ricky Bobby said it best: "I just want to go fast." Without a doubt, the Edict was the fastest, most-efficient, mountain-flattening bike in our test. Exactly what you're looking for when courting XC race bikes. – Simon Stewart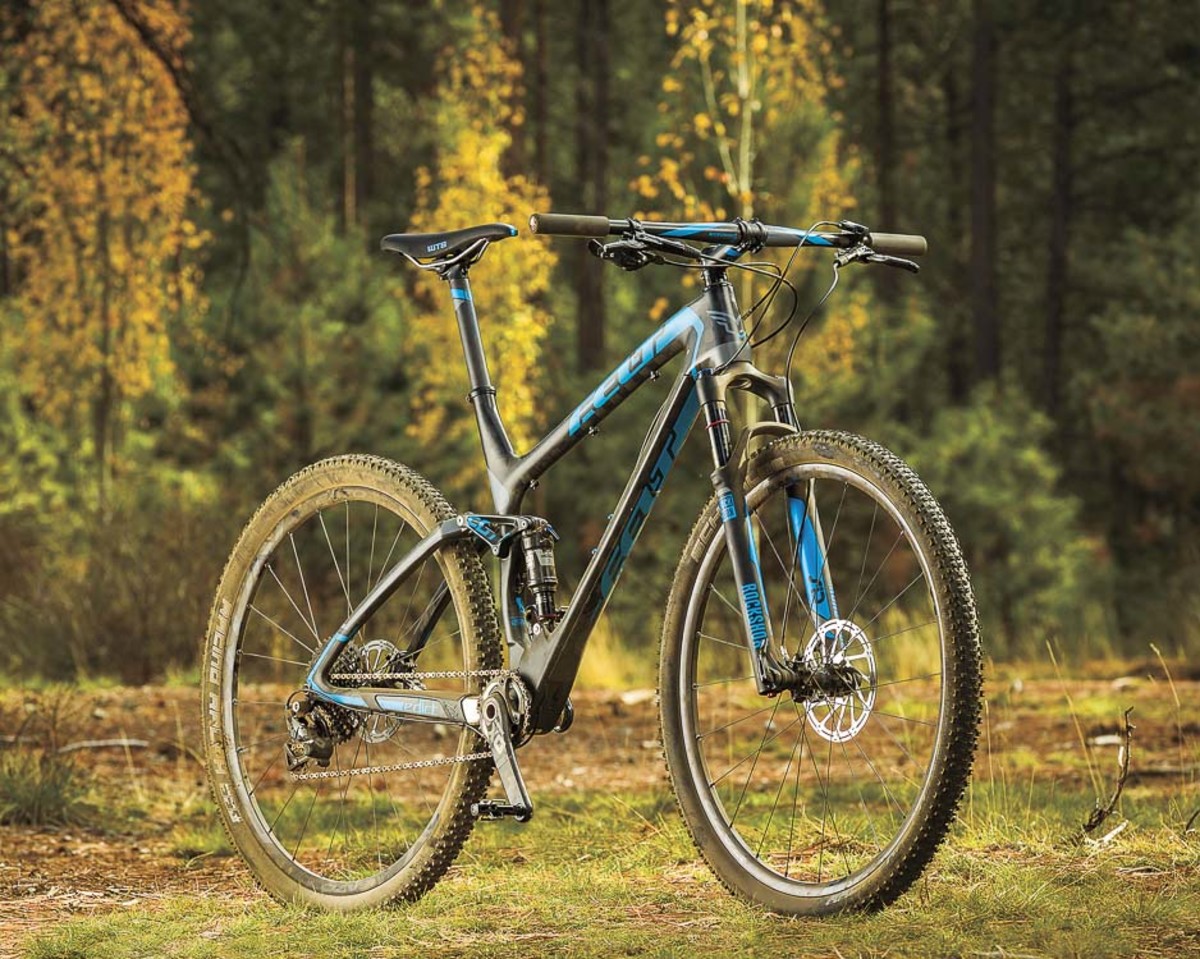 Q & A with Rob Pauley, mountain bike product manager – Felt Bicycles
We had questions about the new bikes before we even got our test rigs, so we sent out a few queries—the kind of things we thought you might be asking yourself when you're looking at this bike. Then we sent out another round of asks if any major questions or issues came up during testing. Here's the feedback we received from Felt mountain bike product manager, Rob Pauley.
Consider this a bonus feature—just a little something extra to chew on if you're still hungry for information after you've watched our video reviews and flipped through the Bible of Bike Tests. – Vernon Felton, Bible of Bike Tests Moderator
VERNON FELTON: What were the key riding traits that you were trying to impart on the Edict 1 when it was under development?
ROB PAULEY: Instead of building a suspension bike that "needs" a lockout, our engineers developed a strong, lightweight platform that provides the climbing performance necessary in a cross-country bike, while maintaining an active system that many riders have come to expect from a suspension bike. What's the sense in having a suspension bike that you have to lockout in order to climb efficiently?
VF: How did you go about actually make those goals a reality?
RP: The carbon flex stays have a built-in pedal platform (separate from the shock) that "spring-loads" the rear end, helping us get a bike that pedals efficiently, absorbs every bump, and eliminates the need for rear pivots, thus making it light and reliable.
VF: What sets the Edict 1 apart from other bikes in the cross-country world?
RP: It's a little known fact that Felt has a team of in-house engineers who work to make our bikes as strong and as light as possible, with a suspension system that delivers the type of performance desired by the intended user. We are also one of the few companies that have made the investment in Textreme Carbon technology, a unique carbon weave that adds strength and reduces the weight of the frame.
VF: Who is the ideal rider for this bike? The cross-country category is more diverse than it used to be: it's not like everyone is looking to buy a hardtail with 71/73 geo and a 23-inch top tube anymore. Things have gotten more interesting. That said, I imagine you guys had a kind of ride (and thus a kind of rider) in mind when you designed this rig…
RP: Yes, the Edict is designed as a cross-country race bike, but as we know from other sports (motocross, road cycling, street bikes), there are a lot of people who want the performance of a RACE bike, but may never actually race their bike. So, we see cross-country racers riding this bike, as well as endurance racers, trail riders, weekend warriors, marathon racers…honestly, anybody that wants a lightweight, efficient mountain bike. Adding a 120-millimeter travel fork transforms it into a pretty rad little trail bike, so the Edict can suit a wide range of riders.
Check out some of the Edict's competition in the cross-country category:
Yeti ASR C