BANSHEE PHANTOM | $2,050 (FRAME ONLY) | BANSHEEBIKES.COM
"A bike for Bo and Luke Duke, maybe even Chuck Norris," commented one tester. That seems about right. Bo and Luke can drive the wheels off a car, and the Phantom, like the General Lee, really shines with someone who can ride the wheels off it. Chuck Norris, on the other hand, can kick the shit out of you, and has no correlation to this review whatsoever.
Banshee is a company that not only listens to its customers, but builds bikes from a homologation of rider input and its own engineers' design ideas. One of these design goals was to produce a bike with a more connected feel to the trail, which is how Banshee decided on 105 millimeters of rear travel as the sweet spot. The hydro-formed 7005 aluminum frame looks stout, and the industrial aesthetic was refreshing in a sea of pink and cyan carbon. The Phantom employs Banshee's KS suspension design with kinematics tailored for shorter travel. The rear swingarm has a three-position adjustable drop-out, which changes the bottom bracket height and gives the head angle options of 67.5, 68 or 68.5. Banshee recommends a 120-millimeter fork with a 51-millimeter offset, but the frame can handle up to a 140-millimeter fork if you dig a slacker ride. Our test bike was also equipped with the excellent Cane Creek Inline rear shock, which can take some time to tune, but is well worth the effort.
The Phantom's stiff frame was immediately apparent. It climbed as efficiently as you would expect from a 105-millimeter-travel 29er, however it didn't feel terribly quick on the climbs because, as one tester noted "she's big boned." Typically at this travel, we're on svelte and often-flexy XC rockets. This is definitely not the case with the Phantom and you can feel that extra heft. With that said, the Phantom is most definitely not trying to be a race bike. Hooray for that.
"Psychotic fun," one tester noted. Others scribbled, "Its cornering ability is akin to a World Cup carving ski–incredibly precise" and "It sliced up the descent like a finely sharpened aluminum knife through a pound of room-temperature Irish butter." There you have it. – Simon Stewart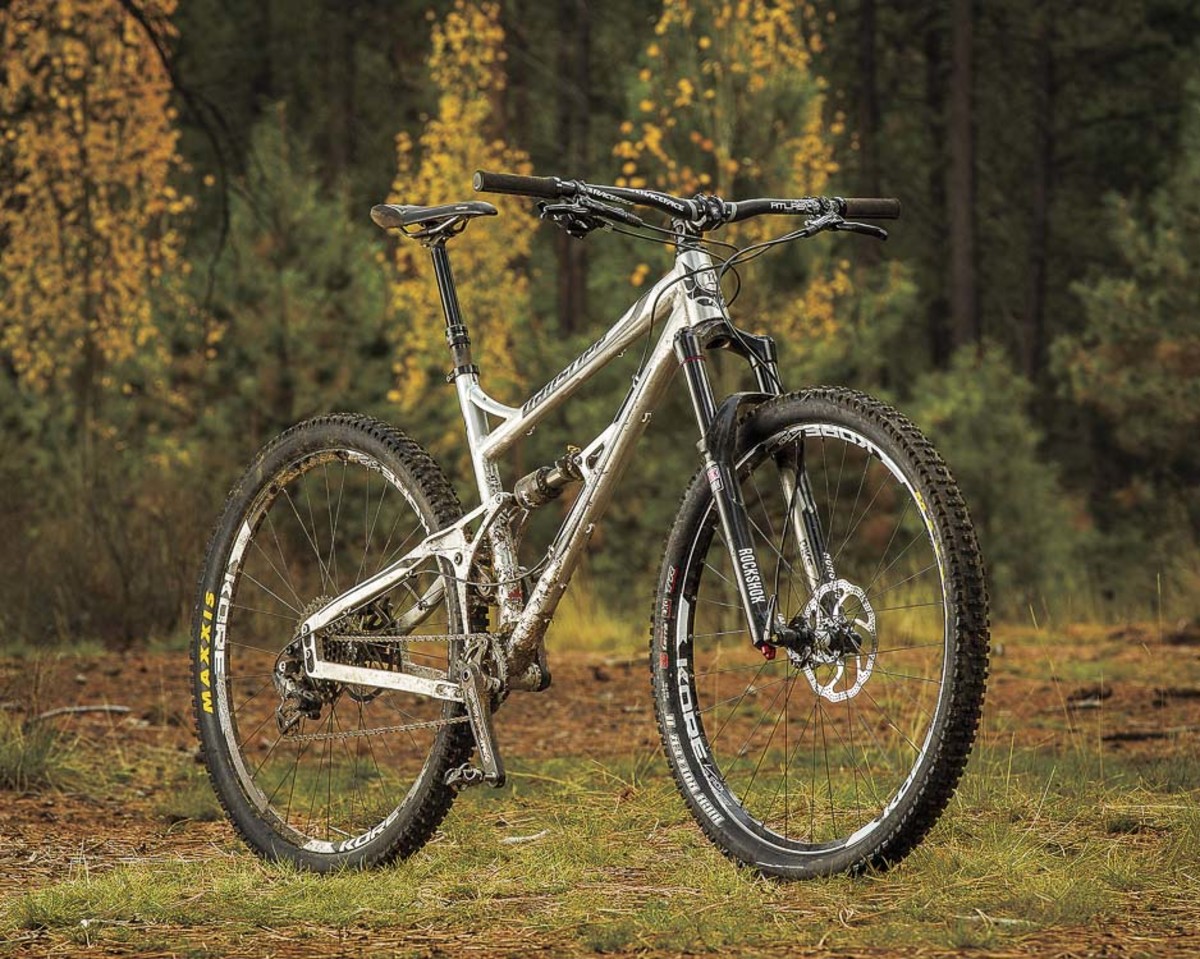 Q & A with Keith Scott, co-owner and designer – Banshee Bikes
We had questions about the new bikes before we even got our test rigs, so we sent out a few queries—the kind of things we thought you might be asking yourself when you're looking at this bike. Then we sent out another round of asks if any major questions or issues came up during testing. Here's the feedback we received from Banshee's co-owner and designer, Keith Scott.
Consider this a bonus feature—just a little something extra to chew on if you're still hungry for information after you've watched our video reviews and flipped through the Bible of Bike Tests.
— Vernon Felton, Bible of Bike Tests Moderator
VERNON FELTON: So, who's the ideal rider for the Phantom? That sounds like a stupid question, I know, but there are plenty of people who want a stout, aggressive bike that excels in technical terrain, but they want more travel than the Phantom offers and/or they want smaller wheels. So, that being said, who do you see as the ideal rider for this bike?
KEITH SCOTT: The Phantom certainly is causing some confusion, due to it braking the convention of short-travel 29ers. However, there are riders out there who have secretly been waiting for this bike for years.
The type of rider who will love the Phantom are the riders who enjoy the benefits of big wheels, but don't like the 'numbing' effect that they can have on the trail when combined with big travel. The Phantom rolls like a 29er, but, due in part to its short travel, also provides the fun factor by providing the rider with good feedback from the trail. When you combined this with the aggressive geometry and stiff frame, it results in a fun and very fast bike that is efficient for long days, but can also be ridden aggressively when you want to attack the trail and find your limits.
The Phantom is capable of making a wide range of riders happy, from downhillers who want a great trail bike, to cross-country riders who want a bike that inspires confidence to progress the level of their riding, and everyone in between. Remember—this bike has been ridden at Enduro World Series races, so it can be ridden hard. The more aggressive you are, the better it performs.
VF: There aren't a ton of bikes in this category…or to put it another way, just as this category was coming into its own, a bunch of companies seem to be reshuffling their lines and positioning 29ers as XC-only machines and relegating 650b to any bike that doesn't scream for full spandex skin suits. This strikes me as a shitty trend and, frankly, I'm glad to see this bike alongside other rigs like the Kona Process 111, Rocky Mountain Instinct BC Edition, etc.
But here's my question: Are you concerned that some people who might be good candidates for this bike might brush it off as being "outdated" because of the 29er hoops?
KS: There is no doubt that the bike industry is full of trends. Some riders follow them, and some rise above and just ride whatever they enjoy. We like to look beyond the current fads, and offer our customers frames that will inspire confidence and be fun to ride. The trends often are started and propelled by the big brands throwing lots of $$$ at marketing in order to make a profitable return. If I follow all these trends, then I just end up designing similar bikes to the big brands, and enter that grey area. Rather than tell our customer what they should ride, I much prefer to listen to our customers and combine their ideas with the bikes that I personally want to ride to create frames that stand out and have real-world benefits for our customers.
I challenge anyone who thinks that the Phantom is not a contender to test ride one…they will be surprised. I'm not saying it is a bike for everyone, but it puts a big grin on my face every time I ride it, and hear the same from test riders and customers every day. Oh and did I mention it was fast!?
This isn't a wheel size thing…I never try to promote one wheel size over another. It's about getting the most from a given wheel size to offer something different. You can read my blog posts about this if anyone doubts that claim, each wheel size has benefits, and each has compromises on a sliding scale… it's just a case of picking the option that best suits your needs.
VF: It sounds wonkish, but 51-millimeter offset forks do seem to reduce trail on 29ers and improve their front-end handling. Are the built (complete bike package) Phantoms coming with a 51-mm offset fork to help reduce trail and improve front-end handling?
KS: Yeah, the Phantom is currently offered with a Pike 120-millimeter travel fork with a 51-millimeter offset. We tested both offsets, and while honestly there wasn't much difference overall, the 51-millimeter offset felt slightly more balanced in certain situations.
Want to know more about bikes like the Phantom? Check these out:
Kona Process 111