There's no question that Marin Bikes have made a major comeback with the Mount Vision Carbon XM Pro. But how does this handsomely equipped model stack up against other top-of-the-line 'enduro' bikes? And how did it make our testers "man up and charge"? And, perhaps most importantly, why did it compel one tester to talk about the size of his arse? Find out at 5:40 of this video.
MARIN MOUNT VISION CARBON XM PRO
Price: $7,800
Contact: marinbikes.com
Direct Link: http://www.marinbikes.com/us/bikes/description/2014-mount-vision-carbon-xm-pro
Final Take: Flat out the best bike Marin has produced in years.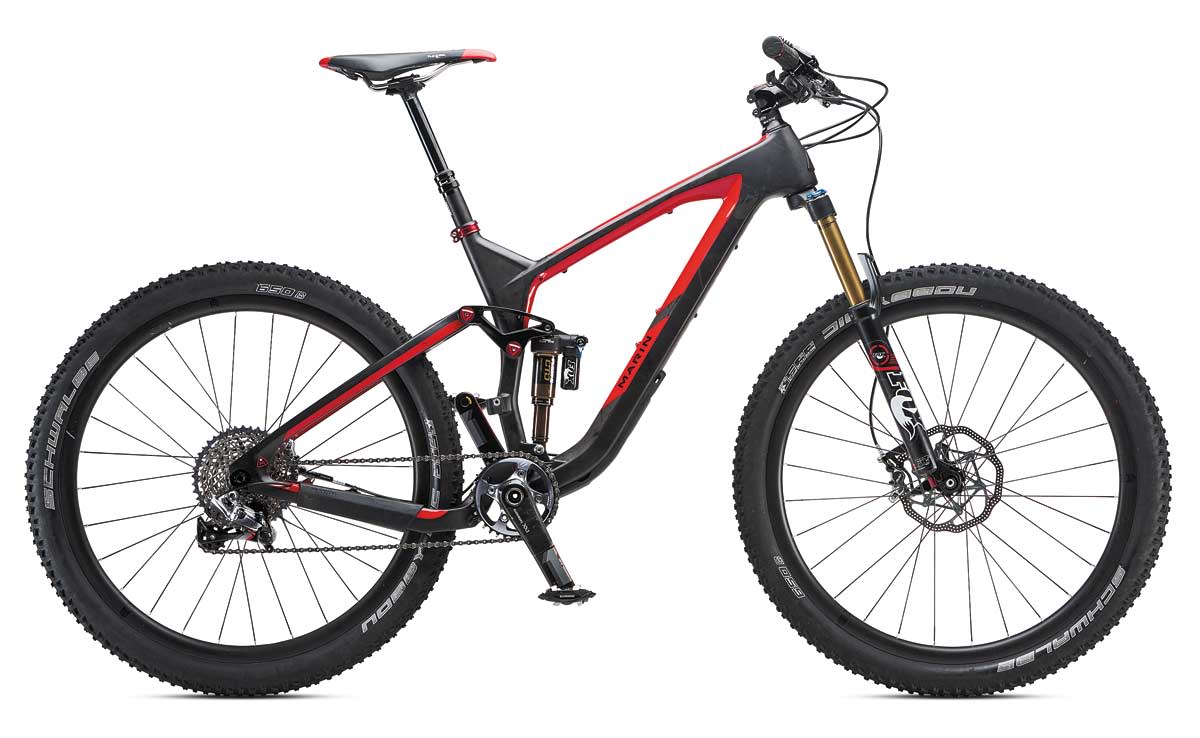 Usually when a product earns the 'Most Improved' tag, it's a backhanded compliment—a facile way of saying, "This new product is okay, but its predecessor was crap." Well, the new Mount Vision is not just okay; it truly rivals the best bikes in this niche.
It's equipped with 140 millimeters of suspension front and rear, a lightweight carbon chassis and angles that strike a balance between agile climber and capable descender. This is a top-tier bike with the parts to prove it. Highlights include the SRAM XX1 drivetrain, RockShox Reverb Stealth dropper post, Formula Xero carbon wheels, Avid Elixir X0 Trail brakes and Kashima-coated Fox Float-X rear shock.
The bike accelerates well due in no small part to its mere 27 pounds and the new frame. The full chassis is based on a design called IsoTrac. It looks a lot like the existing Quad-Link 3.0 design, but the new configuration eschews that design's lower linkage for a simple pivot and carbon chainstays that flex.
It pedals efficiently yet feels smooth on both small and big hits. A few testers noted that the seat angle felt a bit steep, but that may also help the bike's climbing abilities.
Yes, the Mount Vision straddles the line between trail and enduro, but the kit seems a bit schizophrenic. The relatively narrow 711-millimeter Easton Haven Carbon bars, ultra-light Schwalbe Nobby Nic tires and painfully skinny Fizik Tundra 2 saddle are all better suited to a cross-country bike.
And a Fox 32 fork? It's a good fork, but the stouter 34 model would be a much better match for the rest of the bike's burly personality. We scratched our heads over the 34-tooth chainring on the XX1 crank. A 32-tooth would make big climbs a good deal easier. That's an easy fix, though. We're nitpicking now. The 2014 Mount Vision is the best bike from Marin in ages and a stellar bike by any standard. –Vernon Felton