For many riders, the highlight of this announcement will be the addition of an 11-speed SLX-level drivetrain, including a crank with a 'DCE Profile' retention chainring as well as a new clutch rear derailleur. Also notable is the new SLX brake, with an integrated master cylinder; a cassette which shaves some weight with an aluminum spider and a mix of aluminum and steel cogs.
Cassette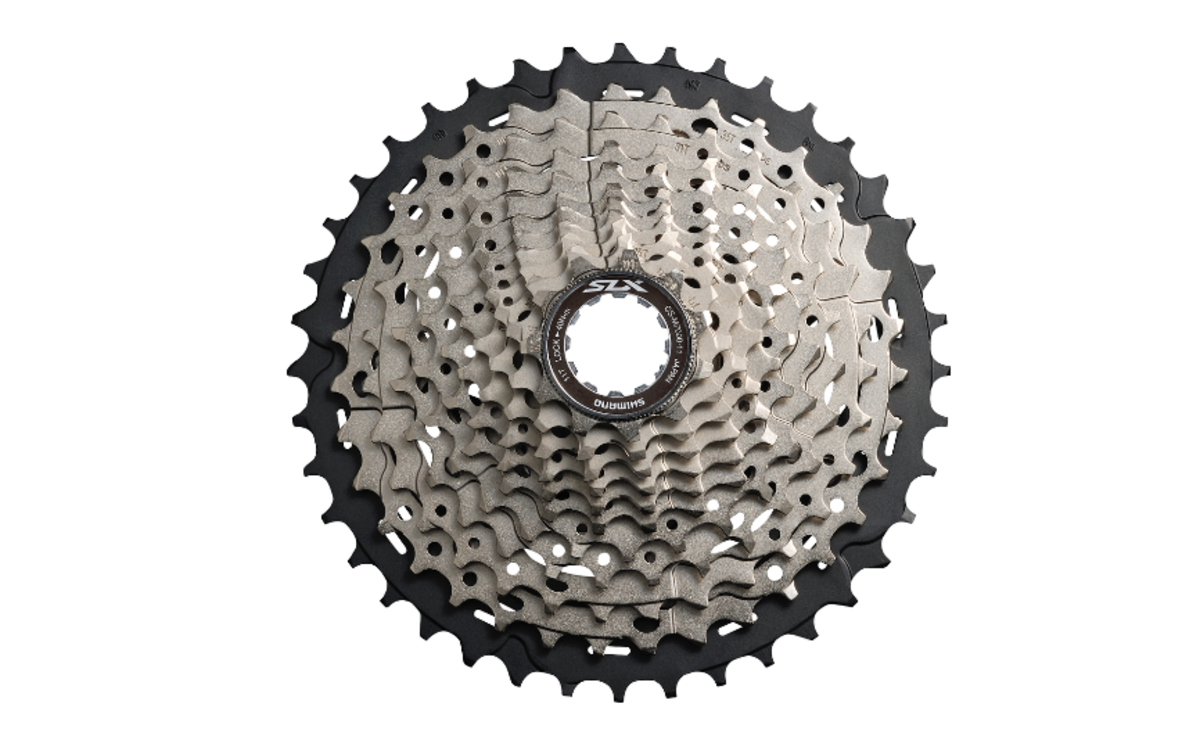 The CS-M7000-11 11-speed cassette is held together by an aluminium spider, and features a mix of aluminium and steel cogs. It's available in two configurations: 11-42T and 11-40T.
Cranks
Trickle down from XTR and XT brings Shimano's Dynamic Chain Engagement (DCE) 1×11 tooth profile and 3D composite chain rings to SLX. SLX M7000 1×11 and 2×11 cranks are optionally available with 3-mil-wider spindles for use with Boost 148 hubs. The new SLX-level bottom bracket is available in press-fit or threaded options and Shimano says that the new BB is lighter, more durable and has reduced seal drag.
FC-M7000-11-1
– DCE-profile chainring
– Stainless steel chainring teeth
– Offered in 30T, 32T, and 34T
– Optional +3mm width for wider frames
FC-M7000-11-2
– Offered in 34-24T, 36-26T, 38-28T
– Optional +3mm width for wider frames
– Compatible with 11-40/11-42 cassettes
FC-M7000-10-3
– Offered in 40-30-22T
Rear Derailleurs
SLX already featured Shimano's clutch system, and Shimano says the new rear derailleurs have a refined geometry and adjustable stabilizers, which allow for either maximum stability or minimum shift effort. Both the 11- and 10-speed versions are direct-mount compatible.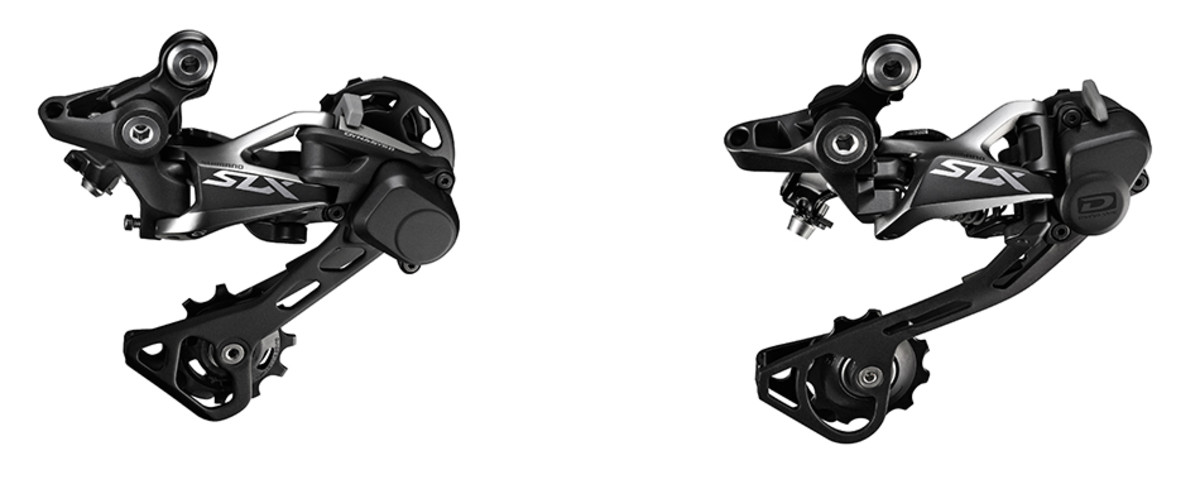 RD-M7000-11-GS
– 1×11 and 2×11 compatible
– Shallower slant angle and lower-profile design
– Adjustable clutch tension
RD-M7000-10-SGS
– 3×10 compatible
Side Swing Front Derailleurs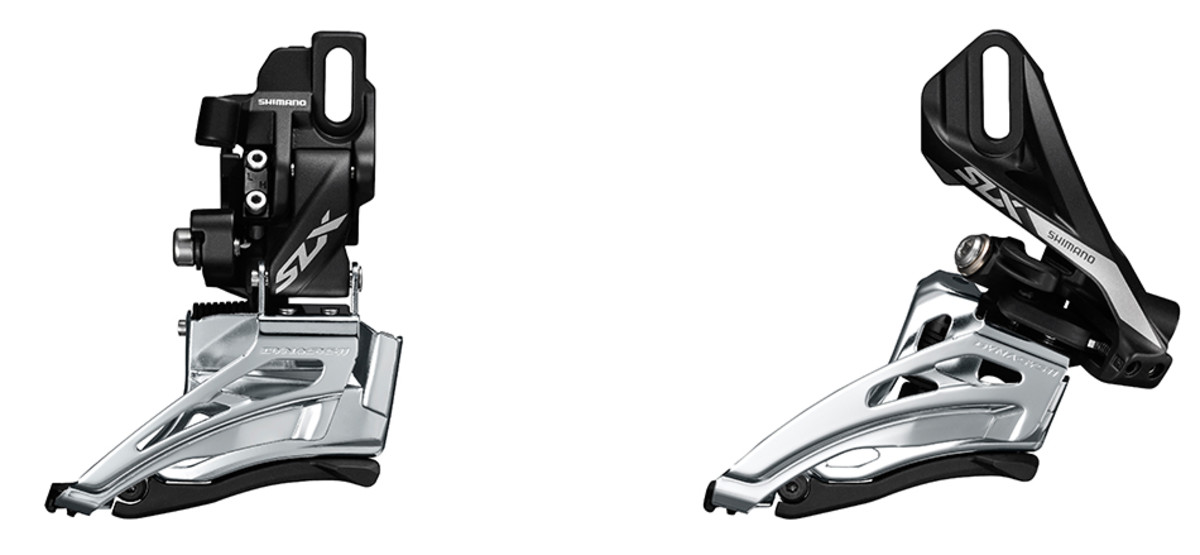 – FD-M7020-11 (2×11) and FD-M7000-10 (3×10) options
– Integrated cable stop
– Increased tire clearance
– New structure with current mounting options and new cable routing
– High clamp, Low clamp, D-type, E-type (without plate)
SLX SL-M7000 Shifters
Shimano has slimmed down the new SLX shifters, which come with longer levers that decrease shift effort. Available in two I-spec options or band clamp mounting.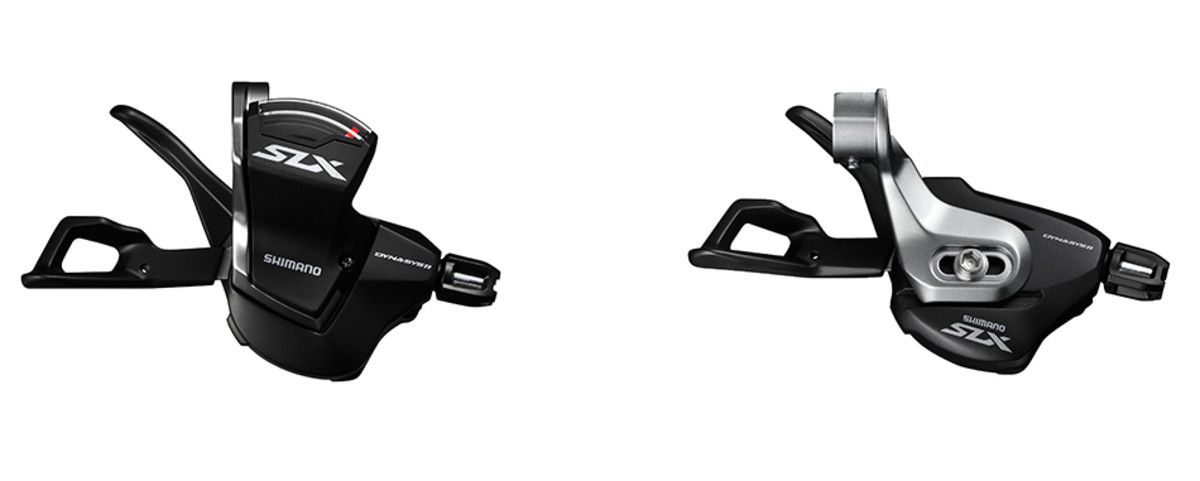 Brakes
The new SLX M7000 brakes receive an integrated master cylinder that gives a sleeker look, saves weight and frees up valuable handlebar space. New SLX-grade SM-RT70 center lock rotors promise to improve heat dissipation through refined shaping and an alloy adapter.

– Servo Wave levers
– Narrow clamp band
– I-spec II, I-spec-B options
– Tool-free reach adjust
– SM-RT70 disc rotors available in 160, 180 and 203mm sizes
Pricing

Shimano SLX M7000 components will be available in July 2016.