By Shauna Farnell
Photos: Devon Balet
While riding through Catalina State Park north of Tucson, Arizona–or anywhere else along the hundreds of miles of singletrack in the Sonoran Desert–you can't help feeling like you are being watched. Cruising along the mostly flat 50 Year trail–named after the old cow-pasture path easement it sits on–the terrain plunges through short steeps, up and down bristle bush-covered hills and over rocks as prickly pears glance your ankles. Narrowly avoiding the barbed spines of the ropey limbs of cholla cactus slung to either side of the trail, you shift into the rhythm and slalom around curves but still can't shake the notion that you aren't alone. By the time you're climbing the rocky switchbacks of the upper 50 Year at the arid base of the Santa Catalina Mountains, you know that your ride is being witnessed–not by a single spy, but by hundreds of stoic observers.
Then, as you scan the horizon, the green giants finally show themselves. They are the saguaro cactus–statuesque figures that are native and exclusive to the Sonoran Desert–which can grow 50 feet tall and live for hundreds of years.
"The Tohono O'odham Indians say that the next generations of people who die come back as saguaros," says Steve Anderson, one of the pioneers of Tucson's bike trails and co-founder of Sonoran Desert Mountain Bicyclists (SDMB), who is now the planning division manager at Pima County Natural Resources, Parks and Recreation. "Riding in the Sonoran Desert is a completely different experience. Each of the trails is a different experience from one to the next."
Tucson is not a famous mountain bike destination, but with around 1,000 miles of singletrack, most of which can be ridden year-round, it really should be. The Sonoran Desert trails stretch from the Santa Rita Mountains to the south of Tucson, to the Rincon Mountains to the east, the Tucson Mountains to the west and the Santa Catalinas to the northeast. And everything is relatively close; even the distance between the two most-separated trailheads can be covered by car in about an hour. If you want a true glimpse of the gamut of riding difficulty and of the region's natural climates, hit the network to the north. That's where Catalina State Park and the surrounding expanse of desert that envelops the famous University of Arizona Biosphere 2 research facility serves up slabs of slickrock, sandy washes and hilltops featuring families of uniquely shaped saguaros as far as the eye can see. The trails north of Tucson include the long-standing racecourse for 24 Hours in the Old Pueblo comprised of rolling steep descents on a jeep road called The Bitches (or a Skip the Bitches bypass), plus a knee-shaking slickrock descent. There's also the Tortolita Preserve near Dove Mountain–a 10-mile singletrack loop of hard-packed dirt and sand in an ironwood forest with so many life forms–all nicely labeled with metal signs–that you'll forget you are in the desert. Catalina State Park alone has 20 miles of singletrack that crawl 1,500 feet up a cliff side, and is home to Mt. Lemmon, the nation's southern-most ski area laden with dozens of miles of singletrack. At 9,000 feet, you can bomb over huge pine logs and white rocks through a surreal array of ecosystems, from high alpine to low desert, covering more than 6,000 vertical feet.
The skeletons of many Tucson bike trails have existed for decades, built by and for hikers and equestrians. It was in 1991 that, thanks to Anderson's efforts, Saguaro National Park's Cactus Forest Trail–a fun, sandy, 10-mile loop–became the first trail in a national park open to mountain bikers.
"That was the start," Anderson says. "I got with the park superintendent and said, 'Hey, do you need a mountain biker on your board? Mountain bikers are good people. We're not the best people…but we're good people. We're as good as hikers. I want the chance to prove it to you.'"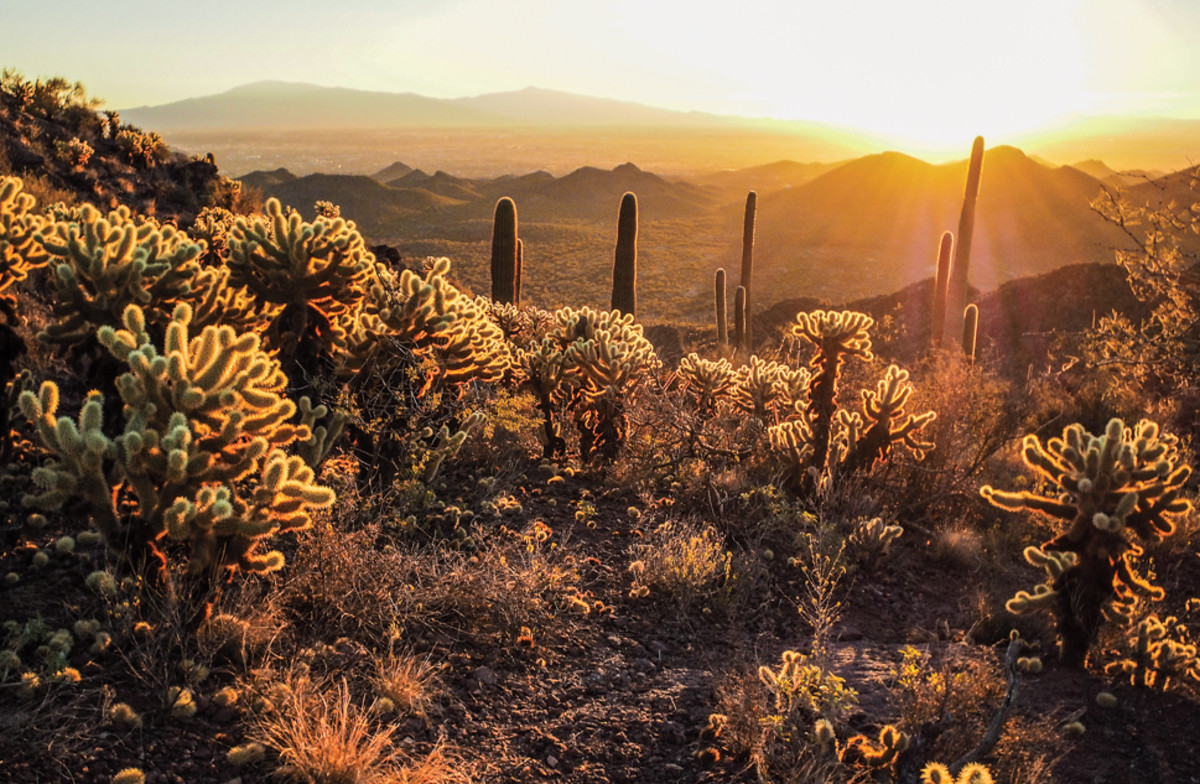 The Sonoran trails are all shared use, and Anderson, who was the first International Mountain Bicycling Association rep for Arizona, made good on his word, bringing out dozens of enthusiastic bike volunteers to help build, renovate and maintain 30 networks of trails in the Sonoran Desert system, including the 800-mile Arizona Trail, which stretches across the state from Nevada to Mexico.
"When I started mountain biking in Tucson in '92, we basically had three areas to ride," says Zach MacDonald, current president of Sonoran Desert Mountain Bicyclists. "They were remote. We had Tucson Mountain Park, Elephant Head trail and an out-and-back on Reddington Pass … maybe a little bit on Mt. Lemmon and the 50-Year trail. It was about 30 percent of what we have now. Now, any direction you go, you have a place to ride and it's all singletrack."
Some networks are all new thanks to SDMB. There is Fantasy Island east of Tucson, a system of fast, intermediate-level, one-way loops with a couple of technical washes where the surrounding foliage of dry green bushes are smattered with old cars and furniture. Fantasy Island is also home to SDMB's night rides. Sweetwater lies west of town, where numerous loops of beginner to intermediate singletrack take you through perhaps the densest section of majestic saguaros anywhere in Tucson. Sweetwater is a favorite spot for SDMB trails director Evan Pillings.
"My wife started riding about a year ago on Sweetwater, which is great because it's 15 miles of stacked loops…whatever you want to do," Pillings says. "We're lucky because if you live in central Tucson, you're about 20 minutes away from almost everything. The option of going up to 9,000 feet to Mt. Lemmon doesn't appeal to us much this time of year–we're cold wusses. But I can go for a ride in 105 degrees, no problem."
Even in January it's not uncommon for temperatures to hit 65 degrees in Tucson, but the low can dip to freezing overnight. Still, because the dangerous creatures of the desert are more dormant in the winter months, it's an ideal time to ride. However, rattlesnakes, scorpions and even angry cattle are ever-present in the Sonoran Desert. Anderson once witnessed a rattlesnake launch at his riding buddy, and on another occasion, a cow stuck in a rope at Tortolita head-butted his brother, who had stopped to help free it.
"That's one thing about riding in the desert, everything can hurt you–all the plants are thorny, all the rocks are sharp … everything is either sharp or poisonous or both," MacDonald says.
But as long as you have a decent GPS, plenty of water and layers you could ride all day for two weeks in Tucson and not get close to sampling all of the singletrack there.
"The Sonoran Desert is one of the most bio-diverse places on earth," MacDonald says. "It's almost a lush desert. You'll see every kind of plant, tree, cactus…even arrowheads and old pieces of pottery from natives that inhabited the area. There's no other place like it."
Ride Tucson
Know before you go: You must purchase a State Land Use permit to park at many trailheads in the Sonoran Desert. Also, because much of the land is cattle country, be sure to close gates behind you as you ride. Beyond the trailheads, many routes are not well-marked, so a GPS is a great idea. MTBproject.com has a great app with clear instructions on many of the area's trails. Bring plenty of water.
Camping
There is a year-round campground in Catalina State Park. There are also unregulated sites near the 24-Hour course at Willow Springs
Where to Stay
On the high-end there's the beautiful Hilton El Conquistador resort north of town, within about 15 miles of Golder Ranch and Catalina State Park trails. There's also the mid-range, bike-loving Lodge on the Desert and the more affordable and very central Hampton Inn Tucson.
Where to Celebrate
Catalina Brewing Company is run by mountain bikers, sponsors 24-Hour in the Old Pueblo and, in addition to delicious brewskies, sells cool T-shirts and jerseys. Thunder Canyon Brewery has two locations, one in the foothills and one downtown. Thundercanyonbrewery.com. Noble Hops is near the Catalina and Golder Ranch trailheads. Noblehopspub.com.
Related: