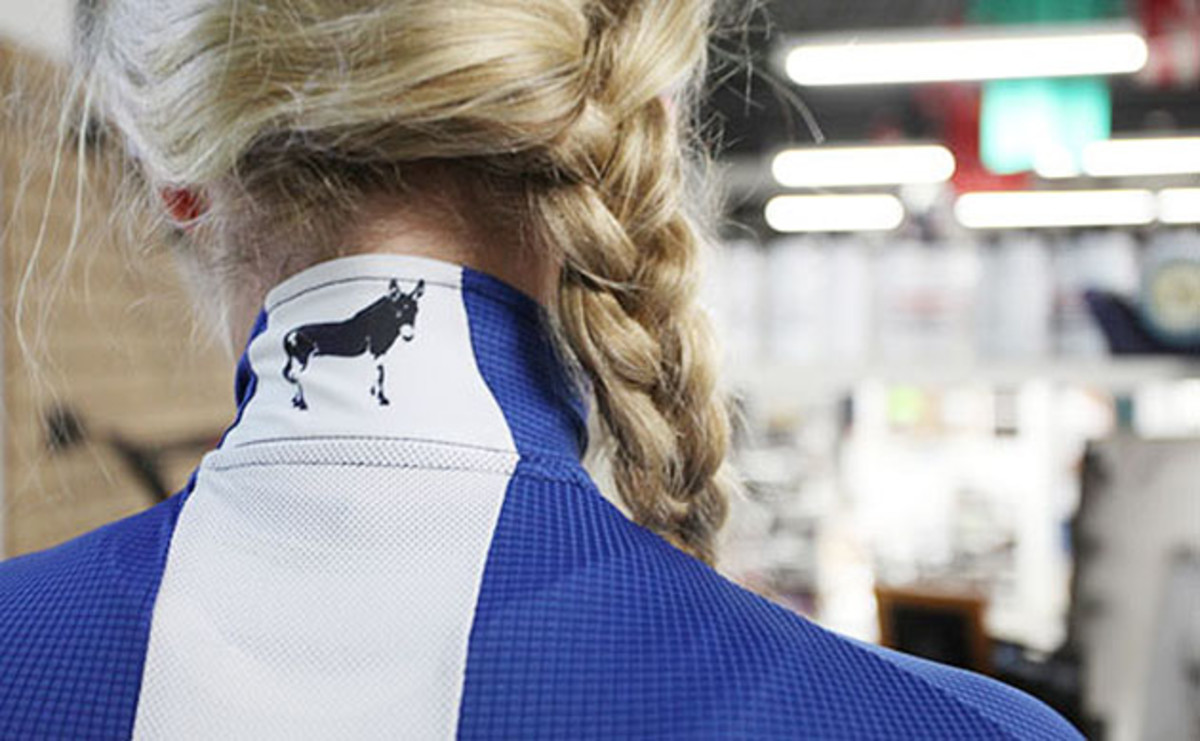 INTRO. — Nondescript Corporate Office Setting
Paul Krumrich is a triathlete turned cyclist with a passion for cyclocross and road racing. Fresh to the sport by curmudgeonly standards, Kumrich has been on the scene long enough to develop a discerning taste for cycling apparel. Affronted via phone by an archetypal [thoroughly disheveled] journalist of the hack variety, Krumrich explains the story behind his latest endeavor, Donkey Label. The Donkey Label is a line of custom-tailored cycling apparel and body care accessories based out of Minneapolis, Minnesota.
Fade In to Split Screen

The journalist and Paul are on a long distance phone call. Each shares half of the frame. The journalist is shrouded in shadows and Orwellian-pseudo-corporate overtones while Kumrich is brightly lit and in focus.
Krumrich
…I just assumed Rapha stuff was made in London.
"Journalist"
I think a lot of people are under that assumption, no?
Cross-fade to single frame featuring Krumrich
Krumrich
I had a Rapha cyclocross jersey and, after a while, discovered, hidden on a tag deep within one of the pockets that it was made in China.
I also had a few Castelli race kits, but I just didn't seem to want to ever wear them.
Silence while "Journalist" writes. Cut to "Journalist"
"Journalist"
So you decided to make your own?
Cut to Kumrich
Krumrich
Yeah, I had read about the clothing model started by J.Hillburn, in the New York Times. They offer custom dress shirts for men at reasonable prices. And, once you get measured by one of their local "Style Consultants" they store your information on file forever, so re-ordering is as simple as it gets.
Guys are typically lazy, but as J. Hilburn's success shows, this has proven to be a model that works well.
"Journalist"
So why Donkey Label?
Krumrich
We didn't set out to be the poor-man's Rapha—no one wearing this stuff should be taking themselves too seriously and the name was meant to reflect that. And it's really poking fun at myslef and my buddies who started this endeavor, because when it comes down to it, we're all just a bunch of donkeys anyway.
Cut to "Journalist"
"Journalist"
Got it. So what, other than the custom-tailoring, sets the DL apart?
Cut to Krumrich
Krumrich
We're proud of the fact that every piece we produce is hand-stiched in the U.S.—in fact, our whole operation is pretty local. We utilize a small-load stitching operation in St. Paul, and by "operation" I mean one talented lady. the only thing that isn't local is the fabric itself, which, for quality reasons we needed to source from Italy.  For our body care line I found a woman in Wisconsin who made boutique baby products.
The localism movement has been gaining some serious steam, so this whole idea is almost as much of a social experiment as it was a business decision—let's really see if people are willing to put their money where there mouths are when it comes to having the option of buying something local.
Fade to "Journalist"
"Journalist"
I guess we will. Best of luck.
Fade out.
Epilogue
Since the interview,  Donkey Label has begun production, and is now accepting orders for custom jerseys. To begin the process, interested parties are asked to send a postcard stating their intent to commission a custom jersey. We recommend one along the lines of the one we sent…

Plans to add fully customs bib shorts into the equation are in the works and production is predicted to begin next year.

Straight from the Donkey's mouth:
Donkey label – Function, Fit, Form.
Function: A cycling jersey is an interesting animal. It's an exercise garment that often needs to perform for up to seven hours in varying conditions. The best ones allow the human body to move and breathe as if it were wearing close to nothing. Small things can become big things with enough time and friction.
Fit: No two cyclists are the same. We get our bikes fit specifically to us, our shape, our size, our flexibility. Why not our jerseys? At the DL we believe that a properly fitting jersey is something everyone should have access to. Once you wear a jersey made specifically for you, it will be hard to go back.
Form: Cycling is a sport where fashion has always been a component. Looking good on and off your bike is something we should all strive for. I love the grateful dead, but I feel strongly that one can show respect for both Jerry and Cycling by not combining the two.
Our approach is to design simple, clean, high performance jerseys that also say something about all of us and the aesthetic of the great sport of cycling.
The Process
Step 1. If you are interested in a custom tailored jersey, send us a postcard: (yes a postcard – support your local post office and see if you can still write with a pen)
Donkey Label
2740 31st ave S.
Minneapolis, Minnesota 55406
Include the vitals – Something unique about yourself, your name, your email address, your return address, your sex and age)
Step 2. Check the waiting list to see your postcard amongst the others and see where you are in the que.
Step 3. We will send you a password to so that you can login to the site and unlock the products that are reserved for Custom Tailored Customers. You will then be able to purchase the Custom Fitting process from the site.
Step 4: Go through the custom fit process which will result in us creating an individual pattern specifically for you based on your preference for fit, feel, and sizing.
Step 5. Select your fabrics, your designs, and your jersey style (or styles) from our unique selection and order your custom jerseys (once we have your pattern, you can login any time and order additional jerseys or team products for life).
Step 6. Recieve said jerseys, show up to local ride or race, and don't say anything, just let them stare. Most likely they will eventually ask you where you go that jersey.
Step 7. Decide whether or not you will tell them.
Step 8. Go show them how the back of the jersey looks as you ride off to catch the break.