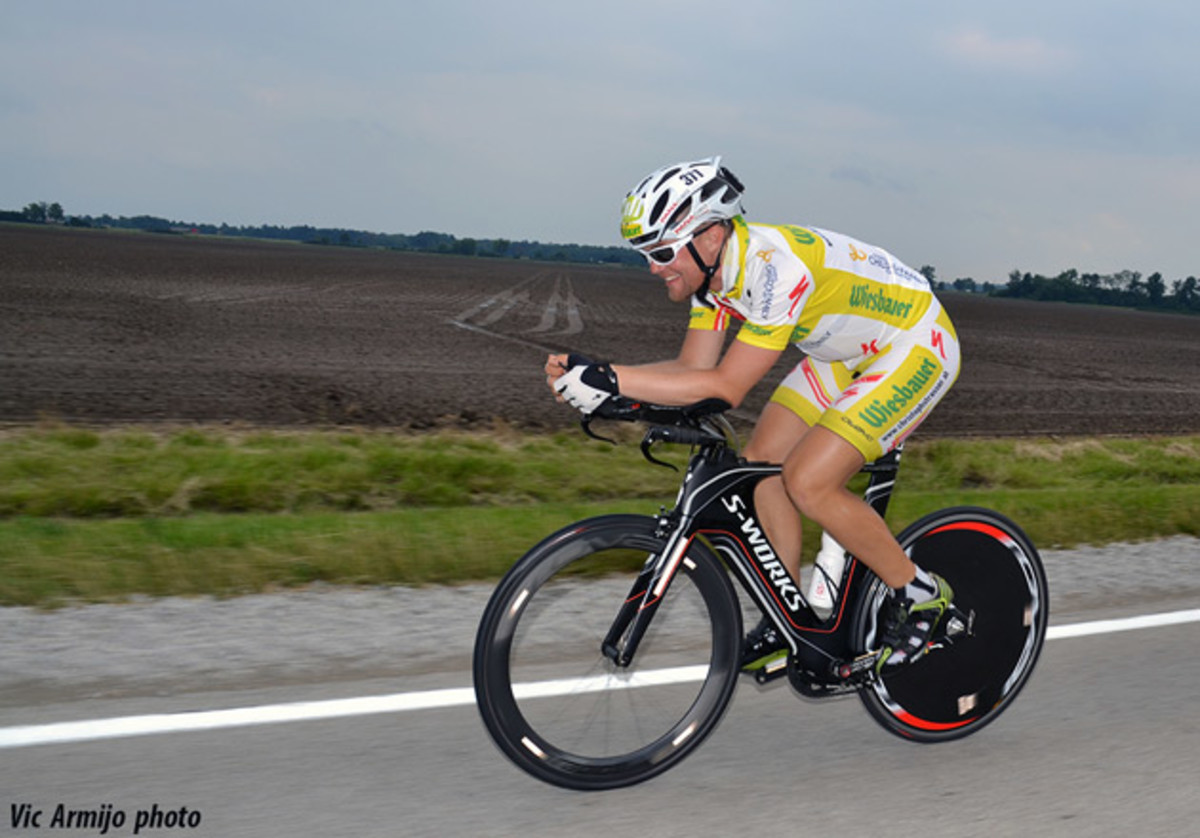 By Vic Armijo
Effingham, Ilinois. June 17, 2013 — As the leaders reach the final miles, Christoph Strasser continues out front. Meanwhile, Reto Schoch in second is well over the problems of cramps and heat issue he suffered earlier and is riding at a pace slightly faster than in his 2012 win—but Strasser is going faster still, currently averaging 0.87 mph faster than Schoch. That may seem to be a thin advantage, but consider that on top of the nearly 7 hours he has on Schoch he's also pulling away at a rate of 20.88 miles per day.
1st. Christoph Strasser, Austria 2263 miles, 5 days, 15 miles, 23 hours, 16.72 mph average
This is Strasser's third RAAM. As a youngster Christoph Strasser was a huge admirer of legendary Austrian UltraCyclist Wolfgang Fasching, a 3-time RAAM winner who was born and raised not far from Strasser's home. Strasser became a close friend to Fasching who helped and trained with Strasser to help him to become the extraordinary UltraCyclist that he is. He made an impressive debut in RAAM 2009, keeping pace with the front runners for much of the race, but developed edema about 800 miles in before withdrawing in Kansas. He returned in 2011 to dominate in the fashion of 5-time winner Jure Robic, taking the lead early on and never relinquishing it. He was the favorite for 2012 but the combination of heat-related problems in the first days and the fast pace by newcomer Reto Schoch relegated him to a disappointing second place finish. "I have very mixed feelings about this race," Strasser said at the 2012 at the finish line. "I made one of the best RAAMs of anybody — faster than (Wolfgang) Fasching and faster than Jure (Robic) did. But still I am second. That is hard, very hard." He's currently leading RAAM 2013 with a seven hour margin.
2nd Reto Schoch, Switzerland 2123.2 miles 5 days, 11 hours, 32 minutes, 16.14 mph average
The renowned microbiological engineer is a recent arrival on the UltraCycling scene. He was an amateur mountain bike racer with a prowess for longer events who practically on a whim entered the 2011 Tour of the Alps, "It is the hardest one-day race in the world," he related, "I won that race without any special preparation. And then I participated at the TourTor, the longest ultra-cycling race in Switzerland—and I also won that race." With that limited experience he entered RAAM 2012—and won, beating the favored Christoph Strasser with the fastest time ever for a rookie and the third ever fastest speed average of 15.03 mph. Only Dani Wyss and Pete Penseyeres have gone faster. In this 2013 RAAM Schoch went out hard from the very start, wanting to put a gap on Strasser, but that plan soon backfired as he developed cramps in the desert. He has since recovered and is going faster than in 2012, but Strasser is going faster still.
3rd Dani Wyss, Switzerland 2027.90 miles 5 days, 14 hours, 32 minutes, 15.07 mph average
Wyss has more experience than Strasser or Schoch, with two wins. And he's also won the Race Across the West (RAW) twice. Wyss' entering RAW in 2011 was due to him breaking his left leg in a mountain bike crash the previous November. Three subsequent three surgeries kept him off the bike until April of that year. And with a pin and six screws still in his leg it was clear that RAAM 2011 wasn't in the cards for the Swiss racer—but RAW, that seemed possible. And indeed it was, he won in grand fashion and set his sights on RAAM for 2012, but that wasn't to be. First there were four surgeries involving the hardware from his leg injury, and then he crashed in the Tourtors Ultra event, fracturing a bone in his arm. Things became even more complicated when the arm became infected, hindering his recovery by another three weeks. He found himself in Oceanside at the 2012 RAW starting line with only 4 weeks of RAW specific training. But he still won, more than 2 hours faster than 2011.
4th Gerhard Gulewicz, Austria 2027.90 5 days, 15 hours, 7 minutes, 15.01 mph average
Often referred to as "the fastest man to never win RAAM" in recognition of his 2009 finish behind Dani Wyss with a time of 8 days, 23 hours, which in most years would have been good enough to win, the former body builder is now a motivational speaker and trainer with 8 consecutive RAAMs to his credit, having earned two second-place finishes, two third places, a seventh and two DNFs. Gulewicz is a consistent finisher and in the past 36 hours has gained on Wyss—the gap is now just over a half hour. It seems that the dispute over third may come down to the final miles.
5th Marko Baloh, Slovenia 1878.50 miles, 5 days, 9 hours, 9 minutes, 14.55 mph average
With a personal best of second place Baloh is not to be counted out. While his speed is evident—the 46 year old is the current 24 Hour World Record Holder, his RAAM speed falls a bit short of the favorites—he's yet to dip below the 9-day mark. He has an experienced and efficient crew which among its members includes his wife Irma and US RAAM legend Dex Tooke. Baloh was up in fourth as late as Utah and had been close to Wyss, but has since dropped back.