By Vernon Felton | Photography by Geoff Waugh
Americans make a big deal of our zeal for football—a sport we claim to love with unrivaled passion. Within that world of chest-painting, foam-finger-waving, Bud-drinkin' fandom, none are more devout than members of the Raider Nation. I know this because I spent four years swabbing post-Raiders' game puke and broken glass in a sports bar and because my in-laws have been clinically depressed since January 30, 1983: the last time the Raiders won a Super Bowl.
Members of my wife's family swaddle their newborn babes in silver and black, discuss the merits of pawning vital organs in order to attend home games and eagerly rain blows down on anyone foolish enough to swear allegiance to the Kansas City Chiefs.
Still, every time I enter their homes to find grown men and women playing Madden NFL or obsessing over next season's fantasy football lineup, I can't help but think, "That ain't shit."
You haven't seen fans—you have no sense of the word at all—until you've been to the Tour de France.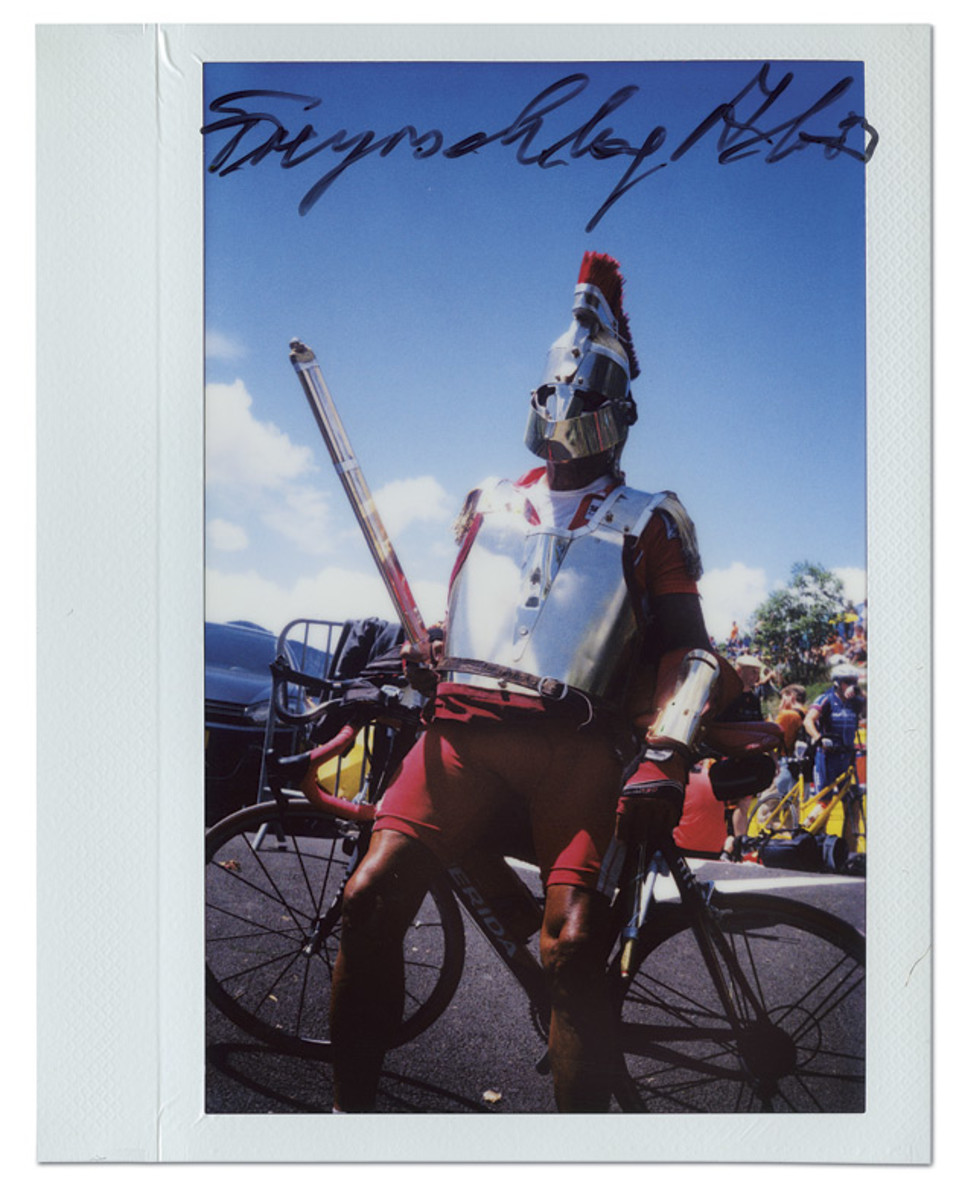 You want devotion? You want fervor? You want to see grown men in gimp suits and Chewbacca costumes bawl their eyes out in a state of religious rapture? Try watching the race from the Alpe d'Huez.
Of course, to do that, you'll need to find a place to view the race about a week ahead of time. Most people camp on the side of the road at least five days in advance of the peloton's arrival. So bring a sleeping bag, a bucket to crap in and a week's worth of food. You're going to be here for a while.
Oh, and hopefully you don't suffer from a fear of crowds, because you'll be sharing the 13-plus-kilometer climb with 300,000 to 500,000 spectators. The largest turnout for a Super Bowl by contrast? A piddling 103,985. That makes this single stage of the Tour at least three times larger than America's best-attended, single-day sporting event. If that weren't mind-boggling enough, consider this: 15 million spectators thronged the roads of this year's Tour.
Numbers alone, however, fail to capture the magnitude, the hype, the sheer holy crap-ness of cycling fanaticism at the Tour. You have DJs spinning techno from atop micro-buses, ecstatic Euros roaring from every inch of asphalt in a 13-mile-long, Tower of Babel-congo line and countless men dressed as mimes, Elvis, zombies and, invariably, clad in various national flag/banana-hammock combos, sprinting alongside the peloton and screaming like little girls. Sure, this is Europe, so you kind of expect that sort of thing, but still.
All of this mania goes down every year at the Tour and, to a lesser extent, at countless other big races—and for what?
Eight seconds of racer funk and flashy Lycra blurring past you. Eight seconds, and the leaders are here and gone. You've spent a week squatting in the middle of this roadside maelstrom to see a race that lasts—from the roadside spectator's perspective—about as long as a fly's fart.
That is commitment. That is dedication. That is what it means to be a fan.

"Tour de Fanatique" was originally published in the Fall 2011 Issue of Paved