A Tale of Monumental Misadventure in the Heart of Southern Utah
By Kevin Rouse
Photography by Ross Downard
Ed. Note: Get up to speed with Parts One and Two.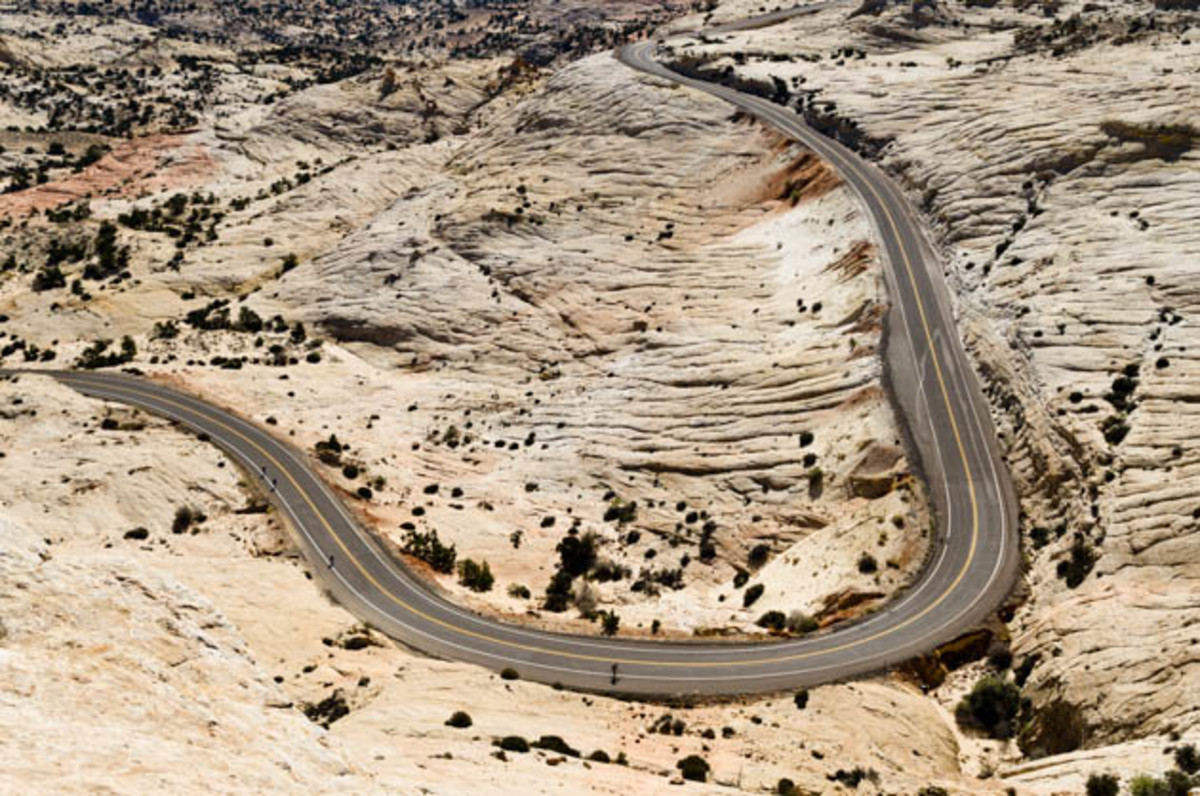 Money For Nothing, And Poodles For Free
The stench was otherworldly. Though not one to shy away from most things, I could easily admit I'd met my match. A cocktail of aromas, mixed stiffer than a speakeasy spritzer, pungent doesn't even come close to describing the smell—so strong it seemed possess physical form as it launched its no-holds-barred nasal assault. Not caring to try and discern the active ingredients in this odorous tour de force, I tried to focus on the gravelly voice of the pajama-clad sixty-something behind the counter, her words nearly drowned out by the sounds of the Home Shopping Network blaring from the back room, which, from my understanding, also served as an open-air septic tank.
"Now Wi-Fi and HBO is included in the nightly rate."
Great. A colonoscopy and a root canal could have been necessary to qualify for that nightly rate ($76.95 with tax) and I still would have booked two rooms just to get out of the lobby with my olfactory sense still intact. Welcome to Hanksville, I guess.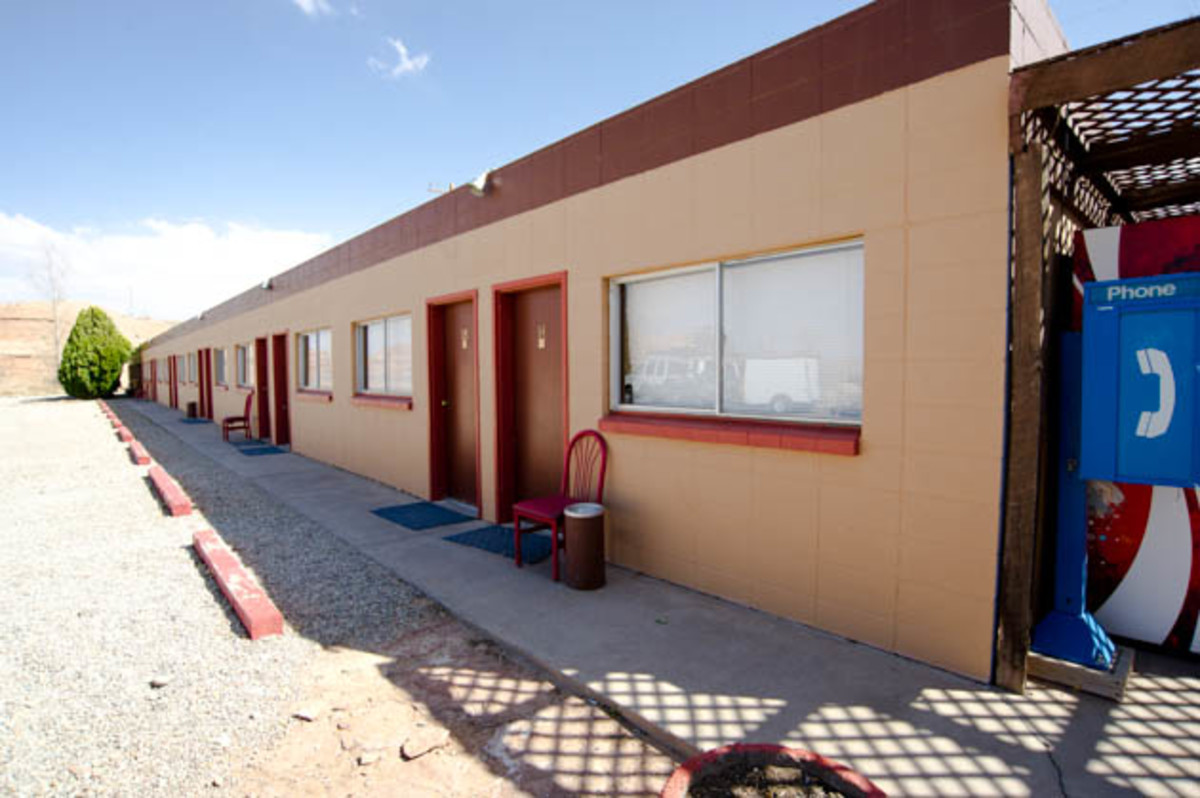 Hanksville, Utah, is unquestionably one of the crown jewels in the southern part of the state's podunk archipelago. Certainly not at a lack for local color, the one-stop town is located squarely in the middle of Who Cares, and over 50 miles away from the next closest Nowheresville, USA.
With the Carmichael contingent having planned ahead and reserved the last remaining rooms at the Desert Sands motel, we continued down the road to the Hanksville Inn, which seemed to have plenty of vacancies. The beauty of the self-guided tour is that you are entirely responsible for your own food and lodging decisions, allowing you to tailor your experience as you see fit. Unfortunately though, that meant we had no one to thank but ourselves for missing the obvious warning signs, like, say, the pool entirely filled with dirt, the flickering neon sign or the incessant barking coming from the front office.
Walking in, we were greeted by a handful of dust-choked American Girl dolls and a coffee service consisting of a canister of instant coffee, non-dairy creamer and an ancient hot-water carafe that looked like it had been there since President Kennedy last played a game of chicken with Nikita Khrushchev. A ring of the bell on the counter brought another chorus of barking and, eventually, a disheveled woman in nightclothes. And, in a voice rougher than flesh meeting a particularly nasty patch of chip-seal, she croaked, "I'm giving away poodles today."
If not for the crippling odor in the office, we may have managed a retort, but instead we were barely able to choke out that we needed a room and pay for it before making a hasty retreat. In hindsight, camping may have been a better option.
Scenic Seduction
Continuing the trend of taking things easier and easier as we neared Zion, we slowed down to smell the proverbial roses more frequently—and to stop at the van for a cold one with increasing regularity. Blame it on the beer, but the colorful sandstone formations only seemed to get more and more vibrant as we neared the Capitol Reef National Park, where its defining feature—the Waterpocket Fold—greeted us with a sizeable dose of sensory overload. Created through millions of years of erosion, layers of rock have formed into incredibly varied formations ranging from enormous domes, sheer cliffs, spectacular spires, meandering canyons and majestic arches. It's no wonder the Mormons chose to establish a settlement here in 1880, which lasted until it was eventually abandoned in 1955 when the National Park Service bought the town to include it as part of the national park. Today, the park service still maintains the town's well-known orchards as an historic landscape.
Moving outward from the heart of the park saw us traveling upward as well, and the scenery was starting to follow suit as desert scrub soon gave way to groves of aspen and cooler temperatures. This part of Utah's Highway 12 is certainly not lacking in scenic overlooks, but by no means are they unwarranted. Granting us a bird's-eye view of the stunning terrain we'd just ridden through, they afforded us another chance to lose ourselves in the incredible colors and shapes of one of nature's more impressive sculpture gardens.
With the elevation gain beginning in earnest, we settled into the first extended climb of the trip, which, fueled by a beer and the first decent coffee so far, was surprisingly enjoyable. Even the quick upswing in pace, as we soon found ourselves in a game of cat and mouse with the Carmichael crew, was a welcome change. Reaching the summit, we decided to let them begin the descent without us (okay, we might have been dropped) as we helped ourselves to a beer from the van in order to tackle the descent with the superhuman clarity provided by a frosty brew. Sheltering ourselves in the wind-shadow of the van, we hid out from the blustery gusts warping over the top of the nearly 10,000-foot pass, shivering like a handful of Mexican jumping beans. But stopping to smell the roses, and in this case, the hoppy notes of a fine ale created by the Ska Brewing Company, definitely has its advantages. The descent that followed was nothing short of spectacular, not to mention pedal-free, which was rather fortuitous seeing as Siggins' cyclocross gearing was no match for 10-percent downward gradients.