By: Harlin Price
Video: Erik Silverson

Northeast Philadelphia doesn't rank high on my list of areas for a romantic spring picnic, but if you turn a junkyard into a racecourse I'll venture with glee into the city's maze of tired row-homes and dirty streets. And, when I say "Northeast" I'm not talking about states that make maple syrup, have libertarian mottos or are home to slipper makers. This is the urban sprawl of generations of industrial working class. This is where Bilenky Junkyard Cross spits in the direction of moldy cross-racing formulas.
For those not familiar with Bilenky, it's a custom frame manufacturer that builds everything from cargo bikes to classic mountain bikes to road-racing bikes–basically everthing. Bilenky's building doesn't give away what's inside or beyond. The front door feels more like a back door with tree-sized weeds surrounding the aging brick building. Only a worn path through the bushes and the name "Bilenky", hand painted on the brick, keep you motivated to move forward. The inside of this custom bike company is packed with frames and tooling poking at you from all directions with a layer of work dust covering it all. Simply put, this is a place to make stuff. There is no time to clean today when you wouldn't know the difference tomorrow.
If you had to escape from the building you'd either end up at the dead-end street where you entered, or going out the rear bay door with those heavy plastic curtains that let light in but don't reveal much about what's behind them. On the other side of those curtains is a working junkyard that for one day a year is transformed into a cyclocross course with obstacles that teeter on the scale to liability hell. It takes a minute to process the circus. Smoke from a makeshift wood-burning stove lingers over a crowd, and the MC is yelling through a megaphone while a cigarette hangs in the corner of his mouth. A lunch truck is serving tater-tots and cheers and jeers are concentrated on an area from the left at a race in progress. After negotiating through the crowd I see riders popping out of woods that rise above the yard. The crowd's enthusiasm corresponds to the success level of the racers who have to drop in on the sketchy piece of dirt and ride or launch a makeshift tabletop at the bottom. This junkyard obstacle is made of scrap plywood supported in unidentifiable ways to the top of a rusted heating oil tank.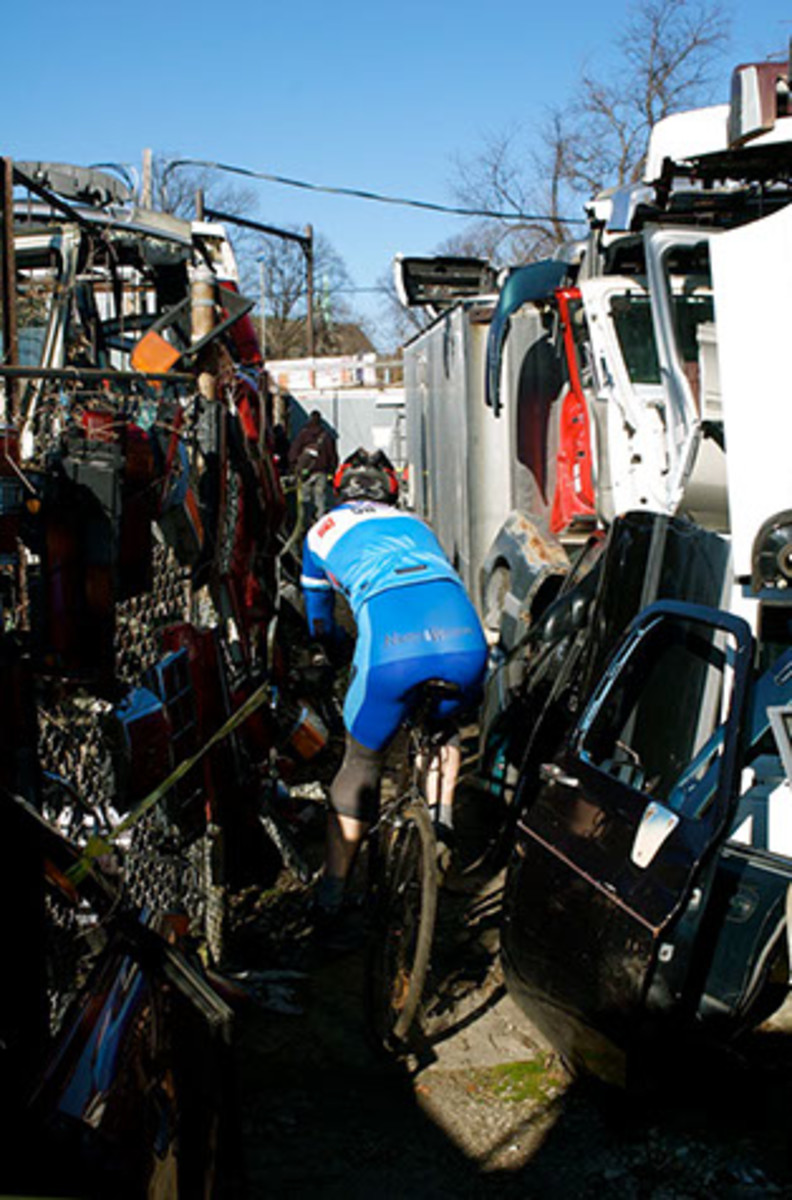 Every year the course is different and surprises are only limited by threats of liability and creativity. Chicanes through oil-stained pea-gravel were created by bins of engines and other parts set in truck beds detached from their front half. In the heats of the Men's B race, gloveless racers were sliding out in the corners and corking the bottlenecks.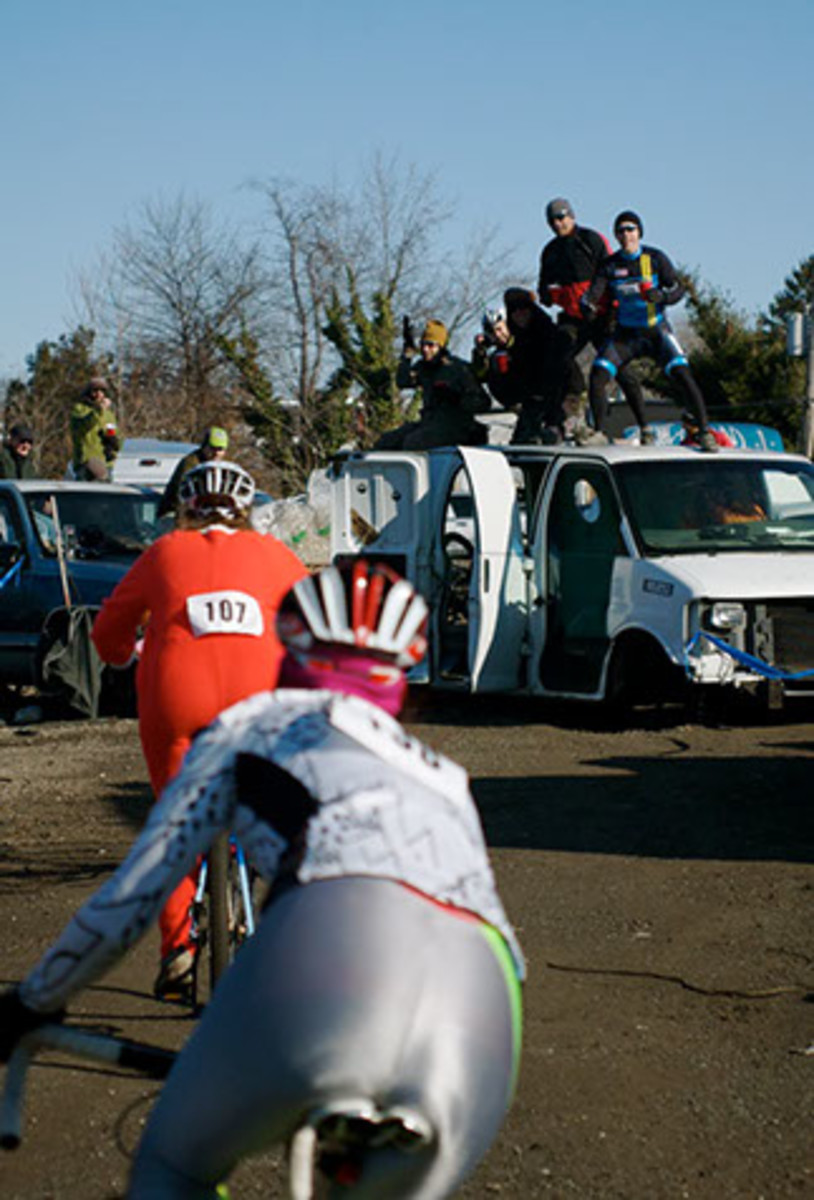 There is always a memorable section that defines one year from the next, and this year had a couple that stood out. Besides the crowd favorite drop-in to the table-top there was the white work van with a crowd standing on the roof yelling and rocking the whole beast as racers dismounted and were swallowed into the side doors then pooped out the back doors. Before they got to the end of the lap they still had to ride skinnies, a ten-foot high maze of shelved windshields and doors, a leaf pit that ate derailleurs and finally a row of dirty mattresses. I'm not sure what dirty mattresses are doing in a junkyard. Rumor was the Bilenky staff had been scavenging the neighborhoods surrounding the shop for a couple months.
Junkyard Cross is less a race and more a happening party. In a junkyard, standing on car hoods and guzzling beer seem like a natural combination. Unlike high production races there was no music bumping beats and the crowd was allowed to enjoy their own voices. It was a party without social rules or equipment choice restrictions. Junkyard Cross seems like one of the new leaderless movements, evolving as it goes, diversity is encouraged and seriousness becomes a joke.
I'm not sure if a 'cross bike had ever actually won until this year, but second was on a 26" dirt jumper and third on a 29er hardtail. Junkyard Cross defies the definition of what a race is. Maybe it's how Charlie Sheen feels everyday, showing-up is winning.