Words and photos || Vic Armijo
MEXICAN HAT, UTAH (June 13, 2013) — Compared to 2012—so far—circumstances are vastly different for 2011 winner Christoph Strasser. Last year it was evident in the very first miles of the race that Strasser was suffering in the heat, as seen in the photo below, taken before the first time station. Things didn't improve at all for Strasser on that first day as he suffered through vomiting and cramps. While he soldiered on bravely, by the time he reached Congress, Arizona, and its legendary wading pool the following morning, race leader Reto Schoch was long gone. The next morning Strasser was feeling better, so much so that when he encountered the RAAM Media One crew in Monument Valley, Utah he jubilantly announced "The crisis is over."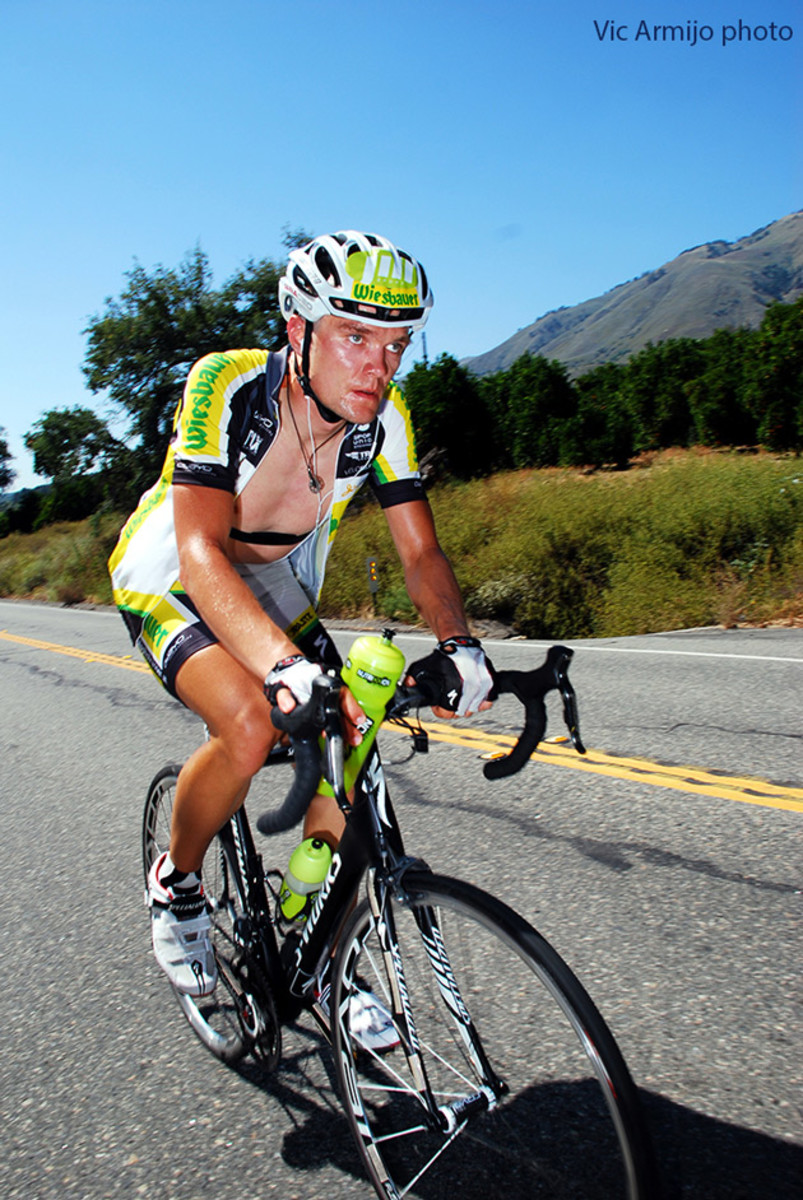 This year Strasser has changed his strategy. "I am taking an easier pace," he related to RAAM Media One in the early miles on the first day of the race. Gone was the stress and flushed appearance of that first day a year ago. In its place was a calm, smiling and confident demeanor. Meanwhile just as he did a year ago, Schoch lit the afterburners and held the lead by the first time station and Lake Henshaw. But Strasser countered and later took over the lead which he has yet to relinquish.
That lead has grown. Yesterday Strasser held an advantage of 30 minutes or so for much of the day. But overnight he has stretched the gap on Shoch to right around two hours. Strasser rode through picturesque Monument Valley early this morning before first light, while Schoch pedaled through at dawn, seeing the redrock valley for the first time since—he had passed it in darkness last year.
Meanwhile, 2006 & 2009 winner Dani Wyss is about 90 minutes behind Schoc—which in RAAM terms is well within in striking distance of both Schoch and Strasser. Trailing less than a half hour after is Marko Baloh. This 32nd RAAM is not yet a quarter through its distance. There are many miles, climbs and hardships yet to come and it's still anyone's race. But so far, Strasser has taken command.
Seana Hogan has also taken a firm grip on her race. She reached Flagstaff, Arizona this morning and none of the other women are within 125 miles of the 6-time winner. To put her ride in perspective, if the 50-somehing mother of two was male, she'd currently be in 11th in the 50& under category and would be outright leading the male 50+ category!
STANDINGS
SOLO MEN
1st Christoph Strasser (Austria) 763.6 miles / 1 day, 16 hours 51 minutes, 18.69 mph average
2nd Reto Schoch (Switzerland) 763.6 miles / 1 day, 18 hours, 51 minutes, 17.88 mph average
3rd Dani Wyss (Switzerland) 724 miles / 1 day, 18 hours, 31 minutes, 17.03 mph average
STANDINGS
SOLO WOMEN (50-59)
1st Seana Hogan (USA) 535.8 miles / 1 day, 16 hours, 21 minutes, 13.28 mph average
2nd Kathy Roche-Wallace (USA) 482.5 miles / 1 day, 18 hours, 10 minutes, 11.44 mph average
3rd Maria Parker (USA) 482.5 / 1 day, 20 hours, 1 minute, 10.96 mph average
STANDINGS
SOLO WOMEN (Under 50)
1st Lisa Dougherty (USA) 342.6 miles / 23 hours, 56 minutes, 14.31 mph average
2nd Cassie Schumacher (USA) 286.6 miles / 20 hours, 21 minutes, 14.08 mph average
Previous Coverage
---