Words || Gary J Boulanger
In professional cycling, riders grab all the attention whether they make the podium or not; slogging it out in the heat, driving rain, snow and over nasty French cobbles is part of the job. Their effort is made possible by the tireless, behind-the-scenes circus act of a support crew which includes mechanics, managers, team directors, equipment managers, press agents, trainers and soigneurs.
One of the more popular soigneurs (French for 'heavy-metal band roadie') of the 1980s was Shelley Verses, an East Coast native with massage therapist training gained in Santa Barbara. Following a supporting role for the U.S. national team in the early 1980s, Verses worked her magic for the 7-Eleven team during the wildly successful 1984 Los Angeles Olympics. This led to an opportunity to join the big leagues of professional cycling in Europe, when the Slurpees were invited to race the 1985 Giro d'Italia. Problem was, women weren't allowed in the Euro dog good old boys club, so team directors Mike Neel and Jim Ochowicz had to get clever; it certainly helped that Verses was a likeable personality with a penchant for independence and a knack for being the ultimate Den Mother.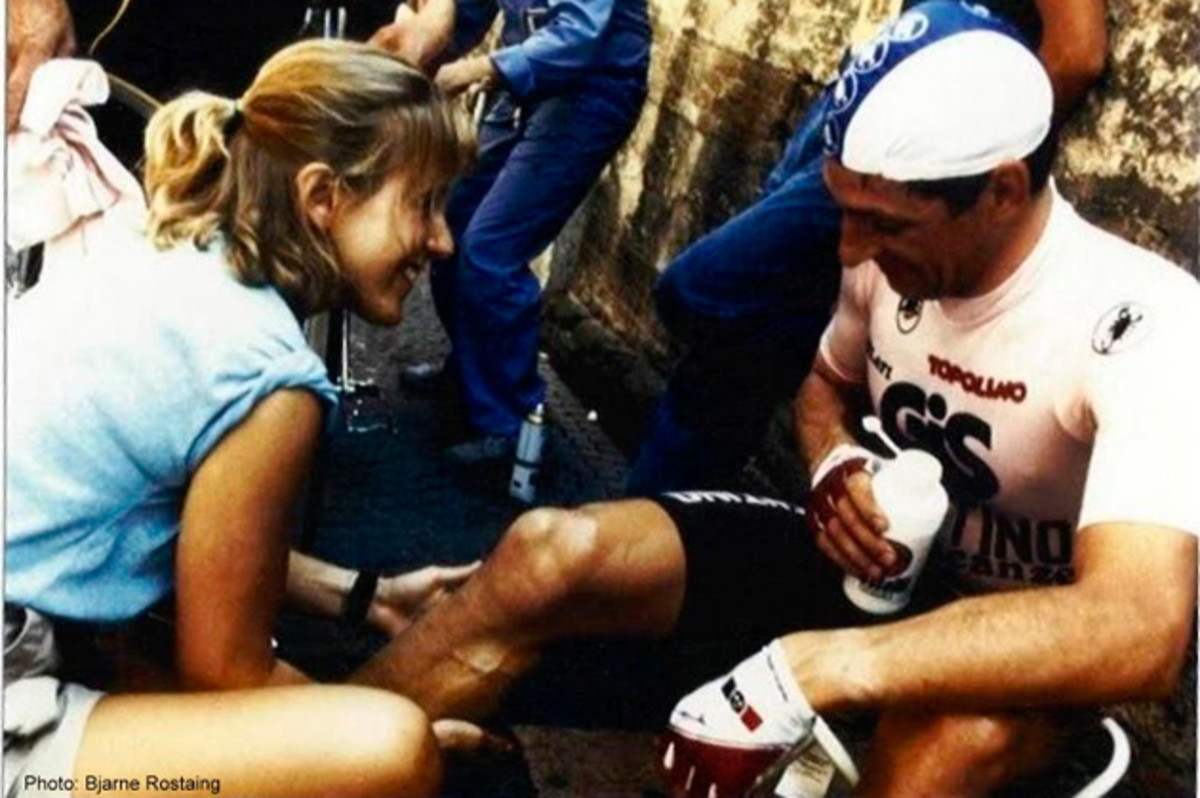 Neel's nine-man team included Ron Kiefel, Eric Heiden, Davis Phinney, Chris Carmichael, Andy Hampsten, Jonathan Boyer, Bob Roll, Jeff Bradley and Tom Schuler. Hampsten, still jet-lagged for the start of the race, turned pro in Pennsylvania just days before the prologue by signing his papers with Jack Simes.
Out of the frying pan and into the fire, Verses not only bared witness to two 7-Eleven stage victories, she also rubbed down the legs of reigning Giro campionissimo, The Sheriff himself, Francesco Moser…
1. After finalizing her preparations for the '85 Giro prologue around the coliseum in Verona, Verses noticed a tall rider in a pink jersey being followed on foot by at least five mechanics in blue jumpsuits, approaching the blond American. The Italian motions towards his legs to ask Verses to give him a rub down. "I shoo him away as if he were paparazzi!" Verses said. "Carmichael and Phinney explained who the tall Italian was. 'Shelley, that's Francesco Moser! He wants a rub! Do it! He won the Giro last year! Francesco, sit down!' The next thing I know, this guy is sitting on one of our team stools and my guys are giving me the okay to shake him out. I proceed, slightly out of my body, not realizing who he really is, but want to get back to my work. I feel a little like a sideshow act, but it's a little late for that now isn't it?"
2. In her quest to provide comfort and shade for the 7-Eleven team before the prologue of the '85 Giro, Verses 'borrowed' a cafe umbrella. After forgetting the concrete base, Verses returned to the scene of the crime, only to catch flack from the cafe's waiter, who finally acquiesced once Verses gave him a stash of swag, including 7-Eleven musettes, caps, postcards and water bottles. "I promised to return the umbrella after the Prologue team time trial," she remembered. "He of course believed me after his schwag hit, and of course the umbrella disappeared for good."
3. Former Australian pro Phil Anderson dated Verses for six years. Anderson wore the Tour's yellow jersey in the early 1980s, and evolved into a rock-steady Classics racer. When Anderson and Verses were on the TVM team in the late '80s, the conditions for the Tour of Flanders were wonderfully atrocious: sleet and sub 30-degrees. "It was pandemonium at the start," Verses said. "The press was swarming around our team cars. As one of my riders put his start food and bottles into his pockets and moved aside, a journalist shoved his way into the coveted circle. Phil agreed to answer one question: 'Phil, it's strontweer (Dutch for 'shitty weather')—a good day for you.' To which Phil replied, 'Why do you say this day is any better for me?' And the journo said, 'The worse the weather, the better you go. Two hundred riders are starting, less than 30 will finish in conditions like this…good day for you!' Phil almost clocked the guy. 'I don't go any better, everybody else just rides worse; Shell, get this guy outta here!'"
4. Raul Alcala, the first Mexican winner of a Tour de France stage, has fond memories of his time on 7-Eleven: "Shelley was the first to wake up and the last to go to bed," he told me.
"And it was a hard work. I remember one day they were carrying our luggage to our rooms and they were very heavy, and Shelley asked what we were carrying in those bags. She discovered that most of the riders were carrying big speakers to listen to music. She just laughed and said that she would gladly carry that since music will relax us…"
5. Verses wrote an op-ed piece for USA Today in 2008, where she said the most important thing a cyclist can do after a hard ride or race is to put their legs up. "In the world of professional cycling where I worked in Europe, the cream-of-the-crop put their legs up on the wall daily, in their hotel rooms while resting on their beds after each day's stage," she wrote. "I'm talking about a very small percentage of the 1,000 ranked professionals in the world. Of that 1,000, only 220 race the Tour de France each July, and of that 220, only about 11 percent regularly drain their legs. Bike racers are supposed to train/race/recover; that's it. Pedal! Anything else would make their legs bloat."