This story originally ran in the June 2014 issue of Bike.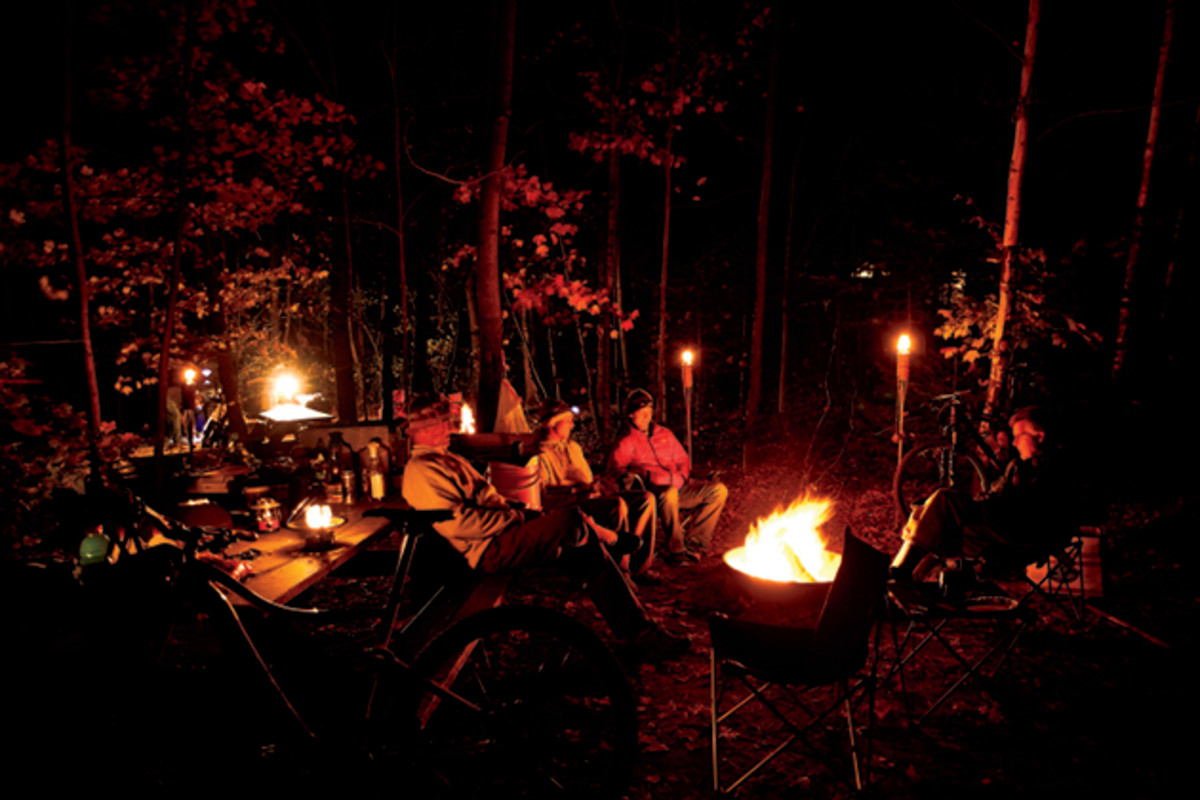 Words and photo by Berne Broudy
At least $250,000 of bikes lie in the dirt or lean against cars and picnic tables at Burke Campground in East Burke, Vermont. It's a typical Saturday in Vermont's Northeast Kingdom. Every summer weekend at Burke Campground feels like a gathering of the tribe. All 20 tent sites and five lean-tos are packed with mountain bikers–groups of friends from Boston, New York, Quebec, Vermont and beyond–with sweat-soaked chamois and socks drying on maple branches, and picnic tables blanketed with chips and brews, or Red Bull and red wine, with tired trail dogs reclining underneath.
Perched on the flanks of Burke Mountain, the campground has been around a lot longer than Kingdom Trails – or even mountain biking. Built in the 1930s, it was a mountain retreat for nature lovers, both local and visitors, who came to hike Burke and take in the night sky; the Milky Way looks close enough to touch. The wooden office supposedly was a sugar shack repurposed from the opposite side of the mountain. Now, it's where campers check in, load garden carts with firewood and stumble in for a morning joe.
The campground is not a family place, unless your family rides mountain bikes and is cool with occasionally boisterous French Canadian drinking songs, nighttime Frisbees bouncing off neighboring cars, tunes thumping from a picnic-table Jawbone and endorphin-fueled laughter. But the antics don't usually last past midnight, when fatigue sets in from a day of riding. "The place is a ghost town during the day," says A.J. Siebel, former campground manager and now director of base operations. "And then around 3 p.m. riders straggle in." Quiet hours are posted: 10:45 p.m. to 7 a.m. "But as long as there isn't loud bass, we're pretty laid back about it," says Siebel.
The latrine-like bathrooms could use an upgrade, and they might get it. Recently, there were rumors that Burke Campground would be bulldozed for a housing development. But Siebel says it's here to stay, with improvements, an expansion and even a second campground under discussion. That's good news for riders–the campground is full every summer weekend. And most riders return, whether that means weekly, monthly or annually. Show up alone and you're nearly guaranteed to make friends. So book early, bring extra beer and introduce yourself.