You could've done anything if you'd wanted.
And all your friends and family think that you're lucky.
But the side of you they'll never see,
Is when you're left alone with the memories,
That hold your life together like glue.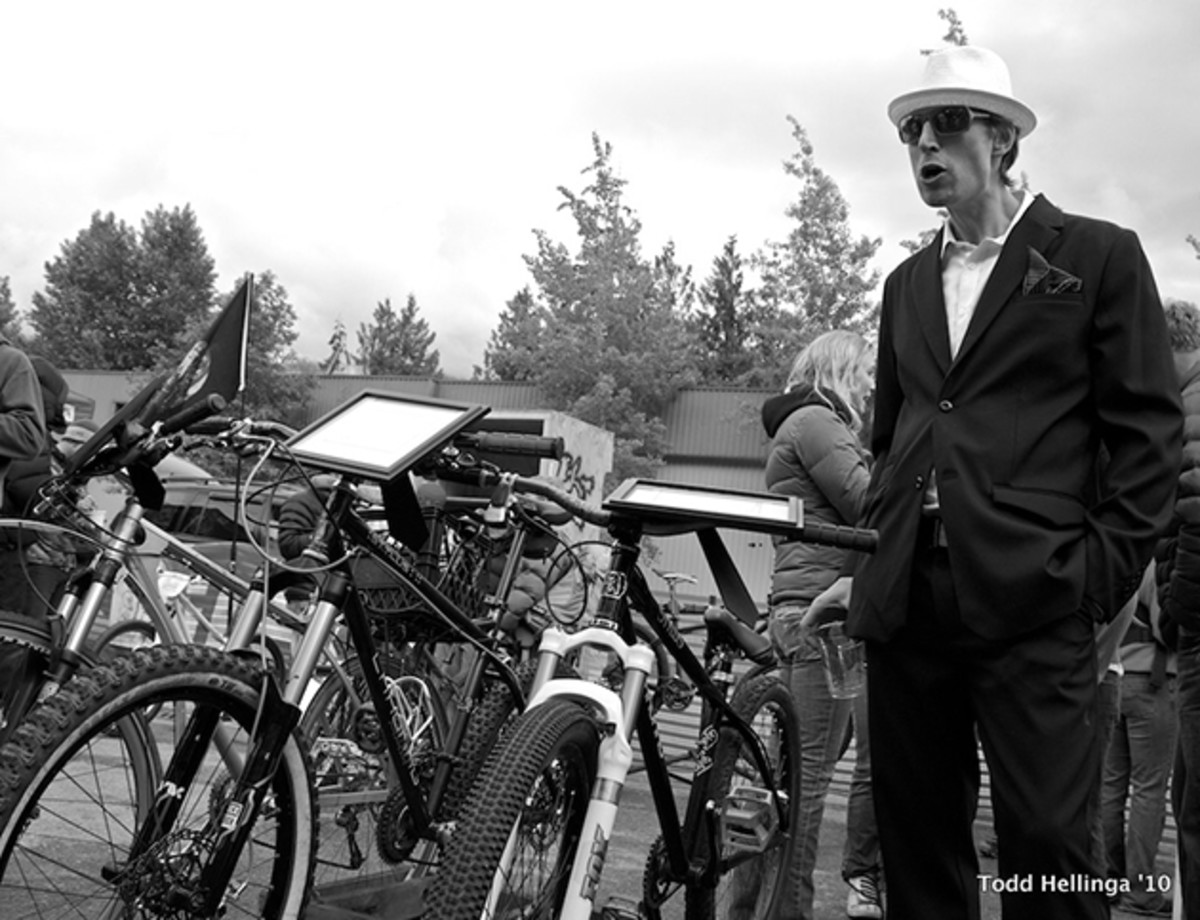 Words by Simon Blake
It's a good excuse to wear the suit I got married in at least once a year. Mind you not everyone does the same; quite the opposite. Sean's default look is that of an MTV game show host and Julian can be counted on to pose as some kind of Rasta accessorized car salesman. Everyone else is in some form of post ride outfit; it is, after all, the Show and Shine – The Chromag Bikes Show and Shine Loonie Race–which was held Thursday night–to be specific.
At Chromag Bikes, it's the biggest night of the year and offers a chance for any and all owners of a Chromag (brand new or well seasoned) to dress it up and put it on display following the race.
My outfit for this night evolved three years ago when I was asked to stand as security for the VIP room (so I made it pro and added sunglasses and an ear piece). The room was created at the back of the warehouse as a private and exclusive space for all Chromag owners. Following the race that year, Jinya took Polaroids of each owner beside their bike and then attached lanyards as a form of accreditation for admission. I got one that said Security–which I continue to use today at any opportunity. In truth, the mystery of what lurked behind the curtain was far more interesting then the reality: beer, nuts, hot towelettes, a speaker wall and a few lounge chairs. But the collective desire to gain admission was so intense I've now experienced the power nightclub bouncers must find intoxicating. Naturally, I couldn't resist the temptation to let in attractive women and professional athletes … which many times are the one and the same in this town. Then finally that same night, the alcohol fueled desire of two "accomplished" riders (not Chromag owners) to penetrate the restricted area proved overwhelming, as they dove through the barricades. And so it was decided to end the experiment.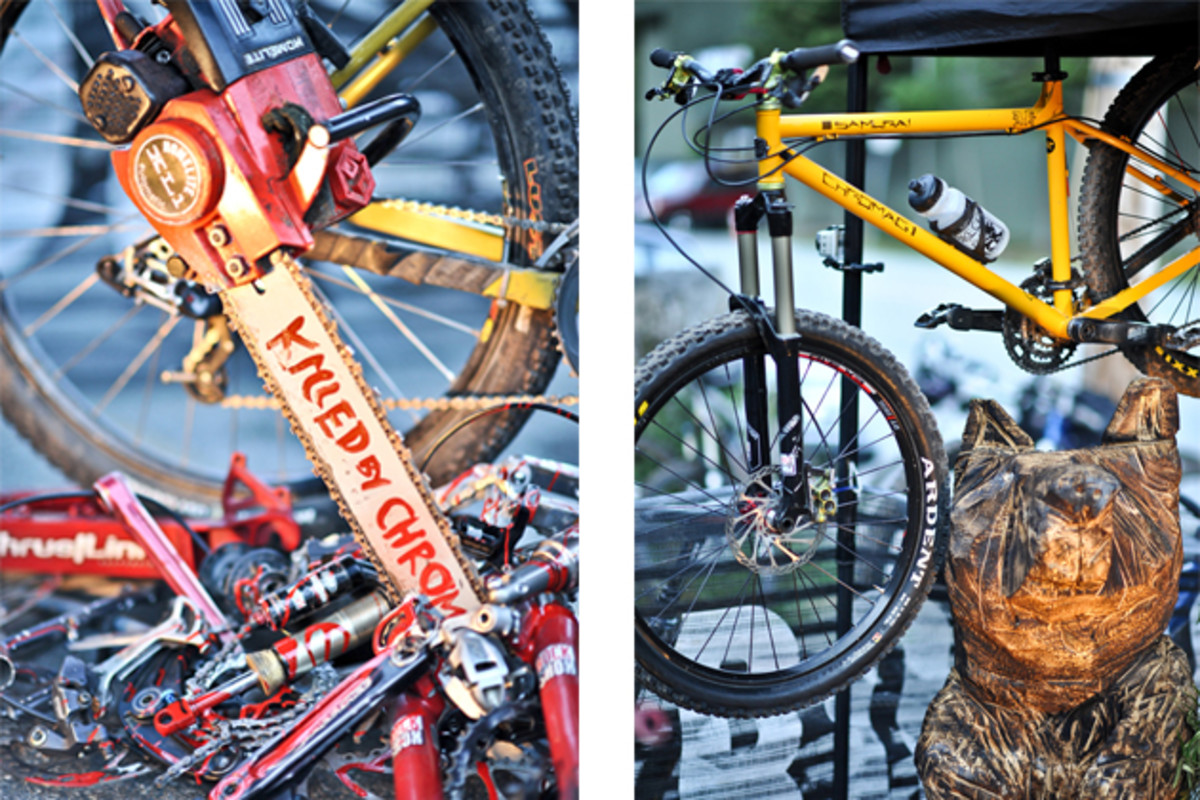 Last year, with no VIP room and security being less essential, I was tasked with controlling the balloting. This gets to the central theme of the Show and Shine: competition and picking a winner. Everyone, whether Chromag owner or not, gets to vote for their favorite bike on display. Perhaps not surprisingly in the previous year, there were some voting irregularities involving a Chromag owner/employee with access to freshly printed ballots, who was suspected of employing Putinesque tactics attempting to have his bike elected the winner. My involvement has now helped to eliminate this conflict of interest, nevertheless I do have my favorites.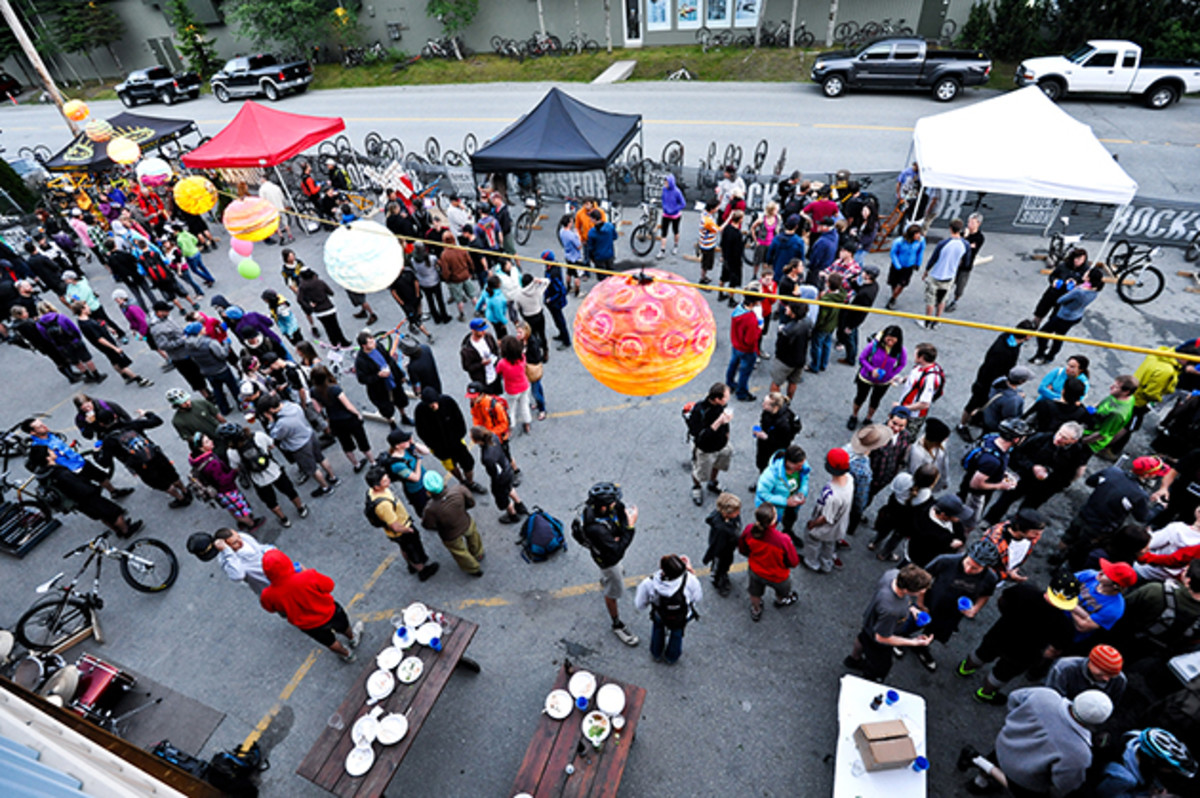 Over the last few years I've seen bikes surrounded by elaborate sculptures of parts, rising Terminator-like in the dark. Bikes polished up and put to bed beside poetry. Bikes so shinny they've possibly never been ridden? Bikes suspended like works of art. Bikes lit up like Roman fountains. But my favorites are always the bikes that were raced that night, quietly enjoying the spectacle having already proved their worth, dirt on the down tube, a few scratches on the brake levers and/or tires acknowledging their age. Yeah, the girl all made up in dress and heels makes you turn your head, but it's the sweetheart in jeans and a t-shirt that you keep trying to relocate in the crowd. Last year I voted for Old Irish, Darcy's bike, just strong and green and purposeful. But it turns out I'm a minority.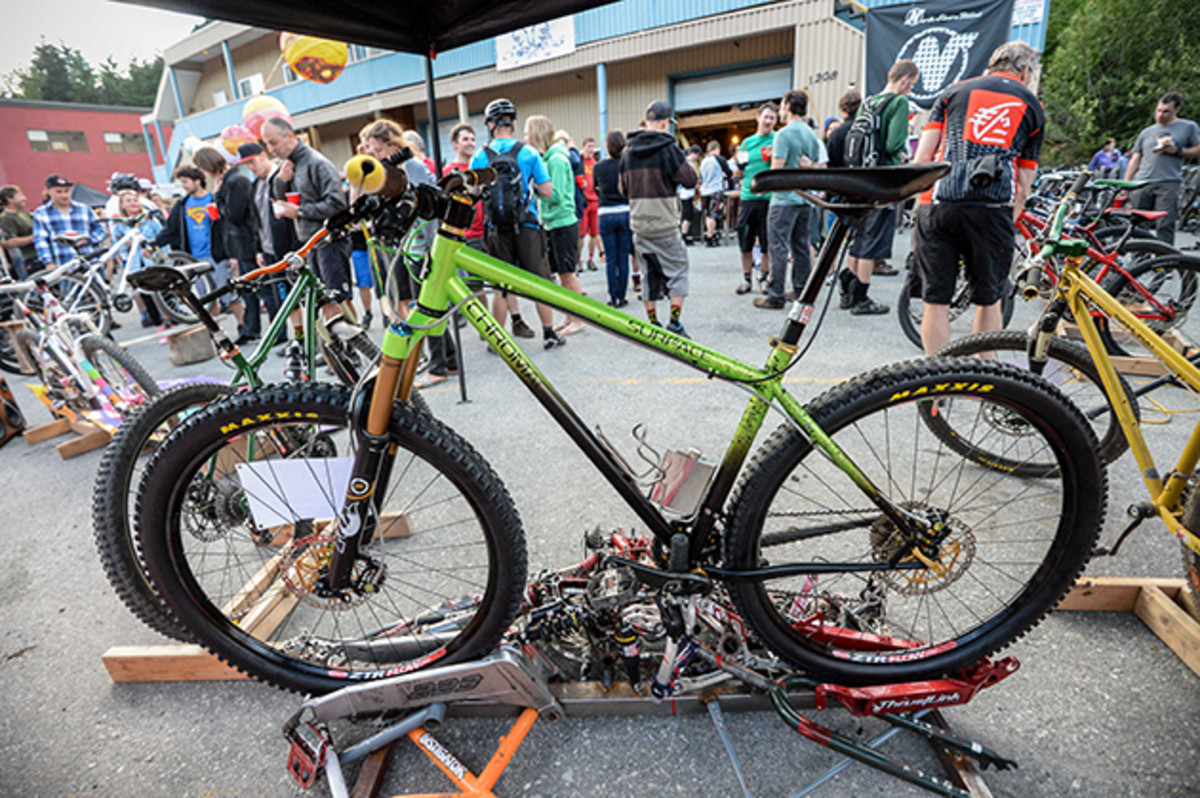 Show and Shine is Whistler at its finest; a gathering of people who's mixed up priorities include mountain biking and having a good time, wandering around a parking lot full of Chromags displayed under the glow of patio lanterns and Xmas lights, drinking beers and laughing. Recently a friend of mine lost a fight with cancer. The first time I ever rode Jaws it was behind two forty year old women, one of which was her. We spent a lot of time on bikes together. She had a way of keeping up on local gossip. "So…what's up with…" she'd ask with her trademark chuckle and smile. I can't count the number of remarkable friends I'll likely run into at in the coming Show and Shines. This town is truly amazing and nights like this are not to be missed.
Cheers.