From the Enduro World Series:
The Italian Alps provided the perfect backdrop for the fourth stop of the series, as 400 riders raced their way around the Aosta Valley amongst the impressive mountains that flank Mont Blanc.
The tone of the race was set early on Saturday, as Cecile (Commencal Vallnord Enduro Team) and Richie (Yeti Fox Shox) smashed the competition by each winning all three of the day's stages. In the men's race, Sam Hill (Chain Reaction Cycles Paypal) matched Rude for consistency taking second in every stage, but at 53 seconds back his time was never enough to threaten Rude. Instead his fight was to be with Damien Oton, who finished Saturday in third and 15 seconds behind Hill.
Saturday also proved decisive for Cecile–Isabeau Courdurier (SUNN) fought hard, but finished the day over a minute back. Anita Gehrig (Ibis Cycles Enduro Race) continued her strong season with a third-place finish at the end of the day.
However, with Cecile and Richie so dominant as the race resumed on Sunday, the real battles were fought for the remaining two podium spots. In the men's race this proved to be an intense battle between Sam Hill and Damien Oton. Sam Hill wiped out on stage four and lost at least ten seconds, and Oton moved into second. But Hill wasn't going to go down without a fight, and went on to win stage five. It was enough to cement his second-place finish, forcing 2014 La Thuile winner Oton back into third.
"It was pretty unreal–I never thought I'd be a minute thirty up on the field," said Rude. "It's good to be back in La Thuile and remembering it from 2014–I've been really excited to be here. It was nerve wracking when we were only three rounds in, but now that we're finally getting into the second half of the season it feels good to move with this momentum into the last part of the season."
It was a similar story in the women's race–Cecile's victory was never really in doubt, taking all of the six stages. Isabeau put on a brave showing, but ultimately had to settle for second place and finished the day 2:34 minutes back. Canadian Andreane Lanthier Nadeau (Rocky Mountain Urge bp) turned heads with her performance, coming second in stages two and five and earning herself third place in the process.
"It was a good race and I'm happy," said Ravanel. "I love this kind of track, so steep and technical and I enjoyed the whole weekend. Now we go to the USA and Canada and for me that's the best part of the season."
In the Under 21 Men's category, Adrien Dailly (Lapierre Gravity Republic) had the race of his life. Finishing Saturday on a time that placed him third in the scratch results, the young Frenchman went on to win the race and again with a time that would have placed him seventh in the pro men. Sebastien Claquin (Rocky Mountain Urge bp) was second and Vid Persak third, both with times that would have placed them in the top 25 among the pro men.
The U21 women has a new series leader in the form of Raphaella Richter (Radon Factory Magura Racing) whose 1:51min lead on the rest of the field would have earned her eleventh place in the women's category. La Thuile local Martina Berta came second and Julie Duvert in third.
Karim Amour strengthened his Masters series lead after winning every stage, with Nigel Page (Chain Reactions Cycle Paypal) coming in second and Vincent Haulent in third.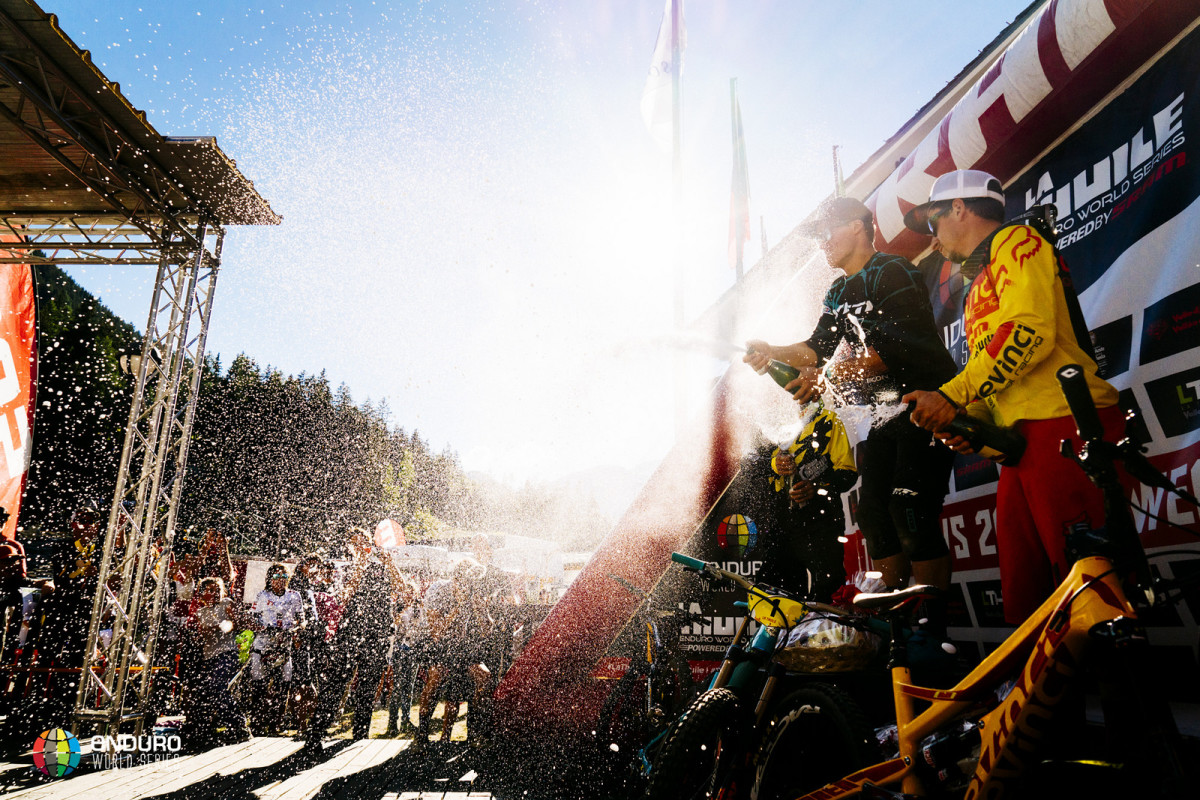 Now the series heads across the Atlantic to Colorado for round five and the Big Mountain Enduro in Aspen Snowmass on July 30/31st.
Full results from today can be found here.