Interview by Vernon Felton
Photos by Mike Albright
Charlie Sponsel is not one to mince words. In fact, as the voice of the Team Robot blog, Sponsel has blazed a charred path through the cycling world by shouting the things that everyone thinks, but would never dare mutter out loud. Bless him for that.
In addition to being a sponsored pro rider and champion of scalding wit, Charlie Sponsel is also a committed trail advocate. Sponsel, in fact, represents Portland mountain bikers on the River View Project Advisory Committee, which explains why he was as astounded as the rest of the world when he suddenly learned, on March 2nd, that mountain bikes were no longer welcome in River View.
Since the ban was announced, Sponsel has been rallying the troops in an effort to change that ruling. Here's his take on what happened, why it happened and where we go from here.
Charlie Sponsel on Portland's River View MTB ban

VERNON FELTON: Why is River View Natural Area so important to Portland-area mountain bikers?
CHARLIE SPONSEL: It's the only game in town. Without River View, there really is no place left to enjoy a mountain bike experience in Portland.
It's been a mountain bike trail system for more than 20 years. The city bought the land four years ago, and it was always understood by all parties that mountain bikes would be part of the process to determine land use at River View, and that mountain bikes would continue to have access throughout that public process.
The city's snap decision to ban bikes came as a surprise to everyone.
VF: How many miles of trail were just closed to mountain bikers?
CS: River View is 146 acres, has about seven miles of trail, and 410 vertical feet of elevation change, so it isn't exactly a "mountain bike mecca" as some have called it. More like an oasis in a mountain bike desert.
VF: There are some who dismiss this situation and argue that there are still plenty of places for mountain bikers in Portland. They point to Forest Park and Sandy Ridge, for example, and kind of stand back and say, "Look, you've got plenty of places to ride. Please STFU." What's wrong with that perspective?
CS: There's a half-mile of singletrack open to bikes in Forest Park. Some people claim there are MTB trails 12 miles away from downtown at Powell Butte, but those trails are 4-foot wide, crushed-gravel sidewalks. Most people riding at Powell Butte or Forest Park are on their cyclocross bikes.
With the River View closure there are essentially zero miles of singletrack in Portland.
The River View Technical Advisory Committee identified four great risks to the sensitive ecological resources at Riverview: dogs on and off leash, off trail use, climate change, and campfires. Mountain bikes didn't even make the list. If climate change is one of the top four risks facing River View, pushing that many trail users into cars is the opposite of what we should be doing to protect River View. If the city is actually concerned about River View they should welcome the opportunity for mountain bikers to ride in town instead of driving 100 miles or more on their rides.
VF: How far do Portland riders have to travel to get to ride now?
CS: Portland's mountain bikers now have to drive an hour or more to ride.
VF: How did things go so wrong? Last year Parks and Recreation was suggesting a comprehensive off-road cycling master plan and things looked, to outside eyes at least, to be moving in the right direction. Why the about-face?
CS: We still have no idea what happened. Portland's mountain bikers have been working with the city since 2011 to determine land use in River View. I had the privilege to be part of that process, sitting on the River View public committee. Eight months ago that public process abruptly ended when the city canceled the latest meeting, and on March 2nd we received notice that mountain bikers were being kicked out of River View.
Amanda Fritz and Nick Fish have gone from one excuse to the next to defend their decision. First it was "salmon populations in the Willamette River." When numerous media sources used experts from the City's own River View Technical Advisory committee to dismantle that claim, the new smokescreen became a 2011 BES lawsuit about the use of BES funds to purchase River View. Nick Fish called the lawsuit an "open suit" and said the city banned bikes "out of an abundance of caution" to not jeopardize the lawsuit decision. This is just flat-out untrue: the case was settled in 2014 in the city's favor.
Amanda Fritz has unleashed a constantly-shifting wall of highly-questionable reasons against mountain biking in the park, citing very generally "the mud," but also "mountain bikers accidentally running over native species," "whether the wildlife there is scared by having mountain bikers coming crashing through," and falling back on the classic accusation leveled against mountain bikers everywhere, "Hikers find it really disconcerting when a bicycle comes around the corner at speed and they have to jump out of the way."
There a million different ways to minimize or eliminate each of these impacts, and every time we propose a solution to the city's latest grievance du jour, they shift positions and choose another, so we know that none of the city's claimed reasons are the real reason.
VF: Again, to outside eyes, it seemed like the Northwest Trail Alliance was doing everything right in this case: representation on the advisory committee, trail work days, trash pick-up outings….all of the responsible steward stuff and yet this happens. How are riders taking this decision? It has to be dispiriting to have done everything right and to face the same old bullshit again.
CS: Yes, if anything NWTA has taken flack in the past from Portland's mountain bikers for playing too much by the book, but in this case that's been our biggest asset. Mountain bikers truly did everything right, went above and beyond, we've been great stewards and respectful of all other parties in the process, and what happened here was political railroading.
It's dispiriting, but sadly it's par for the course in Portland mountain bike politics. This is a very familiar pattern. If anything, this case is unique and refreshing because it's so baseless and so obviously wrong. Everyone who's looked at the facts with a half-open mind has concluded that Commissioner Fritz and Nick Fish are way out of line. This time there's nothing for the anti-mountain bike people to hide behind.
VF: It seems at odds with Portland's reputation for egalitarianism that they singled mountain biking out for exclusion from River View when off-leash dog walking and illegal camping were also cited in the River View Management Plan as risks to juvenile salmonids. Is there some hypocrisy on Portland's part in play here?
CS: Absolutely, and that's a huge part of the reason Portland's mountain bikers have received such widespread support since the ban. From national and international bike groups, to other trails users, neighbors, media, members of city hall, and even conservation groups, everyone was caught off guard by the city's surprise decision to ban bikes, and disappointed by the city's backroom method.
This issue isn't so much about mountain biking as it is about the fundamental violation that's imposed on citizens when highly-connected and influential individuals can convince elected officials to throw a productive, positive public process out the window and decide who can use what parks by administrative edict.
VF: What kind of response to the protest did you receive from within the cycling community?
CS: The cycling community's response has been near universal, and it's been universally positive.
The League of American Bicyclists (the group that gave Portland it's coveted "Platinum Bike Friendly City" designation), the International Mountain Bike Association, and People for Bikes wrote a scathing joint email to Portland's mayor and five commissioners, calling into question Portland's Platinum status. That's a pretty strong statement.
Bikeportland.org is by no means a mountain bike site, but Jonathan Maus from BP has done an amazing job documenting and exposing the city's faulty process, as have so many other online and print media sources, Fat Tire Farm (Portland's MTB shop) stepped up to make a mini-documentary about River View, Northwest Trail Alliance had numerous high-profile members involved in the protest, our "Portland Hates Me" t-shirts and stickers sold out in about five minutes, and seemingly every bike shop in Portland has reached out to help the movement.
The only real sticking points have been over our name ("Freedom Ride" vs. "Protest Ride"), and whether or not we should act in civil disobedience by riding the closed River View trails during the March 16th rally. It ended up raining all weekend, making the idea of riding the trails with 300 protesters a complete non-starter. Instead we used caution tape to close off the wet, saturated trails, protecting them from wayward bike tires and from hiking boots,
VF: What kind of response to the protest did you receive from outside the cycling community?
CS: The overwhelmingly positive response from outside the bike community has been the biggest surprise. The Oregonian newspaper, Portland's KATU, KGW, and KOIN 6 news channels, and even the neighbors around River View have been very receptive to mountain bikers. I think people have seen that mountain bikers aren't the adrenaline-filled, tattoo-covered, in-your-face bro brahs that we've been branded as.
More than that, eeeeeeveryone is upset with the city for ditching the public process in favor of backroom dealings. As far as I'm aware, no organization has come out in support of city hall. The deafening silence from Sierra Club, Audobon, Mazamas, Green Peace, all other traditionally anti-MTB groups speaks volumes about how wrong the city is here.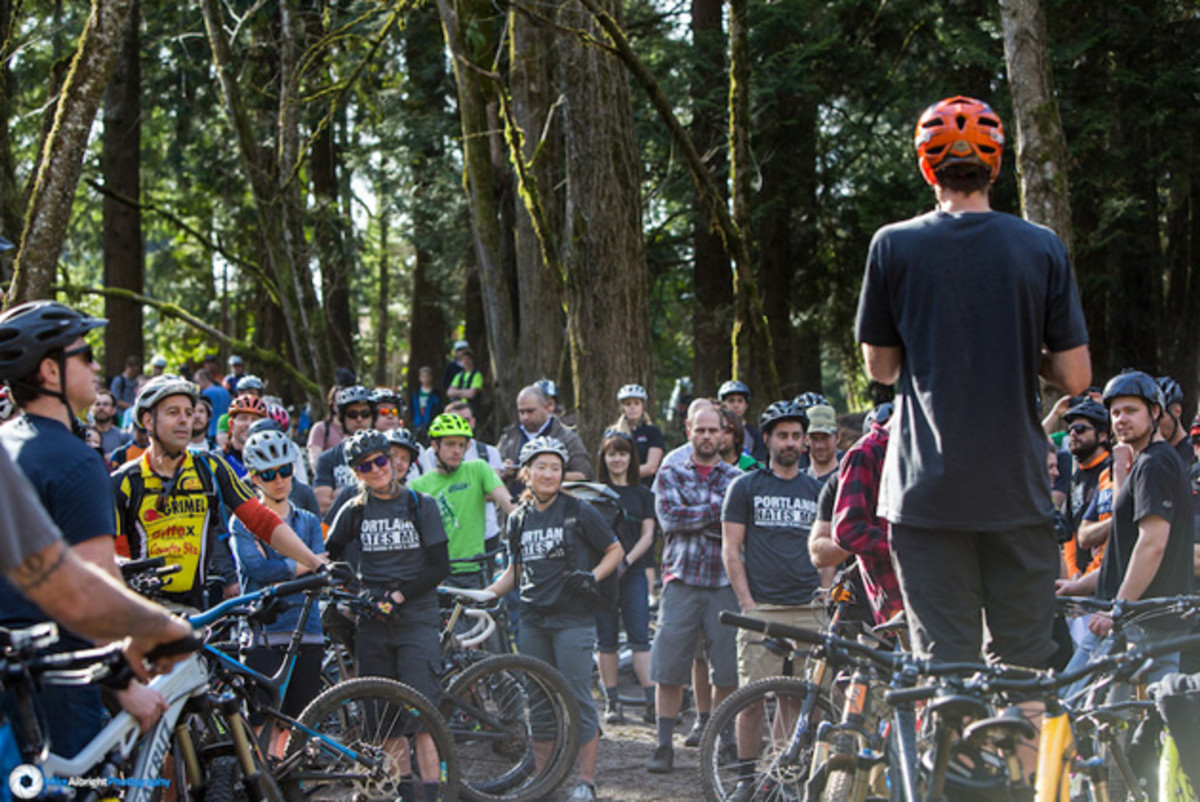 VF: What next? What's the plan? What are the odds that mountain bikes will return to River View?
CS: We are working to get bikes back in River View. That is our number one goal. In the process we're having all sorts of positive spillover effects, building momentum and goodwill within the MTB community and without. One of the most important things we've done is get mountain bikers on TV, in the newspapers, and on the radio to dispel a lot of widespread misperceptions of what mountain biking actually looks like in practice, and what mountain bikers themselves look like. When people see moms and dads out at the River View Protest Ride with their kids, when they see young and old together enjoying nature on a sunny day, it's a lot harder to throw false labels at us.
We're going to win this fight. We may not win out tomorrow, but unlike the city, mountain bikers have the luxury of being right. Mountain bikes are completely compatible with the resource protection goals of River View, we are excellent stewards of the areas we use, and we are friendly, respectful trail users. We just have to stay on message, stay positive, and keep winning over advocates one person at a time, and we'll win. The city and especially the anti-MTB people are on the defensive, and with so many examples of inner-urban MTB trail systems done well, the anti-MTB arguments become more tenuous by the day.
For the anti-MTB contingent in Portland, River View is their Alamo. A Natural Area designation is one of the highest bars for wildlife protection in the city parks system, so if the public process concludes that mountain bikes are compatible with the resource protection goals at River View, it opens the discussion for mountain bikes in many, many more city properties. In a sense, the floodgates would be opened.
River View is a really, really big deal, and this fight is about a lot more than 146 acres.
For more on the River View MTB ban, read interviewer Vernon Felton's recent Web Monkey Speaks post.