Now in its 25th year of lift-serviced riding, Vermont's Killington Resort is poised to lead the Northeast's downhill community into the future.
But before we go there, let's take a step back.
Many New England ski resorts have dabbled in mountain biking. Since the early 90's, many have boasted "downhill" trails–which usually consisted of open-slope fire roads with massive water bars–and offered Gen' Y elastomer-suspended rental bikes that simply weren't up to the challenge. Many mainstream resorts jumped ship early on, but Killington weathered the storm.
Previously known for its advanced steep and rocky terrain, the resort now offers a spectrum of evolved trails accessed by three lifts. From beginner and intermediate runs to raw, expert-level tech and flowy offerings designed by Gravity Logic, Killington's three mountain areas have it all–and the expansion continues.
Last week I met up with a crew of local riders that agreed to take me on a grand tour of the gravity playground. Affectionately referred to as 'The Beast,' Killington is nestled smack dab in the center of the Green Mountains. And though the mountain's gradual slopes appear mellow from afar, I was immediately struck by the scale of the place. Rising up over 2000 feet from its base lodge, the sprawling topography makes for an optimal foundation for a bike park.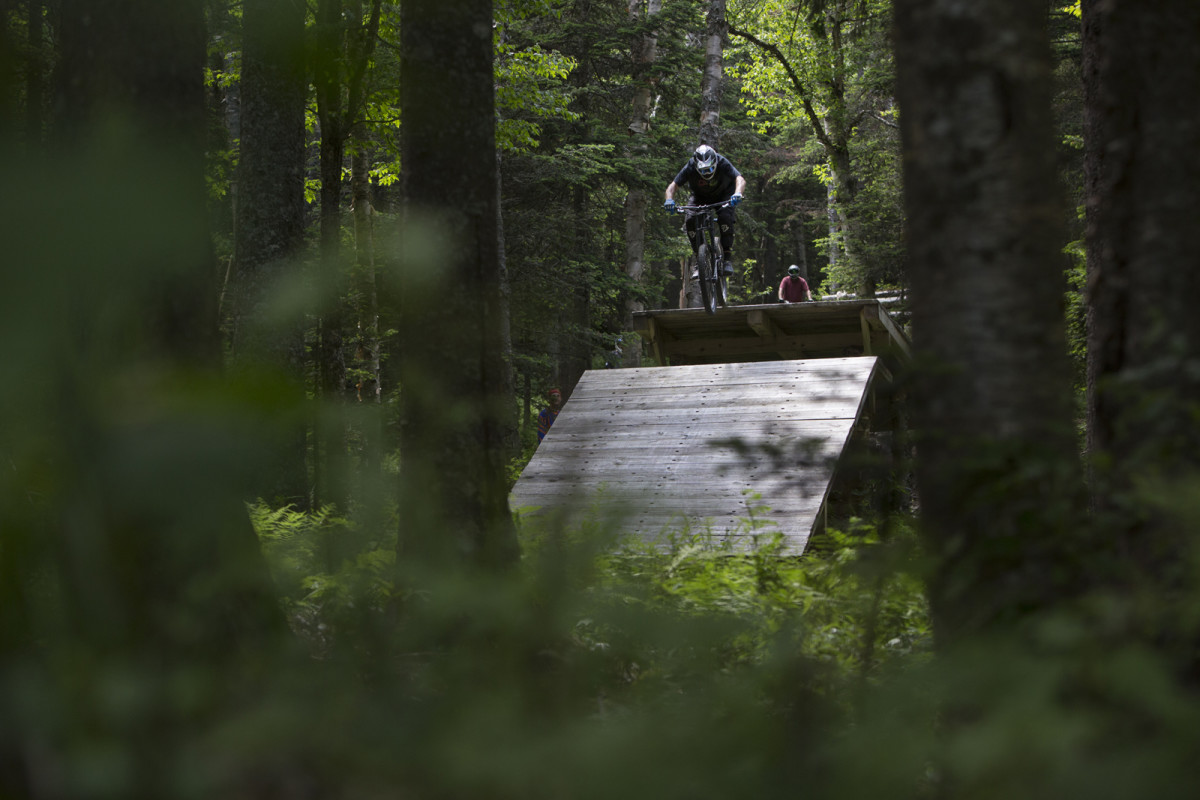 The crew and I started with laps on the lower flank of the mountain. Serviced by a high-speed quad, the Snowshed area includes wide, mellow beginner trails, but we opted to sample Step it Up and Blue Magic, two more advanced options. Both were engineered by Gravity Logic and it shows: Berms and mid-sized tables make these flow trails perfect grounds for warm-up runs or cutting your teeth for more advanced terrain.
Once we had our fill of flow, the crew and I headed to the K-1 Gondola, which stops at the newly refurbished Peak Lodge, a cliff-side structure replete with a bar and the most supreme tap-side views in the state.
The riding off the K-1 is decidedly old school–in a good way. This area presented us with raw, highly technical rock gardens through lush transitional forest.
"You see that rock over there?" local rider PJ pointed to a large bolder with perfect radius deliberately embedded in the trail. "That's the Tombstone. We've been hitting that jump since the 90's!" This is what makes riding Killington so interesting: 25 years of history plays out on the trails.
This season brings more new trails and a third lift option to the Ramshead Mountain area of the resort. Scheduled to open late this month, the addition includes a permanent 1.31-mile downhill race course, 2.29 miles of singletrack from the top of Ramshead to K-1 and Ramshead base areas; and the pinnacle of the Gravity Logic collaboration, a 2.5-mile expert jump trail aptly named Black Magic (big brother to aforementioned Blue Magic). Black Magic will host a sequence of 25- to 35-foot tables interspersed with double-overhead berms.
Lured by the sounds of heavy machinery and the promise of big jumps, my tour guides and I hiked over to Black Magic's build site, where we found Killington's trail boss Jay 'Rosie' Rosenbaum at the helm of the most extensive trail construction force I've ever encountered. We were on the trail's mid section, and a long straightaway with a series of massive roughed-in table tops loomed above us.
"We have nine guys in the trail crew," explained Rosie. "Three in dedicated machines and four hand tooling behind them. Plus we have ski patrol following and seeding grass. We'll have 500 man hours in in total."
And the expansion doesn't end with the trails. On the heels of last year's additions of a mountain coaster and zip-line course, the resort is investing in summer tubing lanes, a 40-foot tower jump, food and beverage facility upgrades, kids' camps and a new fleet of 140 proper rental bikes for riders of all ages.
Back in the bike park, there are untold miles of trail slated for development, as well as a pump track, skills park and even a skills area for strider bikes. A designated uphill trail will also open in short time. Taken as a whole, it appears that Killington is destined to remain 'The Beast' of the East for a long time to come.