The December 2015 issue of Bike magazine is now available on newsstands, both print and digital–and this issue is a call to action for all mountain bikers concerned with our ever-diminishing access to America's finest backcountry trails.
Do you think you understand the issues surrounding the ban on mountain bikes in U.S. Wilderness areas? You might be surprised….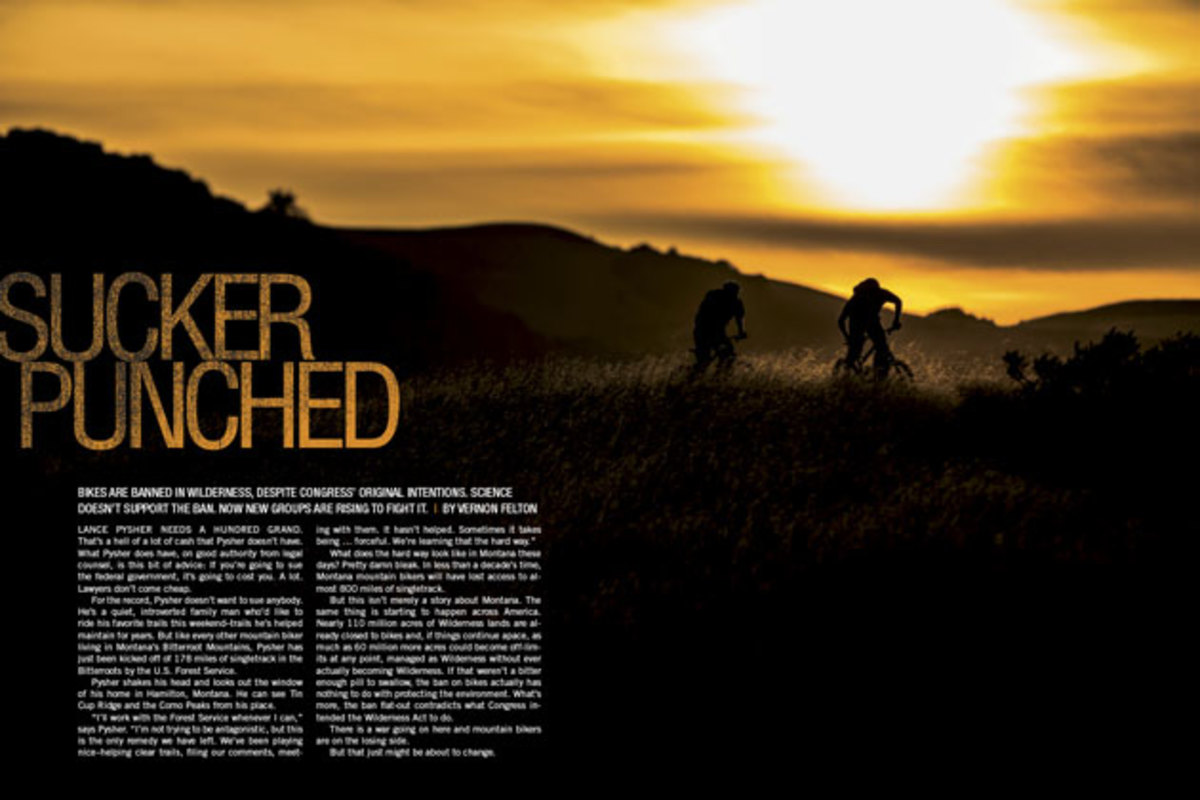 We've Been Sucker Punched
The title of this feature is no exaggeration. Because this is exactly what certain interest groups have done to the mountain-bike community in orchestrating the arbitrary ban on mountain bikes in U.S. Wilderness areas. What's more, this ban is not what our elected leaders ever wanted in the first place. This is a shocking story of subterfuge by powerful special interests–all at the expense of mountain bikers. Senior Editor Vernon Felton reveals the little-known political sleight-of-hand that originally led to the ban and explains the complicated issues surrounding its enforcement. Though the short-term outlook is bleak, a new group has decided to fight fire with fire. Read this story and find out how you can get involved.
And if you haven't already seen Bike's video on the Wilderness ban, you should give it a watch.
Magical Realism in Colombia
Colombia's reputation has been tarnished by the cocaine trade, kidnappings and decades of civil unrest. But behind all the sensational headlines is an astonishingly diverse and vibrant country, with some of the world's most spectacular mountains. And those Andean highlands are laced with incredible trails. Bike's Editor, Brice Minnigh, joined a group of hardcore Colombian riders–including World Cup DH standout Marcelo Gutierrez–for eight straight days of singletrack bliss. What he and Senior Photographer Bruno Long discovered bore little resemblance to what we've all seen on television news (and the recent Netflix series, "Narcos"…). If this story doesn't leave you dying to visit Colombia, we hope our upcoming digital feature and a short film by Rupert Walker–the creator of "Revel in the Chaos"–will leave you chomping at the bit.
The Bikes of Our Dreams
If you could build the bike of your dreams–with whatever parts you wanted–what would it be? Six of our editors eagerly embarked on this exercise, resulting in a curious collection of bikes with some surprising component choices.
Editors' Choice: Gear of the Year
Everyone has their go-to gear items, and our editors are no exception. We take a look at some of our favorite products from 2015.
Subscribe
Some folks like to hold their copy of Bike in their hands and flip through the pages the old-fashioned way, while others prefer to have it instantly lasered onto their various devices.