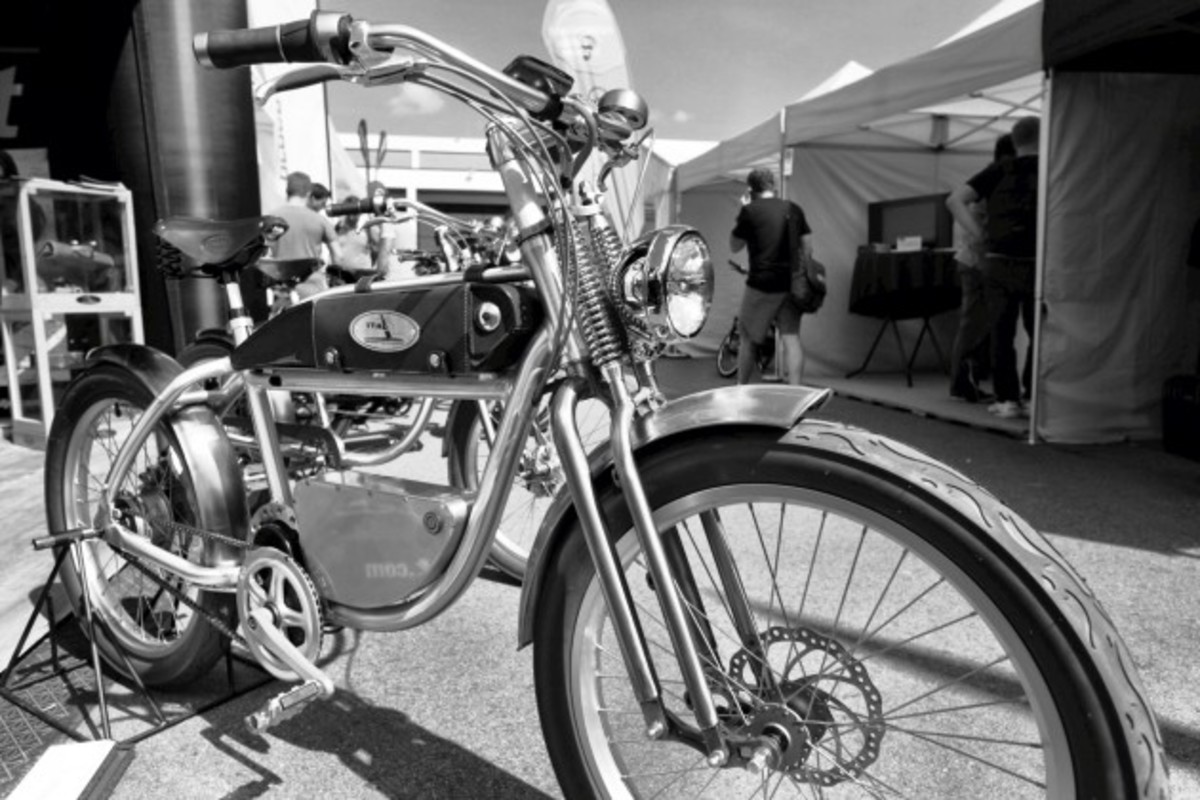 We make our yearly sojourn to Friedrichshafen, Germany, and the Eurobike trade show for a few reasons: beer (it's okay to start imbibing before noon), really, really bad music and the latest and greatest in bike stuff.
On the beer side of things, what's not to love about giant steins of German beer? On the music side of things, I hereby vow that if I ever win the Powerball jackpot, I will rent a booth at Eurobike and hire the gnarliest metal band I can find to drown out all of that hideous Euro disco. Sound check will start each day promptly at 15:25. Eardrums be damned. Americans and Norwegians can thank me when it happens.
And then there's the bike stuff. Each year there are themes, and this year the focus seemed to be colors (everyone wants to be as colorful as Santa Cruz bikes), fatbikes (everyone seems to be feeling Minnesota) and E-bikes (Trek bicycles has Trek World, and Eurobike this year felt like it could be called Bosch World).
The color thing is easy to comprehend: Santa Cruz can't even produce enough of those bubble-gum flavored Nomads to satisfy the rabid demand. And color, like fashion in general, is a damned easy thing to dismiss in a year or two. Remember the mullet? Bell bottoms? Ironic mustaches? All seemed like good ideas in their time, but where are they now?
The music thing has long been a mystery to me. Dear Europe, I love you but your music sucks.
But then there was the amazing number of electric bikes, which cannot be dismissed as easily as this year's color palette or the European continent's atrocious taste in music. They came in all shapes and sizes — road, mountain, recumbent, recumbent fatbike, etc. — and few of the companies displaying their wares at Eurobike were missing the E-bike party.
For the North American contingent, the E-bike thing seemed to be the elephant in the room. Yeah, okay, it was easy enough to explain away the electric commuter bikes, but an electronic mountain bike? Even broaching the subject with media pals felt like that one time in Italy when I was hanging out with my Italian coworkers and yelled "Porca Madonna" within earshot of a Catholic church.
The E-bike thing is truly a sore subject to many longtime mountain bikers. Twenty-fourteen Mountain Bike Hall of Fame inductee elect Jimmy "Mac" McIlvain recently resigned his post as editor of "Mountain Bike Action" because he didn't want to include E-bikes in the magazine.
McIlvain's former MBA colleague Richard Cunningham offered a wonderful argument against E-bikes in his July 25, 2014 "Pinkbike" column, where he cites the E-bike's threat to mountain bike land use. His piece, in and of itself, is pretty much enough to make you take up arms against this E-bike enemy. But for as much as RC's argument is intelligent and completely on point, there's one thing that cannot be denied: E-bikes are fun — or at least becoming fun. And that is a dangerous thing.
Not too many years ago, climbing aboard a 29er would get you labeled "gay," as if wheel size was somehow a measure of sexual orientation. There were companies that flat out refused to manufacture for the growing adaptation to the bigger wheels. It was as if mountain bikers imposed paranoia-style campaigns on themselves: "Dude, the government is going to take away your 26-inch wheels. Dude, if 26ers are illegal, only criminals will ride 26." Soon enough, the holdouts began designing and manufacturing bikes and components for 29ers, and then things absolutely began to sing.
Fatbikes seem to be the new 29er, easily dismissed as something for people in Minnesota or people who live on the beach. Sorry to ruin the party folks, but a full-suspension fatbike is maybe the most capable and flat-out fun bike I've ever ridden. So, there's that.
Based upon the aisles and aisles of electric-powered mountain bikes on display at this year's Eurobike show, it seems that motorized mountain bikes are soon going to be a common reality in Europe and North America. Is that such a bad thing?
When I look at the golden opportunities of electric mountain bikes, the script feels like one of those made-for-TV movies where everyone wins. I think of the old dude who can once again ride with his buddies. Or the office-chair-fit bike-industry executive who can ride alongside her sponsored athletes. I think of more downhill turns because the ups are so much quicker. I think of more people in the sport because the entry is that much easier.
But is all of that a good thing?
I'm an NRA life member, a club I joined when I was shooting long-range rifle competition. There are few things in the world to me as peaceful, Zen-like, as lying on a firing line and shooting a small bullet 1,000 yards downrange into a 10-ring the size of a paper plate. I hold the NRA's highest ranking for the sport — it took four years of focused, daily practice to earn that ranking. Perhaps needless to say, I am comfortable around guns — but shooting with people who don't have the same level of respect for deadly weapons that I do is downright terrifying.
Yeah, okay, the NRA analogy might be a bit of a stretch. The fact that not everyone should be able to handle or own a firearm is a given, but shouldn't everyone be able to ride a mountain bike if they want to? How they want to? Maybe not. Maybe it's a good thing that our sport — even at its easiest — is hard.
Where are the E-bikes now?
Like it or not, it seems that there are container loads of them, and that they're getting closer to being commonplace. It would be my hope, however, that their numbers sold would reflect what's truly best for mountain biking, and not simply what media or the bike industry deems cool, fashionable, legit or good for business.