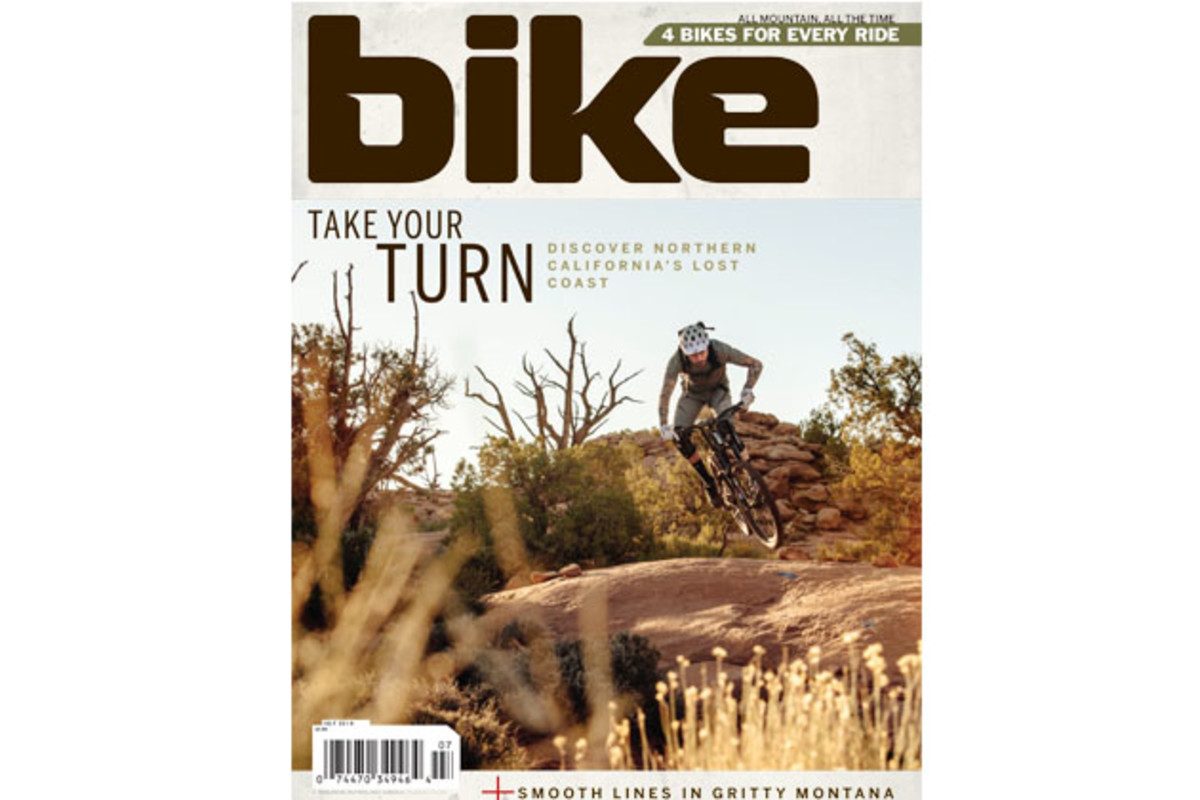 Bike's July cover might cause the casual fan of mountain-bike racing to go back for a second look. I'm not talking about poring over the photo for details missed at first, or even to get completely lost in a workday daydream, either, but rather the kind where the rider looks familiar but you can't connect a name to a face. Maybe you know the face and the name, but something is still unfamiliar.
You could be forgiven for not immediately associating the face and form of Duncan Riffle with a trail bike and an open-face helmet—and nowhere near a World Cup downhill course. His kit is largely free of logos and, well, you can actually see his mug because a full-face helmet doesn't obscure it. The cover shot, by British Columbia's Margus Riga, was captured on Moab, Utah's Captain Ahab trail when both Riga and Riffle were in Moab for a SRAM and RockShox media launch.
Riffle made the transition from full-time downhill pro and Santa Barbara, California, resident to full-time SRAM PR guy and Chicago, Illinois, resident in the beginning of 2013. His decision to place a period after his 15-year-old downhill career, though probably a wise one, didn't come without a fair amount of inner struggle; no one really wants to put a stop to their childhood dream.
"It's been a whirlwind," says Riffle. "It seems like just yesterday when I was just starting racing and had that crazy enthusiasm and passion to be the best in the world. And that's pretty much all I've ever done — flat out."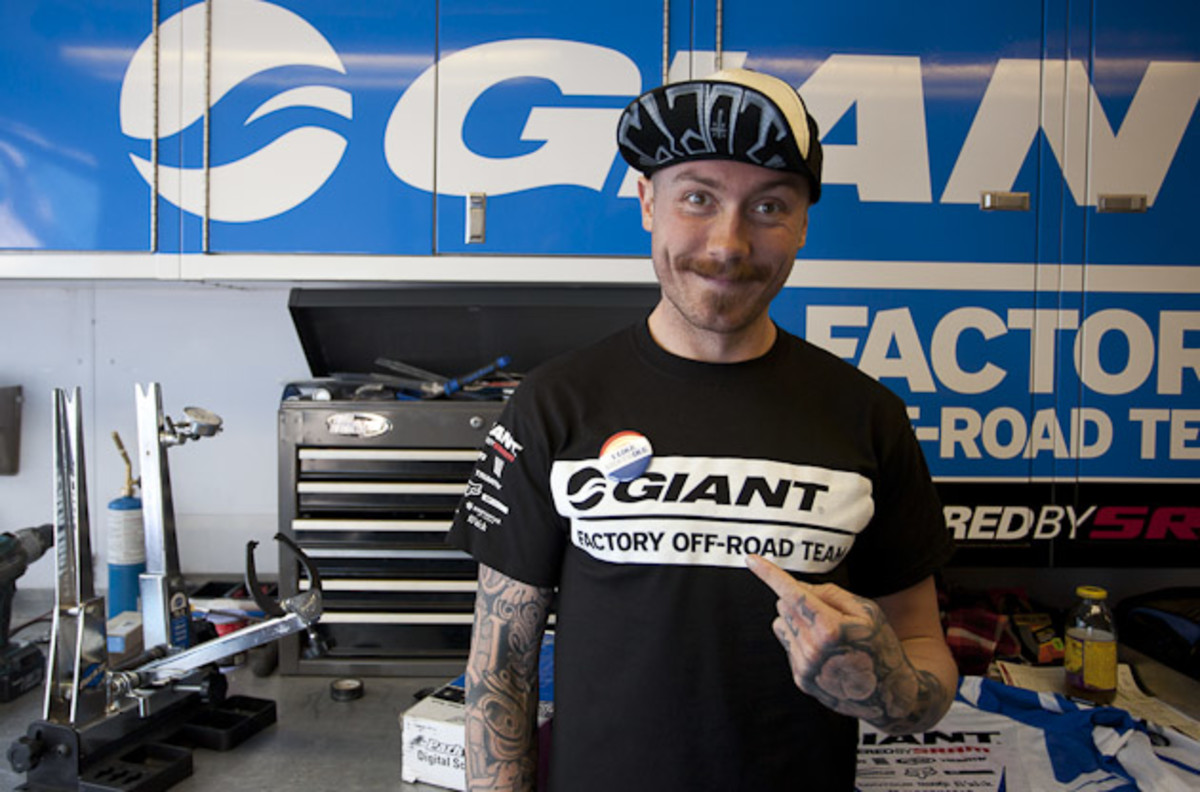 The tall, tattooed, Chicago resident—who has yet to relinquish his California driver's license—first got into cycling via his dad, a recreational free-diver who turned to bikes to increase his lung capacity and cardiovascular efficiency. For the young Riffle, though, bikes were 'it.' He raced BMX as a grom, up till the age of 10 or so, and then caught glimpse of a downhill rig in a local bike shop. Shortly after that, he went to Big Bear, California, for his first NORBA National. It was the late '90s and the Nationals were still attracting tons of attention, the pits still lined with full-on semis and other massive rigs. He was hooked. That, as they say, is all she wrote.
In 2003, still a Junior-class racer, Riffle was selected for and attended his first-ever world championships in Lugano, Switzerland. He finished 5th behind Kyle Strait, Cyrille Kurtz, Gee Atherton and the gold-medal-winning Sam Hill. His result, combined with the larger-than-life experience of a first world championship—"I can remember every single thing about it"—signaled to Duncan that he did indeed have a spot on downhill's world stage.
A rookie pro two years later and member of the Yeti Cycles team, Riffle took home the biggest win of his career, when he bested the fastest mountain bikers in the world, including then teammate Jared Graves, at Mount Snow, Vermont.
The Mount Snow course had been dry and blazing fast all week, but riders woke on race day to find medieval wet and rainy conditions. Such sudden course changes typically mess with a rider's head, but Duncan says he was surprisingly unaffected by the slippery track and low visibility. It seemed a sign of big things to come.
As the curtains drew closed on the double-ought decade, though, Riffle began feeling a change in course design. Where tracks had once been built to test a rider's ability to navigate them at ultra-high speed, new ones were popping up that seemed to reward the ability to simply stay on the bike for the entire run. As he describes it, riders pedaled a stroke or two out of the gate and then just fell all the way to the finish.
As he tallied the broken wrists, ankles, vertebrae and dislocated shoulders, and weighed them alongside the financial uncertainty of life as a mountain-bike racer, the opportunity to step outside of competition but stay in the world of mountain biking began to make more sense. At the Mountain Bike World Championships in Leogang, Austria, in 2012, Riffle pulled on a United States national team jersey one last time. And then it was on to a new career, one that still affords him some riding in amazing locations.
The July, 2014 Bike cover is Riffle's second, his first magazine cover ever being Bike's March, 2008 issue (see below)—which also housed the inaugural installment of the Sh*tbike Challenge. A framed copy of that '08 cover currently resides in his parent's house in Santa Barbara.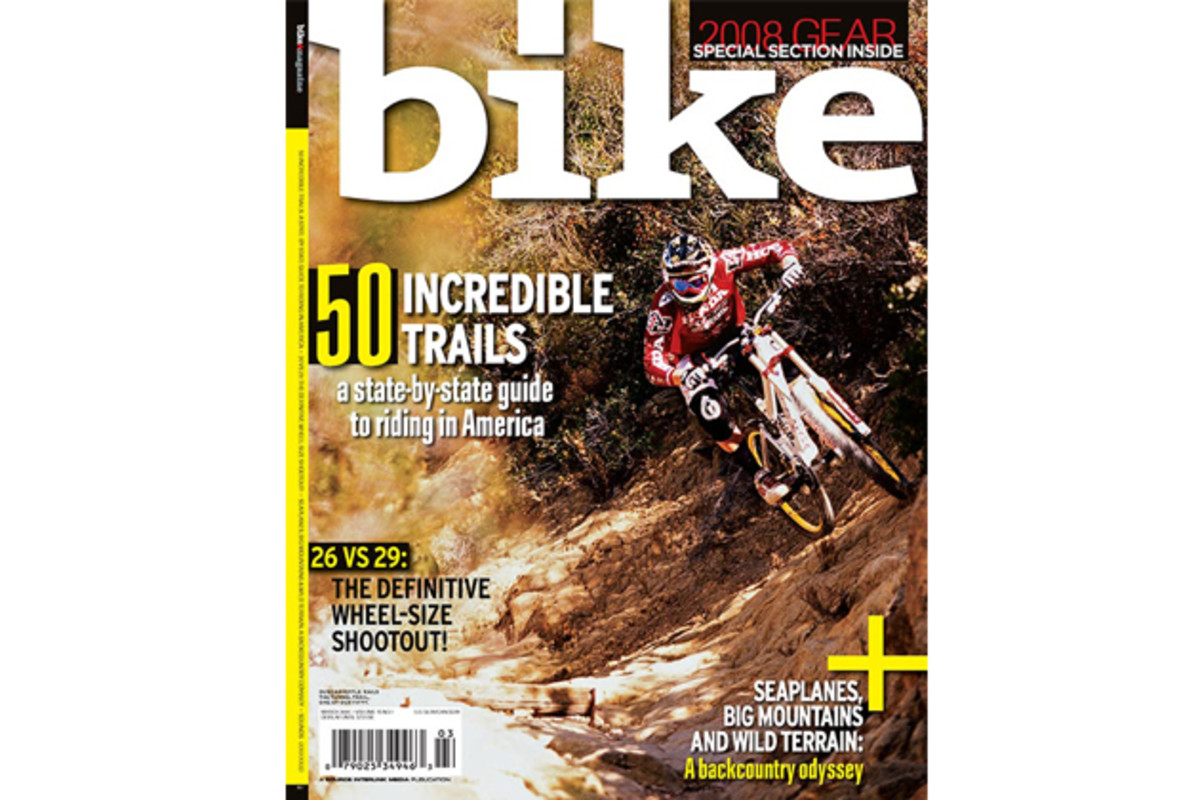 For the current cover Riffle was shooting with photographers Margus Riga and Adrian Marcoux. The group was running out of sunlight, when they happened upon the spot where the cover shot was taken.
"I hit that one rock, and right when I hit it…everything about it felt really good," says Riffle. "Margus looks at me and goes, 'Go back and get that right now. I didn't get it.'"
He pushed back to the start spot and hit the rock one more time. Margus got the shot.
It is customary for both the athlete and the photographer of a Bike cover to receive a framed copy. The question in this case is whether Duncan's July '14 cover will live in Chicago or in Santa Barbara alongside his other one.
More Where are the Now? stories: