By Kevin Tan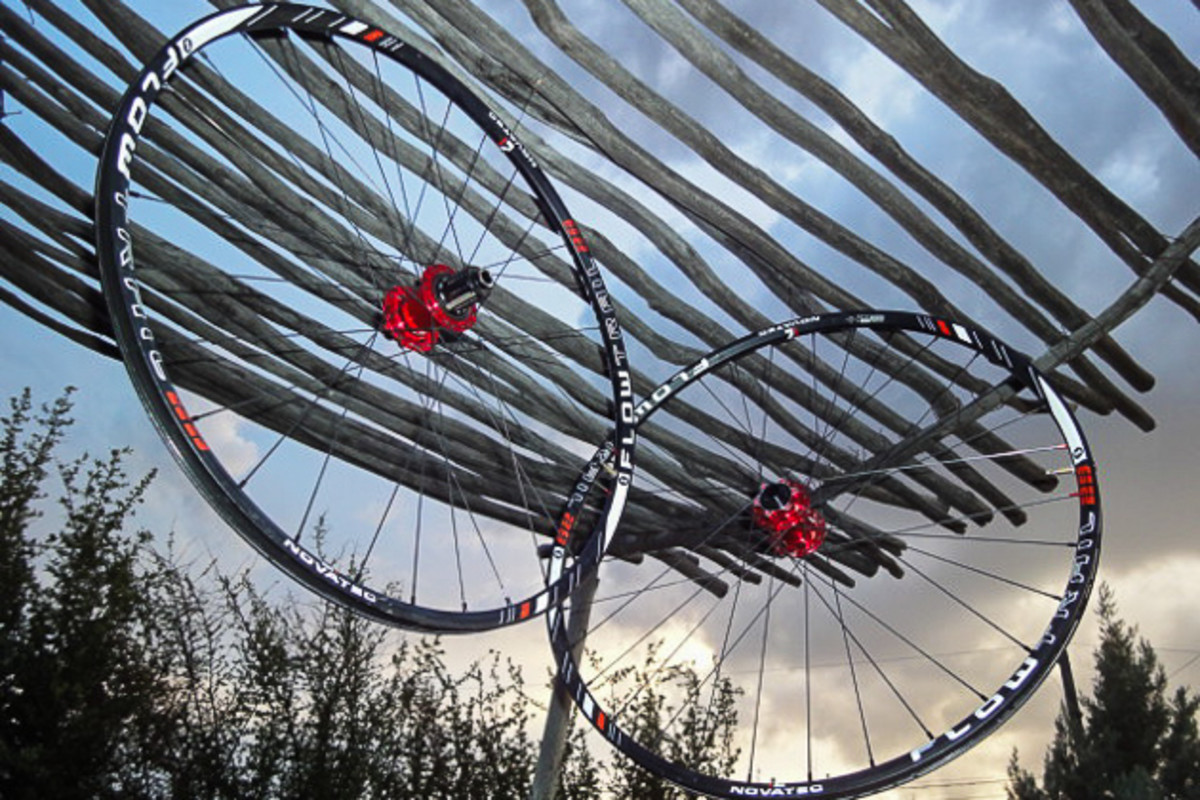 Novatec Flow Trail 29 Wheelset | Price: $699 | Weight: 1685g (737g – front, 948g – rear) | www.novatecusa.net
Description
Whether or not you are familiar with JoyTech, chances are you've spent some time on the company's hubs. With a production capacity counted in multi-millions of units per year, this is a company with a serious amount of experience churning out (often rebranded) hubs and wheels. Novatec is a division of JoyTech, designed to market and further develop a high performance line of wheels for road and mountain bikes.
In addition to several sharp-looking aluminum and carbon road wheels, Novatec offers wheelsets that range from XC race to trail/enduro to DH, available in 26-, 27.5- and 29-inch sizes. The design approach doesn't stray too far from the tried and true, featuring 32-hole spoke counts and commonly available J-bend spokes and nipples.
The Flow Trail 29 wheelset occupies the middle ground between the lighter Dragon 29 (1605 grams/set) and heavier-duty Diablo 29 (1890 grams/set). These wheelsets all use the same 6-bolt compatible hubset (more on this below) and primarily differ in the choice of rim, with the Dragon sporting an 18-millimeter internal width, the Flow Trail a 20-millimeter width and the Diablo a 23-millimeter width. The finish on the rim is a durable, peened matte black, with graphics that clearly explain what it is you're riding. It's worth noting that the Novatec rims use a sleeved connection instead of welding. This can be a subject of seemingly endless debate, but in my experience is not necessarily a deciding factor when it comes to strength or durability. The rims feature a tubeless-ready profile, but come only with a non-adhesive, plastic rim strip, meaning that if you decide to convert to tubeless, you will need to provide sealing tape and tubeless valve stems.
The Novatec hubset is the centerpiece of the build, and is intended to give time-honored aftermarket hubs a run for their money. The front hub features Novatec's 4-in-1 compatibility, consisting of three sets of inserts that allow the wheel to be installed as a QR, 9-millimeter, 15-millimeter or 20-millimeter through-axle. The inserts can be installed and removed easily with an axle or tool, and are held in place with an o-ring. The rear hub uses a similar insert to adapt to QR, 10-mil, 12-mil or X-12 use. The front hub rides on two high-quality (no grade listed) Japanese bearings and the rear hub on four bearings. The Novatec freehub is aluminum and has a black, peened finish similar to the rims. The Novatec freehub features its Anti Bite Guard, a clever idea that consists of an integrated steel spine designed to "mitigate damage from drive forces." The freehub also sports an abundant number of engagement points. My best count was 84 points per revolution with what sounded like three engagement pawls. This gives an engagement angle of just over 4 degrees.
Last but not least, the wheels are laced up with Sapim spokes with a 2.0/1.5/2.0 millimeter profile and commonly available 14-millimeter alloy nipples.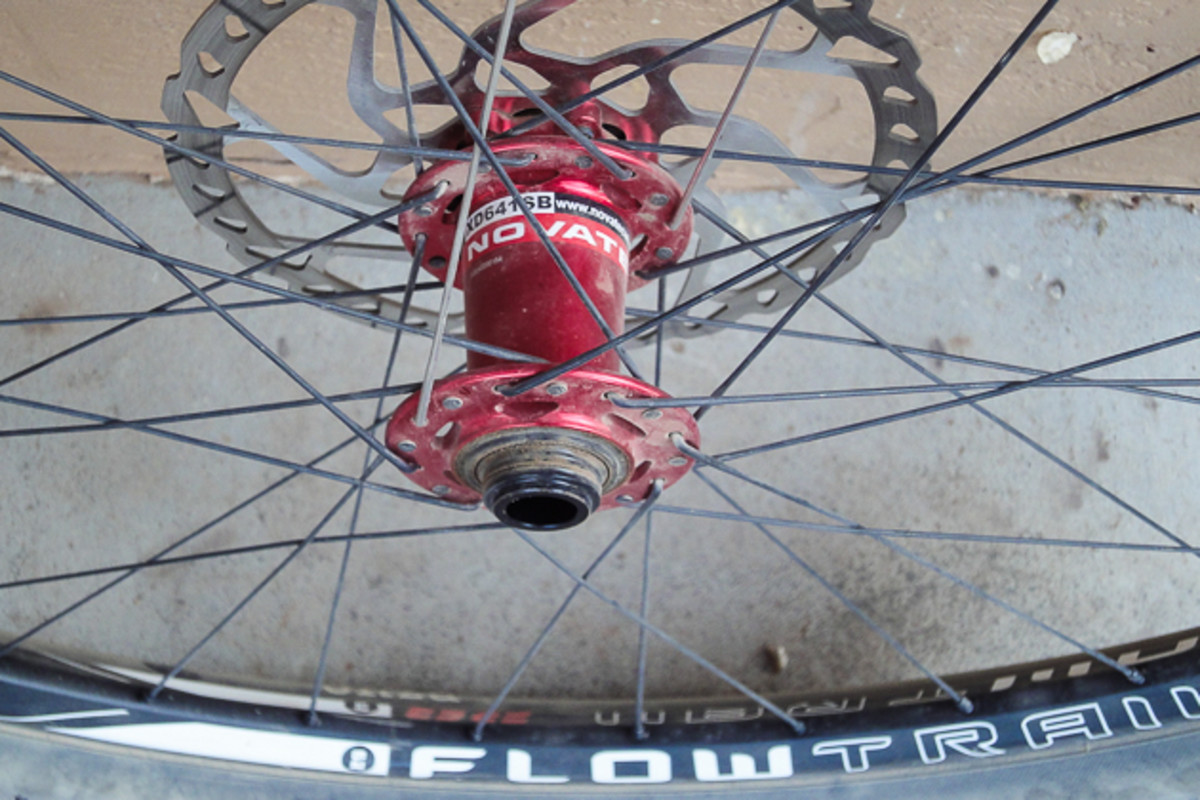 Riding Impressions
For the duration of the test, I used the Flow Trail wheels as a tubeless set-up. This involved replacing the plastic rim strip with some rim tape and tubeless valve stems (not provided). The rim profile allowed for easy installation and removal of all the tires tested, but also made it more difficult to inflate tubeless set-ups. Eventually I was able to do this with a floor pump, but it did involve some furious pumping and a little extra help to chase leaks. Once installed, the tires centered up nicely and did not have any problems keeping the bead locked in place.
The Flow Trail wheelset is quite light and made a noticeable difference when climbing and negotiating fast, technical sections of trail. In my experience, an internal width of 20 millimeters is a good compromise between weight and stability, and can capably support tires up to 2.35 or so for general trail riding.
I really liked the small engagement angle of the freehub body. In technical sections, it's a handy thing to have the rear wheel respond quickly to pedal input. At speed, the high number of engagement points makes quite a noise, reminiscent of a Chris King hub. Psychologically, it makes you feel like you're hauling ass. Unlike Chris King and DT hubs, the Novatec free hub uses a more traditional pawl engagement system. Listening carefully, I could hear the three ratchets engaging in quick succession. During the test period, I did not have any issues with hub engagement and multiple pawls offer an extra measure of reliability in that regard.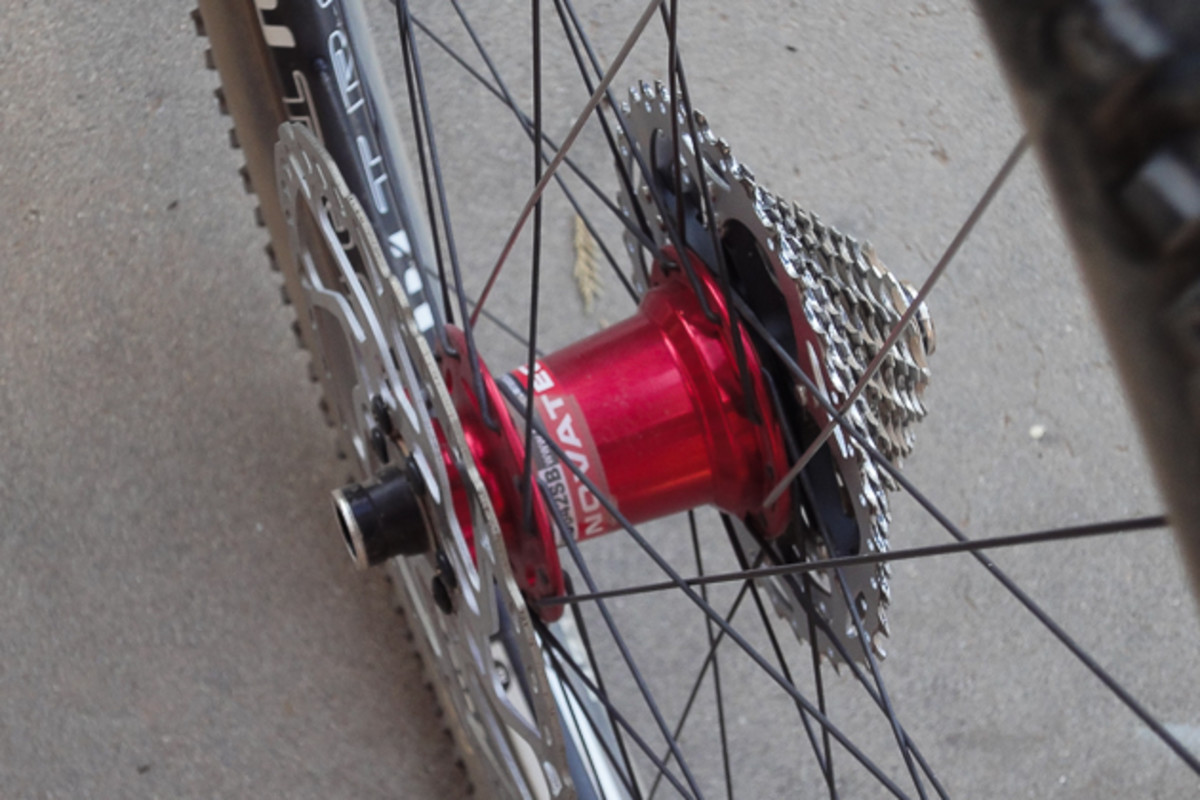 When pinballing through rocky, technical sections at speed, I did notice some flex in the wheels. Twenty-nine-inch wheels in general suffer a decrease in strength and lateral stiffness compared to their more compact counterparts, and these are no exception – a situation that is not helped by the choice of spoke. The Sapim 2.0/1.5/2.0 mm spokes are good quality, but due to the reduced middle section, they are more finicky to tension and true, and also allow the wheel to flex more. For riders of average weight using these for XC or trail use, the flex isn't going to be a deal-breaker. However, heavier or more aggressive riders may prefer something a bit stouter. Personally, I prefer a more substantial spoke on a dished rear wheel for an extra bit of stiffness and long-term durability. For the duration of the test, and despite a few botched landings, the Flow Trail wheels remained true. It will be interesting to see how well they hold up over the longer term.
To save weight, aluminum freehubs are a standard feature on most high-end aftermarket hubs. Unfortunately, all suffer some degree from deformation of the drive splines from pedaling torque. After a couple weeks of riding, I was curious to see how well the Anti Bite Guard (A.B.G.) was working to prevent this. The A.B.G. steel spline looked great–and all the other aluminum ones not so great. In fairness, the Shimano SLX cassette used on the test bike only uses an aluminum sprocket carrier for the three largest cogs, and places the remaining seven steel sprockets in direct contact with the freehub body. Cassettes with a full-length aluminum carrier will likely fare better. An additional steel spline, or maybe two, could make the A.B.G. feature more successful.
As a former shop guy with much wheel-building experience, I'm always a bit suspicious of pre-built wheels. There are a few aspects of system-designed wheels that have been successful, like larger diameter aluminum spokes, straight-pull designs that eliminate stress at the J-bend, optimized rim profiles and spoke counts, etc. But can a prebuilt wheel using standard hubs, spokes and rims really perform better, hold up longer, or be a better value than one built by your local shop whiz-kid? At a suggested retail of $699–which puts the Flow Trail 29er wheels in the range of a DT 340 hand-built wheelset or maybe something from Stan's NoTubes–it's a reasonable question.
The Flow Trail 29 wheels look sweet and roll very smoothly at the hub. The spec as built would likely be a good option for a wide range of riders. By providing the necessary hardware to run the front and rear hub in almost any configuration, the Flow Trail wheelset is a good option if you anticipate upgrading your frame or fork at some point or if you intend to switch wheels between multiple bikes. The overall fit and finish of the hubset is not quite on par with high-end aftermarket hubs, but can certainly hold its own when it comes to functionality. The same could be said for the rim and spoke combination: hard to knock when it comes to function, but then again, you're locked in to Novatec's component spec when there are a lot of other good options out there for a knowledgeable wheel builder.
More wheel reviews:
News: Mavic introduces new Crossmax SL wheels
News: Ibis introduces carbon wheels
Reviewed: Wheels – Six of the year's most sought-after wheels