Editor's Note: This is the final installment of an eight-part series, documenting the travels of Galen O'Moore and Hurl Everstone, as they zig-zag through Colorado, Montana, North Dakota and Utah. They are filming their adventure with Action Cam by Sony, and posting their adventures and the faces they meet on Instagram. Follow along: @bikemag, #heavypedaltour and #actioncam. Their last stop was along the Front Range, Colorado, where they partook in a weekly ride through Boulder (watch the video below) and toured around Colorado Springs, where Hurl met up with his long-lost buddies.
Written by Hurl Everstone
Photos by Galen O'Moore and Hurl Everstone
This is the end, beautiful friend, the end… Coming down from the Breck Epic is no easy task. After six straight days of high alpine riding, Galen and I were stoked. And pumped. As such, our initial departure out of Breckenridge was spent just down the road at the Frisco Bike Park. For three hours, it was nothing but flowing lines, lofting jumps and little-to-no pedaling. A great way to unwind and unravel the ravages of a six-day stage race, but ultimately we realized that we had to get out of Summit County, so it was deemed worthy to head south to Colorado Springs for a week of decompression, where we would meet up with Jon Severson and check out the Urban Singletrack Project, ride some local trails and catch Jens Voigt on his farewell tour during the Colorado Springs stage of the US Pro Challenge.
Severson has spearheaded the Urban Singletrack Project in Colorado Springs as a way to make mountain biking more accessible to anyone in the urban environment. Mountain biking can be equipment intensive (and expensive, as evidenced by the sleek race/enduro machines on display at the B.E.), but it doesn't have to be, and nor do you have to get to a "mountain." By lowering the barrier to entry, anyone with a bike can enjoy these modest trails, from novice to expert, which utilize existing parks, connecting neighborhoods, and often incorporating local businesses near or along the route to revitalize segments of trail that have sometimes been taken over by transients and unsavory activities.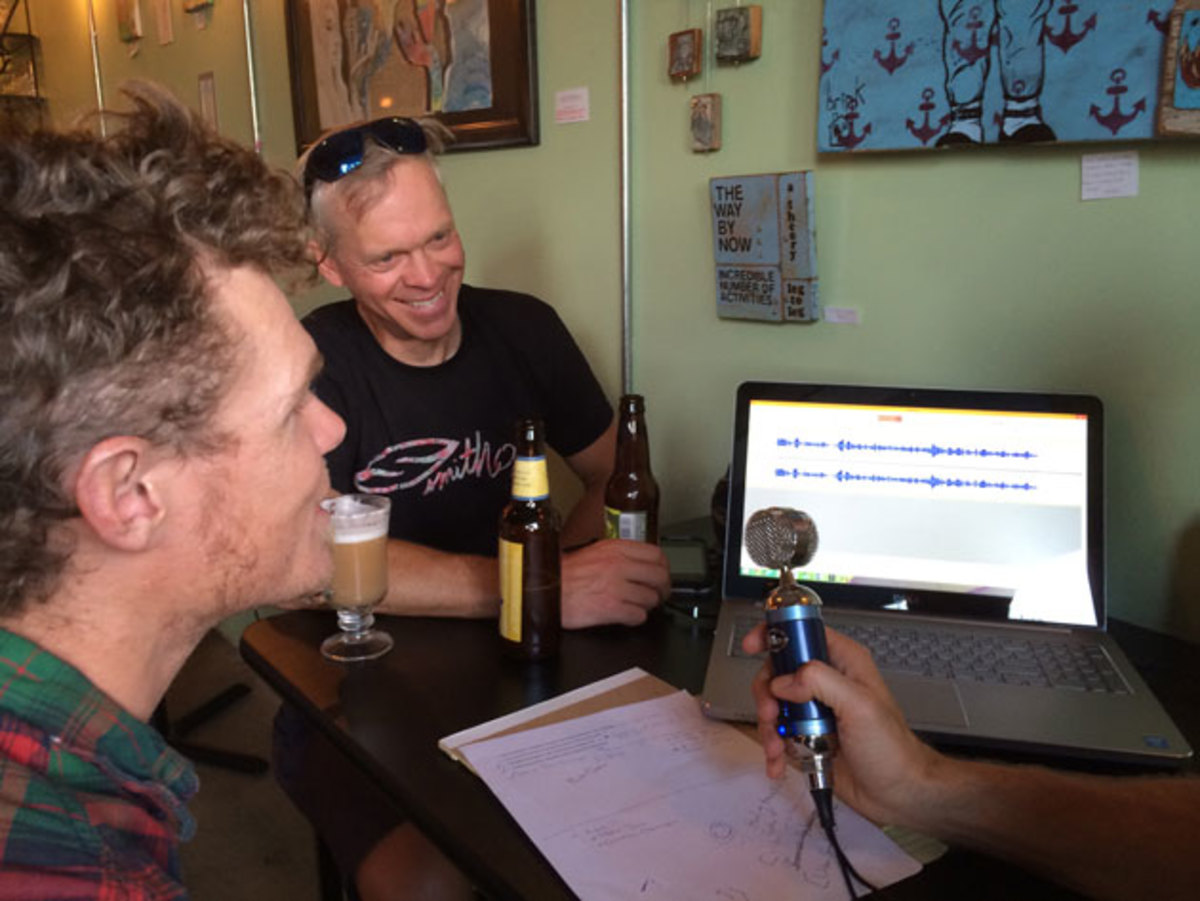 We met up at the Urban Steam Coffee & Whiskey Bar ("espresso, waffles, whiskey!") and rolled a few short blocks to the "Banker's Lunch Loop" with local pro Cameron Chambers. We ripped a lap, then headed right back to the bar for a few cool beers, before sitting down with Ben Welnak's Mountain Bike Radio program to discuss the USP, as well as the Heavy Pedal Tour.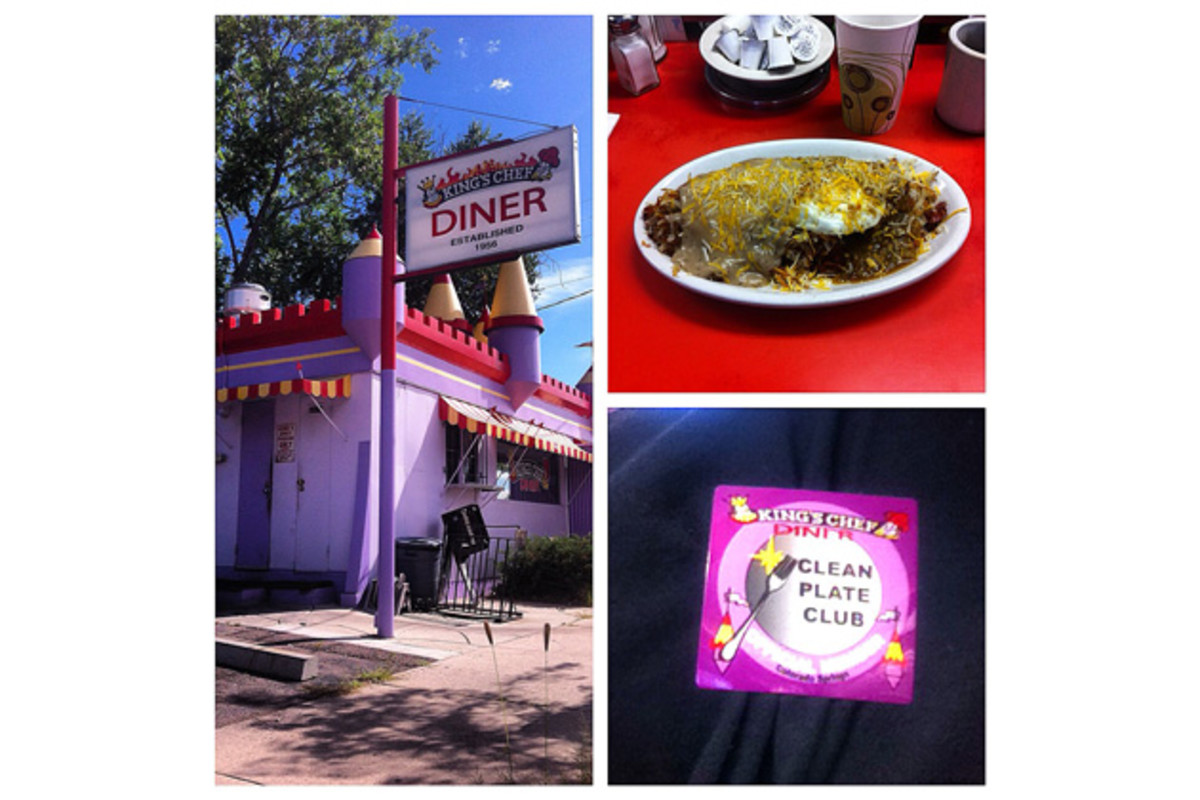 Day two started with a personal mission, and that mission was to get back to King's Chef Diner, known as the Purple Castle. Twelve years ago, while on this same HPT, I spent a good portion of my downtime in the Springs and the Purple Castle, specifically eating their award-winning green chili. So it was imperative to return.
Breakfast jones assuaged, Galen and I met up with my old pal Jon Csakany to tackle some local dirt and rode up Gold Camp Road to Captain Jacks to the SS trail. Every bit as incredible as I remembered. We then cruised back to town, grabbed some burritos and then headed over to Eric Baar's Ground Up Speed Shop compound, featuring the madness inducing Dizzy Drome. Imagine a banked dirt oval, and you've got it. With Baar wielding a torch, making mods to Csakany's motorcycle frame, Galen and I took turns downing beers and riding laps until it was time to head back to town and hit the pillow.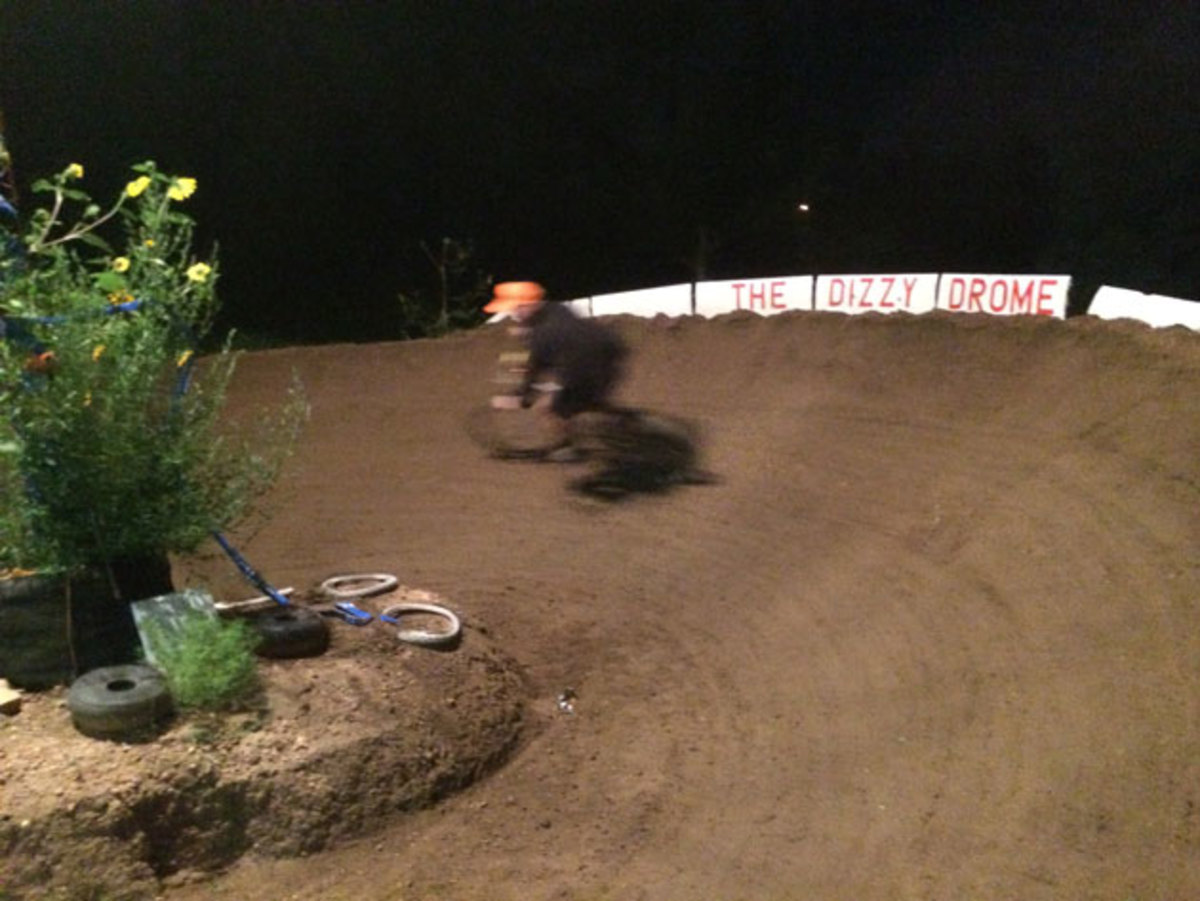 In a previous life, I was mechanic on the NORBA race circuit, where I rubbed wrenches with the likes of Brian Butler. Butler was the most sartorial of all techs, showing up on the start line wearing posh Wellies, button-down oxfords and bowties. It made sense, as he worked for the Ralph Lauren Polo Sport RLX Professional Mountain Bike Team. These days, Butler is a wheel department wizard for SRAM's mountain bike division in Colorado Springs. I made a few quick calls, and he graciously agreed to give Galen and I a tour of the SRAM facility. After the perfunctory hugs, high-fives and lunch at Chipotle-and us agreeing not to photograph any of the high-zoot, whiz-bangery behind closed doors-we were shown about the impressive R&D quarters. The level of enginerd-ing that goes into testing and production, allowing riders around the globe to enhance their rides is mind blowing to say the least. And SRAM (along with RockShox and Avid) continue to pull no punches in bringing hot shit to market.
We also stopped by Borealis Bikes to visit Fixie Dave and his colleagues. Fat Bikes are a thing (who knew?) and Borealis is making some cutting edge stuff. More importantly, they have a keg-a-rator of delicious cold beer in the employee lounge. We took a few hot laps around the surrounding neighborhood, pounding across curbs and alleys, before slaking our thirst back at HQ as a light drizzle fell.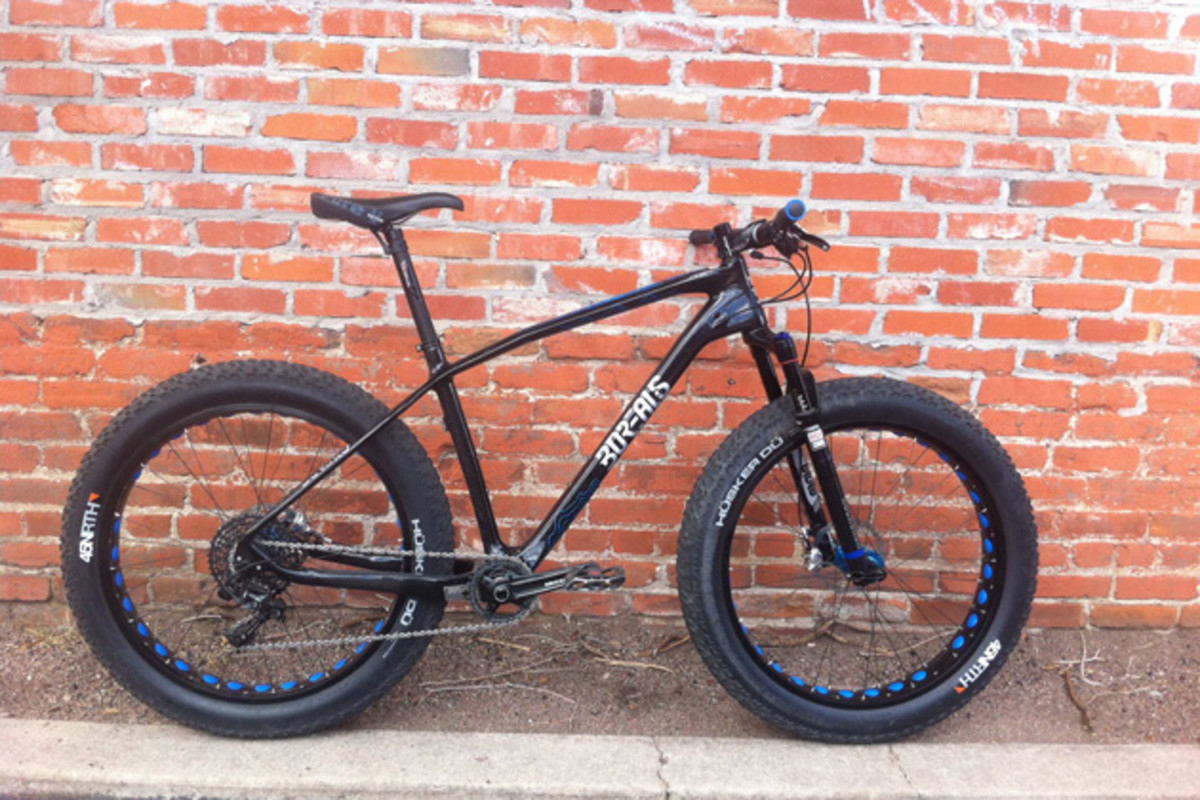 Wednesday night we joined a local cruiser ride, starting and ending at McCabes's Tavern. Stacks of posterboard and piles of markers were on offer, and Galen could not contain his excitement for the next day's US Pro Stage, making a super fan-boy sign for Jens Voigt.
By Thursday, downtown Colorado Springs was transformed into a world-tour-worthy stage, and luckily for us, the course wound right in front of Csakany's house. We posted up on the boulevard with coolers full of bad Midwestern beer, two-foot-long party subs and fresh vocal chords. We milled about the finishing area drinking espresso and whiskey with the Rapha crüe, where Trek had a non-descript Winnebago. Crowds hovered, hoping for a glimpse of Jens, and finally, the Teutonic masher appeared. Galen held his ground and got the obligatory photo, then had to jump in the Acadia and b-line it back to Bike Mag corporate HQ, an 18 hour hellride of a drive from Colorado Springs to Costa Mesa.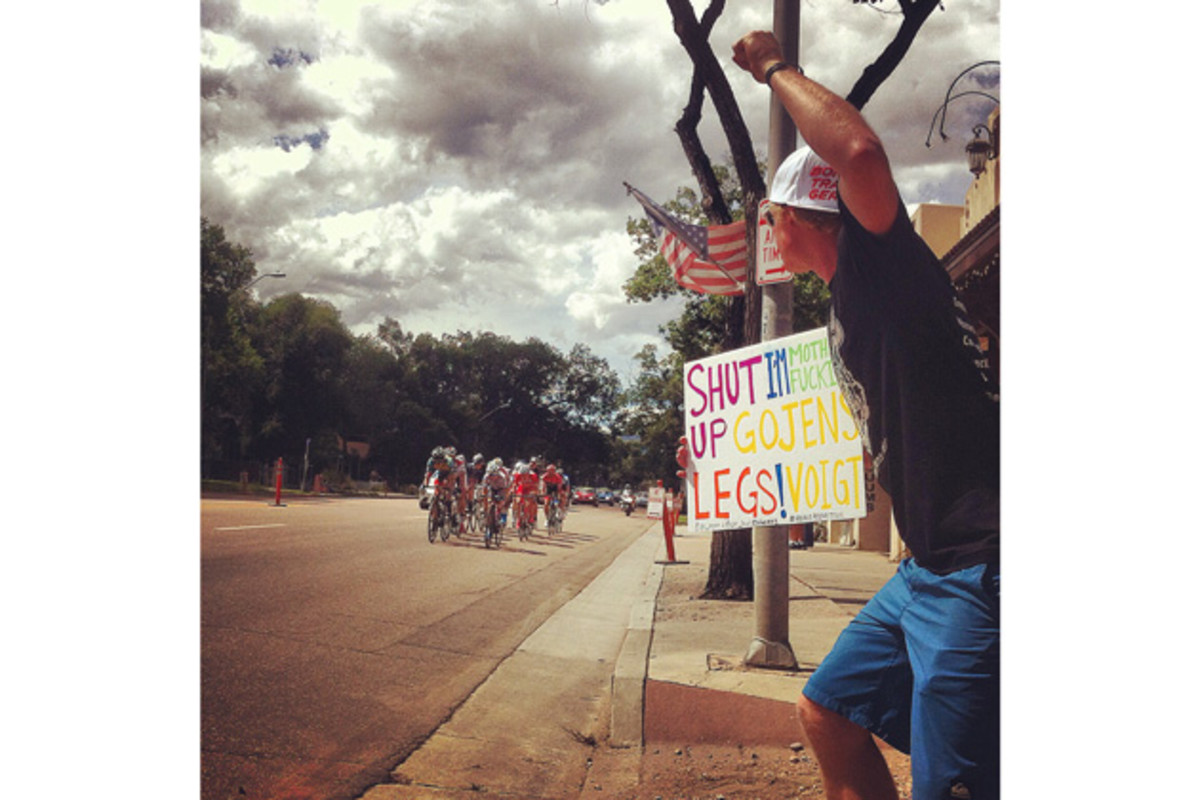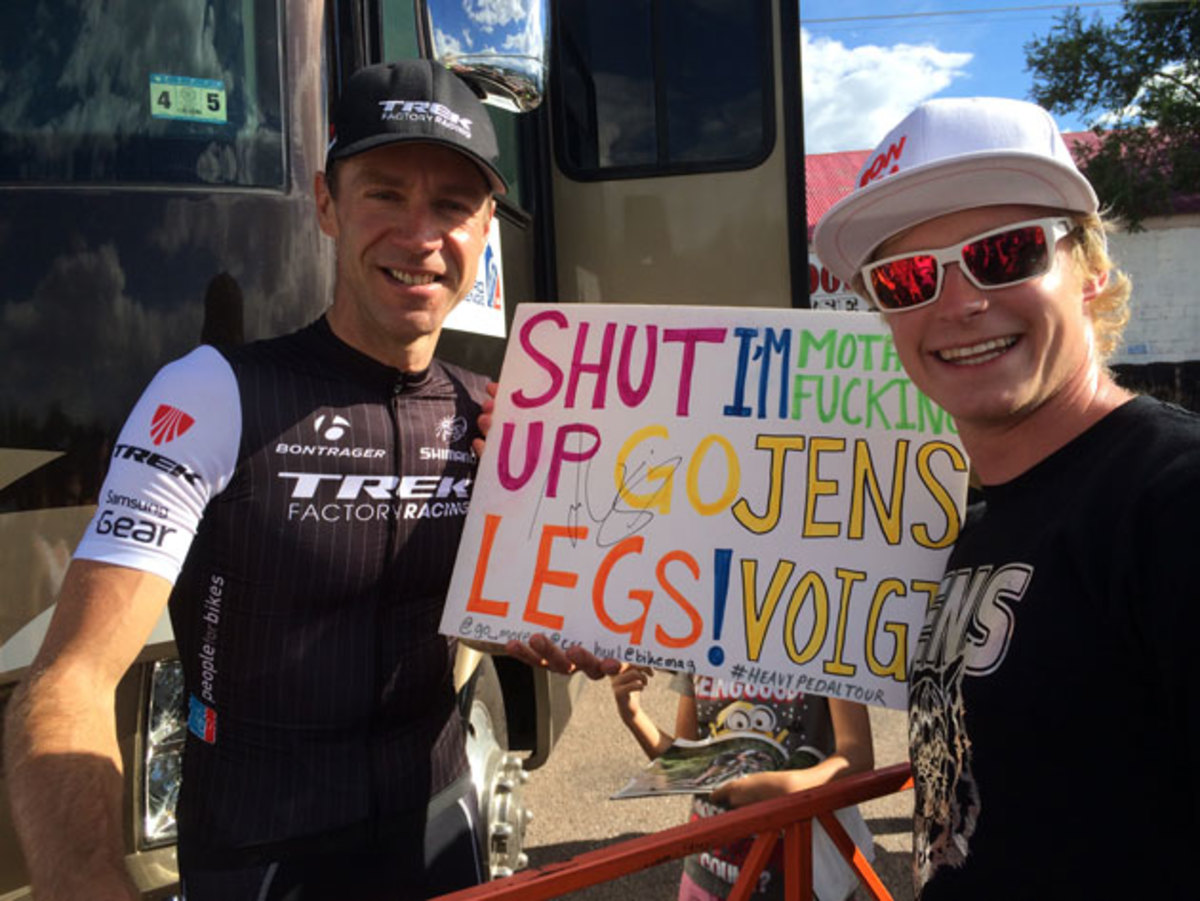 Me? I slummed it at neighborhood bar Shuga's, with Ian from Castelli and his girl Alisa, drinking $2 Gennessee and Basil Hayden. Neat.
And just like that, the Heavy Pedal Tour was unceremoniously over.
Thanks to all of the fine people we encountered on the tour, the rad places we were fortunate enough to ride, and the outstanding companies we partnered with: TC Teardrops, Sony ActionCam, Trek Bicycles/Bontrager, Acre Supply, Smith Optics, Voke Tabs, Butte 100, Maah Daah Hey 100, Breck Epic.
Previous Heavy Pedal Tour 2014 installments:
Heavy Pedal Tour 2014 - The Breck Epic
Heavy Pedal Tour 2014 - You can't go home again
Heavy Pedal Tour 2014 - The trails, free shuttles and beer of Helena, Montana
Heavy Pedal Tour 2014 - Recovering from the Butte 100
Heavy Pedal Tour 2014 - The Butte 100
Heavy Pedal Tour 2014 - Evel Knievel Days