Editor's Note: This is the sixth installment of an eight-part series, documenting the travels of Galen O'Moore and Hurl Everstone, as they zig-zag through Colorado, Montana, North Dakota and Utah. They will be filming their adventure with Action Cam by Sony, and posting their adventures and the faces they meet on Instagram. Follow along: @bikemag, #heavypedaltour and #actioncam.
"Make your mistakes, take your chances, look silly, but keep on going. Don't freeze up." – Thomas Wolfe, You Can't Go Home Again
By Hurl Everstone
Thomas Wolfe said you can't go home again. He was wrong.
Roughly 20 years ago, I was working for Loren and Jennifer Morlock of the Dakota Cyclery when they opened a small service and rental shop in Medora, North Dakota. I jumped at the chance to spend the summer in this small historic town in the Badlands on the western edge of North Dakota. The promise of unexplored singletrack, the quiet expanse of the skies and the majestic landscape all conspired to make it an experience of a lifetime. It was a quiet summer of exploration of the nearby livestock and horse trails, while plans for the Maah Daah Hey Trail, a 105-mile singletrack connecting the north and south units of the Teddy Roosevelt National Park were just being hatched.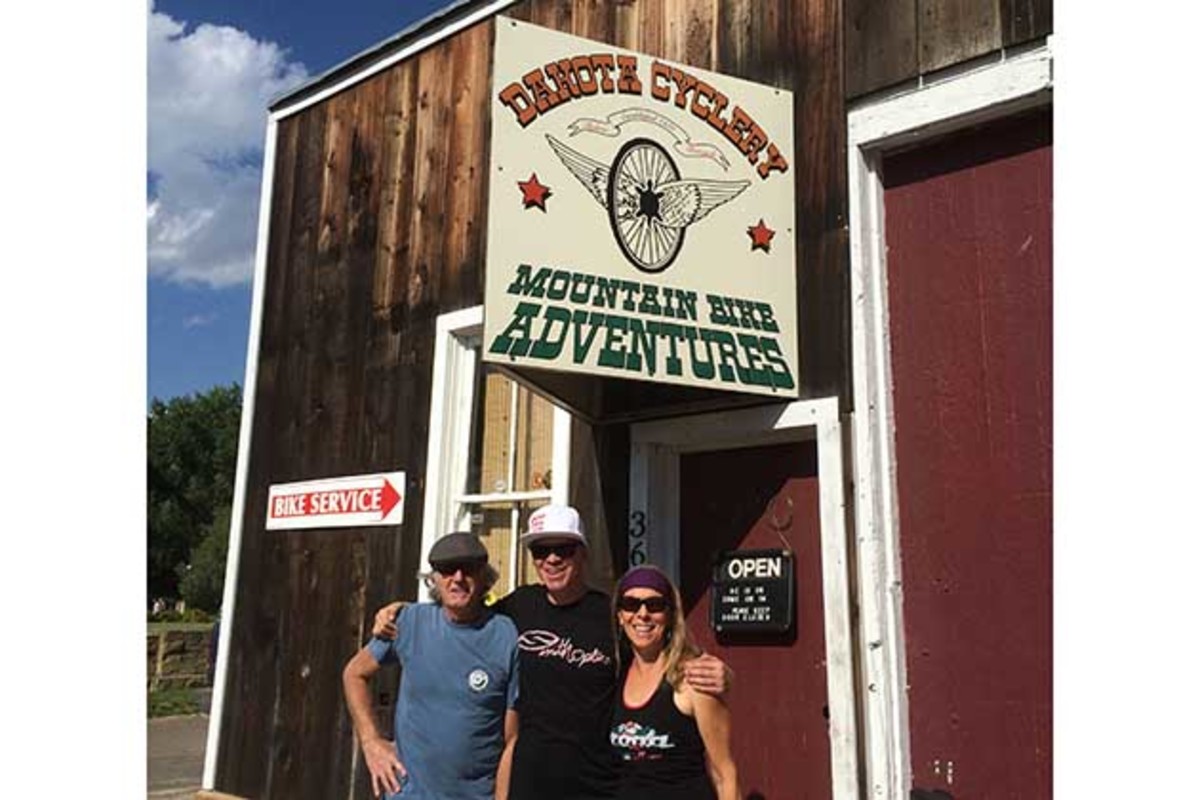 Fast-forward to August 2nd, 2014, and Galen and I are in Medora to take on the Maah Daah Hey 100 endurance mountain bike race. People sometimes laugh when I tell them about mountain biking in North Dakota, but the joke is on them. The Maah Daah Hey Trail covers more than 12,000 feet of elevation gain in 105 miles, with almost equal amounts of ascending and descending, and roughly 90 percent of that is true singletrack.
In only it's third year the MDH100 has attracted all sorts of racers and riders from across the Midwest, Rocky Mountains and beyond. The allure is simple: Race literature promotes the MDH100 as "The raddest race in the baddest place." And it's no joke. The Badlands can be unrelenting, with hardscrabble landscapes, soaring temperatures and challenging terrain that will take its toll on rider and equipment alike. Race promoter Nick Ybarra and a crew of volunteers spent more than 200 man-hours mowing the trail this year, creating some of the best conditions for race-day to date. Higher than normal rainfall levels gave the landscape a lush, verdant glow. But race-day temperatures would still soar to over 100 degrees. In fact, in 2013, the race was ended early to protect racers from the very real threat of heat stroke and exhaustion.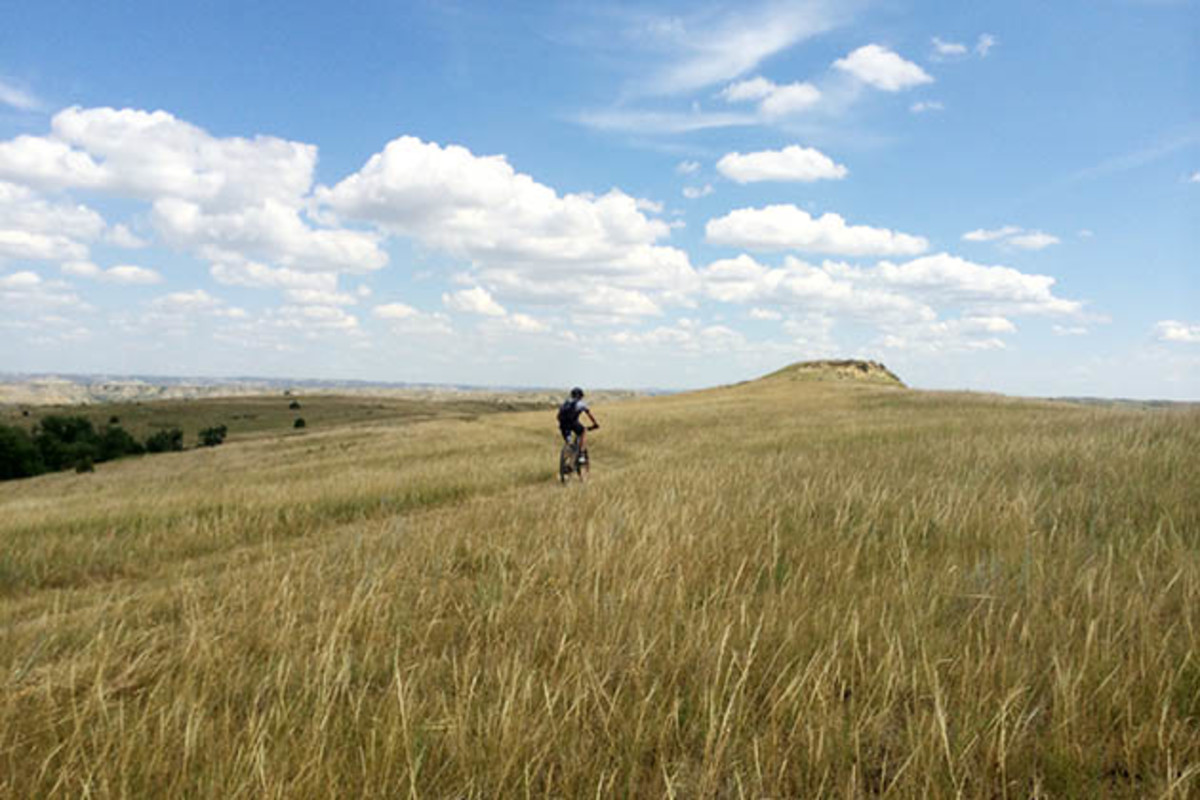 The race starts at the CCC Campground just south of Watford City, located roughly 80 miles north of Medora. Clambering out of the TC Teardrop, a perfectly sanguine morning greeted us. Chris Skogen of Almanzo 100 had the coffee brewing. I got my kit ready, and knowing we were in for a long day, took up a spot on the starting grid mid-pack.
Shortly after, we were off and funneled into the singletrack right out of the gate. The "never-ending singletrack climb" within the first 5 miles would set the tone for the day. I settled into a good rhythm and got on with it, enjoying the rugged desolation and breathing like a fat kid in physical-ed class.
The thing you notice most about the Maah Daah Hey is the landscape. It's truly like no other place I've ever witnessed–so very ethereal. Maah Daah Hey is based on a Mandan Indian phrase that describes "a place that has been and will be here a long time." We carved up jagged buttes, sliced through tall grass prairies and descended steep valleys of scrub brush and pine.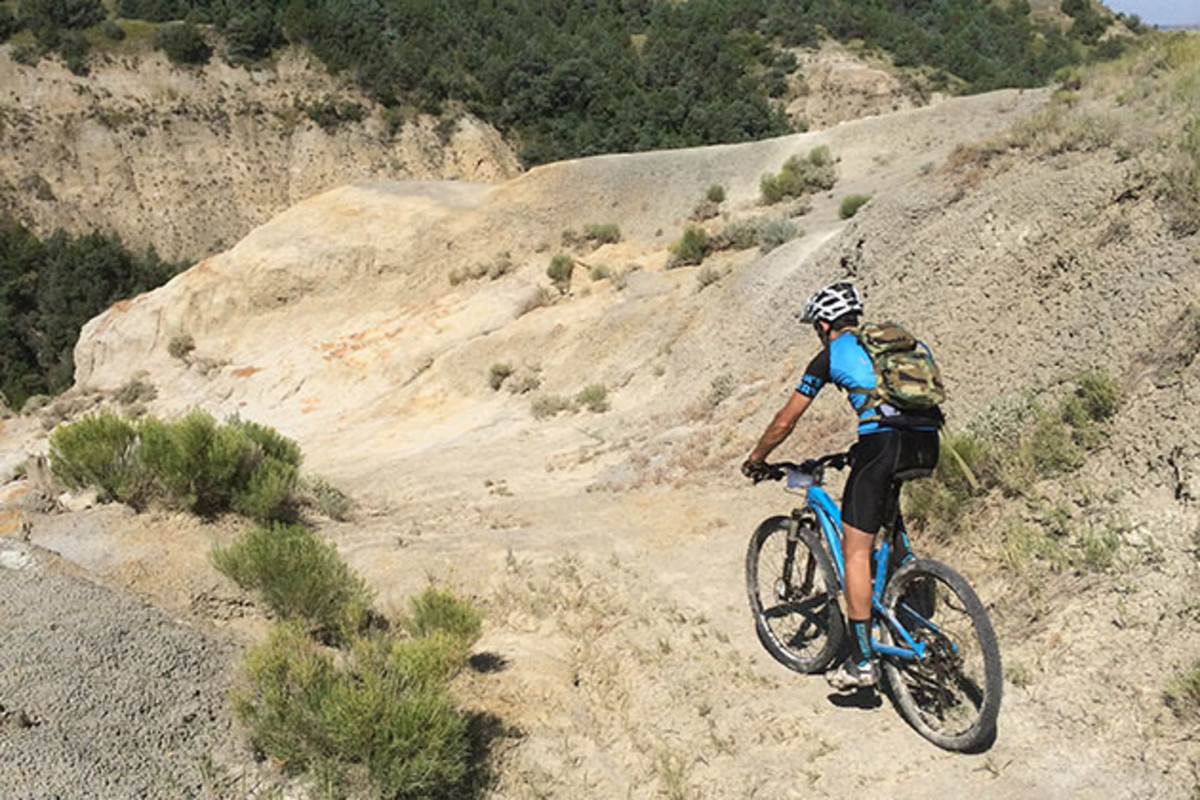 Just shy of the first checkpoint I saw Skogen at a road crossing and downed a Coke, feeling pretty good. Pressing on, I stayed cognizant of my fuel intake and kept rolling. The checkpoints were spaced roughly 25 miles apart, and they were well stocked with fruit, PB&J, Cokes and smiling, helpful volunteers.
At approximately the halfway point is Devil's Pass, a fast-rolling, exposed trail with panoramic vistas stretching to the horizon. Prior to today, I had never ridden any of the trail north of Devil's Pass. I paused to snap a few photos before descending down the fast two-track ribbon. In an instant, an overwhelming flood of emotion washed over me as I remembered all that has passed in the 20 years since I first visited the region: my life-long friendship with the Morlocks and Dakota Cyclery, how their small bike shop at 2910 East Broadway in Bismarck, North Dakota– my hometown–shaped my upbringing with BMX fever dreams and had now segued into something much greater with the Maah Daah Hey Trail, with Loren as my true mentor in this crazy bike world. And I thought of my parents, now both deceased, how they were always supportive of my choice to pursue cycling in all its beautiful forms. The tears flowed down my face, I was sobbing, and I howled into the ether, both longing for that time of beautiful childhood innocence and relishing that I was, and am, fortunate to have such a powerful experience in such a remote, beautiful place.
I forged on, eating up each mile of singletrack, promising myself that no matter what, I was going to finish this ride today. From checkpoint two to number three was the longest stretch, and by the time I reached number 3, I was elated, yet definitely exhausted. I broke the cardinal rule of endurance racing by sitting down at the checkpoint, but the ice-cold Coke, roughly my sixth of the day and the salty potato chips were too much to resist. However, it was later than I expected–after 5 p.m.–lights were mandatory in order to continue on by this time, and of course I had packed my Planet Bike 2-watt. So off I trudged, knowing that this final 25 miles was going to be more than anything, a mental challenge.
Up and out of the valley and onto the singletrack, I knew we'd be approaching the Buffalo Gap section of the trail, a work-around section since bikes are not allowed inside of National Park boundaries. I stopped briefly on the side of the trail to eat more calories. Though it had been several years since I rode here, I started to recognize segments of the trail, and even thought the sun was sinking on the horizon, I held out hope that I would make it to the finish before sundown. The mental fatigue was definitely creeping in, but I reminded myself that I made a silent commitment to my parents on Devil's Pass that I would, indeed, finish. Within 10 miles of the finish line, I caught a glimpse of the I-94 freeway. I could see the traffic. From my foggy memory, I knew there'd be a final stream crossing, before one last singletrack section would lead me back to the last half-mile of pavement into Medora. Then, in a cruel twist, the trail arcs away from the freeway and back into the harrowing Badlands.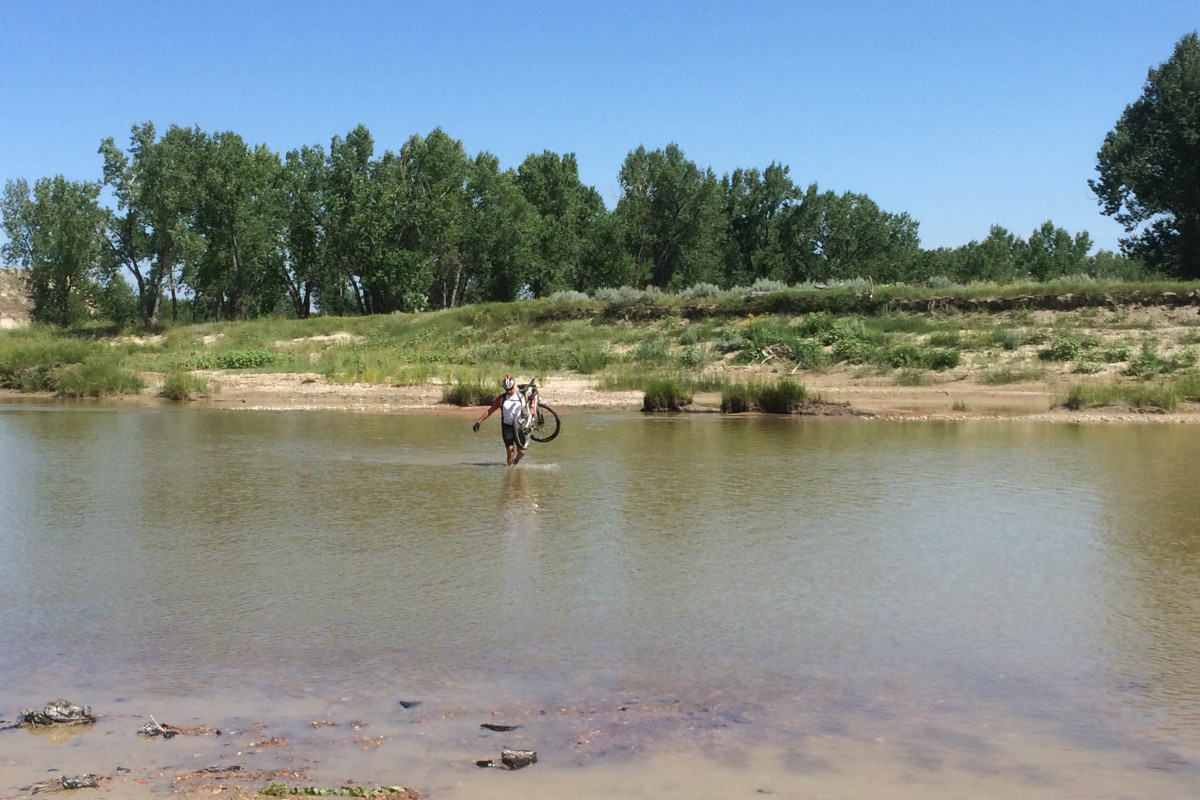 Steadily descending Buffalo Gap Trail mile-markers reverted to Maah Daah Hey Trail markers and started ascending. I got nervous, thinking I'd missed a turn, but did not panic and kept going. I briefly saw a rider on the horizon, reassuring me I was on the right trail. Then he was gone. The dusk was no longer casting shadows, but actually making it hard to discern the trail. I switched on my headlight.
Soon I rounded an escarpment, spun up the lonesome ridge, and in a euphoric moment, dropped into the final stream crossing. Exiting the murky, alkaline water, my front wheel was stopped abruptly in a rut, and I slammed my nuts on my stem. "Jesus Christ," I thought, "am I going to finish this or not?" But I got rolling again and soon crested the singletrack onto the paved bike path into the finishing chute.
To my great dismay, no one had an icy cold beer for me at the finish. Hell, I would have settled for a warm one! But I'd made it! I'd later find out that North Dakota native Kelly Magelky had shattered the course record in under 9 hours. My time? 15 hours, 15 minutes. After some furtive glad-handing from Galen (12:24 minutes–chapeau!) I slowly rolled the quarter-mile to Dakota Cyclery where a keg was waiting.
As the party swirled around me, I leaned my bike against a wall and instantly fell into the fetal position. I was home.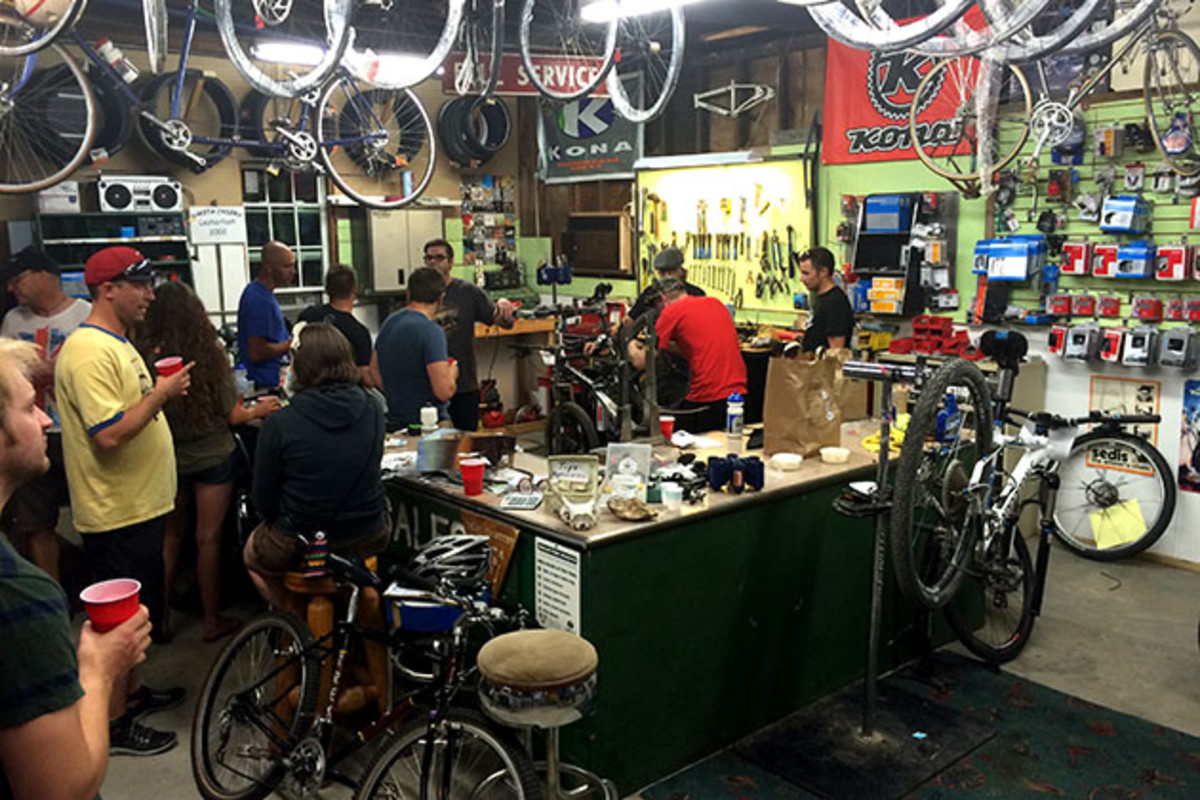 Previous Heavy Pedal Tour installments:
Heavy Pedal Tour 2014 – The trails, free shuttles and beer of Helena, Montana
Heavy Pedal Tour 2014 – Recovering from the Butte 100
Heavy Pedal Tour 2014 – The Butte 100
Heavy Pedal Tour 2014 – Evel Knievel Days