By Berne Broudy
If you're female and looking to up your game on a mountain bike this summer, taking a women's clinic is a great way to gain confidence and skills. Women learn differently than men–women's camps acknowledge that and walk you through the steps from fundamentals to becoming the rider you want to be, sometimes with a side of wine tasting, exotic travel, yoga, surfing and gear to try before you buy. Camps here range from a few hours to a week or more, from free to luxury vacation.
Here's a summary of top Women's MTB Camps to help you pick the one that's right for you:
Trek Dirt Series
Founder: Candace Shadley
Locations: Throughout Western Canada and the Western United States
Price: $195 for one-day camps, $385 for weekend camps, including coaching, bike and other demo gear, morning coffee, lunches, après and prizes. Scholarships available.
Number of riders per camp: 60
Best For: Best-in-class instruction and camaraderie
Contact: dirtseries.com
The Dirt Series mountain bike camps were inspired by Cycling BC to grow women's participation in the sport. Since then its instructors have taught more than 11,000 people to mountain bike, mostly women. All Dirt Series coaches are required to be certified through professional mountain bike skills organizations, and they're all highly skilled riders. On top of that, they're incredibly passionate about teaching, and are focused on making sure that every participant has a fantastic camp experience. Several coaches are also yoga instructors, ski and snowboard instructors, schoolteachers and surfing and kiting coaches. This breadth of experience in the coaching staff means that instructors can address each individual's learning style and adapt their teaching to each participant's needs—and that goes beyond biking. Women leave with new confidence in themselves, and the tools to continue to expand their skill set in the future. Gains from camp spill over into participants' everyday life, and help them to see the world, and themselves, in a new way.
Most popular camp: Each year Candace expands the program, adding additional camps to the schedule, and each year every single camp sells out. The Santa Cruz, California, and Calgary, Alberta, camps have become so popular that they often sell out on the first day of registration.
Signature Camp: Whistler camps are incredibly special as it's the birthplace of Dirt Series. With such a stellar variety of cross-country and downhill terrain, there are opportunities to develop any kind of riding you'd like. Plus, there's something to be said for knowing an area so well, for having such longstanding connections, and for being greeted in the mornings with homemade baking from Candace's mom, Jane.
Liv Ladies AllRide Tour and Grit Clinics
Founder: Lindsey Voreis and Meredith Brandt
Title Sponsor: Liv Cycling
Locations: Throughout the U.S., Western Canada and Dubai
Price: $185-$295; $1,600 for a three-day Retallack, British Columbia, camp with heli drop.
Number of riders per camp: variable
Best for: Learning skills at a location near you
Contact: ladiesallride.com or gritclinics.com
Lindsey Voreis traveled the country for a decade with her pro mountain biker husband racing and promoting mountain biking. Along the way, she noticed that few women were involved and she wanted to change that. So she founded the Liv Ladies AllRide Tour and partnered with Meredith Brandt on Grit Clinics. The tour and clinics travel the U.S. and work with trail alliances, clubs, schools and resorts to teach women riding skills. Coaches are certified through PMBI and/or IMBA ICP with a touch of 'AllRide Certified' to make sure they're speaking the same language and inspiring ladies to be their best on and off the bikes. "I realized I let a lot of negative thoughts rule my life and that does not work in mountain biking," says Voreis. "You can only allow thoughts that serve you, not thoughts that sabotage you. If you look at a rock garden and say 'I can't ride that,' then no, you can't. Once I stopped allowing those negative thoughts in, my riding and life started to change. It's why I am so passionate about teaching this sport. I don't just teach skills, I teach women the importance of being the best they can be in this one life we get to live. Women need to know there is a community of women out there waiting to be supportive, encouraging and best of all, a place where women play nicely together."
Most popular Camp: Copper Harbor Women's Weekend, which had 100 women on bikes in a town with a population of 90 permanent residents.
Signature Camp: Retallack weekend getaway. It's an all-inclusive camp run out of a famous backcountry cat ski lodge. They have their own trails with a skills park at the lodge, the best food, a helicopter drop and an overall epic experience.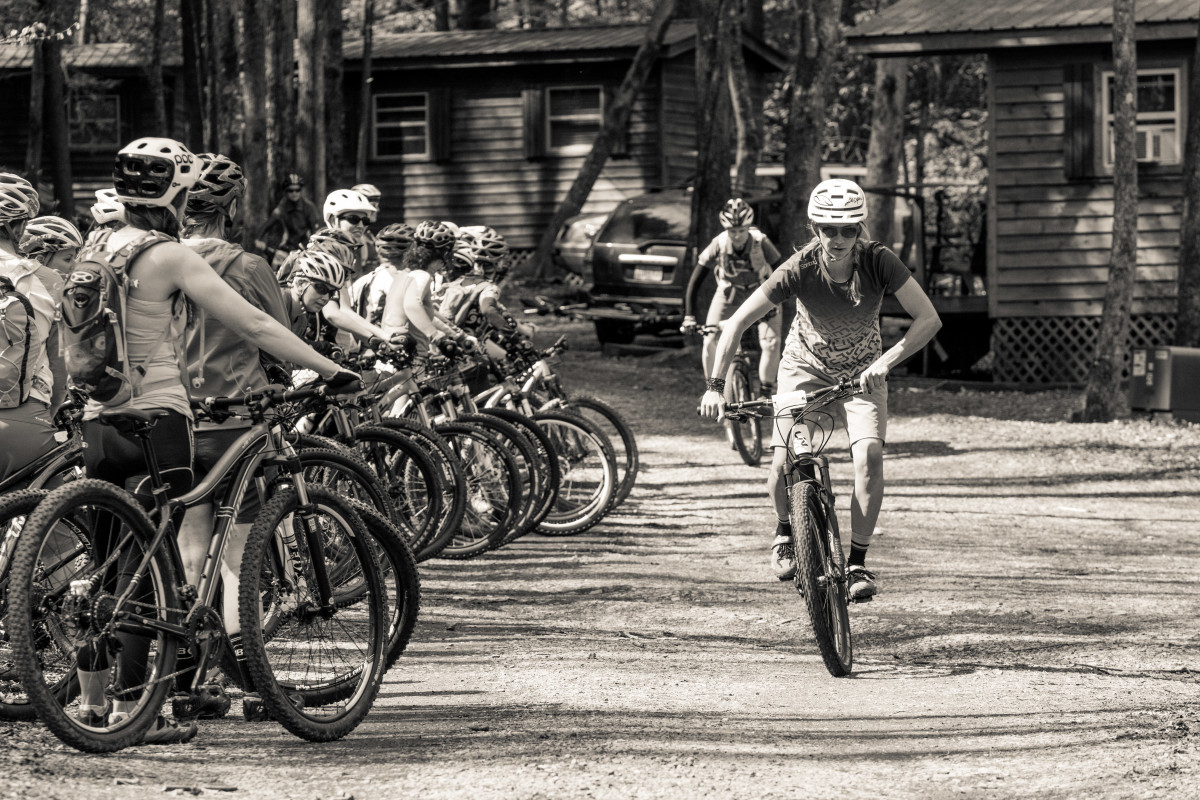 Sacred Rides Mountain Bike Adventures
Founder: Mike Brcic
Locations: British Columbia, Utah, Costa Rica, New Zealand
Price: $575-$2,300 for three to eight days, including lodging, meals, transportation, yoga, local guides and delicious local dark chocolate
Number of riders per camp: 10
Best for: Adventure plus skill building
Contact: sacredrides.com
After polling more than 2,000 mountain biking women from around the globe on what they wanted from a women's ride, Sacred Rides' Women's Rides launched in 2015 in Fernie, British Columbia, led by Oakley ambassador Johanna Weintrager. The rides are adventures first, allowing participants to explore new cultures and remote trails in areas most people only dream of visiting. Like¬minded and similar ability women make up the group of 10 riders max, guided by locals excited to share hidden gems. Riders can expect on-trail skill development while conquering challenges with support and guidance from qualified guides.
Sacred Rides Women's Rides guides are certified with PMBIA, NCCP and/or the equivalent. All guides have Wilderness First Aid Advanced certification and/or Wilderness First Responder certification.
Most Popular Camp: The Rocky Mountain Women's Mountain Bike Adventure–an eight-day ride on the most remote singletrack the Rocky Mountains has to offer, with visits to Fernie and Panorama bike parks for adrenaline junkies wanting to challenge their downhill skills.
Signature Camp: The Pura Vida Yoga and Mountain Bike Retreat through the Guanacaste province of Costa Rica, which has lush jungle riding, ocean-side yoga and a horseback ride to the trailhead.
LB Bikes Camp
Founder: Lorraine Blancher
Locations: Western U.S. and Canada, and international
Price: $75 (for a half-day group session) to $4,200 (for a custom trip).
Number of riders per camp: 8 or fewer
Best for: Personalized instruction
Contact: lbbikes.com
LB Bikes Camp started two years ago from Lorraine Blancher's passion to share mountain biking. The former Canadian National Downhill Champion, Masters World DH Champion and Crankworx Whip Off winner chose to center her programming around world-class coaching with detailed custom programming tailored to small groups or individuals. You can pick a two-hour private session or a seven-day all-inclusive trip. Each experience is crafted to progress the rider to reach her desired goals with the local terrain in mind, and to introduce her to the best local food and drink. LB trips partner with local businesses that support health, wellness and cycling, and involve experiences with the local community whenever appropriate.
Blancher is the sole coach for LB Bikes Camp. She has been a certified coach for over decade and she's taught and guided for Summer Gravity Camp and Big Mountain Adventures. She is also a USA Yoga Alliance Certified teacher.
Most Popular Camp: Kamloops Ranch Camp in British Columbia, Canada.
Most Exotic: El Salvador Girls Getaway, where guests live at an oceanfront home near the surf town of El Tunco. Each day starts with fresh smoothies and a beach core yoga session, followed by skills and riding through various coffee plantations and down volcanoes, with some bonus surfing.
I Choose Bikes
Founder: Leigh Donovan
Locations: Southern California, and an event each month elsewhere in the U.S. or Canada.
Price: Free to $75 for clinics; $900 for a three-day all-inclusive Mammoth Mountain camp
Number of riders per camp: Varies
Best for: Bike by day, wine and dine by night
Contact: ichoosebikes.com
A 32-year veteran of bike racing, riding and bike education, Leigh Donovan is also a woman who likes fine dining, five star hotels and adventure. When she decided to offer bike camps, she targeted women who were interested not just on becoming better riders, but in evolving themselves. She started by catering to the woman who isn't hardcore, and she found she could work with any woman who wants to learn to become a better, safer, mountain biker. "It's easy to say no to something that scares you," says Donovan. "But when you say yes, you just may find who you really are." All I Choose Bikes coaches are either PMBI certified or IMBA certified, although one holds a moto coaching certificate instead.
Most popular camp: I Choose Bikes has been hosting women's weekends at Ray's Indoor Mountain Bike Park for the past five years, with more than 200 women and 12 coaches working with girls and women from aged 4 years old to senior citizens.
Signature Camp: Mammoth Mountain three-day all-inclusive adventure camp that includes yoga before breakfast, guided hikes in the afternoon and wine tasting.
Keen Rippin Chix
Founder: Alison Gannett
Locations: Colorado, Utah, Pennsylvania, Western Canada
Price: $75-$150
Number of riders per camp: 12
Best for: Skill-building on a budget
Contact: alisongannett.com
When Alison Gannett started riding and racing, the only real tips her fellow male riders gave her were: "If you don't come back bloody, it wasn't a good ride" and "just go for it." Gannet says she doesn't learn that way–she had to break down every technical move, she had to figure out where to put her sternum, heels, butt, chin, elbows, eyes, etc. Based on her own learning, Gannett developed very specific baby steps to could conquer her fears and gain skills. She uses those baby steps as the foundation for her Keen Rippin Chix camps. Gannett is so confident in her program that she offers a money-back guarantee–if your life isn't changed in three hours, you get your money back. Her co-coach, Janae Pritchett, is also a mountain bike champion. Gannett says their funky style works on the most nervous beginner up to an advanced rider wanting to learn how to catch air.
Most popular camp: Fruita
Signature camp: Any and all.
Better Ride Bike Camps
Founder: Gene Hamilton
Locations: Throughout the U.S.
Price: $719-$899 for a three-day course
Number of riders per camp: 8
Best for: Professional instruction in women's only or co-ed classes
Contact: betterride.net
Run by a former snowboard and downhill racer who couldn't find a qualified skills coach, Better Ride teaches the core skills of mountain biking to all levels of riders, including pros. The program is Hamilton's own, obsessively honed over the past 16 years to teach riders the non-intuitive fundamental building blocks of mountain biking. "Without the fundamentals, it doesn't matter how fit you are–you still can't progress," said Hamilton. Coaches do not have national certification–they are all certified by Better Rides.
Most Popular: Almost all of camps sell out.
Signature Camp: All
SRAM Gold Rusch Tour
Founder: Rebecca Rusch
Locations: Western U.S. and Western Canada
Price: generally free
Number of Riders: varies
Contact: rebeccarusch.com

Started as a way to help women who lacked technical skills, equipment knowledge and who didn't have friends to ride with, the SRAM Gold Rusch Tour strives to break down barriers and make it easier for women to get into cycling. Led by the 'Queen of Pain,' mountain bike racer and author Rebecca Rusch, camps take place at events like the Sea Otter Classic, and tour stops sync with other event activities and available trails. "We try to whet women's appetite for riding, and open the door for them to get involved or push their riding to the next level," says Rusch. The Tour showcases female SRAM athletes as coaches and collaborates with their existing programs. Most have professional mountain bike teaching certifications, and all are passionate about sharing their knowledge. Coaching covers downhill, cyclocross, road and enduro.
Most popular camp: Sea Otter Classic was the first tour stop and is Gold Rusch's cornerstone event each year.
Signature camp: Reba's Ride Camp in Sun Valley, Idaho, runs in conjunction with the Ride Sun Valley Festival, USAC Marathon Nationals and USAC Cross-Country Nationals to help female athletes prep for the race in the same style and way that Reba does at home. It includes personalized course prep, skills, nutrition and recovery education and an icy dip in Reba's favorite swimming hole.
Vida MTB Series
Founder: Sarah Rawley and Elena Forchielli
Locations: Arizona (Sedona), Colorado (Boulder, Denver, Keystone, Crested Butte), and Minnesota (Duluth)
Price: $180-$310
Number of Riders: Maximum group size is six
Contact: vidamtb.com
The founders of the Beti Bike Bash saw a need to create opportunities for beginner women to progress to intermediate to advanced riders. At the time, women's events seemed to focus on introducing beginners to the sport or on basic skills, and Rawley and Forchielli wanted to help women master more advanced techniques. The first clinic was at Colorado's Keystone Resort in 2013.
The fundamental mission of the Vida MTB Series is to improve women's riding experiences as a whole by incorporating aspects such as technical education, nutritional information and the psychological aspects of riding. This helps our students better understand the connections between their equipment, bodies and minds, and how these components come together to influence their riding. More importantly, Vida is committed to nurturing the women's riding community. "If students leave our clinics without having created lasting friendships with other riders, then we haven't done our job," Elena says. Gourmet food and yoga classes are included. Most Vida coaches are IMBA ICP, PMBI or BetterRide certified. They make exceptions for coaches with a proven track record of success, such as elite-level racers who bring a different perspective to Vida programs.
Most popular camp: Keystone–Vida's home mountain. It's truly a special experience when hundreds of women take over the notoriously challenging bike park and claim the trails for the weekend.
Signature Camp: In partnership with Eleven Experience, Vida has created a women's luxury mountain biking and yoga retreat in Crested Butte, Colorado. The inaugural trip is Sept. 8-13, and it will include guided mountain biking on world-class trails, luxury accommodations at Scarp Ridge Lodge, gourmet meals, daily yoga and access to Yeti Cycles mountain bikes.