Five Bucks a Foot is back! This time every foot purchased goes towards the world-class Lakes Basin trail system. Support building new trail in the Lakes Basin and be entered to win a special-built 'Gold Country' Ibis bike of your choice worth over $10,000!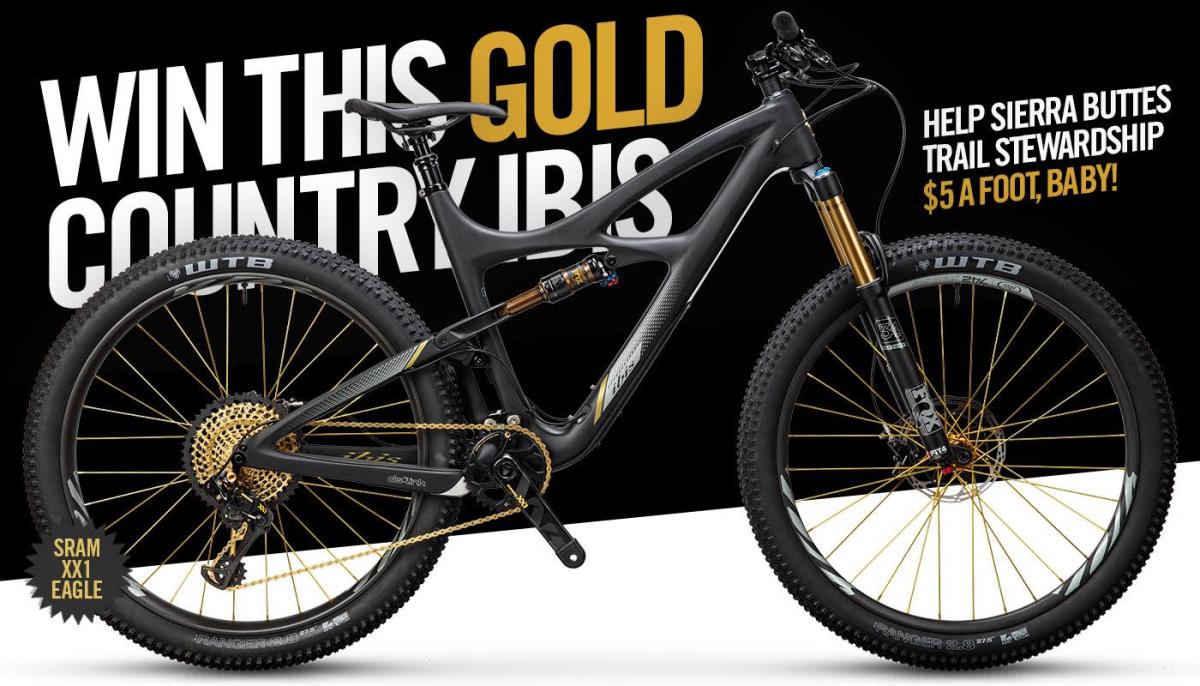 Here's how it works:
Every foot purchased enters you for a chance to win the 'Gold Country' Ibis of your choice.
There is no limit to how many feet of trail you fund.
All the funding generated goes into SBTS trailbuilding efforts.
You must be age 18 or over to participate.
Anyone internationally can donate. If you win, we will ship the bike to your home.
One lucky person will be choosen at random as the winner of the bike.
This contest is not sponsored or endorsed by Facebook or Instagram.
This is a win/win situation. By entering, you stand a chance to win the bike of your choice, with a value of over $10,000. With every foot of trail purchased, you help us:
Build and maintain an expanding network of world-class singletrack.
Employ local trailbuilders.
Bolster the economy of our local community.
The Gold Country Ibis
Running between September 1st and October 15th, this season's Five Bucks a Foot campaign offers an Ibis of the winner's choice worth $10,000 as the grand prize. In homage to the hunt for gold that originally created many of the trails in the Lakes Basin, this one-of-a-kind Ibis will be custom-painted matte black and gold. The bike will also be equipped with a full SRAM Eagle 1×12 group in gold- and black-plated finish, Fox suspension and dropper post, black and gold Industry Nine hubs and spokes and tires, grips and a saddle from WTB. For every foot of trail purchased, an entry to win the bike is put into the drawing basket.
Ibis and the Mills Peak Trail
Ibis has been a long-time partner of the Stewardship, and the funds raised from a previous Ibis 5 Bucks a Foot campaign built the Mills Peak Trail. Part of the proceeds from this year's Five Bucks a Foot will also go to helping fund two new proposed sections of singletrack on Mills Peak that are currently in the planning stages.
One section is proposed to connect the top of the Mills Peak Trail with the Round Lake Trailhead off Gold Lake Highway, creating five new miles of singletrack. The other section of trail in planning is the much anticipated bypass of the fire road midway down the singletrack descent. This new section of singletrack will be three miles in length. If approved by the U.S. Forest Service, Beckwourth Ranger District, riders will be able to pedal 16 miles of singletrack from Round Lake Trailhead all the way to Graeagle, taking the Mills Peak Trail to a whole new level.
If there is any place the Stewardship can show off its rock-work artistry, it's in the Lakes Basin. In fact, virtually all of the trails in the Lakes Basin have been maintained and improved by the Stewardship, using sustainable rock armoring techniques, rock-lined drainages and elevated rock bridges over marsh areas to ensure that non-motorized recreation has as little impact on the habitat as possible.
Related: