Out of 36 incredible bikes, half of our test crew picked Evil's new bike, The Following–a 120-millimeter 29er–as their favorite. Two others mentioned it as a close second, and the only guy who didn't say anything about the bike when asked about his favorite didn't even ride the thing. There's no way to truly understand how remarkable The Following is without riding one yourself, something we definitely recommend doing. As our senior editor, Vernon Felton puts it, "it's one of those category redefining bikes. It's really that good." Hurry up and get your name on the list, because bikes like this don't stay in stock.
For more on the Following and Evil's shaky history, check out our Blueprint Feature.
EVIL THE FOLLOWING | $5,000 | evil-bikes.com
Last year, the Bible featured one 26-inch bike, Evil's Uprising, and it made everyone's short list of favorites. This year, instead of just tweaking it to accept 650b wheels, Evil debuted The Following 29er.
Evil is not a big brand. The company's early days were as twisted and rocky as our test course. But there's no better trial than trial by fire, and The Following may be proof that Evil has triumphed. It uses Dave Weagle's DELTA linkage, which had the almost supernatural ability to react exactly how and when we wanted. While climbing, the frame rests at an ideal spot in its travel no matter how steep or how hard the pedal stroke.
Swappable chips in the rear linkage allow for simultaneous bottom-bracket-height and head-angle adjustment, which is common. Up front, Evil invented a 62-millimeter I.D. headset standard to accept an internal offset lower headset cup to kick the head angle in or out by a full degree. Movement of the bearings, which have semi-spherical surfaces to align within the offset cup, could result in creaking at times. Therefore, The Following will ship with a fixed-angle headset and will offer the offset version as an option. Some of us believe that frame manufacturers are better off picking a geometry and sticking with it, but others pondered longer-travel forks without slackening the head angle.
The Following sports a 120-millimeter rear end, but it felt nearly bottomless. The seemingly complicated linkage offered supple small-bump sensitivity at the top of its travel, a firm pumping and pedaling platform in the middle and just the right amount of ramp- up at the end. Paired with the 130-millimeter-travel Pike, The Following destroyed everything in its path.
Evil bikes keep most of their bulk low and in the center of the frame. This made the Following feel especially light under foot. The short 16.8-inch chainstays offered considerably more tire clearance than did the too-tight Uprising rear end. Every tester agreed that with bikes like this available, there's hardly a reason not to ride 29-inch wheels.
– Travis Engel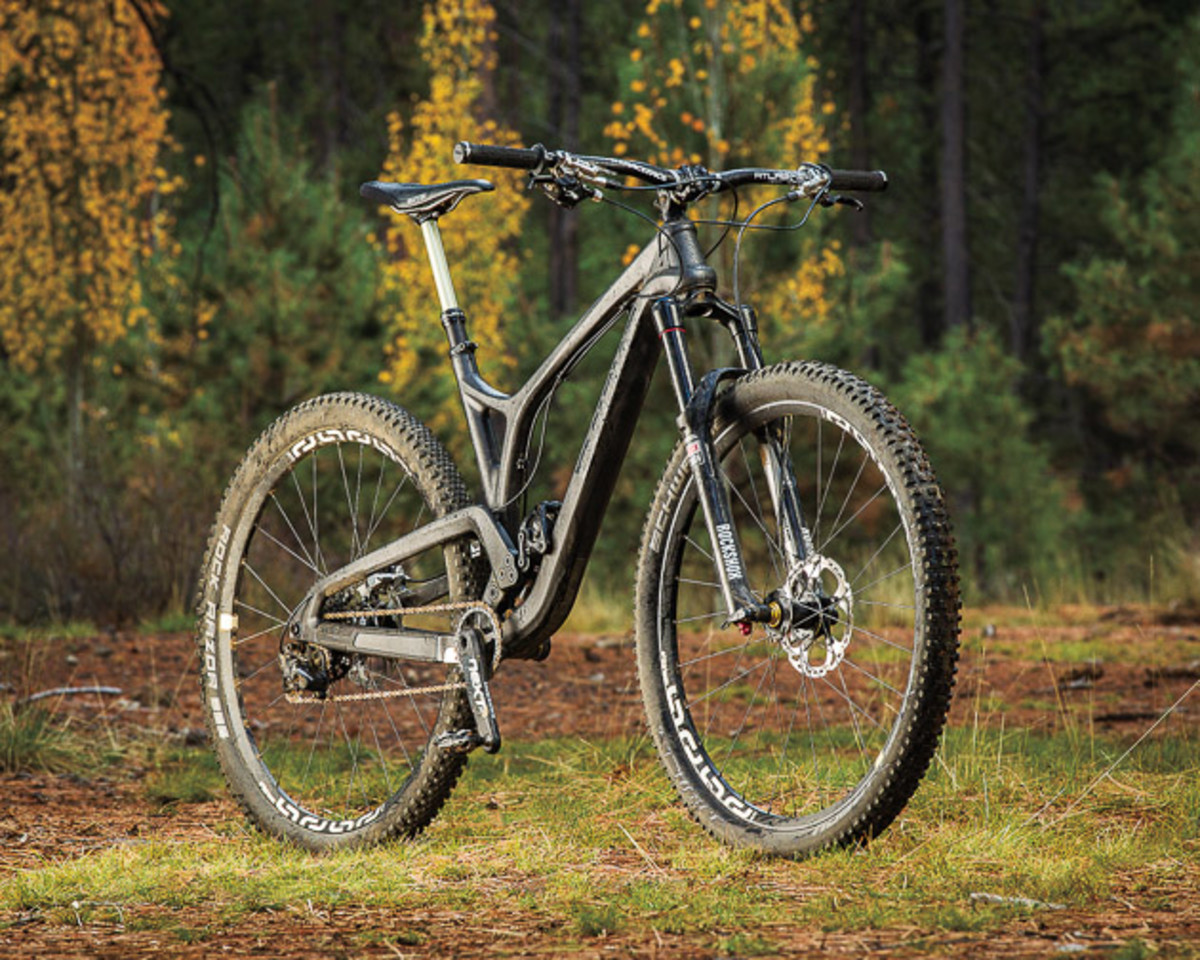 Q&A with Kevin Walsh, President – Evil Bikes
We had questions about the new bikes before we even got our test rigs, so we sent out a few queries—the kind of things we thought you might be asking yourself when you're looking at this bike. Then we sent out another round of asks if any major questions or issues came up during testing. Here's the feedback we received from Evil's president, Kevin Walsh.
Consider this a bonus feature—just a little something extra to chew on if you're still hungry for information after you've watched our video reviews and flipped through the Bible of Bike Tests.
—Vernon Felton, Bible of Bike Tests Moderator
VERNON FELTON: What kind of rider did you have in mind when you created this bike and how is that manifested in the design/geometry/component spec?
KEVIN WALSH:We really wanted to create a FUN and versatile, yet aggressive, short- travel, big-wheel trail bike with progressive geometry that could be at home on anything from long cross-country hauls to burlier, all-mountain rides, depending on the build or geometry configuration. The Following does it all.
I guess the ideal rider would be someone who likes the feel and benefit of 29-inch wheels combined with the playfulness of a 26-inch wheeled bike. All of our bikes give the rider the freedom to customize the bike to their riding style and environment, which opens up our audience a bit wider for this bike.
VF: Will The Following be available as both a frame and as a built bike? If "yes", to the frame-only option, how much will the frame cost? If also "yes" to the complete bike question, what are the prices for various build options?
KW:The Following is available as both a frame and with multiple build kit options.
Frame, Monarch DebonAir, headset and rear axle: 2,599.00
Build Kit #1 – X1 – 4,999.00 (We added a Reverb dropper, Turbine Cinch cranks and a few other upgrades so the price went up a bit)
Build Kit #2 – XT – 5,899.00
Build Kit #3 – XX1 – 6,599.00
VF: Why did you choose 29er wheels for The Following? How does that wheel size play into the traits you wanted to instill in the bike?
KW: Against my will, we went with 29er wheels for The Following. We wanted a shorter- travel option in the Evil line that appealed to a wider audience of riders without alienating our current customers. I seriously thought I would ride this thing once and jump back on my fun size wheels and be done with it. After the first run I called Weagle and Ryan Palmer at Bike Mag and had to EAT CROW as they say. Shortly thereafter, Luke Strobel and I were fighting over who got to ride it next.
I suppose we were going after all the obvious bike traits (pedaling efficiency, small-bump compliance, one bike to rule them all, blah blah blah), but at the heart of it we wanted to make another fun bike like the Uprising 26er while experimenting with different size wheels. Apparently 29er wheels roll better and can actually corner with properly designed geometry… LOL.
I guess I was living under a rock or protecting my delicate ego, but when we started designing this new bike, 29ers didn't seem like an option for Evil. So now I write this with my shoe in my mouth as I slowly eat all my damn words. At the end of the day the bike pedals well and descends even better, it monster trucks over everything and smooths out chunder like 29ers do. Ironically it has been my go to bike for over a year, despite all the weird looks I got from friends on every ride.
VF: What's the lowdown on the geometry?
KW: The Following uses the Flip Chip on the Delta System and the optional Dave Weagle integrated headset collaboration with FSA to offer four independent geometry configurations without any change to leverage rates. The bike sits really low with short chain stays and likes to party. If you run it Steep/High you have more of an XC/Trail style configuration and if you set it up as Slack/High it's the perfect all-around geometry for aggressive trail riding.
VF: What do you feel sets the new bike apart from other bikes in this niche?
KW: Monster truck wheels with a sports car feel. The Following has a few different personalities due to the geometry adjustment on the Delta System and that makes it pretty unique. The bike has the same chainstay length as our 26-inch Uprising and a very low bottom bracket, with a longer reach so it likes to change direction quickly and corners like a sport bike.
Related:
The Story Behind The Evil Following | Blueprint
The 2015 Bible of Bike Tests is here
Yeti SB6C | 2015 Bible of Bike Tests Roundtable Reels
Rocky Mountain Thunderbolt | 2015 Bible of Bike Tests Roundtable Reels