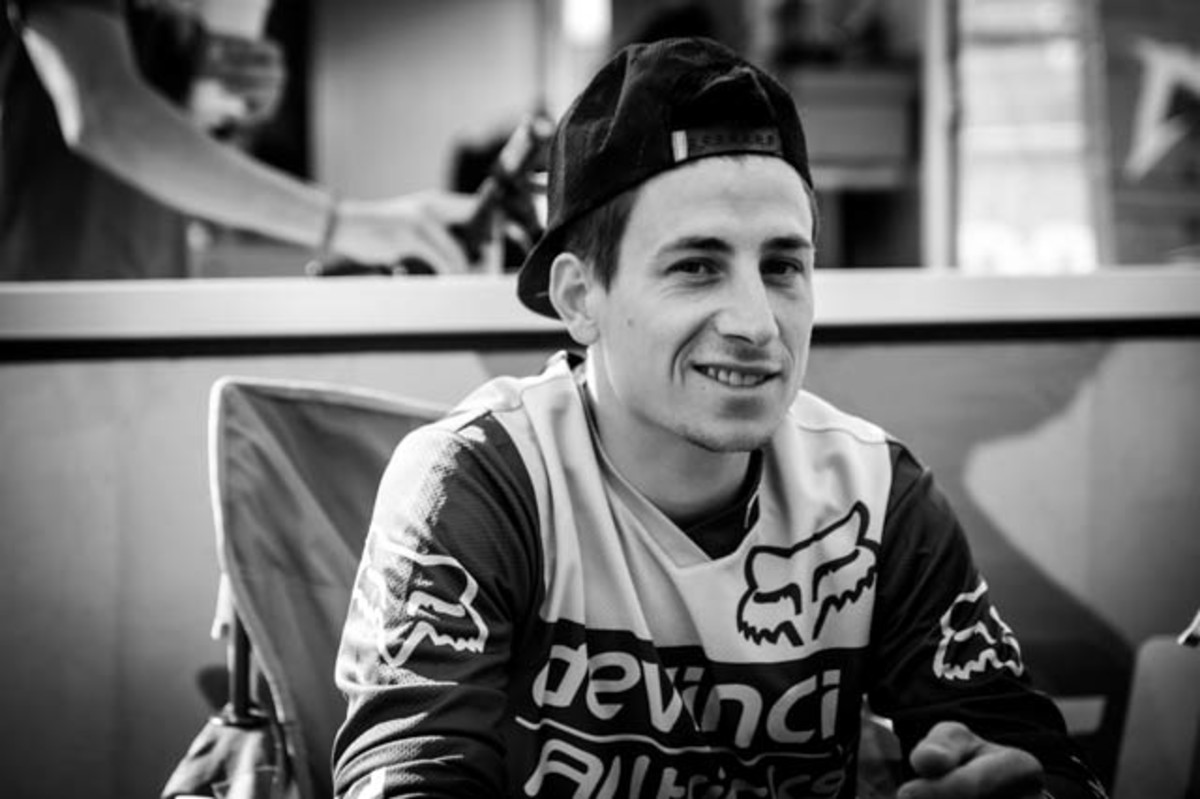 Damien Oton lives in Perpignan, France, the town that surrealist artist Salvador Dali once declared the center of the world. Considering the fact that a couple of the best-ever mountain bikers–Anne Caroline Chausson and Nicolas Vouilloz–come from just a few hundred kilometers away, the Spanish artist might've been onto something. Though he probably wasn't referring to mountain bikers, since his declaration was made about a decade before "klunking" was a thing.
The 26-year-old Oton grabbed a second place finish in this year's Valloire round of the Enduro World Series. Then he climbed to the top step of the podium at La Thuille, where he nabbed two stages and the overall victory.
Coming from a cycling-crazy country like France, it's easy to imagine Oton as a little kid racing a tiny road bike around his local église, or perhaps sending a small-wheeled mountain bike down the trails just outside of town.
But this wasn't the case. Instead, Oton, whose father raced motorcycles, gravitated toward throttle twisting, and raced "enduro moto," until picking up mountain biking seriously just five years ago. The cost of a motorcycle enduro campaign prohibited Oton from taking a shot at that sport's pinnacle, so he switched gears and started racing pedal-bikes.
We sat down at round 5 of the 2014 Enduro World Series in Winter Park, Colorado, immediately after Oton's Stage 5 race run. When asked to comment about his relative old-age entry into mountain biking, the Devinci rider simply shook his head. He'd warned that his English "is not so good," so the question was rephrased. After all, so many of our sport's elite practically cut their teeth as babies racing BMX. Again, he shook his head, adding this time a bit of a shoulder shrug. He'd clearly understood the words, but the question was what perplexed him. He'd already answered it with results, so why should anyone care how old he was when he started. Touché.
This is where the perfect Frenchness of Oton as a bike rider starts to shine through. Five-time Tour de France winner and arguably France's best-ever road racer Bernard Hinault displayed this matter-of-fact nonchalance in spades.
Hinault, the square-jawed man who is usually the first one to congratulate Tour de France riders after they receive their anemic kisses from the podium girls, the almost 60-year-old who could likely kick your ass both literally and on the bike, didn't like the cobblestone classic Paris-Roubaix. He considered it a "stupid" race. But in 1981, he went and won it, undoubtedly shaking his head and shrugging his shoulders in the process. He won, but still professed the race to be a bunch of nonsense.
There's a solid sense of a similar champion character present in Oton. Perhaps it's not the rabid, angry badger quality that Hinault displayed, but for sure the No.2-ranked enduro rider in the world (after five rounds) knows what he wants and will do what it takes to get there. It's easy to differentiate between whether he's in race mode and whether he's just hanging out. And it's obvious that he doesn't really pull punches.
His Stage 5 result would end up being his best of the weekend–a fourth place finish–and it was one that he described as, "corner, pedaling, corner, pedaling; extremely physical." Perhaps working with a coach for the first time is paying off.
While he describes the event as a whole as "funny" (meaning fun), Oton is not that impressed with how much of the bike park is included.
"For me, it's not enduro," he says, indicating that he prefers natural and much steeper terrain.
He is, however, very much looking forward to the next EWS round, which both starts and finishes in Whistler, the king of all bike parks. Oton holds the events at La Thuille and Finale Ligure in his top three, but describes the enduro in Whistler as "maybe the best."
When the last rider crossed the Stage 7 finish line, Oton ended up in 10th place overall, a result that allowed him to keep his second place ranking in the championship. As the EWS moves to Canada, the gap to series leader Jared Graves is now 190.
And despite the improved point cushion Graves collected in Winter Park, Oton is likely not all that affected. He is, after all, a relative newcomer–albeit a ridiculously talented one–to mountain biking.
Will he eventually win an EWS championship? Yeah, maybe.
But more importantly, Damien Oton is packed full of Gallic panache, and is just damn fun to watch ride a bike.