Editor's note: This is the fourth installation of a five part series, documenting The Angry Singlespeeder and his crew as they make their way north to compete in the 2014 Singlespeed Mountain Bike World Championships in Anchorage, Alaska. The last of the series will come out shortly after the big race.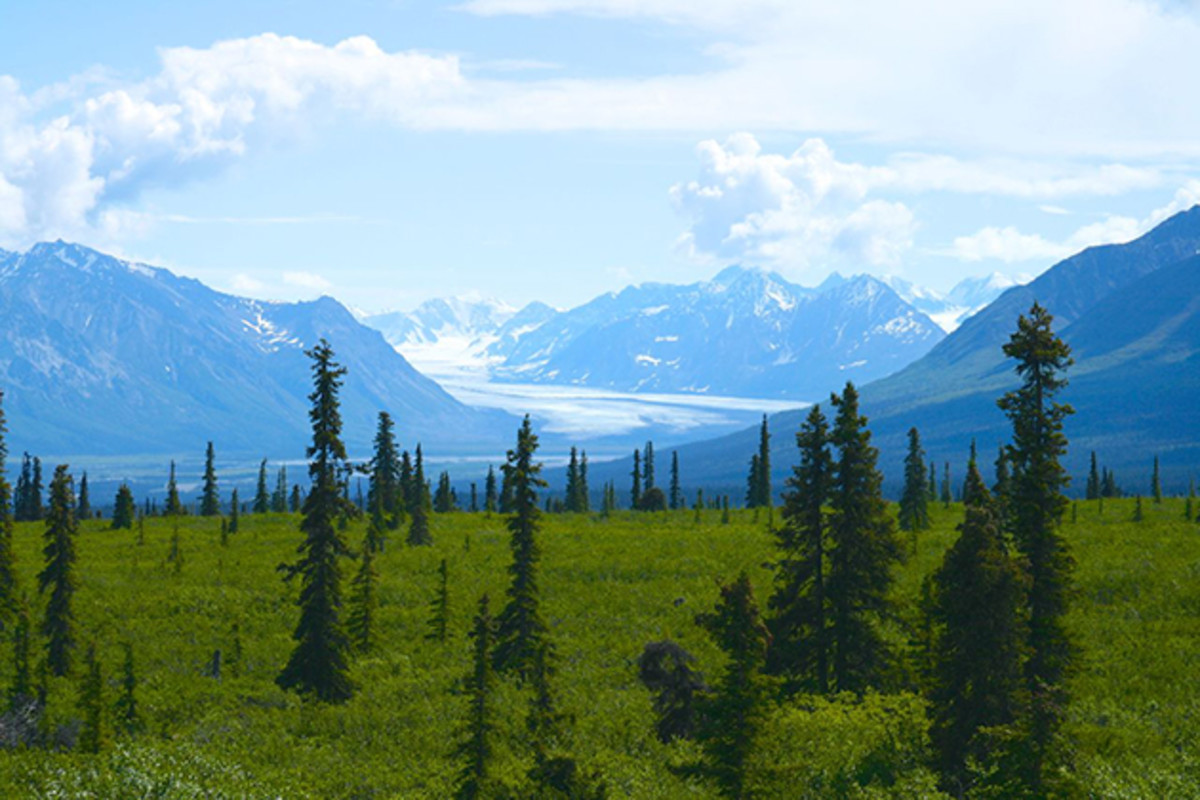 It's really hard to grasp the magnitude of nature in Alaska. The expanses of forest, the unimaginable size of alluvial washes and rivers, the towering heights of mountains, the all encompassing power of glaciers; it adds up to make you feel completely inconsequential as an organism. And as much as I want to capture it in photography, cameras do no justice.
Although we have pictures aplenty of sweeping vistas, glaciers, rainbows, rivers and forests filled with black spruce trees that look like something from a Dr. Seuss book, we've been striking out on the wildlife front. We've seen moose, bear, bald eagles and elk, but they've been eluding the camera's eye. It seems every time we get a photo op of a 2,000 pound beast with horns, some 18-wheeler or motorhome goes zooming by, scaring off the animal before we can snap a picture.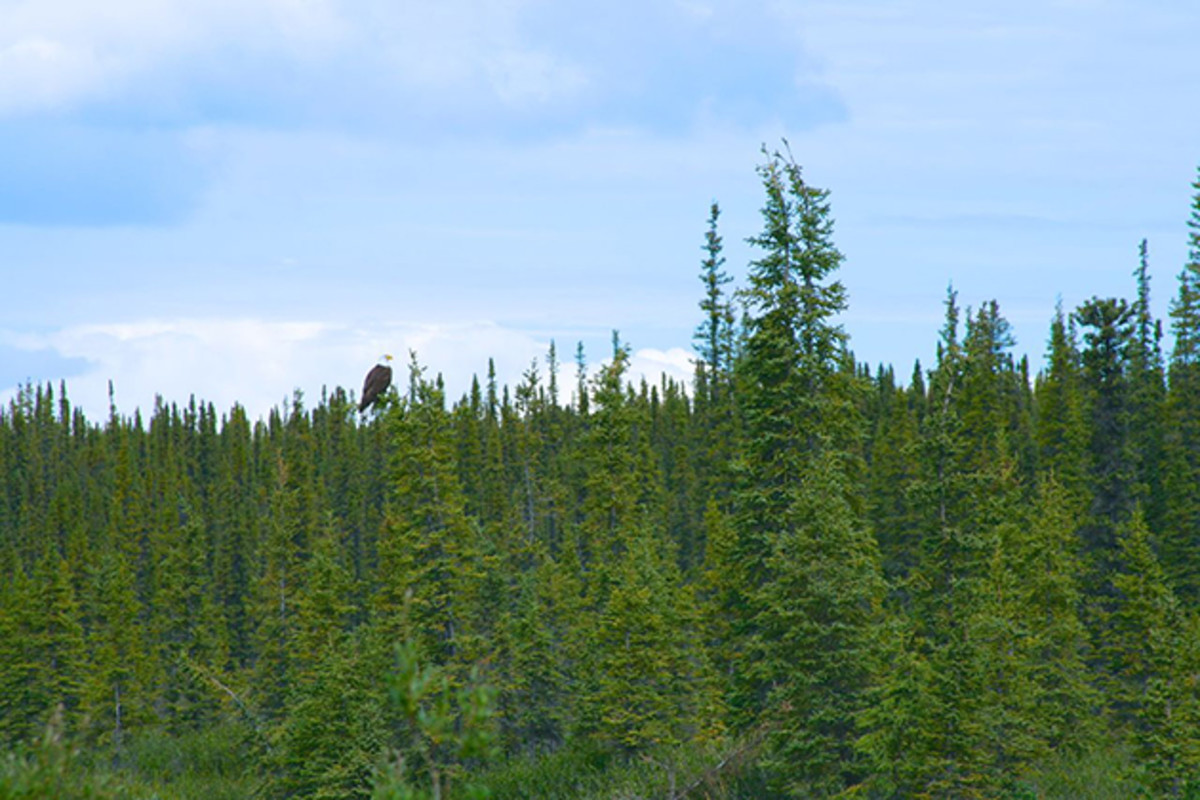 The people in the Yukon Territory and Alaska have a very matter-of-fact viewpoint on life and death. While camped in Teslin, Yukon Territory, Swan John befriended a traveling salesman, who drives an extremely remote 150-mile stretch between Whitehorse and Teslin regularly. He gave us some sage advice.
"Whatever you do, don't drive after dark. There's just too much wildlife. If you hit a moose at 65 miles-an-hour, you'll probably die, and depending on where the wreckage of your car ends up, road crews might not find you for days."
Not sure whether he was for real or just trying to put a scare into us, a day later we spotted a Ford minivan off the embankment of the road freshly wrapped around a tree. Thankfully, nobody was in the vehicle, but it didn't seem anyone was in a hurry to extract the vehicle.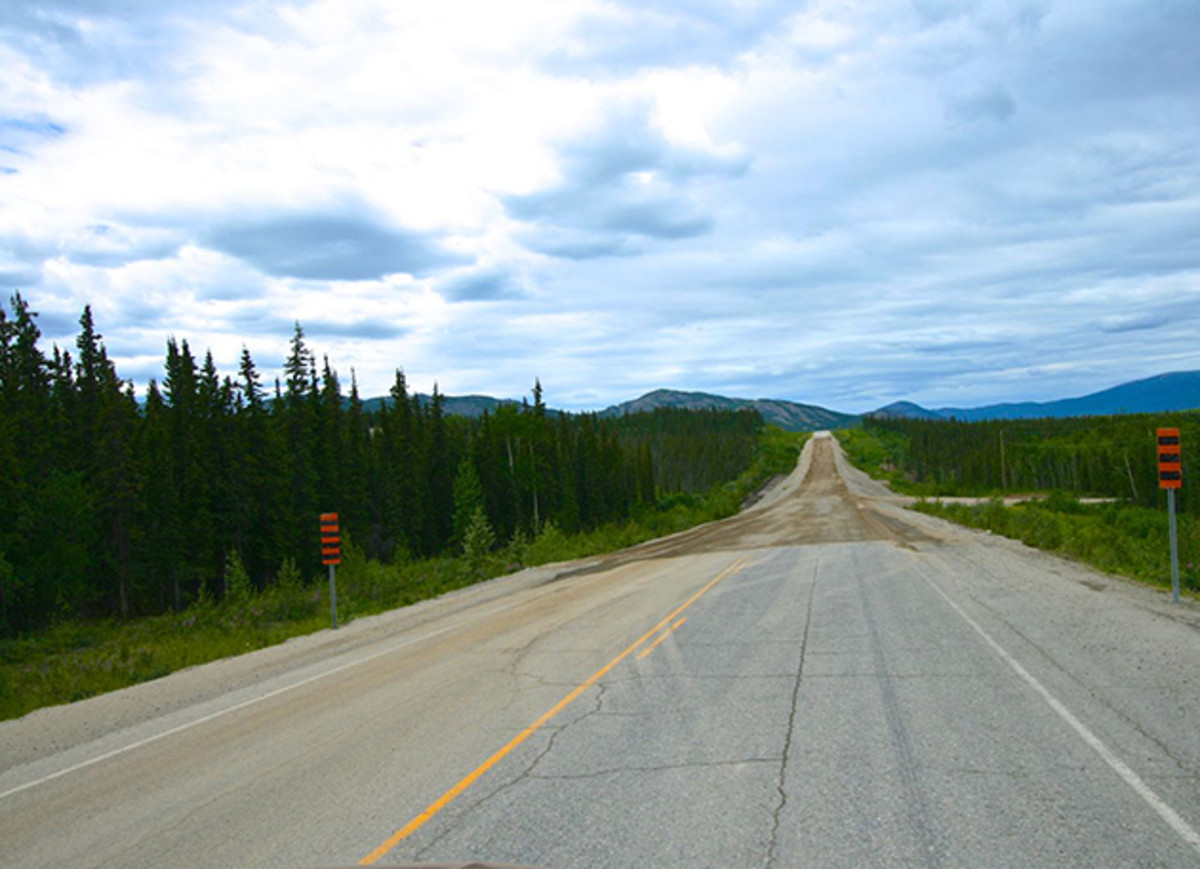 Cassiar Highway
The Cassiar Highway runs 450 miles north from the Yellowhead Highway to the Alaska Highway. The road is in very good condition and has an endless number of breathtaking vistas, making it a legendary route for travelers. It is an extremely remote road, with only four legitimate stops for food on the entire length. We spent the night at Bell Lodge #2, which was a beautiful Switzerland-meets-Canada alpine lodge on the banks of the Bell Irving River, an area known for world-class heliskiing. We antied up for a room, which was the only room we stayed in the entire five-day journey. The log cabin room was gorgeous and worth every dollar.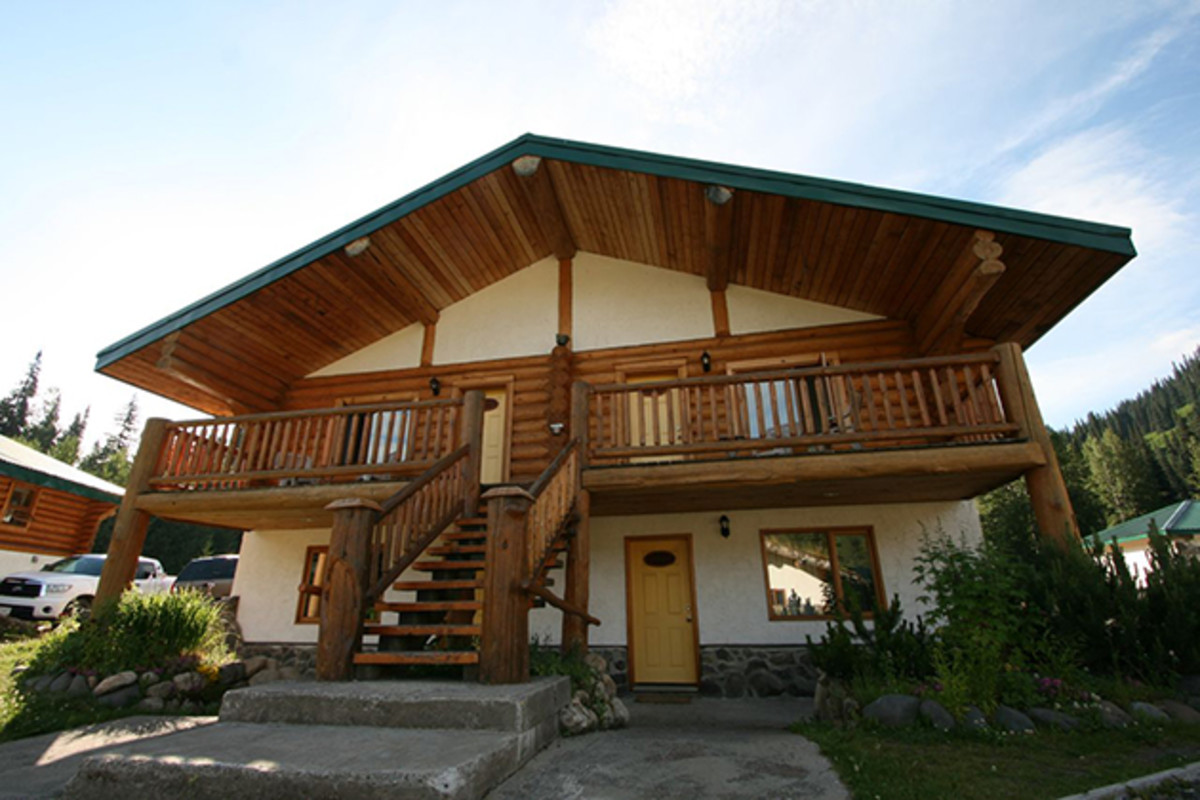 The next morning was remarkable. The first 20 miles out of Bell Lodge found us driving through a major slide area ripe with steep mountains sporting multiple scars from avalanche chutes. We crossed numerous creekbeds strewn with massive boulders easily a football field wide, while the stream was barely 6 feet end-to-end. My imagination raced just thinking about what that tiny creek transforming into in an avalanche.
After passing through Iskut, Dease Lake and Jade City – all three of which you could miss if you blinked – we crossed into the Yukon Territory. Yuke had finally made it to its namesake.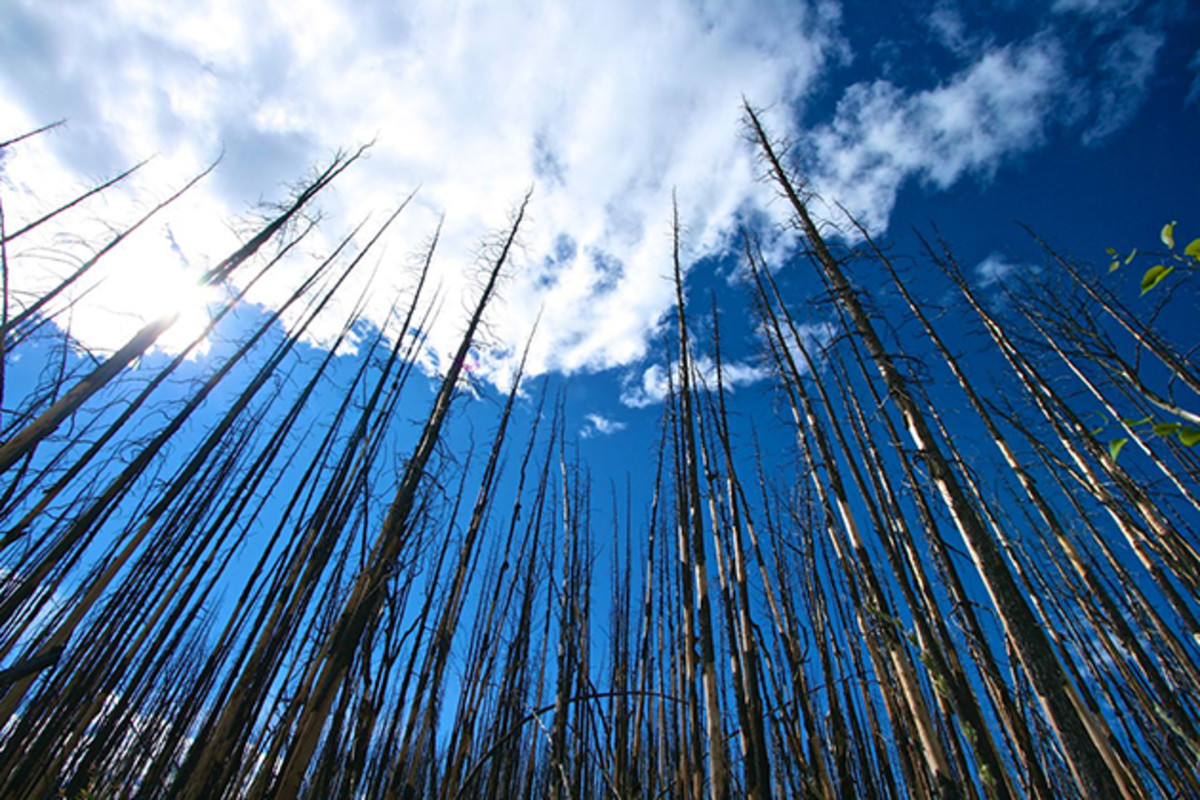 Whitehorse and North
The total population of the Yukon Territory is 35,000. Nearly 27,000 of those live in Whitehorse, which means the rest of the entire Yukon Territory is occupied by 8,000 people. It's safe to say that in the Yukon, bear outnumber humans. Another observation made in the Yukon is that everyone has engine block heaters, as evidenced by a 110-volt household plug emanating from underneath every cars' hood. When it's negative 50-degrees fahrenheit, motor oil turns to sludge, making a car impossible to start. The block heater keeps the engine block and its oil warm, so it can run after being parked overnight. The other solution is to just leave your car running for days on end.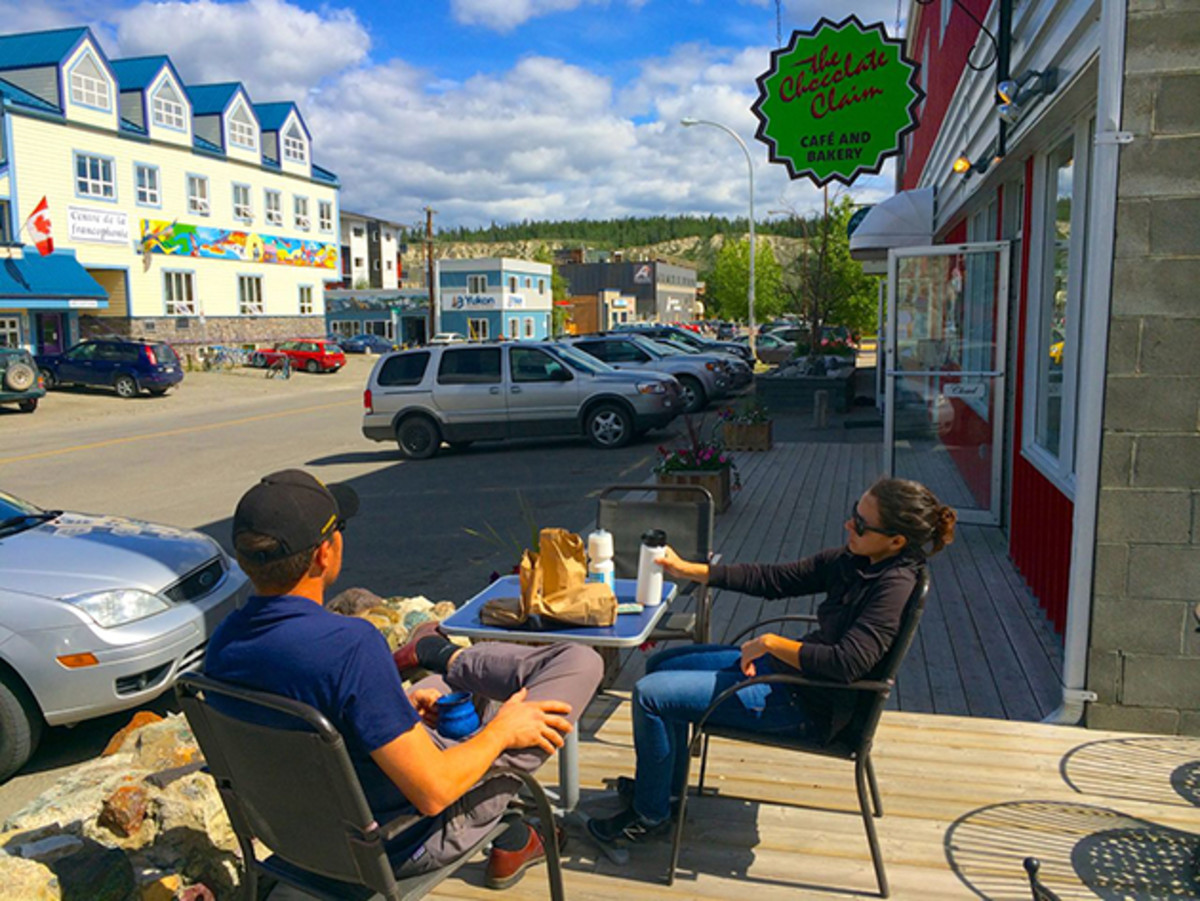 The town of Whitehorse was a pleasant surprise. On the day we were there, it was a gorgeous 75 degrees and sunny. Figuring it would be nothing more than a primitive town in the great white north, we found Whitehorse to have a rather cool, outdoorsy vibe. Located right on the mighty Yukon River, the town of Whitehorse comes alive in the summer with kayakers and a bike pumptrack on the edge of town. We had an amazing breakfast, bought sandwiches for lunch at The Chocolate Claim and headed toward Haines Junction.
The road to Haines Junction began to deteriorate quickly, with frost heaves in the road that were hard to see from a distance. Because this section of the Alaska Highway from Haines Junction to the Alaskan Border is all built on frost heaves, the road waves like a rippling sea. Going too fast here could mean a flat tire at best, or your vehicle high-sided in a ditch 100 miles from anything. Thankfully Swan John was behind the wheel, making sure we made safe passage through the frost heaves.
The road turned to gravel for miles in spots, with enormous potholes that would swallow a Fiat 500 whole. It was at this point I was glad we had driven Yuke. A big, heavy American truck is the perfect machine for this kind of journey.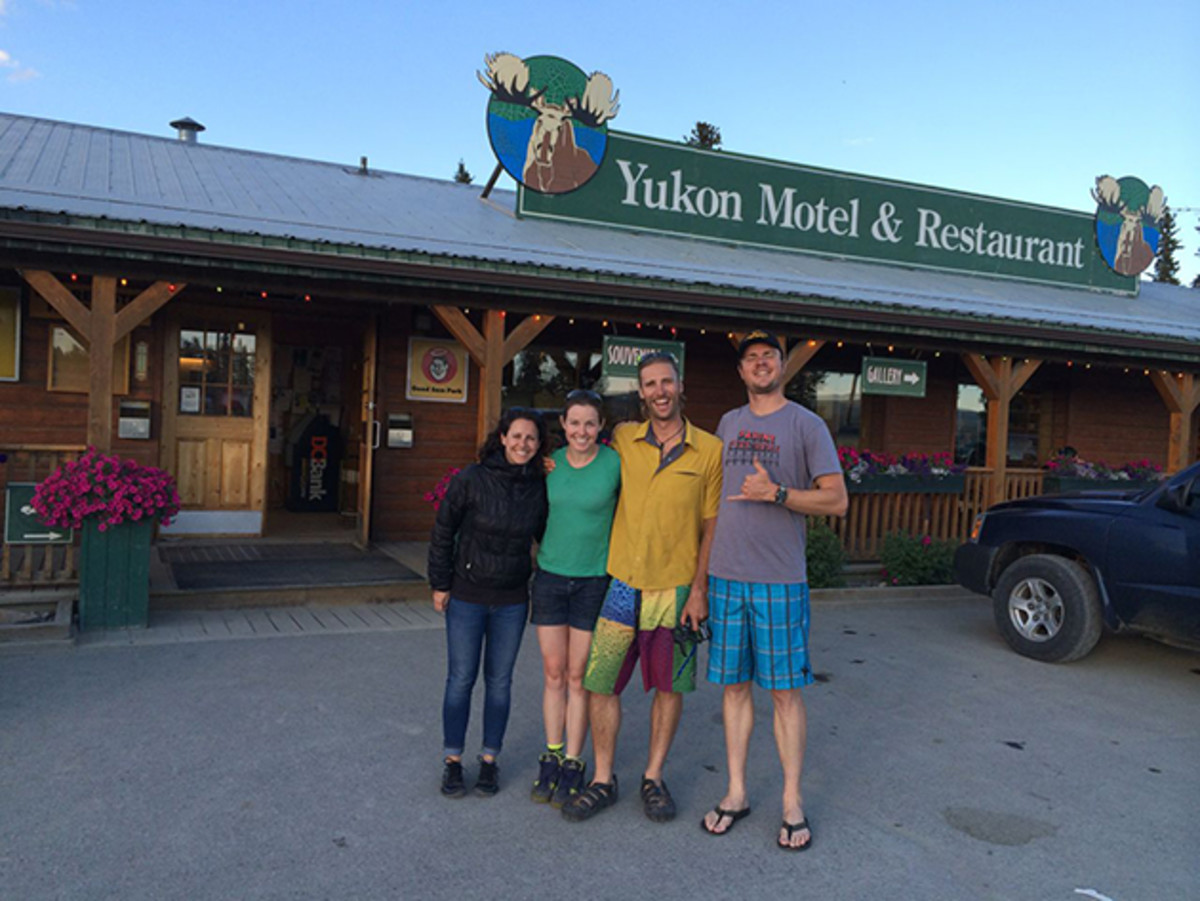 The night before, while camped in Teslin, we bumped into a couple from Colorado, also on their way to SSWC. Wade and Alison recognized Yuke in the parking lot and had dinner with us. The next time we saw them was in Beaver Creek, a tiny village 20 miles from the Alaskan Border. We walked into the only viable restaurant in town, Buckshot Betty's, to find an entire room of diners sitting in the dark. Apparently the power went out, but not just in Buckshot Betty's. The entire town of 100 people had no power. By looking at the behavior of the locals, it seemed like a normal occurrence.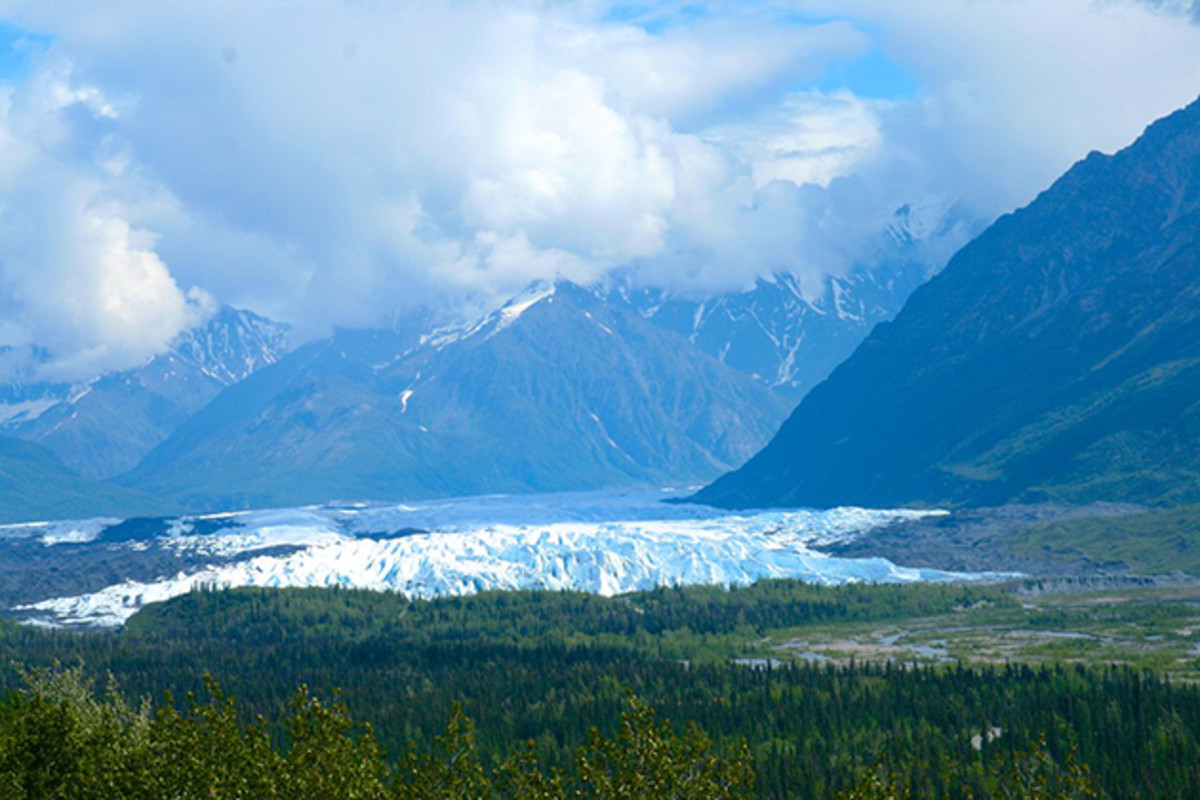 Questionable Judgment
Matt, Swan John and I have been getting along great the entire trip. There's been no drama, no fussing and no fighting. The three of us are easy travel mates, making for a most enjoyable journey. Since we have nothing to really argue about, we've been fabricating arguments over stupid things like double spacing after a sentence and the etiquette of sharing chocolate. I was not aware of the proper way to share a piece of chocolate, but when Swan John handed me a quarter piece of a gourmet chocolate, I figured the rest was mine and popped it into my mouth.
"Did you just eat the rest of that?" she asked.
I nodded my head in a confused manner, wondering what else I was supposed to have done. It was only a quarter piece. Do I really have to split it into an eighth?
"You're an asshole. You're supposed to share it with me."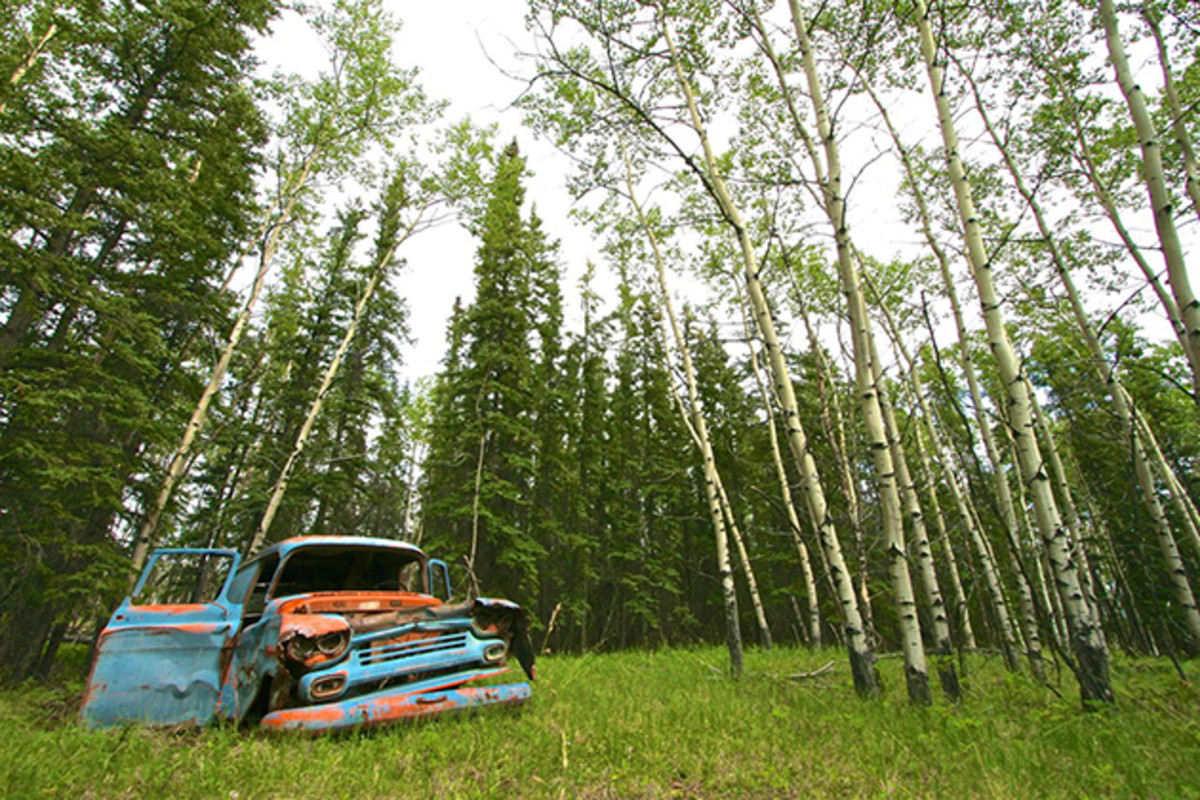 Freshly scolded for not having shared the piece of chocolate, I offered to share another acquired delicacy. While driving between Whitehorse and Haines Junction, I spotted an old abandoned Chevrolet delivery van sitting in a grove of aspen trees. I jumped out to grab some photos before being attacked by an angry mob of mosquitoes. While running back to Yuke I stumbled across a few beautiful mushrooms. I had read in the Milepost that there were some mushroom groves where people harvested edible ones, so I took a mushroom.
Once back in the truck, I showed the mushroom to Matt and Swan John and asked them if they thought it was edible. Matt suddenly grabbed it and threw it out the window.
"Are you crazy? You have no idea what it is and you're thinking about eating it? Have you not seen "Into the Wild?" Jesus dude."
Maybe it was that Washington herb messing with the practical side of my mind, but Matt was right. Why the hell did I think it was a good idea to pick up a random mushroom and consider ingesting it, especially when we were at least 1,000 miles from any reputable hospital?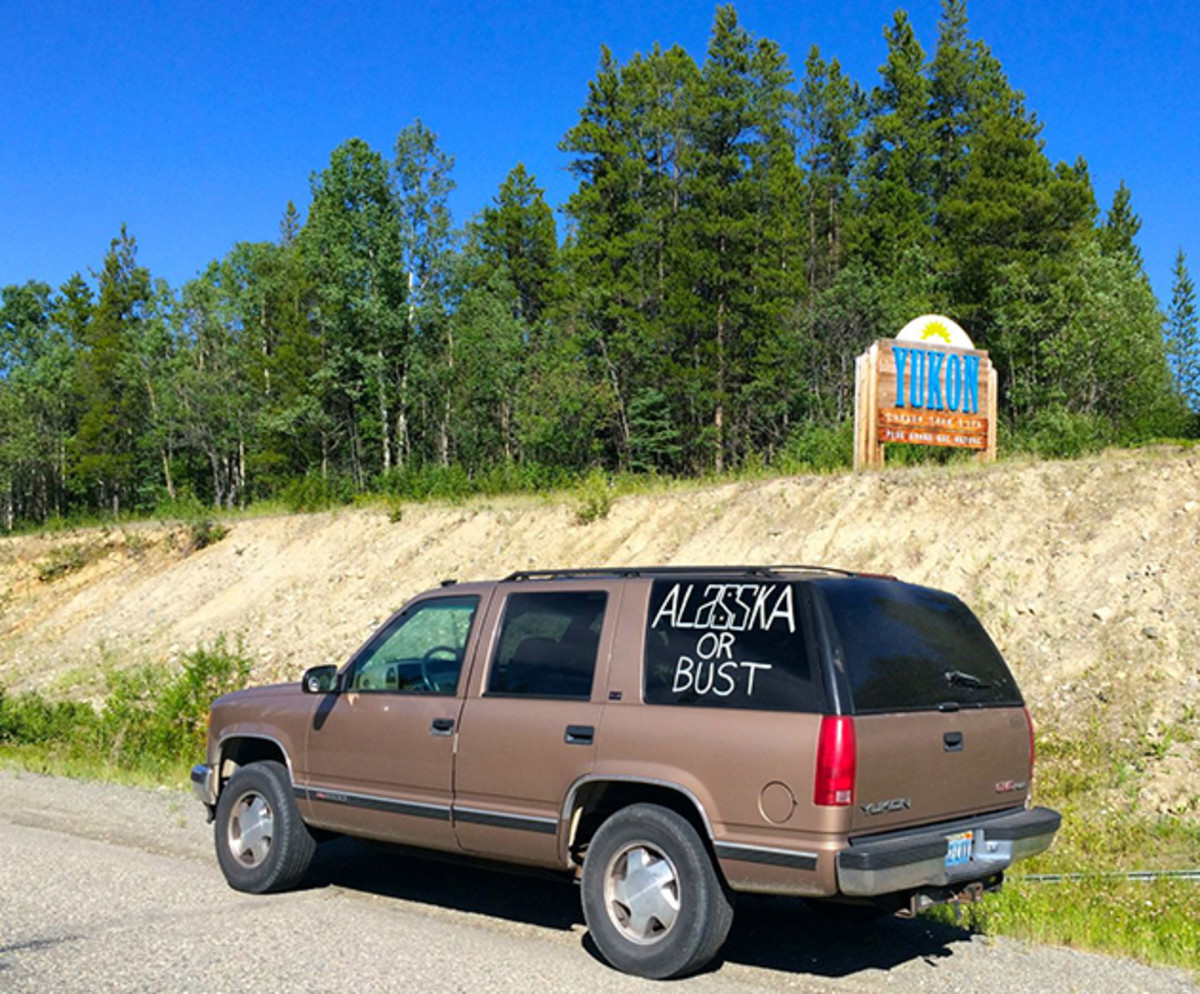 GMC Yukon FTW
Although my judgment on eating mushrooms may have been clouded, my judgment on what vehicle to select and what company to keep on this 3,000-mile journey was crystal clear. Yuke has run absolutely flawless. Although it has little electronic niggles typical of mid 90s American vehicles, Yuke's 5.7-liter V8 engine with 250,000 miles has not burned or leaked a drop of oil. The transmission has shifted perfectly and the truck drives straight as an arrow, as well. As a bonus, the air conditioning has worked the entire way, which as been a God-send considering the 90-degree temperatures as far north as Prince George, British Columbia.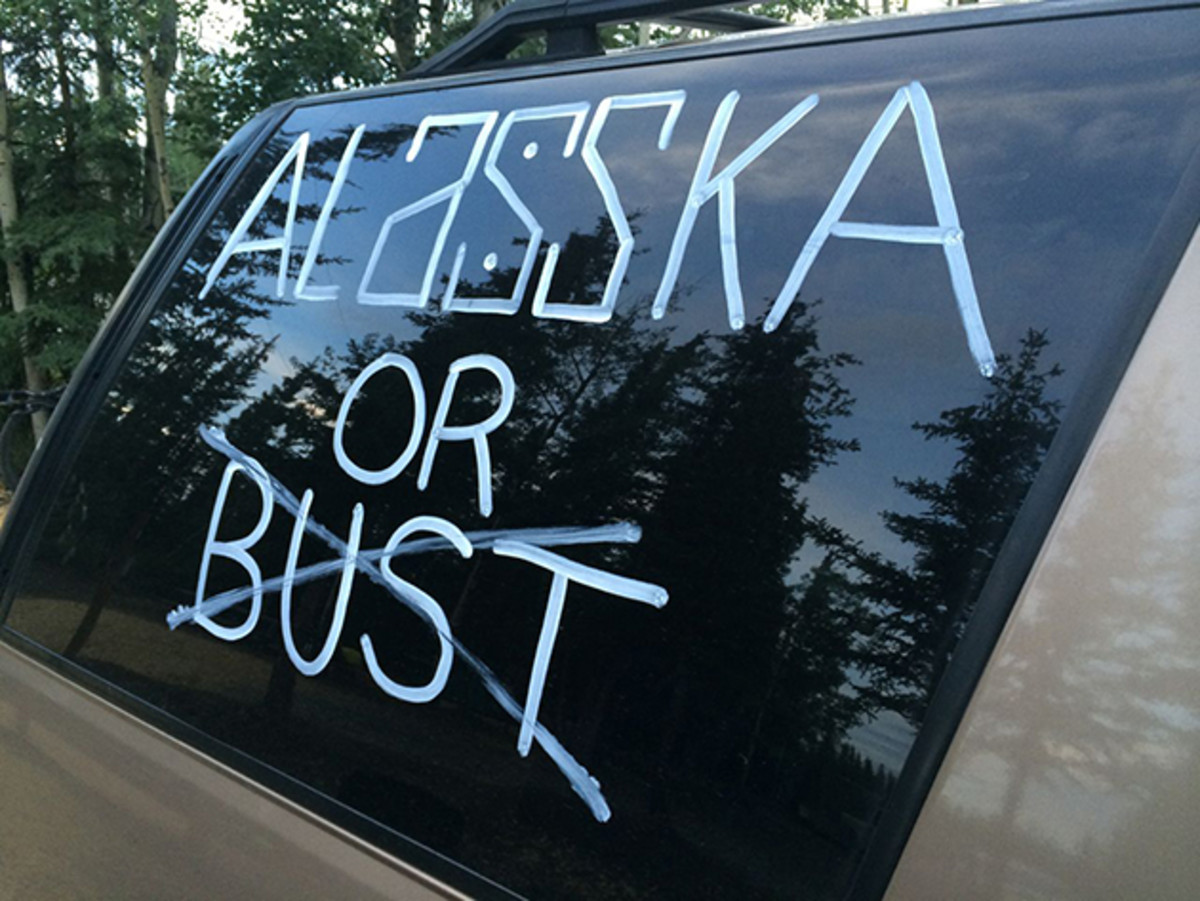 I will be a little sad parting with Yuke up here in Alaska. Although I have no practical use for Yuke at home, she was a trusty companion who served us without fail on our Alaska journey. It was no doubt the best $500 I've ever spent in my life. I'm just glad I was able to save Yuke from the wrecker and provide a new life for her up here on The Last Frontier. When it comes to inexpensive dependability, nothing beats a small block Chevrolet V8.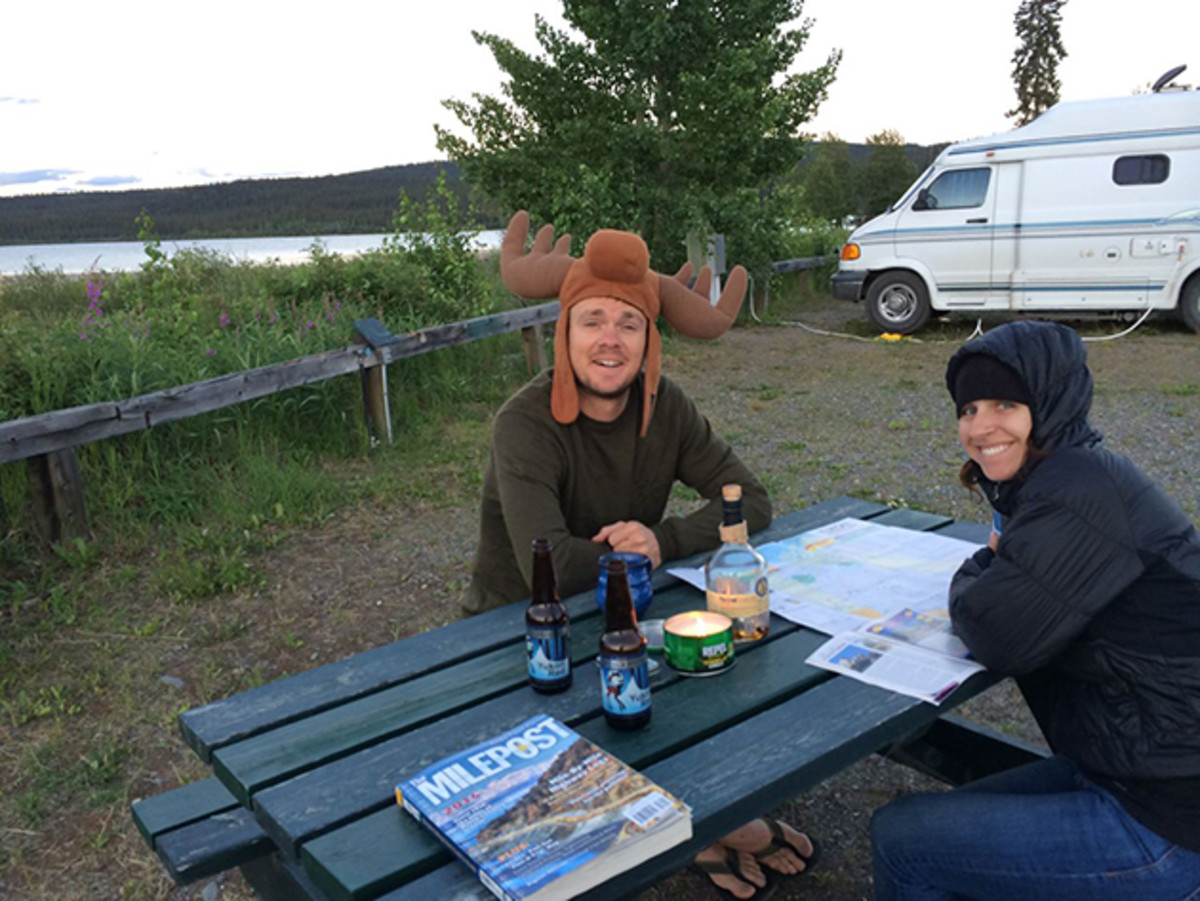 Meanwhile, Matt, Swan John and I have been like three peas in a pod, now acting giddy as we approach the city limits of Anchorage. I can't believe we've been traveling for a week, seeing some of the most powerful natural beauty we've ever laid eyes on. Much drinking and debauchery will take place this weekend at SSWC, a far cry from the serene, peaceful daily drives through expansive wilderness. I'm looking at SSWC as a celebration of our successful journey.
Check back on early next week with a full recap of all the SSWC debauchery, Alaska-style.
Previous Al-ASS-ka or Bust installments:
Al-ASS-ka or Bust part 3: Herbsman hustling north of the boarder
Part 2: From Reno to Bend and Beyond