Editor's note: This is the third installation of a five part series, documenting The Angry Singlespeeder and his crew as they make their way north to compete in the 2014 Singlespeed Mountain Bike World Championships in Anchorage, Alaska. The last of the series will come out shortly after the big race… that is, if they make it.
By the Angry Singlespeeder
I'm not a big weed smoker – infrequently recreational at best – but considering marijuana was just made legal in Washington, I couldn't pass up the opportunity to purchase some and document it. But as I sat at the Canadian border crossing, I pondered that maybe it wasn't the wisest decision. The officer asked a simple question – "Have you ever been to Canada before?"
Swan John and Matt both answered "Yes." When his eyes turned to me, I blurted out "Uh, sorta, but not really."
Everyone stared at me. Swan John leaned across the seat and shut me up.
"Yes, he has sir."
I wasn't even stoned and here I was answering questions like I was high out of my gourd. My confusion laid around the fact that the only time I was previously in Canada was when I visited an island in Lake Erie 25 years ago, which was just over the international border. So of course, I had been in Canada, but for some reason I didn't think that counted.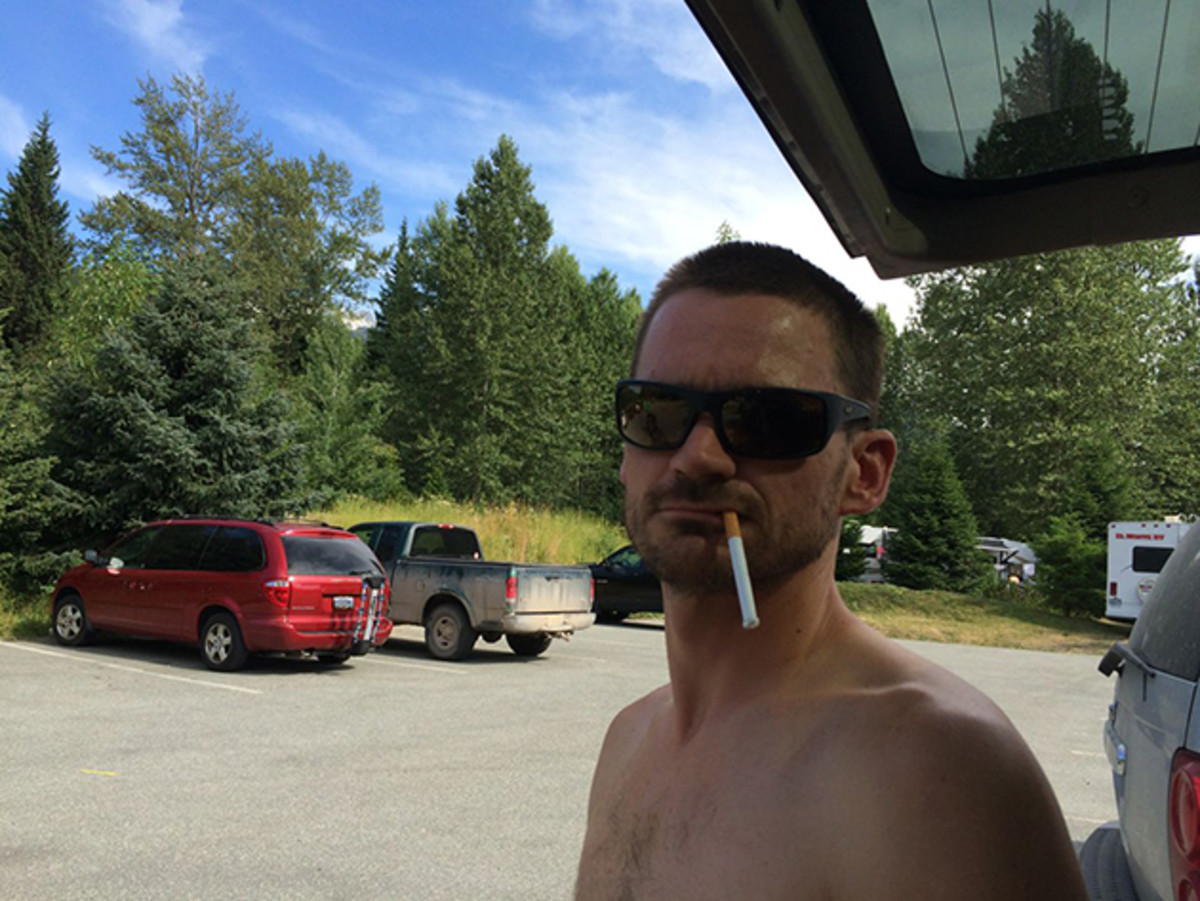 Thanks to my shady answer, the customs officer made us come into the station for a closer background check. He took our passports and started looking stuff up on the computer. My mind was racing. Not 30 minutes earlier I potentially incriminated myself by posting a photo of the legally purchased weed on Facebook under my ASS alias. If the officer was social media savvy enough, he could have made the connection and saw the evidence right before his face. I was slightly concerned.
But alas, the officer handed us our passports back and wished us safe travels. Whew. Potential charges as an international herbsman hustler averted. We pushed onward to Whistler.
Three days earlier, after picking up Swan John at Portland Airport, I spent Thursday in West Seattle with her mom Gretchen and sister Heidi. It was a privilege to see the Swanson Johnson ladies together; the antics were highly entertaining and gave me deeper perspective into the personality of my special ladyfriend.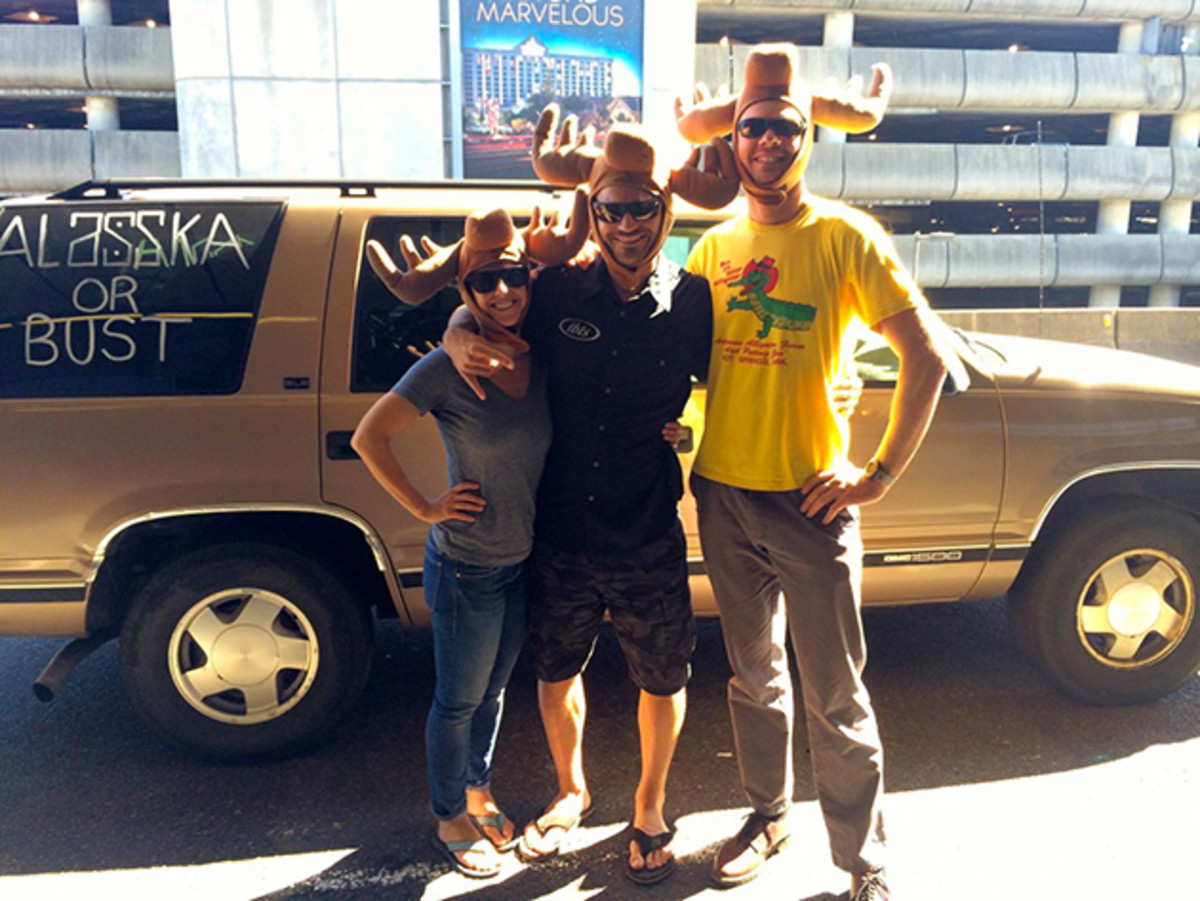 On Friday Swan John and I picked up our third passenger, Matt Talbott, in Seattle. Matt stood curbside wearing a giant moose hat, holding two more antlered hats in his hands. After we all donned the hats and recruited a random bystander to shoot a photo, the three of us pushed northward to Bellingham for a ride on Galbraith Mountain.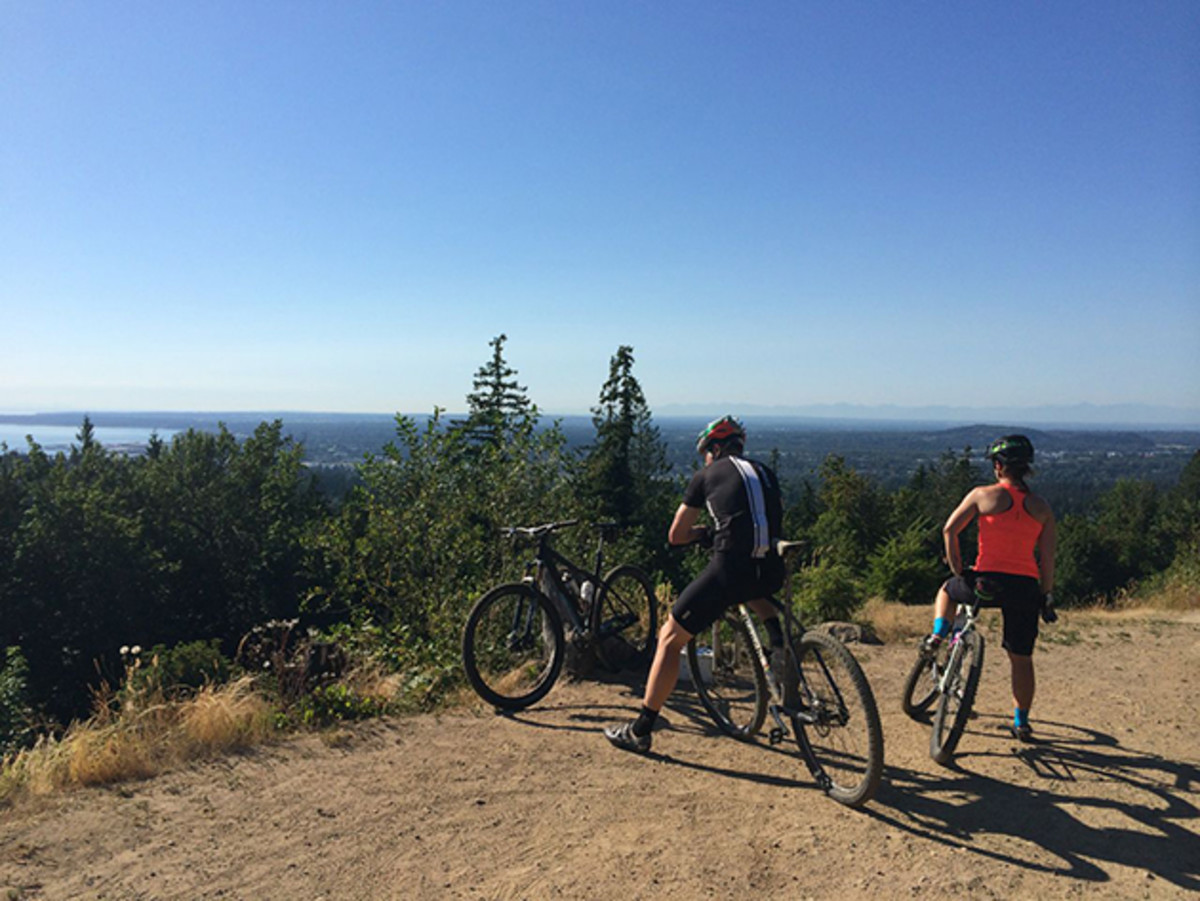 Galbraith Mountain and Bellingham
Galbraith is only a 10-minute pedal from the heart of downtown Bellingham and features an extensive network of cross-country and all-mountain trails ripe with log features, ramps and rocks. The most noticeable thing about Galbraith is how dense the vegetation is. Luckily, we hit Bellingham on one of the driest and hottest days of the year, but riding Galbraith was like riding through a tropical jungle somewhere in Hawaii, except this jungle had stinging nettle and devil's club hanging into the trail that thoroughly exfoliated the skin. Dark lens sunglasses were definitely the wrong choice. It was even hard to see not wearing glasses at all.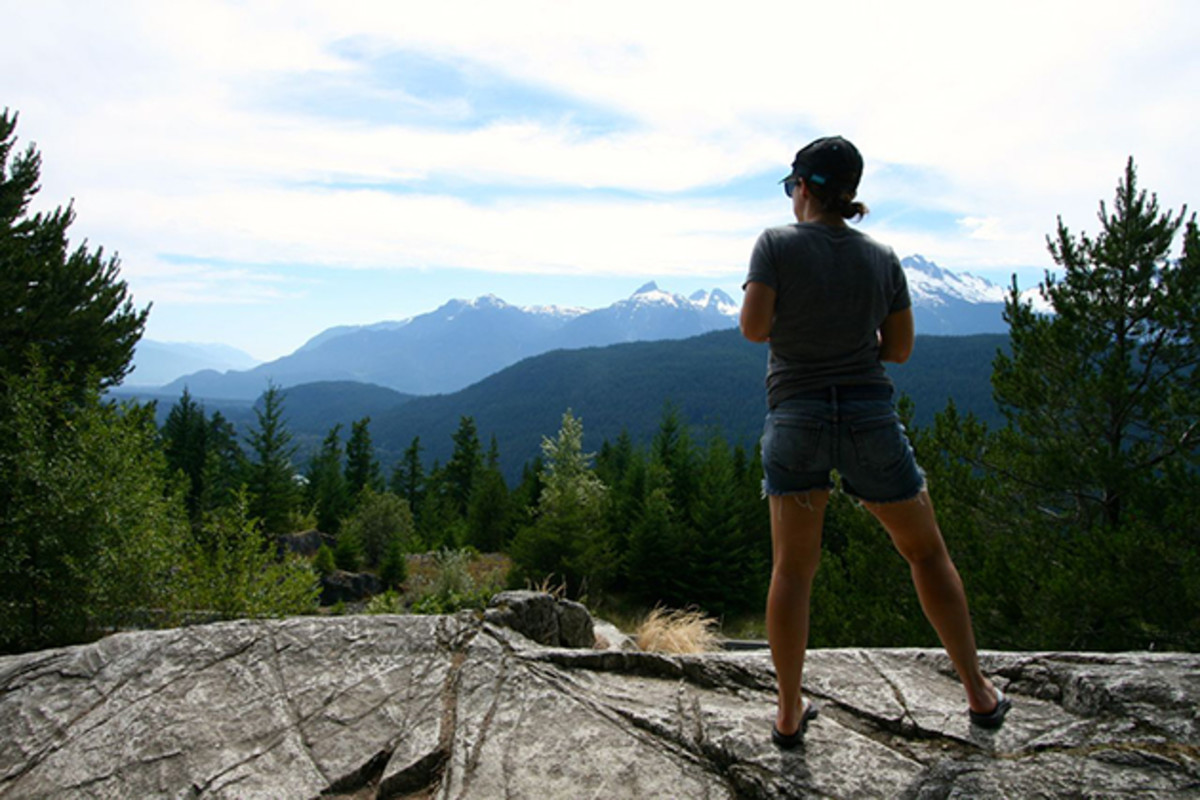 Whistler
After successfully making it over the border Saturday morning, we headed through West Vancouver on our way to Whistler. The Sea to Sky Highway was remarkably beautiful and reminded me of Lake Como in northern Italy, with its deep blue-green sea flanked by massive, jagged glacial peaks. A definite driving highlight of the trip so far.
We pulled into Riverside RV Resort in Whistler and unloaded our camping gear. With full facilities, a restaurant and riverfront camping only a five-minute pedal from Whistler village, Riverside was one of the nicest campgrounds I've ever experienced. As a bonus, it was only $20 per night.
The only downside were the mosquitoes. Matt and Swan John didn't seem to be too bothered by them, but even after spraying down with repellant and wearing long sleeve clothing, I was still getting attacked by insects the size of small aircraft. It was a harbinger of things to come. From Whistler northward, the bloodsuckers are only getting worse.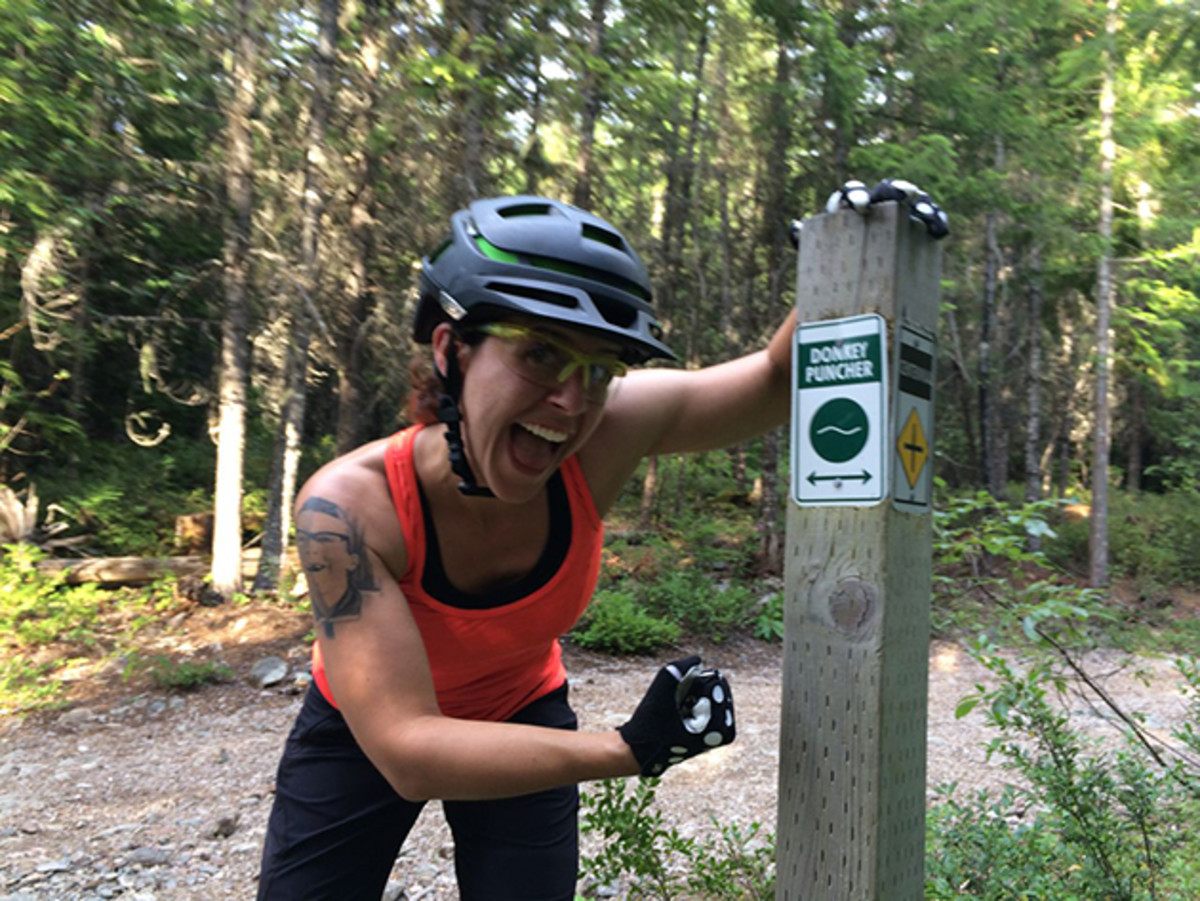 We did a quick pre-dinner ride on the Zappa Trails network adjacent to the campground. As a die-hard Zappa fan, I was in heaven riding trails like Dinah Moe Humm, Zoot Allures, Peaches En Regalia, Ms. Pinky and more. If only the 15-year-old kids riding Dinah Moe Humm actually knew what the song was about. There was even a trail called Donkey Puncher. Oh those Canadians and their twisted sense of humor.
After the ride, I sampled some of the legally purchased Washington weed (which was quite potent) then strolled aimlessly through Whistler village. We got a terrific Thai dinner, then headed back to the campground, where Swan John and I set up my two-person hammock and hit the sack.
Although I have slept at home almost every night for nearly two years in my hammock, I had never slept in it with a lady. At 5' 3", Swan John is quite compact, which makes getting comfy in the hammock pretty easy. We were rather cozy in the hammock, but the mosquitoes were relentless. Even though every square inch of our bodies were covered, the blasted bugs still found their way through, biting our faces. Finally at 1 a.m., we gave up and retreated to the back of the Yukon.
The next morning I went for a solo ride on A River Runs Through It. Labeled a black diamond for its technical difficulty, A River Runs Through It is an absolute blast for those who love lots of rocks, roots, log ramps and man-made features. It's a full body workout, especially on a hardtail singlespeed like the Tranny 29. My only regret about Whistler was that we didn't have more time to spend there. The trails are a perfect blend of North Shore man-made features, Tahoe rocks and East Coast roots to make a completely unique riding environment.
Northbound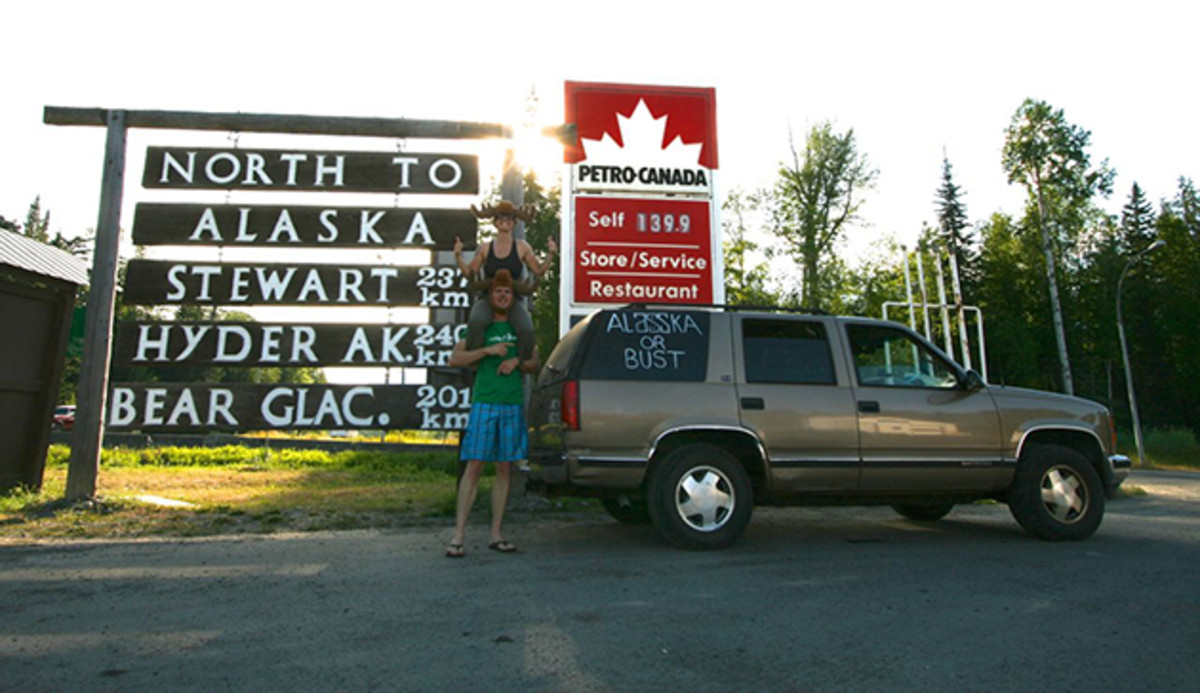 On Sunday afternoon, we continued north on the Sea to Sky Highway, up and over the massive Cayoosh Range loaded with alpine lakes, glaciers and waterfalls, then descended for what seemed to be an eternity into the high desert of British Columbia near Cache Creek. After eating an underwhelming Safeway dinner in Williams Lake, we spent the night at a quaint riverfront campground in Hixon.
Monday started with a mandatory stop at Tim Horton's for coffee and donuts; essentially a Canadian version of Dunkin Donuts, only better. In Smithers we had the best meal of our trip so far at Two Sisters Café, then scoped out a giant suspension bridge over the Skeena River in Hazleton. Smithers is definitely a place worth revisiting on a future trip. I wish we could have spend a day there riding the local trails.
As I write this, we are rolling up the Cassair Highway, where things are getting extremely remote in a hurry. We've already seen a couple bear and moose. Now I just have to get a few of them on camera without getting charged or eaten.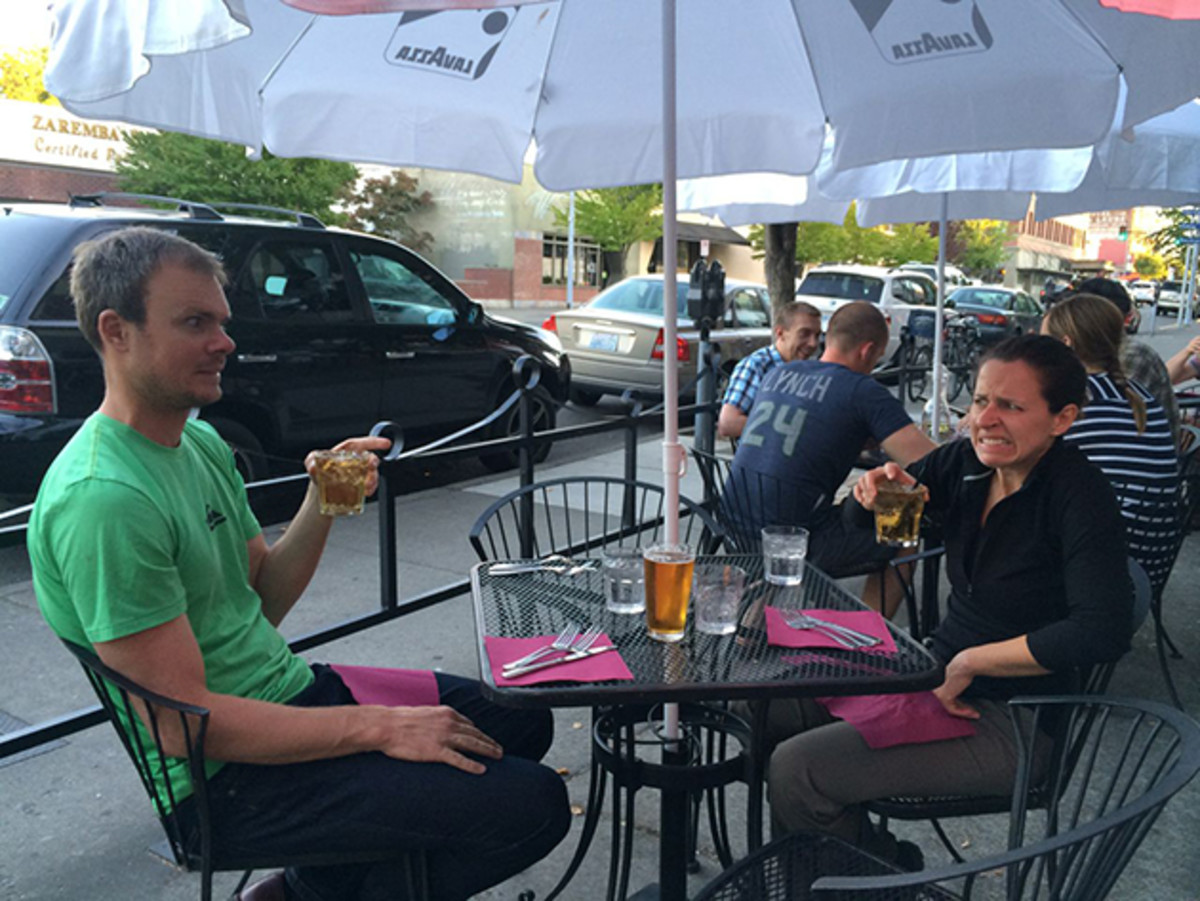 Matt and Swan John have been getting along great. They both share a rather perverse sense of humor that makes them quite compatible as road trip buddies. Matt is a really high-energy and hyper-intelligent guy, but he also knows when to dial back the energy to avoid annoying Swan John. In fact, when Matt's not quoting Slovenian philosopher Slavoj Zizek, pontificating on string theory, drinking heavy cream, eating raw meat, going on 15-mile trail runs and talking up complete strangers, he's been spending a lot of time sleeping.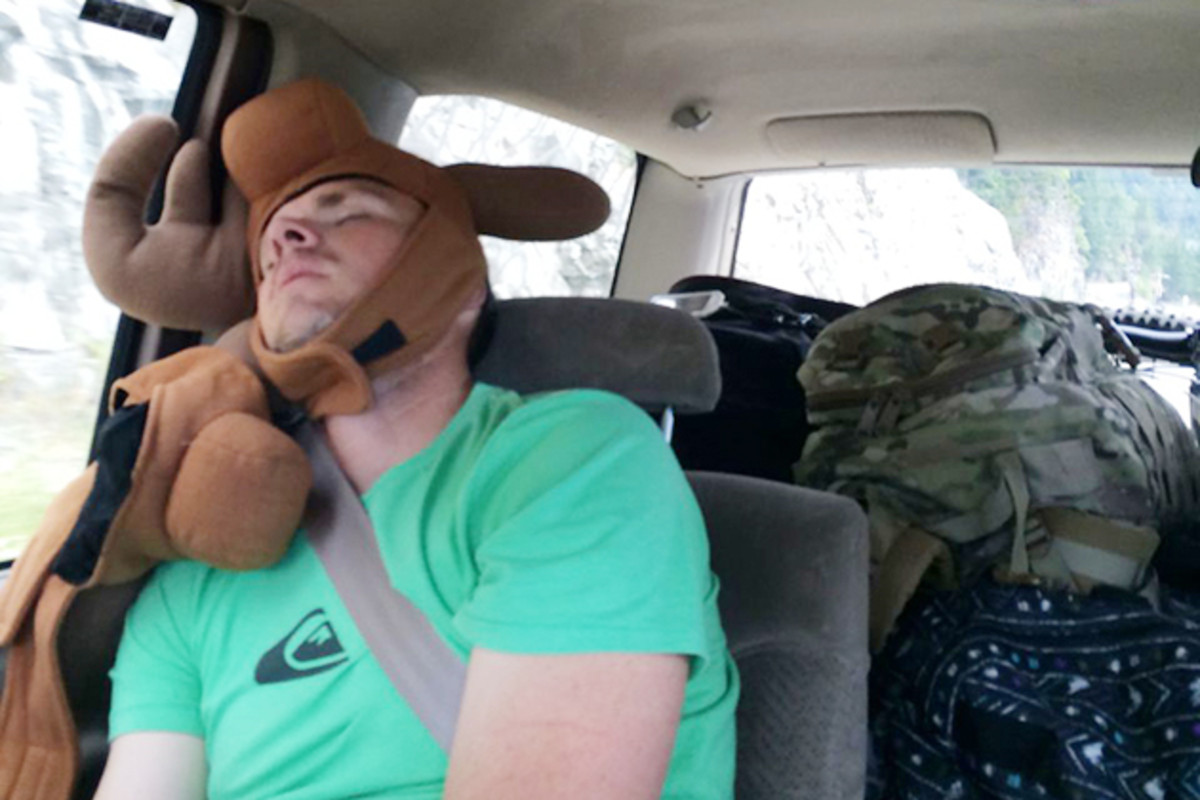 Matt also is famous for his musings and one-liners. Here's just a sampling of his comments so far.
"If you're a guy and get a tattoo of a woman riding a torpedo to hell, when you get old it will look like nothing more than a retarded giraffe humping a front-end loader."
And…
"I love cows. They're hilarious and delicious. I also love riding snowmobiles, because you're either pinning it or you're dead. There is no going to the hospital. I hate hospitals. I'd rather be dead."
And…
"When your dick stops working, buy a Harley."
So far the trip is going exactly how I hoped it would. The three of us are having an unforgettable time, Yuke has been running flawlessly and everyone we've encountered in Seattle and northward have been incredibly friendly and accommodating. It's worth noting how nice people are up here in Canada. It's like they genuinely care about you, asking us about our trip and giving us recommendations as we head northward.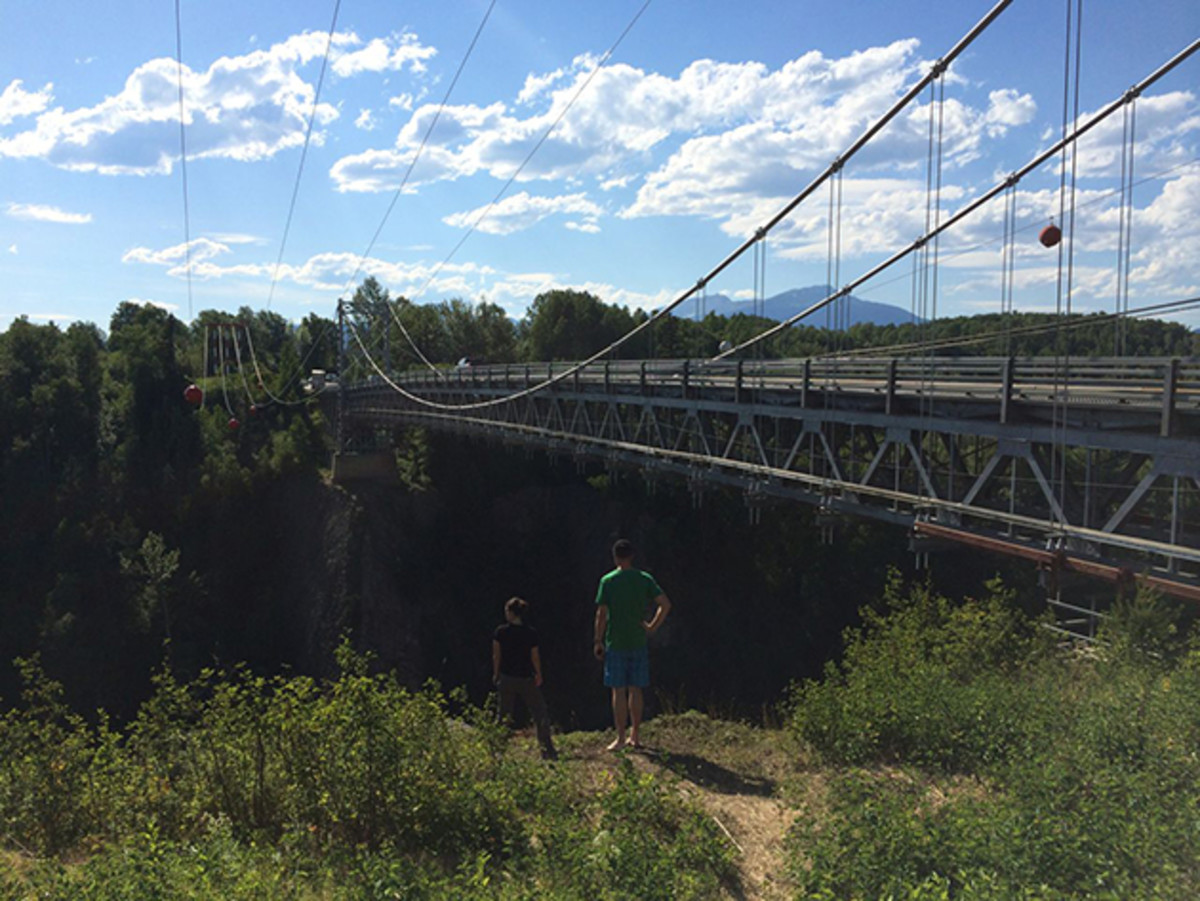 The next couple days will be filled with extremely remote sections of road, massive glacial flows, tons of wildlife and a border crossing back into the United States. It should be the sightseeing highlight of the 3,000-mile journey.
Stay tuned for the fourth installment.
Previous installments:
Part 2: From Reno to Bend and Beyond