By Kurt Gensheimer
Photos by Chris Hinkle
Don't harsh the mellow. It's one of the only rules at 24 Hours in the Old Pueblo, and a key reason why a temporary city of 3,500 mountain bikers in the Sonoran Desert outside of Tucson, Arizona, has thrived for 17 years. Old Pueblo sells out in a matter of weeks every single year–an especially impressive feat considering it's one of the only 24-hour events left in existence.
Stroll through the temporary city of tents known as '24 Hour Town' and it's easy to see why. Often dubbed 'The Burning Man of Bike Races,' every February Old Pueblo hosts an eclectic cross section of mountain bikers, including Lycra-clad fitness monsters, weekend warriors and costumed crazies more concerned with number of beers consumed than laps completed. Despite such a wide cross-section of riders, everyone at the Old Pueblo functions in symbiosis. And in a sea of dust-covered fat-tire fanatics wearing ear-to-ear grins, there's no bigger smile than on the face of the event's ringleader, Todd Sadow.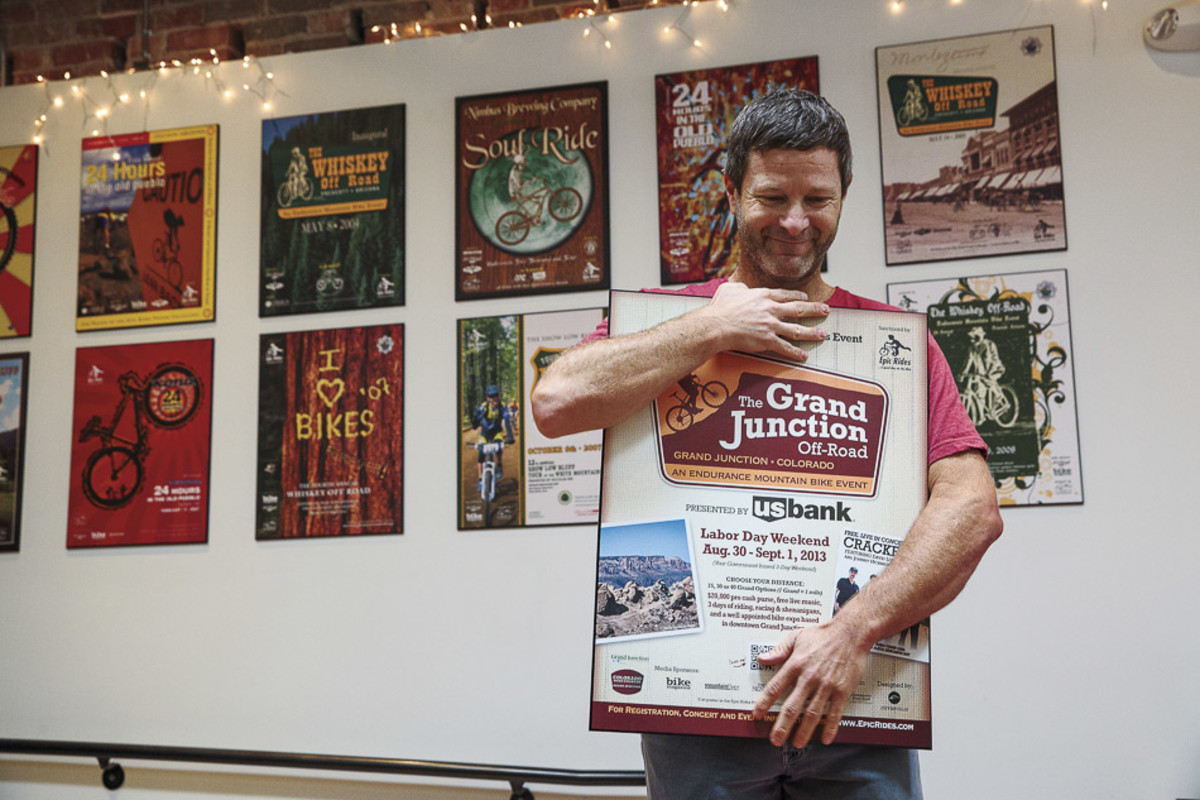 If you didn't know Sadow, president of Old Pueblo's event promotion company, Epic Rides, you'd think he was a participant. Most promoters managing a 3,500-person event would be constantly running around in a panic, but not Sadow. Always calm, cool and collected, Sadow shakes hands, laughs and makes sure everyone is enjoying the experience. Even in an emergency, Sadow handles the problem with a relaxed demeanor akin to filling a water bottle. His Zen master skills are legendary, and a key reason why Epic Rides is one of the most successful mountain bike event promotion companies in the industry. But if you ask Sadow how he keeps so cool under pressure, he immediately sends credit to colleagues like Sean Fawcett, his timing guru who's been there since the beginning, and Cat Greene, his "right-hand woman."
"Todd works tirelessly, and contrary to what you might think, he doesn't get to ride his bike much," said Greene. "He dreams big and is passionate about putting on the most bad-ass parties in the world with a bike ride mixed in. His energy is contagious and a huge motivating factor."
Fresh out of college in 1999, Sadow was on the corporate fast track in Silicon Valley. But his passion for mountain biking was simply too strong, and after only a year in the rat race he moved to Tucson for the full-time role of Epic Rides, a company he had started with two partners the year before. With one partner out of the picture and the other ready to move on, Sadow returned to run the show on his own. Naturally, his parents were concerned with him leaving a solid opportunity for the unknown risk of Epic Rides. But Sadow was committed to his passion and demonstrated almost immediate success with the Old Pueblo and the Tour of the White Mountains. Since then, his family has been unwavering in their support for Epic Rides and a steadfast pillar of the company.
In addition to family support, Sadow has had invaluable industry backing along the way, most notably from El Tour de Tucson founder, Richard DeBernardis. El Tour de Tucson is one of the largest annual cycling events in the country, with as many as 10,000 participants, and for more than a decade, Sadow witnessed firsthand how it was all put together.
"Richard's company incubated Epic Rides in their offices for about 12 years until we were ready to stand on our own," said Sadow. "Having immediate access to answers for common pitfalls all event production companies experience was the difference between success and failure for Epic Rides. Richard is a visionary on many levels, and my most valuable lesson from him transcends event production; it's about understanding people and appreciating everyone's contributions to the production process."
Epic Rides had a pivotal year in 2013. The legendary Whiskey Off-Road celebrated its 10th running in Prescott, Arizona, the inaugural Grand Junction Off-Road took place, and most significantly, Epic Rides moved out of incubation and into a building on Stone Avenue that Sadow purchased for the company, coincidentally only a stone's throw from the heart of downtown Tucson.
Having one sold-out event like Old Pueblo would be satisfying enough for most event promoters, but Sadow's vision goes far beyond 24-hour events. His vision even goes beyond mountain biking itself. He sees mountain biking as a vehicle to raise funds for charitable organizations while driving economic development in mountain communities like Prescott and Grand Junction. After 10 years of growing attendance and now sold-out status thanks to a relaxed, family-friendly vibe, a full day of free live music and enormous industry support in the event expo, the Whiskey draws 2,000 participants–let alone spectators–on the last weekend of every April. In 2013, Sadow took the Whiskey model and used it in his first event outside of Arizona at the inaugural Grand Junction Off-Road in Western Colorado, and it may have never happened if it wasn't for the unforgettable experience a Grand Junction resident had at the Whiskey.
"I was simply blown away at the organization and positive atmosphere in Prescott that weekend," said Dave Grossman, Grand Junction Off-Road event director. "The Whiskey showcased the city and its trails so well, and I wanted Todd to bring that same opportunity to our city."
Grossman–an avid trails advocate and founder of the Grand Valley Trails Alliance–told Sadow about Grand Junction and its wealth of trails on Colorado's Western Slope. The timing was perfect, as Sadow was already identifying cities in which to expand the Off-Road series. After riding in Grand Junction with Grossman only a few short months later, Sadow was negotiating details on the second Off-Road series event. Since then, Sadow has kept busy traveling the country and discovering potential venues in the Northwest, Midwest and Southeast to expand the Off-Road series to a nationwide, six-event production.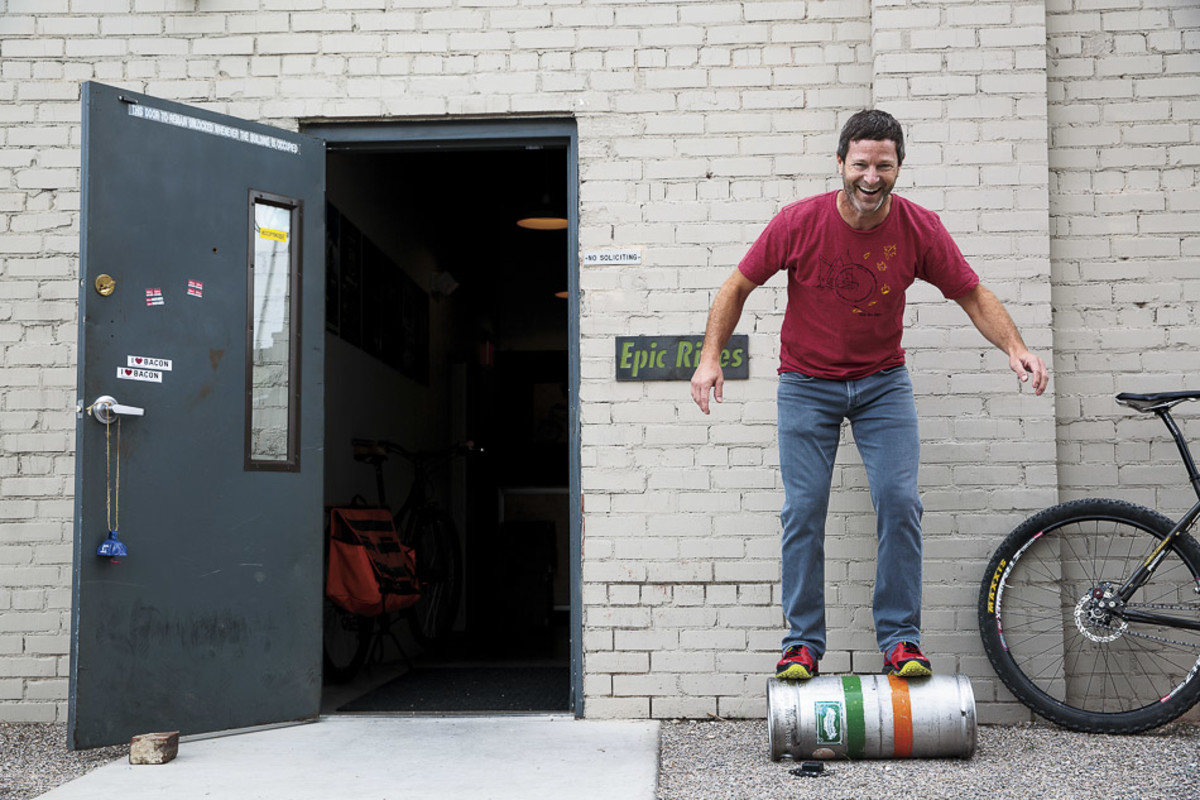 "I want to build a series with cities that value outdoor recreation, have their own vibe and feature terrain that's unique to their region," said Sadow. "The winner of the Off-Road series at the pro level will have to exhibit proficiency on all the terrain our country offers, thus crowning them a legitimate champion."
Unlike many mountain bike events that pay its winners a pittance, Epic Rides offers the biggest pro cash purse in the country, with the 2015 Off-Road series handing out $60,000 between the Whiskey and Grand. And because Sadow believes in equal pay for equal effort, the purse is always split evenly between the men and women.
"Eventually, we see the Off-Road series offering the largest cash purses in the world for a mountain bike event, helping the financial viability of pursuing a career as a pro mountain biker."
To help foster the viability of becoming a pro mountain biker, Epic Rides works closely with the National Interscholastic Cycling Association to develop the future of the sport. NICA is a crucial piece to Sadow's grand vision of how he plans to expand the popularity of mountain biking over the next decade.
"Thanks to NICA's push to get high school mountain biking coast-to-coast by 2020, a strong blood line in the youth ranks will be a game-changer for our sport. But challenges still remain, including the mission of defragmenting the mountain bike community. Mountain biking needs a unified front, and once we achieve that, this truly American sport will attract new people to the joys of outdoor exploration, fitness and the ability to unplug from everyday life."
Will Sadow be the man to take mountain biking mainstream? As the Zen master says, "We'll see."