WORDS: Mike Ferrentino

"So we'd barely even started up the climb, and he just up and took off like a robber's dog…" Gary was employing his broad and entertaining colloquial vernacular to describe events of a long ago bike race, maintaining a steady dialog up the climb, while I stared down at sweat drops forming patterns on my toptube, dug hard and tried to keep up. At some point later in the 12 or so kilometer climb, he was talking about a hot rod one of his friends built not long after high school, describing how it has a combination of horsepower and low gearing that "could pull a boy scout off a girl guide." I was at this point completely hangdog, my head so low that I was actually looking at my back wheel, and absentmindedly noting with mild interest that it appeared to be flexing vertically in relation to the seat tube with every pedal stroke.
We were both sweating profusely, as we climbed in muggy heat through a dense tunnel of greenery. This was somewhere along the first climb along the Timber Trail in Pureora Forest, an 85-kilometer long trail consisting of newly built multi-use trail and reclaimed rail grade that runs through a rare, never cut swath of New Zealand native forest. We rode dwarfed beneath trees found only on these islands at the bottom of the world: rimu, totara, matai, miro, tawheowheo, tawa, some of these massive podocarps standing a thousand years old. The varied song of the tui rang through the dense bush, contrasted against the more raucous croak of occasional kaka, while fantails flitted across our path as they danced from fern to fern.
New Zealand's native forest is unlike any other in the world. With rainfall levels not much below those found in tropical rainforests over much of the country, but a cooler, other-side-of-40-degrees latitude, and benefitting from the species isolation and subsequent singular evolution at the bottom of the world, the native bush of this country in its raw state is the kind of thing that makes the imagery of Dr. Seuss books look unimaginative. Prior to the arrival of humans, more than 80 percent of the country's landmass was forested. Towering stands of massive hardwoods unrelated to any other flora on the planet provided habitat to a similarly exclusive and diverse bird population. There were no mammals, no rodents, no poisonous animals of any kind beyond one species of spider, and no plants bearing thorns or any toxin.
The arrival of the Maori around 1,000 years ago—these islands being one of the last places on earth to be populated by humans—brought inevitable change. Clearing forest to provide arable land was a gamble dependent entirely on weather and luck. Forest fires were not easily controlled, and whether set by humans or naturally occurring, wildfires led to massive deforestation. By the 1800s, and the time of significant European arrival, the forest canopy was down to about 56 percent. Then the intentional logging began. The massive native hardwoods were used to build everything from boats to furniture, and both islands were intensely felled and burned to clear room for pastoral grazing and crops. The canopy cover in New Zealand is now around 25 percent, a baldness compared to the jungle long gone.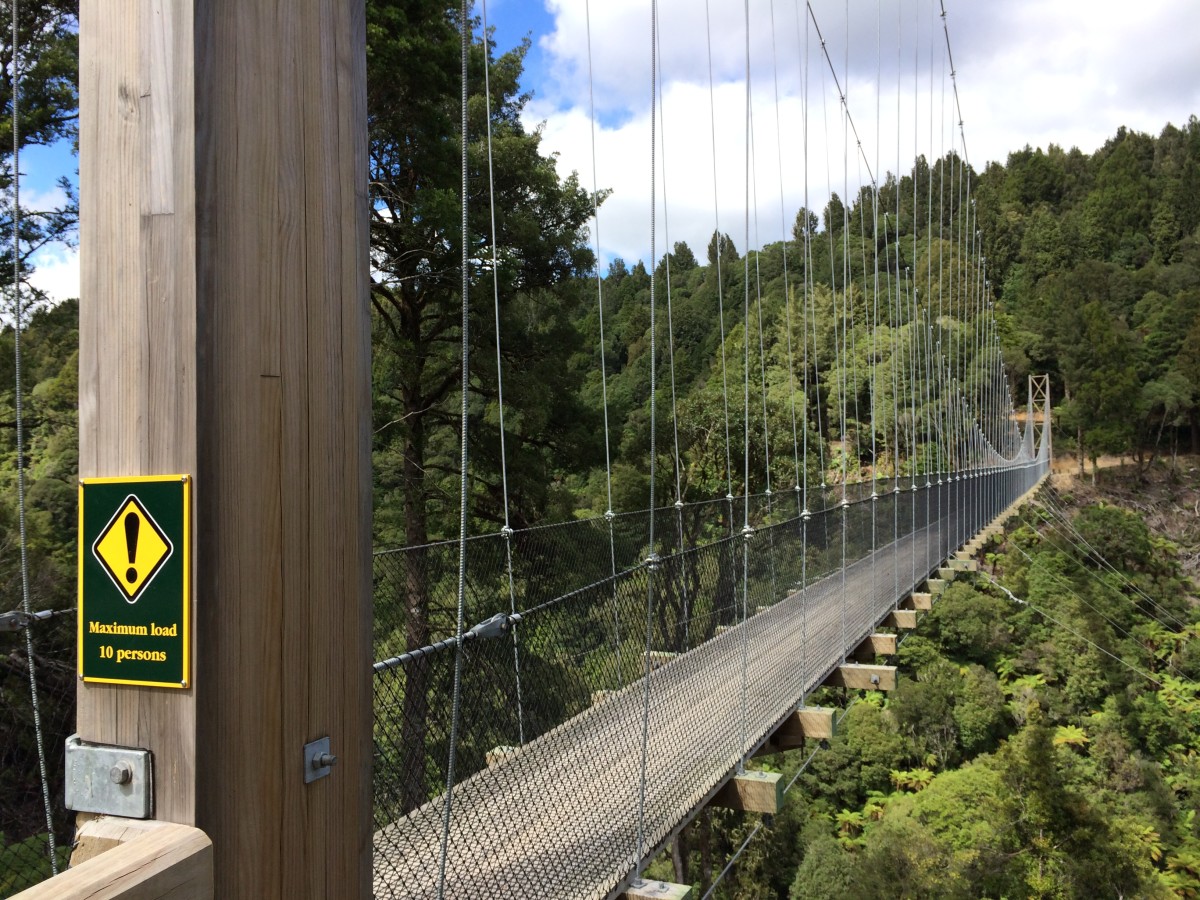 Pureora Forest's Timber Trail exists due to some lucky breaks as far as social timing is concerned. Relatively remote, it was one of the last parts of the country to feel the ingress of logging, which didn't start in the region until after World War II. It was also one of the early beneficiaries of the radicalization of the conservation movement. In the 1970s, conservationists staged tree-sits, erecting platforms in the trees to protest logging operations, which in turn led to establishment of the park in 1978, and saving this ancient forest, with its species of trees that can trace their genealogy back to the time of dinosaurs, from the sawblade.
The trail is new. Completed just a year ago, it offers a much different riding experience than the berms, dips and jumps of Rotorua. It is a meditation on the color green. It is submersion in steady pedaling through ancient time. It meanders through the forest, level at the start, then climbs steadily before plunging to the first of several suspension bridges. This isn't a railing, fighting for grip, dropped saddle, adrenaline feast, and as such offers a perfect counterpoint to that after a couple days spent testing tire edges elsewhere. It is a long, steady, 53-mile day in the saddle, drinking in nature unlike anywhere else on earth, following the already overgrown traces left by man's most recent intrusion into this green world. Massive suspension bridges, one of them the longest backcountry bridge in New Zealand at more than 450 feet in length, span fern-choked ravines, and riders pass through tunnels and disused rail spirals, as forest gives way to fields before finally dumping tired riders in the tiny town of Ongarue for a thankful shuttle back to their starting point.
Still, in spite of not being a tech-fest, it is a long day in the saddle, especially if you go there following the colorful worded commentary of one Gary Sullivan. Somewhere about 40 miles in, it feels as if the ride may actually go on forever. Which, given the surroundings, isn't exactly a bad thing. Just better pack a lunch.