Written by Kim Cross
Photos by Justin Olsen
They were the strangest directions in the history of driving. "Take a right before the Wendy's and the Kmart. Keep going straight, follow the signs, and you'll come to four big holes in the earth. Drive into the third hole from the left. Look for lights at about one o'clock, and drive toward the light."
The directions led into a gaping void 100 feet under Louisville. There, in "the Kmart hole," named for the supercenter that sprawls above it, I found Joe Prisel fine-tuning a dirt jump. It was January 8, the final stretch of construction of the Mega Cavern bike park, which he and a skeleton crew had created in record time by working around the clock. "Today's our 71st day," Prisel said. "And we're almost done."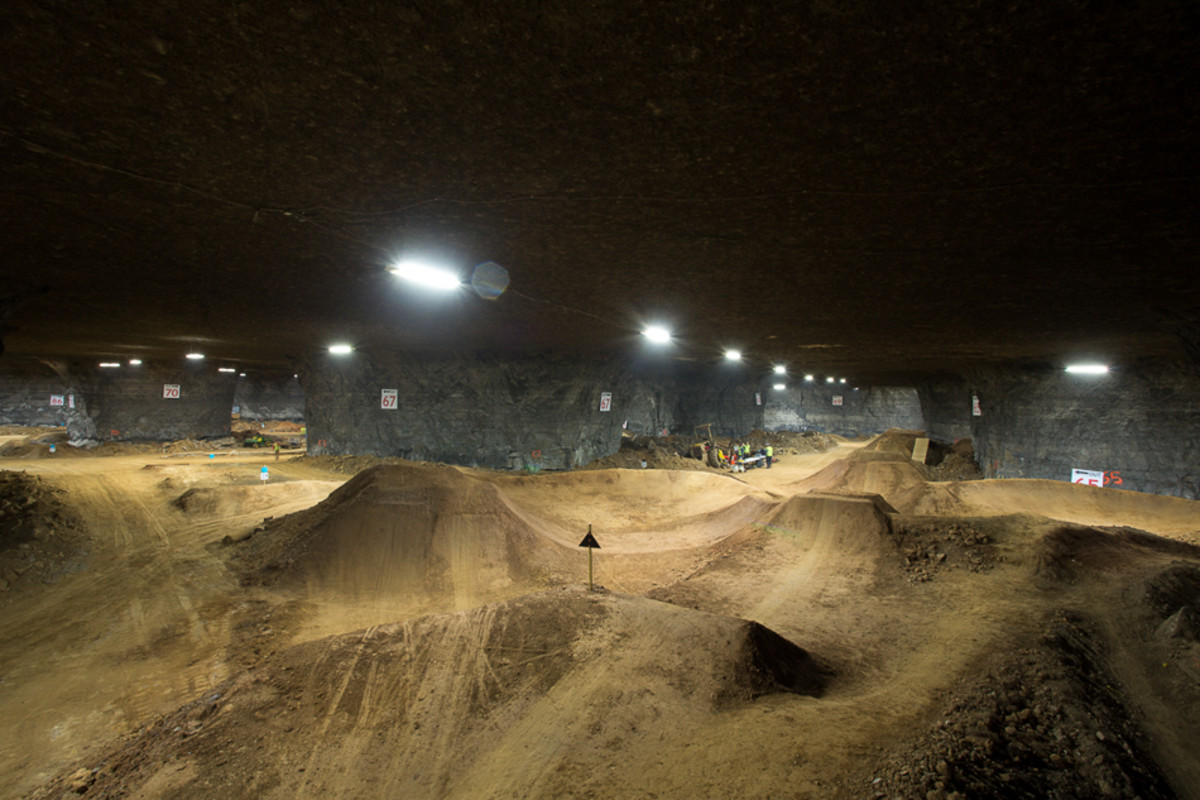 Slated as the biggest indoor bike park in the word–320,000 square feet, roughly three times the size of Ray's Mountain-Bike Park in Cleveland–Mega Cavern has been one of the most buzzed-about trail openings in the world of mountain biking. The grand opening was delayed several times, but the first of three phases was nearing completion.
"It's more than an indoor jump park," said Prisel, giving me the nicel tour on his brakeless BMX bike. "It's an outdoor trail system. It's designed as a jump park, XC course, and all-mountain ride."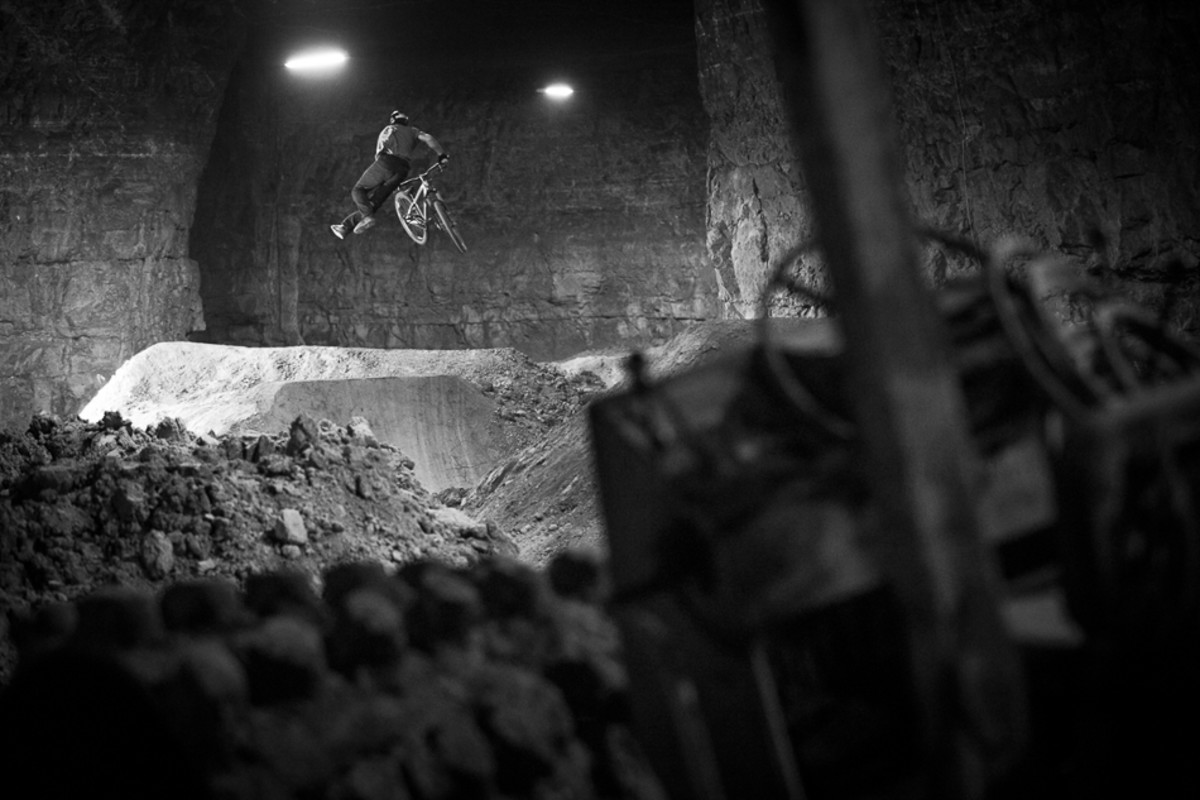 Under the humming fluorescent lights attached to the 40-foot rock ceilings, the trails and jump lines frolicked wildly through several subterranean rooms, divided by giant supporting columns of un-mined limestone. It was odd and disorienting, this monochrome lunar landscape with no trees or landmarks, other than waves of dirt, to distinguish one room from the next.
But as Prisel explained how he mapped things out, the logic came into focus. A beginner-friendly XC loop circled the giant perimeter. Intermediate trails spaghettied through the rooms, a flowy series of rollers and berms punctuated by occasional rock features. Some trails branched into three parallel lines an expert dad, an intermediate mom, and a beginner child could ride side by side at roughly the same speed.
"You can ride every level with your family, in the same area, and never lose sight of them," Prisel said.
But it's the dirt jumps that everyone will remember—whether or not they have the chops to ride them. Built toward the mouth of the cavern (where accidents can be dealt with expediently) the advanced jump room is Prisel's piéce de résistance. This is what he does best, shaping dirt in ways that generate flight. There's little wood in here, and none at Prisel's own Burlington Bike Park in Washington state, which he sculpts and re-sculpts a few times a year from what I'd call 'craft dirt.'
Let's be clear: For most riders around here, these jumps are advanced. Not Crankworx big, but too big for a USA BMX card-carrying mom who races the dads on the local track. I couldn't help but wonder what the insurance costs on this place.
The most advanced lines begin on a wooden tower shoots into a setup jump that looks like three waves colliding. There are three ways to jump it, and then the main line slaloms through four consecutive berms and feeds into a lippy jump line that crests a 10-foot-tall shipping container in a grand finale.
For those of you who speak digger, here's Prisel's description:
"It's a straight jump to a berm, that's connected to a hip-jump to a shark fin berm, that's connected to our quad berms, which goes under a straight jump that goes to the big jump, so it's an over-under, and also has a complete 90-hip to a 45-hip back into the big line, which is an over-under as well."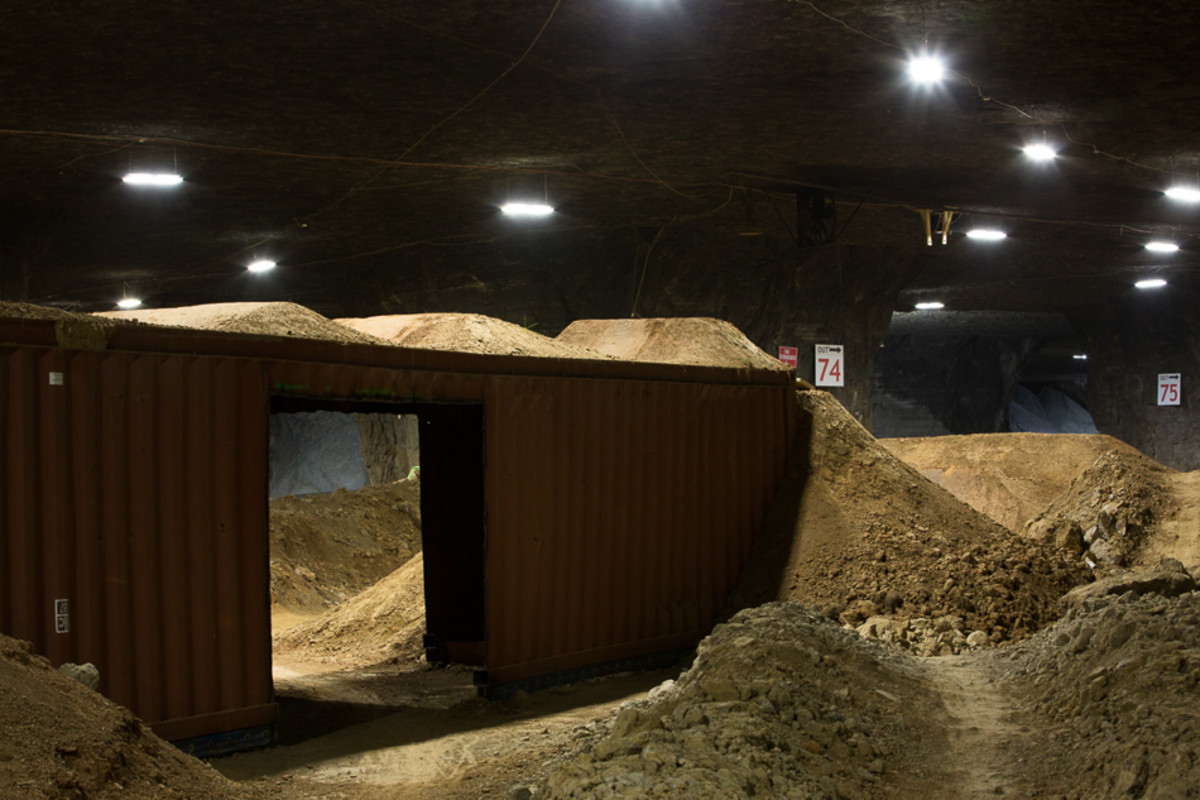 Local riders, the park owners, and even the city of Louisville have high expectations for Mega Cavern. Mayor Greg Fischer rides a road bike, sans Lycra, and prefers to keep his wheels on the ground. But he came in for an early test-ride on a borrowed Cannondale, and left with a good impression.
"It vastly exceeds your expectations because of the scale of the thing," Fischer told me on the phone. "It's seven minutes from the airport. It's really come together with other cycling attractions. "
He's referring to Louisville rides like Cherokee Park, an Olmstead park in the city center with 5 miles of single track. And Waverly Park, an 8-mile roller coaster of fast and flowy dirt. More trails are in the works, including those in the 400-acre Parklands of Floyd's Fork, which will also have 19 miles of the 100-mile Louisville Loop, an interconnected non-motorized path that will encircle the city.
Mega Cavern's bike park is expected to become a major tourist attraction, which it already sort of is, since it is part of a complex of adventure tours that feed into the gift shop and snack bar. Mega Cavern is Louisville's No. 1 attraction on TripAdvisor, beating out the Kentucky Derby Museum, Churchill Downs and the Louisville Slugger Field.
It should be noted that this 'cavern' is not a true cave. It is a former limestone mine, though today it appears to be a gold mine of manufactured soft-adventure. It has a zipline tour with strategically eerie lighting, a tram tour and a ropes course that bills itself as the "the only fully underground aerial ropes challenge course in the world." The biggest money-maker of the year is Lights Under Louisville, when 37,000 cars pay $25 and up to drive through an underground holiday light show.
You've got to hand it to the Mega Cavern owners, a trio of savvy businessmen who created an asset from a hole in the ground. Coming from the landfill business, they looked into the void and saw opportunity. Construction companies pay to dispose inorganic waste–rock, brick, dirt, asphalt and the like–in the cavern, which over the years raised the floors of the 80-foot-tall rooms.
On top of that backfill, the owners built an underground complex of buildings, whose tenants range from the Department of the Treasury to a TV studio. The city pays to store mountains of salt for de-icing winter roads. It's also a high-security storage facility for… well, they cannot say.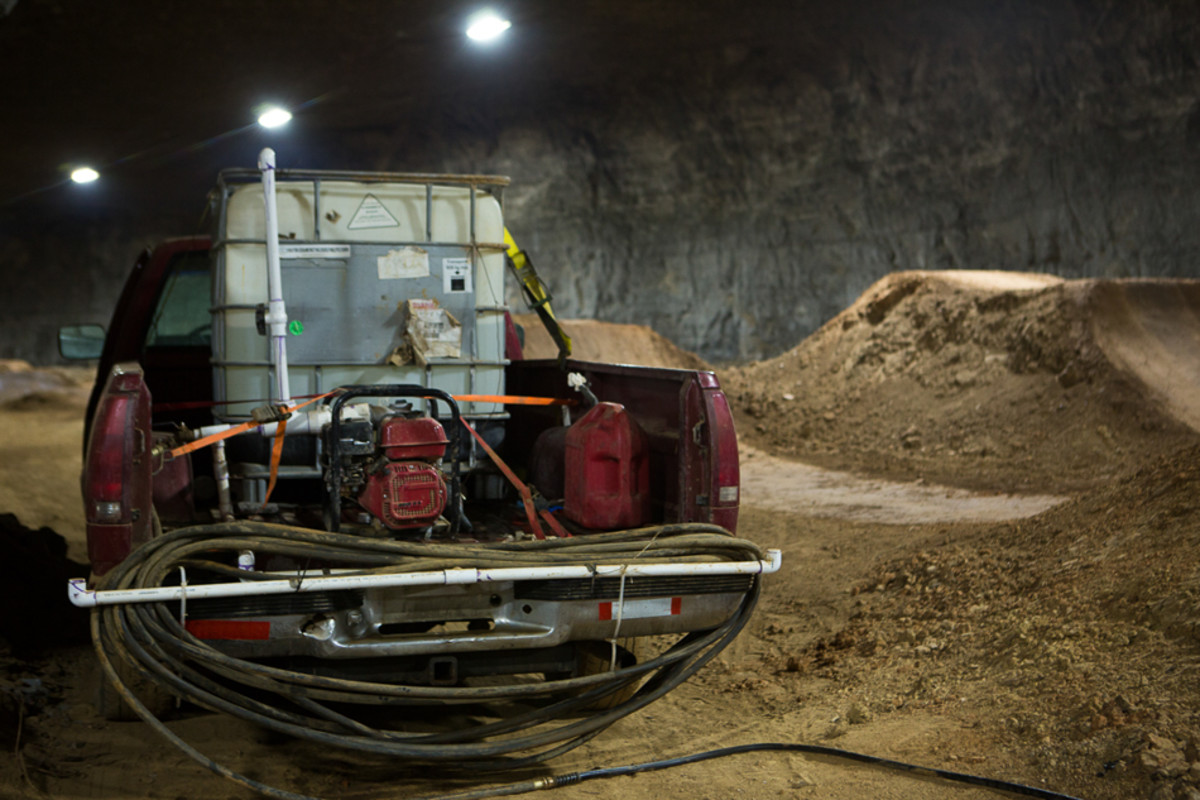 Will the tourists who come for zipline tours and tram rides appreciate–and survive–a bike park built by dirt-jump connoisseurs? Will local riders pay to ride indoors in a place with nearly year-round riding? Will people come from all over the world to ride underground?
"We're plowing new ground," Tyler says. "We've gotten calls from Europe."
Neither Tyler nor his partners are mountain bikers. But they are businessmen and smart investors who know to do their homework. "I've been to Valmont, Steamboat Springs," says Tyler. "A smart man is not a man who knows everything, but a man who knows how to get everything."
The owners first reached out to IMBA Trail Designs for a quote, but ultimately went with a lower bid from Joe Prisel, who cut his teeth building at Ray's Indoor Mountain Bike Park then went on to build The Lumberyard in Portland before opening Burlington.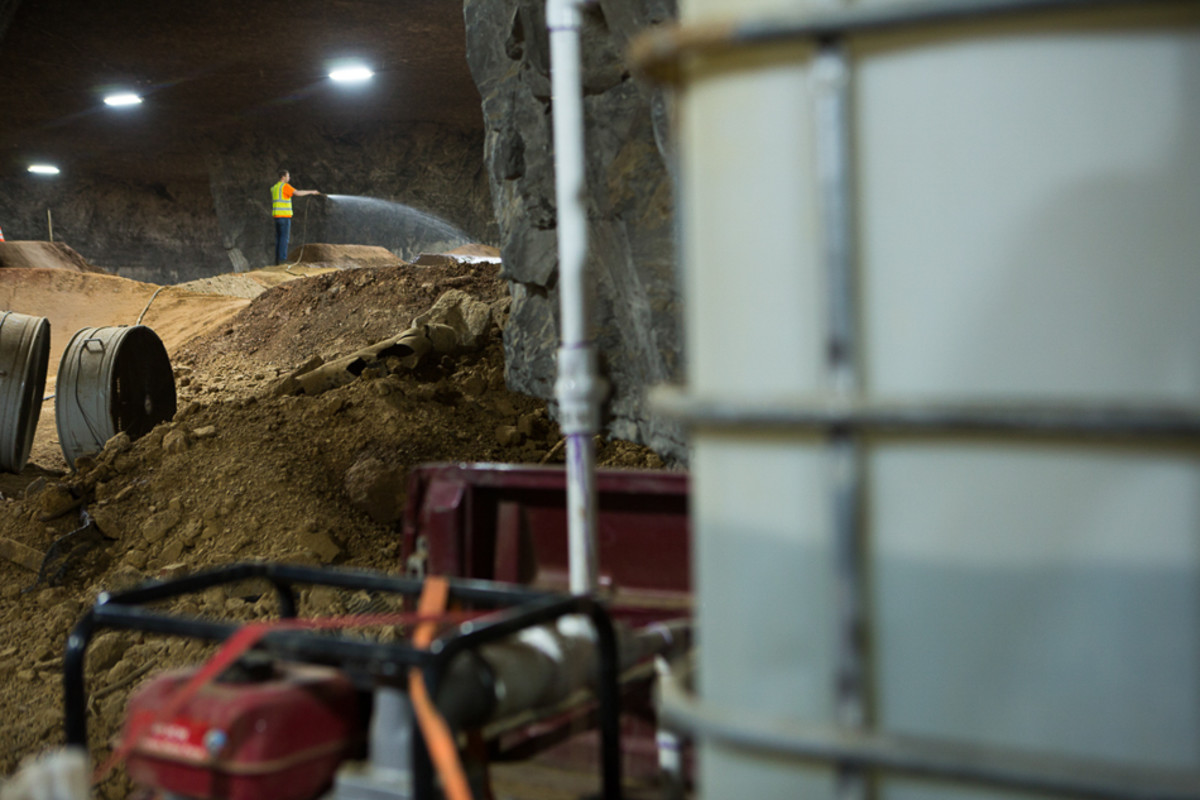 While the aforementioned parks predominantly attract existing riders who want to hone their skills, Mega Cavern is aiming at a broader clientele that includes beginners, families and even out-of-shape non-riders. (He's currently testing electric bikes for folks who aren't going to ride the trails but might take a behind-the-scenes tour of the cavern).
"I'm trying to hit that bell curve sweet spot," Tyler said. "I want a mom and a dad with an 8-, 10-, and 12-year-old to come over. I see some of the stuff he's built and I'd be hard-pressed to walk up it. Is it going to be a work in progress? Sure."
The bike park has been well received–mostly–by the local and regional bike community, but there have been snags. The Feb. 9 opening day sold out, but on Feb. 21 Mega Cavern announced a last-minute closure due to weather. People who had driven hundreds of miles were offered a rain check, but no refunds. Not surprisingly, that triggered a blizzard of online comments. One summed up the general sentiment:
Mega disappointment.
Some Louisville riders feel alienated by the price of admission–$25 for four hours, or $40 per day–and the lack (at least so far) of season passes. At that price point, the bike park may be a few-times-a-year indulgence instead of a monthly or weekly ride for many locals.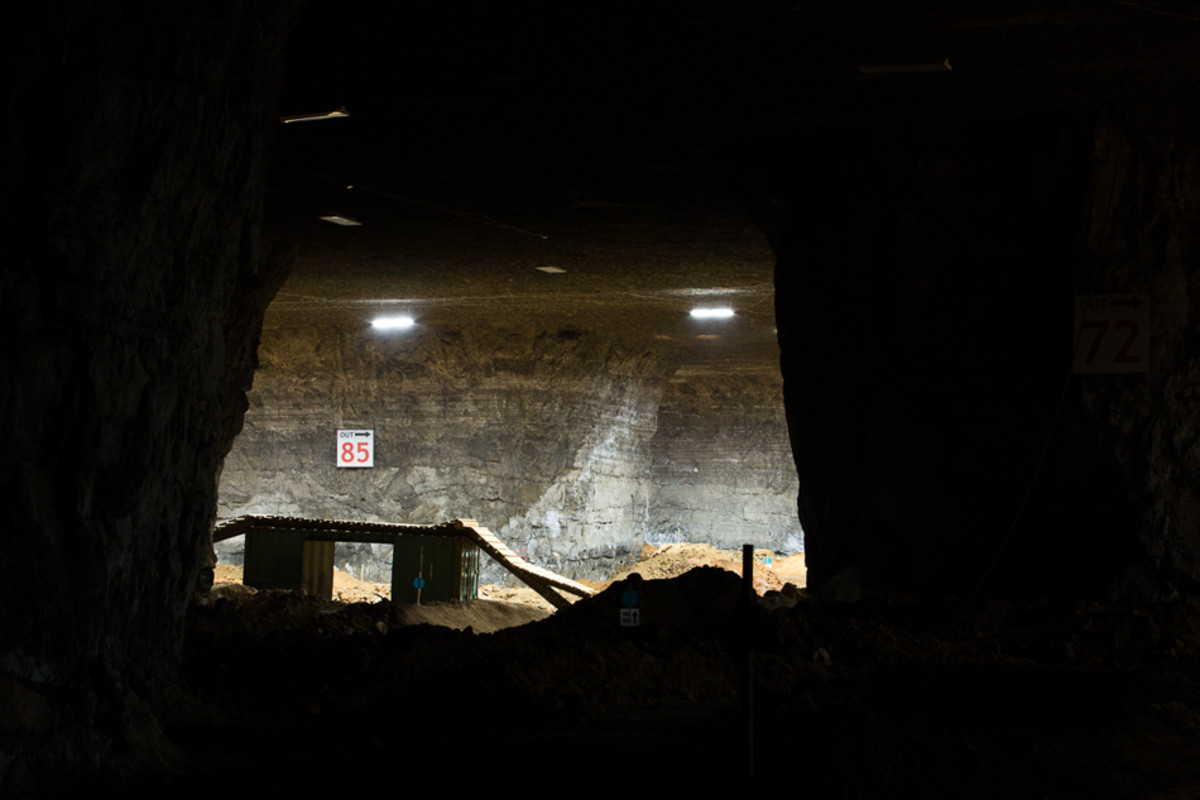 But KyMBA, the local IMBA chapter, says the owners have invited them to host their quarterly meeting there, gratis, and they sound genuinely excited about the trails, which still need a little buffing in, but add something unique to their city.
"I tell everyone else, don't expect too much," says Brian Smith, the trails coordinator for KyMBA. "It's still rough. It still has a long way to go to be what it's gonna be. But there's nothing like it in the world."
Author of What Stands in a Storm, Kim Cross (@kimhcross) is currently writing about tornadoes, caving, and not-catching Alaskan King Salmon. She lives in Alabama and dreams of one day clearing a gap jump.