For the June 2014 issue of Bike, correspondent Graham Averill traveled to North Carolina and met up with a Cashion Smith and Eva Surls, who were just beginning their grass-roots project, The Bike Farm. When the story went to print, the couple were still looking for a partner to help fund the project.
Oskar Blues Brewery, who is known for the popular Dale's Pale Ale canned beer, stepped up to the plate.
Together, Oskar Blues Brewery and The Bike Farm envision the Oskar Blues "REEB" Ranch–as it is now known–as a world-class biking destination for the whole family, which will offer a bike park and direct trail access to Dupont's miles of singletrack, a place to grow hops and pasture grain-spent cows, and a venue for music and events. A stable of REEB mountain and dirt jump bikes will also be available to demo at the ranch.
The following is the original story that ran in the June 2014 issue of Bike: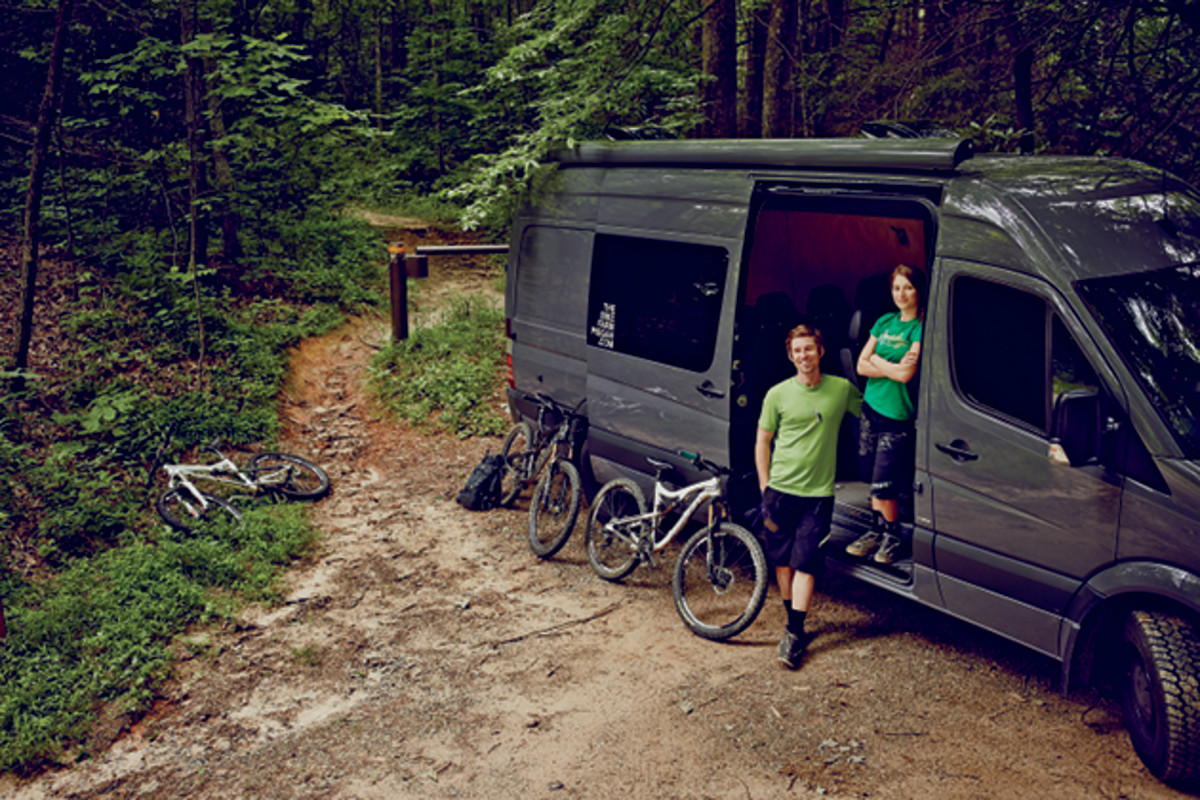 Words by Graham Averill
Photos by Rob Adamo
Cashion Smith and Eva Surls have a kickass van. It's one of those sweet, stealth-gray Sprinters, like a cross between a limousine and a VW bus. They've built a 2×4 shoe corral in the back, and a rack that allows them to pack up to five bikes inside and still leave enough room to sleep. This is the kind of organizational ingenuity you see from people who have lived in a van, fitting everything important into a handful of mobile square feet. That was the couple's not-so-distant past.
Their future will hinge on their ability to put down some very deep roots on the edge of Pisgah National Forest in Brevard, North Carolina. Last year, the couple founded The Bike Farm, a project that blends upscale guiding services (how about a spa session after that ride?) with an impressive youth outreach program. Oddly enough, both sides of the project are informed by a back-to-the-land ethos popular with hippie communes of the '70s.
Brevard and Pisgah might be some of the East's hottest riding destinations, but many of the kids growing up in the surrounding county have never set foot in the national forest. Mountain biking is as foreign as surfing to some in this rural community, where poverty and obesity rates run hand in hand.
"Many families in this county couldn't even afford to maintain a mountain bike, let alone buy one," says Cashion, a 35-year-old former medical sales consultant who gave up a lucrative career to ride his bike in the woods. "If they go into the forest at all, it's to fish, and most of these kids aren't even doing that anymore."
With The Bike Farm, Cashion and Eva are paying the bills by guiding out-of-towners to stashes of singletrack inside Pisgah and Dupont State Forest, while growing a whole new crop of riders out of the rural youth that surround Pisgah. To that end, the couple is spearheading a mountain-bike program for middle- and high-school kids, fundraising for gear and leading legions of students on their first mountain-bike rides.
"The Bike Farm is a full-on incubator for kids," Cashion says, adding that he and Eva both believe the mountain bike can change these kids' lives, combating the local obesity epidemic while fostering a connection to the landscape that's all but lost on their generation. "Probably the only time these kids aren't checking Facebook is when they're riding a bike in the woods."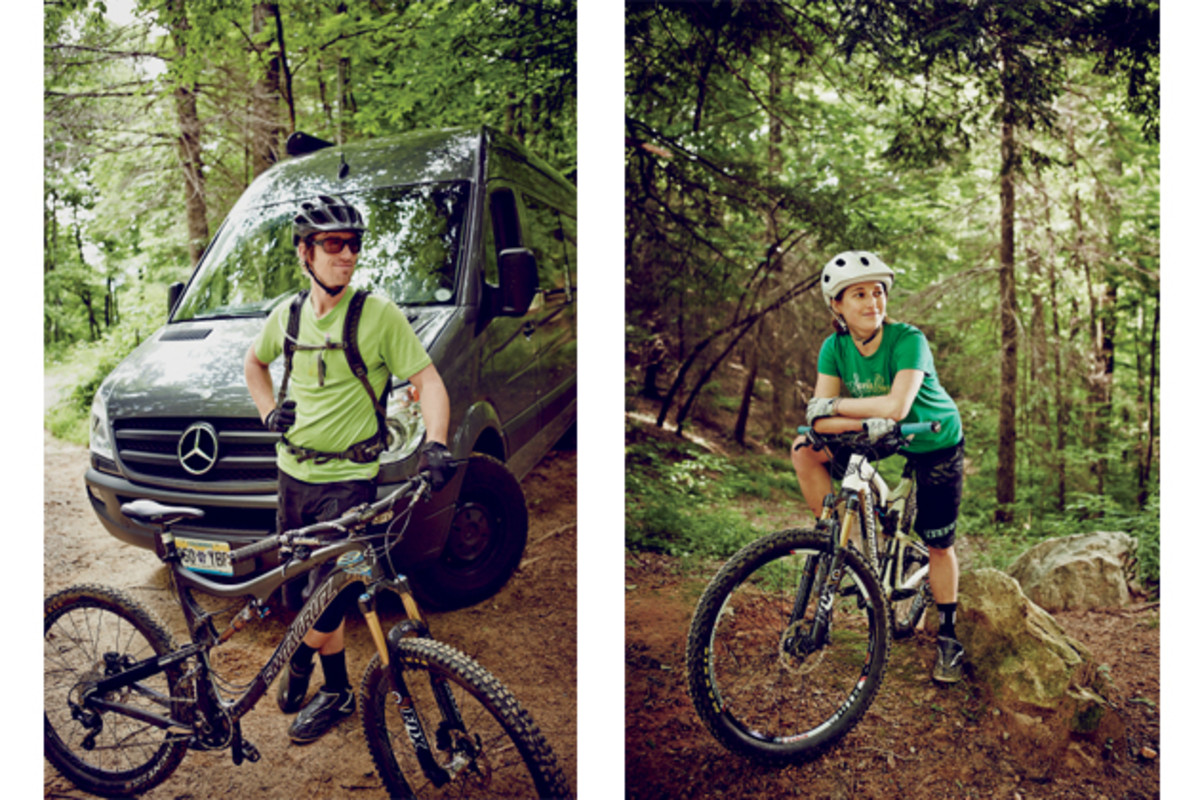 With the couple's involvement, participation in the school bike club has soared in just a year. On average, 40 kids show up each week to follow Cashion and Eva into the woods. In the fall, the club will evolve into a fully sanctioned school team, where kids will have the opportunity to compete in USAC races, earning points toward potential scholarships or spots on national development teams.
Cashion is playful on the bike, always looking for something to jump and pinning it through Dupont's signature berms. He rides like a man who realizes he gets to ride his bike for a living. Born in Charlotte to a successful businessman father and social worker mother, Cashion was in the lucrative medical-device sales business for years, selling 50-cent screws for $500, a job that made him "sick," Cashion says. "I felt horrible about what I was doing with my life. When I met Eva, who's from a family of artists who've always followed their passion, she gave me the courage to make the leap."
Even though he made a small fortune in the medical-device business, he burned through any savings while working pro bono for a startup trying to develop an inexpensive way to detect precursors for Alzheimer's disease. In order to make The Bike Farm a reality, the couple sold everything they owned and moved in with Eva's parents for eight months to save money. After buying the van, they hit the road on a three-month research and development road trip, shadowing the Santa Cruz demo team. The trip allowed them time to sketch a future where they could make a living by the bike and have the opportunity to effect change on the next generation. The couple decided the key to success would be operating The Bike Farm from an actual farm.
"Our goal has always been to ground both sides of the business, the guiding and the youth outreach, on an actual farm," Eva says. "We want it to be a gathering place where people can come and ride bikes and walk amongst healthy food and have a connection to the natural world."
Eva parks The Bike Farm van in the middle of a 200-acre chunk of private land bordering Dupont State Forest. There's a swooping piece of doubletrack on the property that descends a long ridgeline hanging over a pastoral setting complete with a white farmhouse, barn and silo. The trail flows down the ridgeline, hits an overlook at twin 45-foot waterfalls, then drops down to a cabin next to a swimming hole, where Eva and the van are waiting with cans of Dale's Pale Ale.
Eva didn't grow up riding, but has picked it up quickly in the last five years, sticking to Cashion's tail through Dupont's fast descents. She's going on 100 days without sugar of any kind (not even carrots), and wants to leverage the farm to add a level of nutritional coaching to the bike club.
"Most of the kids we coach don't even know they're supposed to eat during exercise," she says.
If all goes according to plan, a partner will finance the 200-acre farm and Cashion and Eva will develop pumptracks, jump parks, singletrack, rental cabins, a spa and gym. Like the guiding service, the farm will have a dual mission–travel-ing riders can rent the cabins (and hire Cashion and Eva as guides), but locals will be able to use the parks at will.
"Having a facility where kids can do skills clinics, or just get exposed to other mountain bikers from Brevard and beyond–that will have a huge impact," Cashion says.
The farmhouse sits in the middle of a huge pasture. Eva stands on the porch and points to a long, sloping section of the field, maybe three football fields long, where they're hoping to put the jump park. Below that will be a pumptrack.
"It gets me excited to think that one Saturday, kids from the bike club will be out there riding with local bikers or some traveling pros," Eva says. "It's amazing what happens on a bike. All things that separate us fall away. We're just people out there having fun on a bike. That's what we have the opportunity to do here."