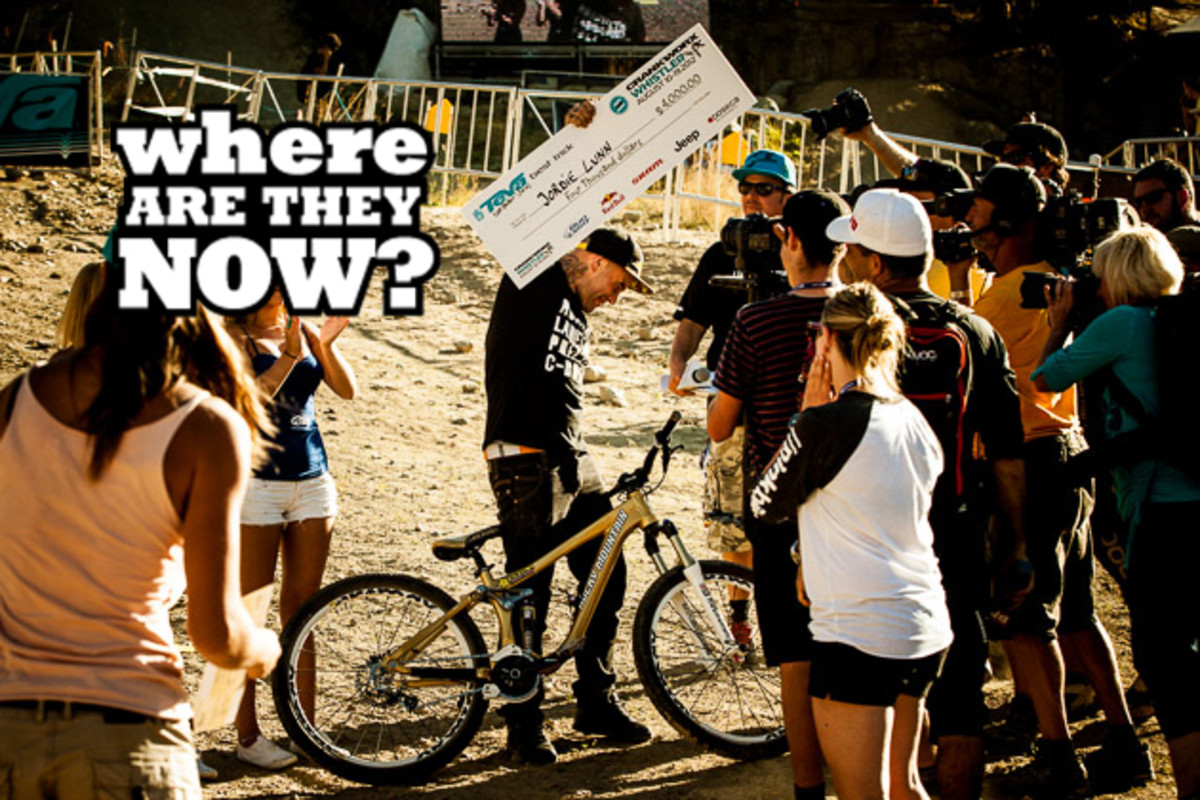 Don't worry; Jordie Lunn is still going to be sending it this summer, hoping to grab another one of those big checks for Best Trick at Crankworx. He's got a solid list of other contests to hit this year, as well as a strong desire to do some more filming.
It's where Jordie is now and what he's doing that makes his 'vacation' from the summer riding season interesting—at least to a keyboard jockey like me.
The 30-year-old Canadian freerider began his bike career at the BMX track, sprinting off the gate alongside several other current stars of mountain biking. He remembers first getting into BMX bikes largely as a result of watching the movie "Rad."
"It was the first movie I ever watched that had swear words in it," he recalls. "I remember we used to, like, play it out with our little Lego bicycles and motorbikes… That movie really kicked it off."
Lunn's older brother Craig bought a mountain bike with money earned as a lifeguard and fairly quickly was dragging him off to the Brawl in the Fall mountain bike race. Jordie and younger brother Jarrett were forced to suffer along on their parents' bikes.
The stage was set, though, because the family was soon loading up in a camper and dragging a modified 6' x 10' trailer around the country to compete in Canada Cup races—mom and dad providing "Team Support."
With the addition of a couple other local hopefuls, the team's rider roster increased to five, and started receiving some support from Rob Roskopp and Santa Cruz Bicycles. It was their own little Canadian Santa Cruz team complete with logos all over the trailer.
When he was 17 and still wholly focused on beating the clock, Jordie was featured in the 2001 film "Ride to the Hills." It would be a solid three more years before his priorities would start to shift toward freeride.
Riding for Specialized in 2004, Lunn notes that he and Kyle Straight did the entire World Cup circuit, but that the company wanted them to also compete in all of the freeride events that were happening.
"I had no background in tricks—many of the guys didn't," he says.
Nevertheless, a shift was starting to happen and Lunn started concentrating on freeride—and started learning the tricks.
Fast forward to current day:
Given the fickle nature of his sport and high probability for year-shortening injuries, Lunn has opted to add a bit of financial stability to his biking career, and has recently started a job with Total Oilfield Services, at its location in Whitecourt, Alberta.
The work offers a bit of seasonality, meaning that when the bush roads are too soft or flooded out for some of the year, Jordie will be able to concentrate on mountain biking. And though sometimes it's a long drive in to service the rigs, on most days he's able to make it home in time to hit the gym.
Chasing the entire World Cup downhill or FMB World Tour might not be the program for 2014, but that's not to say that Jordie Lunn hasn't set his sights on a few things: The Bearclaw Invitational, Jump Ship, Crankworx and Red Bull Rampage are marked on his calendar—and the list isn't limited to just those.
He feels that his fitness and motivation are better than ever and that his riding has progressed more in the last couple of years than in the six prior to that. Ultimately, though, Jordie Lunn seems to possess an incredibly pragmatic outlook toward the sport and his involvement in it, noting that for any of the world's top freeriders, any day could be the last day of competition. In other words, don't ask him how many more years he plans to send it.
Watch for Jordie to fly the colors of Rockstar Energy, Rocky Mountain, SRAM, Hart and Huntington and Mavic for his 2014 season.
Follow him at instagram.com/jordielunn