Bellingham, Washington needs another bike shop like Las Vegas needs another drive-thru marriage chapel or all-you-can-eat buffet. This small northern border town is already packed with places that'll true a wheel or sell you some lube…and yet another bike shop is opening its doors this June. What makes this one different? It's going to be a Kona Bike Shop—not a shop with Kona bicycles on the showroom floor (there's already one of those dealers a mile down the road). No, this new shop will be owned by Kona Bicycles. It'll be run by Kona employees. And, yes, it'll carry Kona Bicycles.
The new Kona Bike Store, however, is aiming to be something more than just another bicycle dispensary. If things pan out the way Kona hopes it will, the new store at 1622 North State Street will be something more like a planting of the Kona flag. A statement of purpose.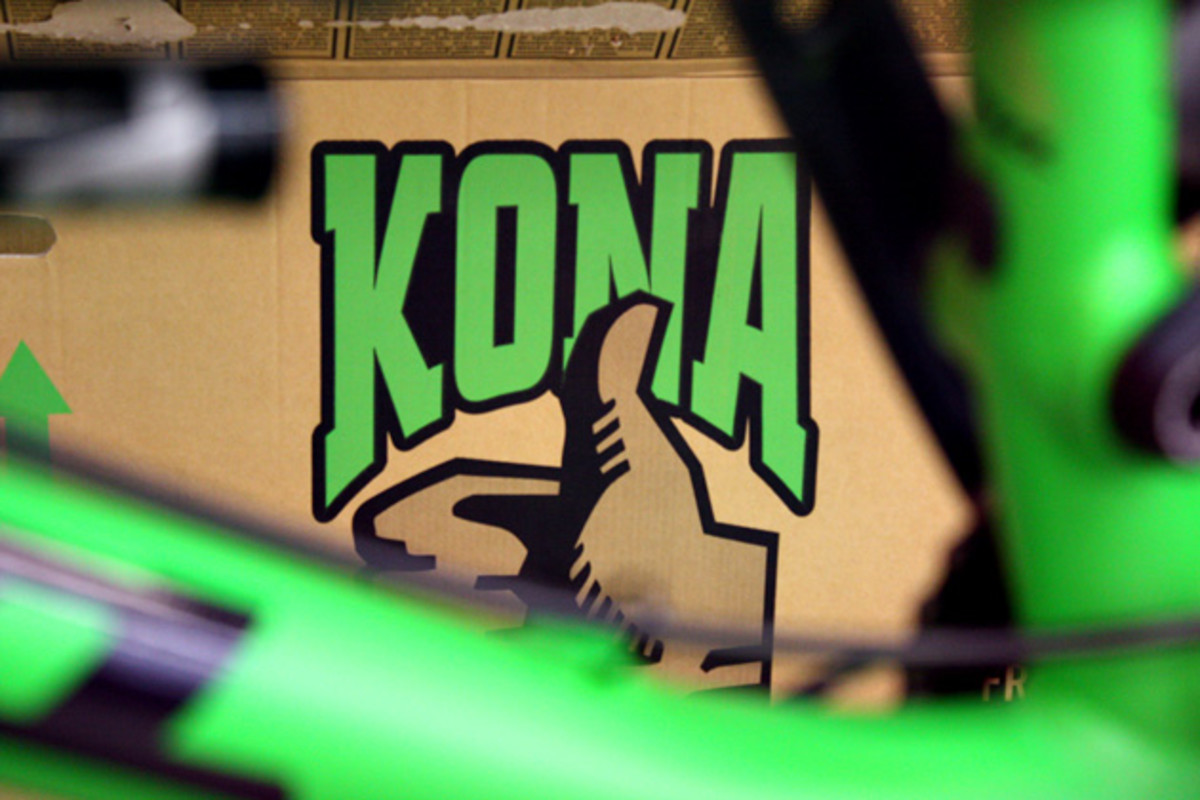 DEEP ROOTS
Kona USA is based out of Bellingham, Washington—the brand has never been shy about that fact. The rain, the mud, the rocks, the stunts, the jumps—the things that have always made this small, northern border town a haven for riders—have been at the root of Kona's designs since the company sunk its roots down here, way back in 1988.
When other bike companies were cranking out 23-pound hardtails with 2-inch travel forks tailor-made for fireroad racing, the guys at Kona were finishing very different rides that had them churning out blueprints for very different bikes—bikes with more suspension, bikes with more aggressive geometry, bikes that could take a hell of a beating. Bellingham was in Kona's very bones, but, oddly enough, Kona wasn't exactly in Bellingham. If you rolled into town, it wasn't as if you could also just roll into Kona's headquarters.
"That's the thing," explains Kona sales rep and advocacy director, Cory Blackwood. "Our office wasn't the kind of place people could visit. I mean, I guess we have cool desks with lots of stickers on them and some cool bikes on the wall, but what else could we show people? A bunch of cardboard boxes? We didn't have a place that actually represented what we're about."
And what is Kona about? What exactly is this new shop supposed to show people? "Well, for starters, right now you can't walk into a Kona dealer anywhere and see everything that we sell," explains Blackwood. "It's just impossible—we have something like 75 different models and there's no way any one shop is going to be able carry all those bikes. It's not like a lot of stores can, for example, afford to just have a $7,000 Supreme Operator sitting on their floor. Our new store, though, will have all our bikes and people will be able to demo them on our trails. It'll be the one chance to really see and experience everything we do."
BUT, REALLY, ANOTHER BIKE SHOP?
Okay, so the new store will be to mountain bikers with a hankering for Kona what Graceland is to Elvis fans—a touchstone, a place to connect with the king…that sort of thing. It makes sense, but still, there are already a ton of bike shops in Bellingham. Is everyone going to be stoked that Kona is becoming, at some level, a competitor?
"We're not looking to put anyone out of business," says Blackwood. "Bellingham is lousy with bike shops, tattoo parlors and coffee shops. There are some things that we can't get enough of around here and bikes are one of them. I think there's plenty of room in town for another shop because the mountain biking community keeps on growing and if someone wants, say, a Norco, we'll point them to that shop. We're cool with that."
Normally, the whole "grow the pie" argument sets my bullshit sensor to beeping, but Blackwood has a point—if there's a town that can support yet another bike shop, it's Bellingham. Mountain biking is not just some kind of fringe sport here. Sure, there are plenty of ink'd up twenty-something types pedaling bikes around here, but you're just as likely to meet your local librarian or kindergarten teacher on the miles and miles of bike-legal singletrack that sit within an easy pedal from downtown. Each year, a growing number of people relocate to Bellingham expressly for the riding. When houses go up for sale, the real estate listings prominently tout the property's proximity to the trailhead. This is a place where damn near everyone seems to ride. The Kona Bike Store stands a fair chance of doing well here.
But the question remains—will people want to visit a bike shop that carries just one brand? Aren't consumers fundamentally interested in having choices? "Concept stores" that showcase just one brand haven't fared well in the past. Is Kona concerned about that?
"Honestly, it's not something we've worried about," says Blackwood. "I think that we're aiming to do something different here—this isn't a franchise store and we're not looking to expand this beyond Bellingham. This is a chance for us to show people what Kona is really about. Part of that's showing our complete line of bikes, but part of that is also creating a cool place to hang out, a place that's welcoming to everyone—no matter what kind of rider they are. We're happy to fix bikes, have hot dogs in the parking lot and host local trail days. This shop lets us focus more on becoming a bigger, more active part of our community."