GoPro just announced it's new camera, the HERO4 Session, the smallest, lightest, GoPro yet. Compared to the HERO4 Black and Silver, the HERO4 Session is 50% smaller and 40% lighter. HERO4 Session benefits from a durable waterproof design (33 feet) that eliminates the need for a separate housing and features a one-button control to make capturing photos and video quicker than previous designs. The new camera is compatible with existing GoPro mounts and will retail for $399.99 MSRP beginning July 12, 2015.
HERO4 Session captures video at 1080p60, 720p100 or 1440p30, along with eight megapixel photos in Single, Burst (10 frames per second) and Time Lapse (intervals from .5 to 60 seconds) modes. It features many of the same features found in the HERO4 Black and Silver cameras, including SuperView, Protune and Auto Low Light recording modes. An expanded set of controls and settings can be accessed when using the GoPro App or Smart Remote.
The HERO4 Session is operated by one button. A short press of the shutter button quickly powers the camera on and video recording begins automatically. A long press of the shutter button powers the camera on and triggers Time Lapse photo capture. Press the shutter button again to save video or photo content and power the camera off. Toggling between additional video and photo modes can be controlled from the GoPro app or Smart Remote.
With it's standard housing, the HERO4 Session is built to GoPro's rugged standards and is waterproof to 33 feet (10 meters). It features a frame mounting system that is compatible with GoPro's existing array of mounts.
A dual microphone system dynamically switches sound recording between microphones to reduce wind noise during activities. Audio performance during water-based activities has been improved thanks to a waterproof design that eliminates the need for a separate waterhousing, which can often muffle sounds.
GoPro has made a switch from removable batteries to an internal non-swappable battery for the HERO4 Session. It has a claimed battery life of two hours on a full charge shooting at 1080p30 fps with Wi-Fi off. Keep in mind that is continuous recording time, and the camera will automatically turn off in between takes to conserve battery life. The HERO4 Session will recharge using a micro USB cable.
Another change for the new camera is an auto image rotation feature. If the camera is mounted upside down the capture orientation will be flipped, eliminating that step in post-production.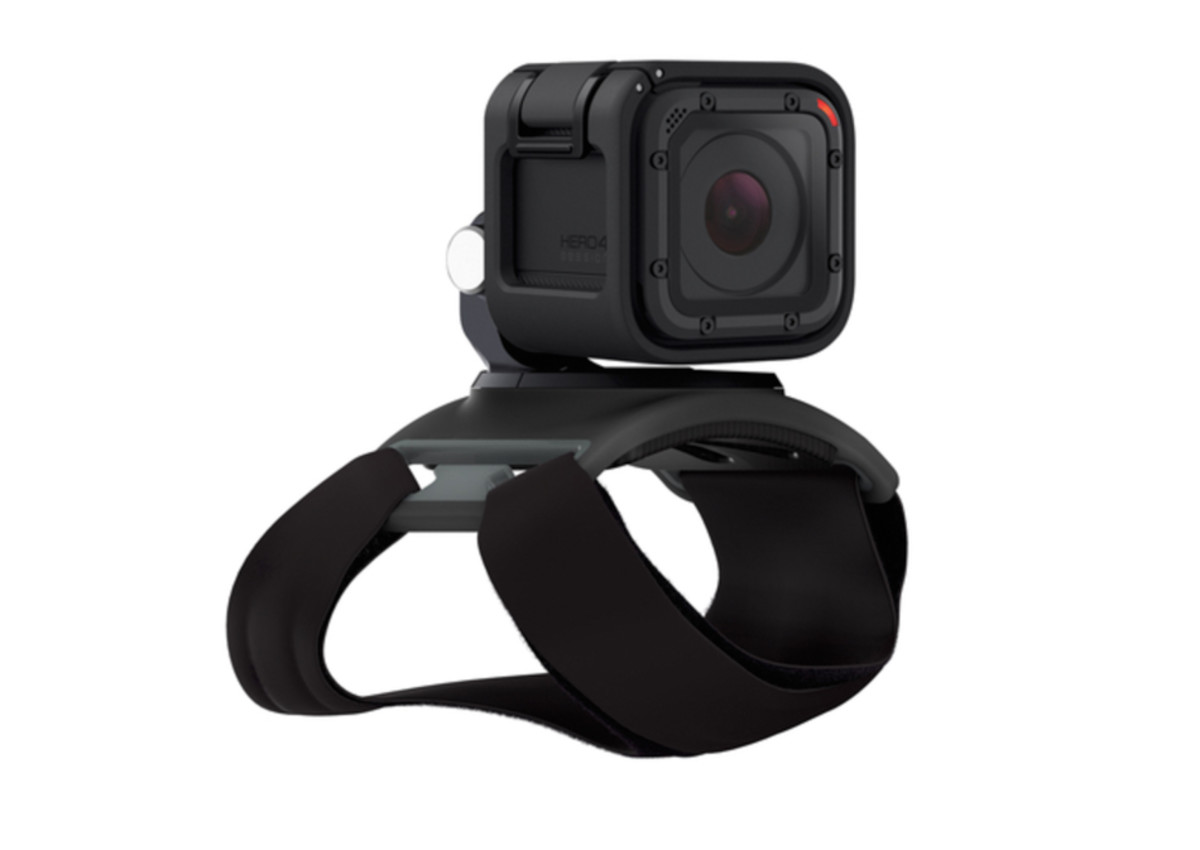 A variety of new mounts were also released for use with the HERO4 Session. One mount that the camera will ship with is a ball joint mount, which allows the camera to swivel and pivot to fine tune your capture angle. Another mount, The Strap, designed with this small camera in mind, straps to your arm, leg, wrist or even hand and allows the camera to swivel 360 degrees. A third new mount, the Jam, is a pole with a pivoting clamp at the end designed to attach to musical instruments, microphone-stands, and whatever else you might find on stage.
HERO4 Session Quick Specs
• Price: $399.99 MSRP
• 1080p60, 720p100, and 1440p30 video
• Waterproof to 33' (10m), no separate housing required
• One-button control: short press of shutter powers camera on and begins capturing video, long shutter button press powers camera on and begins capturing time-lapse photos
• Captures 8MP Single, Burst, and Time Lapse photos
• Compatible with GoPro mounts and accessories
• Dual Mic system
• Built-in Wi-Fi and Bluetooth® for connectivity to the GoPro App and Smart Remote
• Auto image rotation corrects image orientation during recording
• Includes standard and low-profile frame mounts for increased mounting versatility

For full specs and more information on the new camera and mounts visit GoPro.com