Shimano has unveiled its new 2016 shoe line up which sees new additions to six of its shoe categories – Road Performance, Triathlon, Enduro Trail, Gravity, Cross Mountain and Women's Specific Fit – taking the total number of Shimano shoes available to a massive 71. Here's a look at the new kicks introduced on the mountain side, which are expected to be available in the Fall of 2015.
Gravity
Designed with input from the Athertons, the AM (AM9, 7 and 5) series caters for downhill, enduro and trail riding, introducing features such as Vibram® soles, high-traction tread patterns and optimized shank plates for optimal rigidity and bike control.
Three models make up the 2016 Gravity range:
– The SPD-compatible black AM9 all-mountain shoe for aggressive downhill, enduro and trail riding.
– The AM7 all-mountain and downhill flat-soled shoe with a Vibram outsole for optimum pedal connectivity, comfort and protection.
– The SPD-compatible AM5 gravity and BMX shoes, in black or army green, are focused on comfort and protection.
AM Technology:
– A recessed pedal channel in the outsole increases contact stability between the pedal and your cleat while clipped out and reduces the weight of the sole by 227g.
– Reinforced sidewall
– Gravity-specific rubber: to maximize grip and durability
– EVA mid-sole: EVA foam construction reduces weight and boosts walking comfort
– Expanded cleat-adjustment range

Women's
The WM64 and WM53 provide ergonomically efficient footwear for cross-country and general off-road riding.
WM64 and WM53 Technology:
– For cross-country riding the new high-end WM64 and WM53 shoes introduce Dynalast technology already featured in the top of the range WM84 cross-country shoe. Dynalast is designed to bring an anatomic last that conforms better to the natural contours of the foot. The heel sits deeper in the shoe whilst the fit is snug and close to the foot. The women's specific fit gives a narrower heel pocket, narrower volume with added support in the instep, and a lower volume toe box.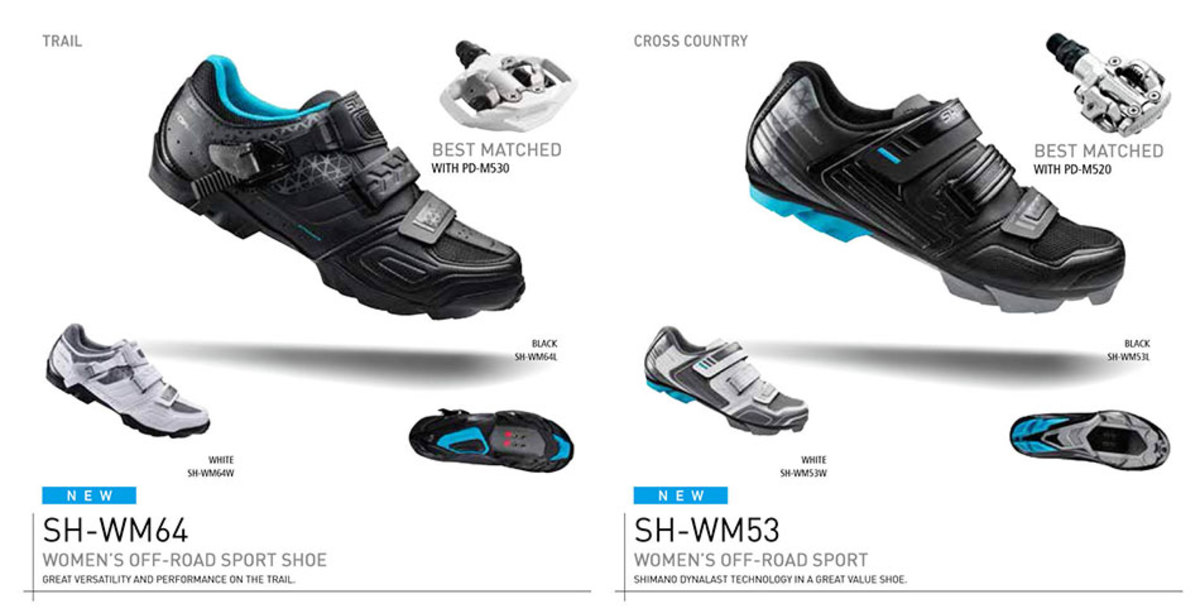 Winter
The MW7 trail shoe brings insulated and heat-retaining liners, speed-lacing pull-cord and extra grip for winter conditions.
MW7 Technology:
– Waterproof GORE-TEX® insulated comfort liner and heat-retaining fleece lined insole.
– Shimano's Torbal torsional midsole provides a stiff instep section and an independently flexible front and back section.
– High-traction rubber studs on the outer edges of the sole.
– Extra protection from the molded toe cap and ankle support, cupped high sole and instep, and padded synthetic leather.
– Speed-lacing pull-cord and Velcro armored lace shield.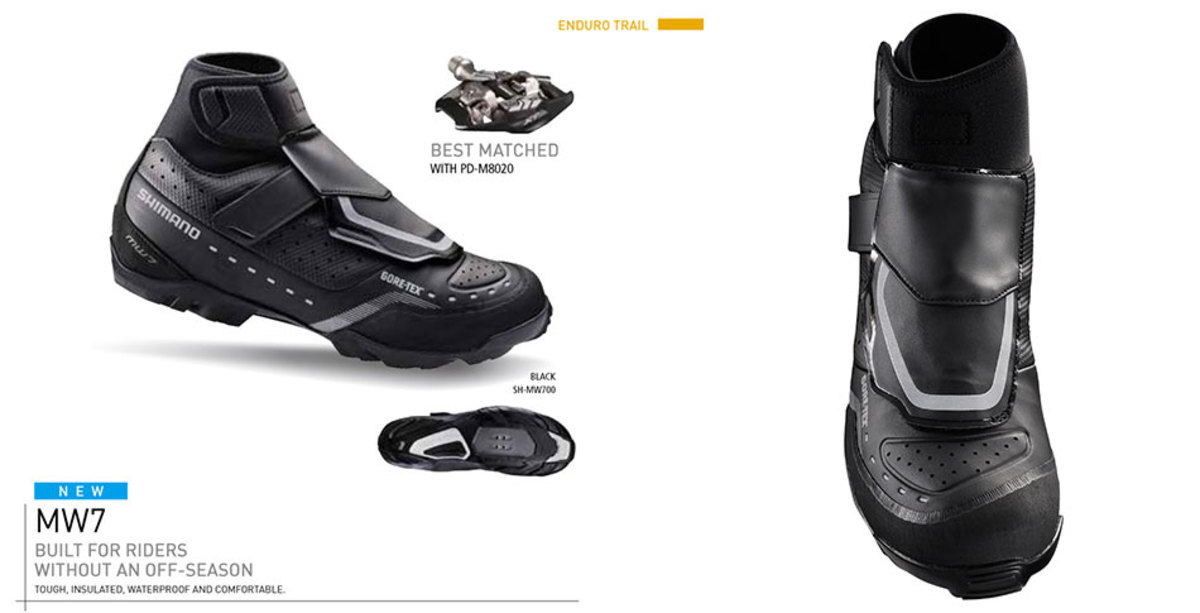 Touring
In the Tour category two new Cross Mountain (XM9 and XM7) shoes are designed for serious explorers looking to push the limits of their cycling endurance. The construction of these shoes features Nubuck leather, Gore-Tex® and Vibram® soles.
XM9 and XM7 Technology:
– Strategic ankle padding on the XM7 prevents debris from entering the shoe and offers more ankle support than a regular cycling shoe Further protection comes in the form of a durable rubber toe cap, natural nubuck leather and a breathable, waterproof Gore-Tex® liner for optimal climate comfort.
– Traditional laces provide the closure system with metal hook eyelets for lacing, combined with a Mini Power Strap, TPU heel, and cupped and grooved insole to secure your foot in the shoe.
– Vibram outsole, flexible half-length shank plate and shock absorbing EVA.
– Both the XM9 and XM7 come with a screw-in plastic cap for the recessed SPD cleat.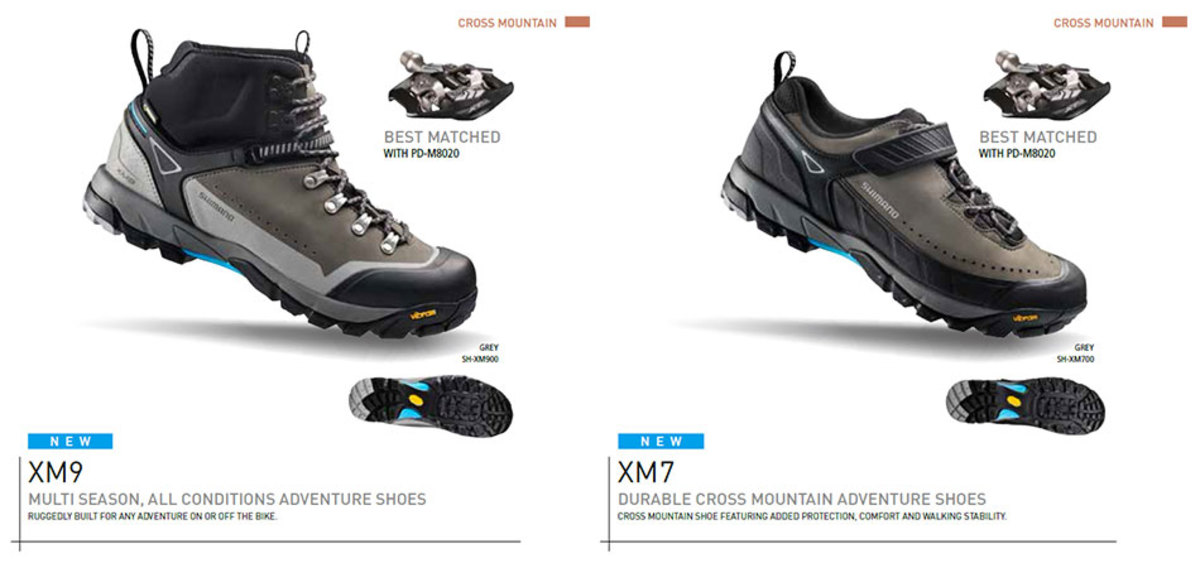 Related:
12 Days of Christmas: Shimano SH-M163 Trail Shoe