Stiffer and wider are the key words for 2016 Rockshox products, which are focused on new hub-width standards. We've seen and covered Boost 148 spacing in our Blueprint video series, when Trek pioneered the system on its Remedy 29. The benefits of the wider hub are especially extant in 29-inch wheels, which become stiffer from the increased bracing angle created by the more widely spaced flanges. Adding width to the rear of the bike necessitates the chain line moving out 3 millimeters at the crank, allowing shorter chainstays or added tire clearance. Essentially, the system opens up some much needed real estate in a tight area of the bike. This, combined with what, by all indications, will be a deluge of plus-size bikes announced in the coming months, means that suspension manufacturers like Rockshox and Fox (which recently announced its 27.5 plus-size compatible Float 34) are adapting their designs to work with both wider hubs and fatter tires. SRAM offers Boost hubs, wheels, cranks, chainrings, and not to leave out the front of the bike, they're adding forks to the mix.
BOOST SPACING AND PLUS SIZE
The new dropout spacing in front is pushed out 5 millimeters on each side to hit the 110-millimeter mark. For now, the SID, Reba and Pike models will be the only ones offered in Boost spacing. SID and Reba forks will be offered in the Boost 29 size, while the Pike will be available in both Boost 27.5 and 29. All Boost 29 forks are also capable of fitting a 27.5 x 3.0 (plus-size) tire.
There's no reason to have a run on your LBS trying to stock up on 100-mil spaced forks; Rockshox is essentially just making its most popular forks available in the new spacing, and will, as far as we know, continue to offer plenty of options in the current 100-millimeter standard. SID and Reba Boost forks will be available in June, with Pikes trailing by a few months.
Interestingly, the cross-compatibility between Rockshox's Boost 29 and 27.5 plus is a departure from what Fox announced last week with its 27.5 plus-specific Float 34. While we're confident that the Fox fork will also fit a 29-inch wheel with a Boost hub, it remains to be seen if Fox has another trick up its sleeve or if it is trying to keep things simple for consumers by not announcing it as both a Boost 29 and 27.5 plus fork.
TORQUE CAP COMPATIBILITY
Not to be confused with a touqe cap, Torque Cap is a combination of larger diameter hub end caps (31 millimeters versus the standard 21) and dropout cutouts, which result in a stiffer interface. 'Dropout cutouts' refers to the slot your hub end caps sit in, not the actual drop outs that the thru-axle interfaces with. Axle diameter remains the same–the only thing getting bigger (besides the bike industry's already extensive list of hub standards) is end-cap diameter and the size of that cutout. Based on what we received from Rockshox, the only hubs currently compatible with Torque Cap forks are the XO (front) and the stock hub on the Roam 40 wheelset. In the case of the XO hub, the end cap is a conversion, not a stock piece of hardware, and can be purchased for $25. The Roam 40 wheels will ship with Torque Caps in the box.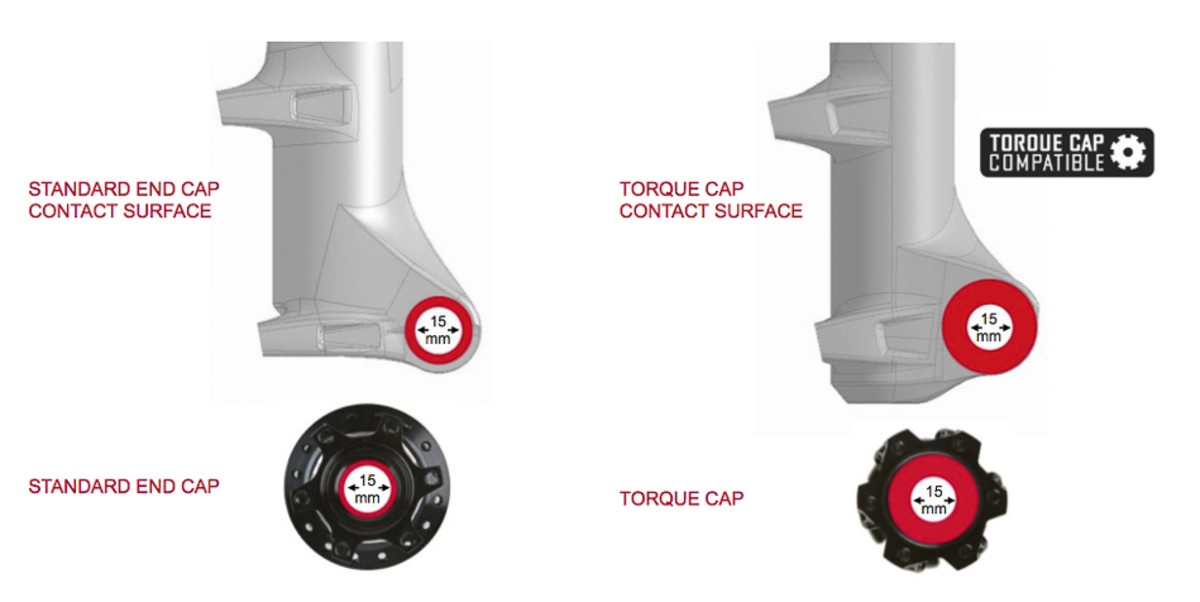 OTHER CHANGES
Beyond what's discussed above, there's a new entry-level OEM-only fork called the XC 30, which will come in 27.5 and 29 flavors (we're talking quick-release here), with either tapered or straight steerer tubes, 30-millimeter steel stanchions, coil-sprung internals, etc.
Graphics across the range have also been updated, but aren't a massive departure from what we've seen so far from Rockshox. Front and rear suspension with the updated graphics will be available in April, while Boost forks, as stated above, will not begin to be available until June.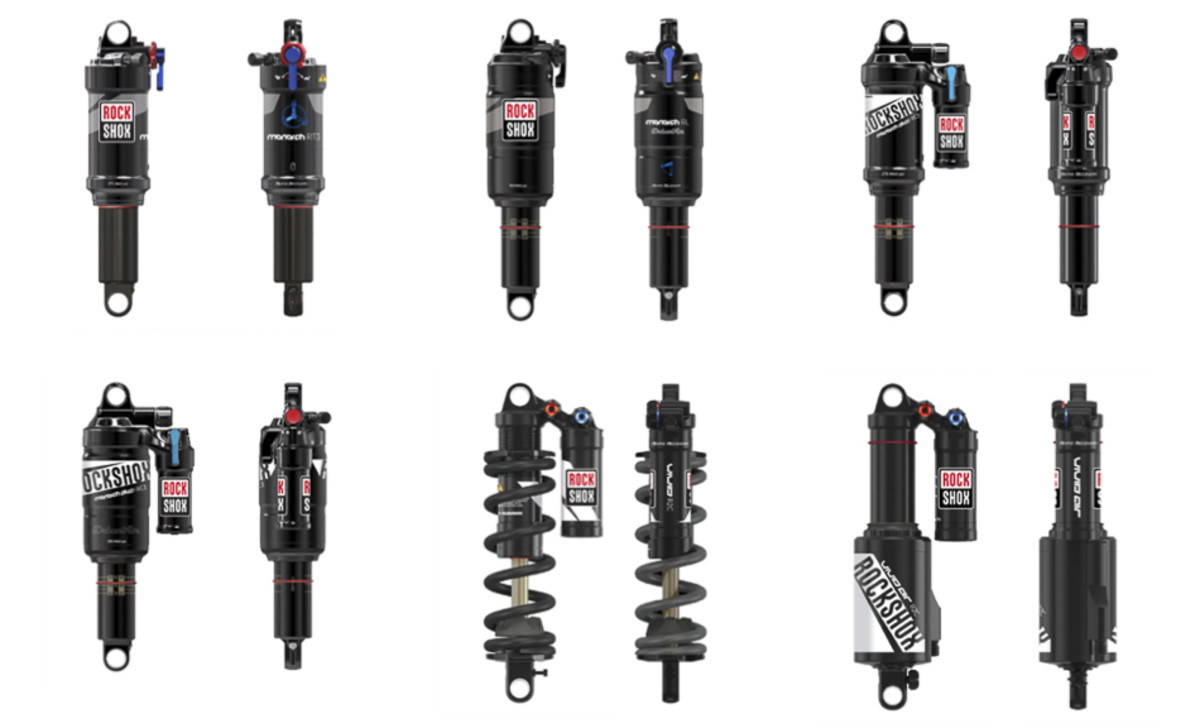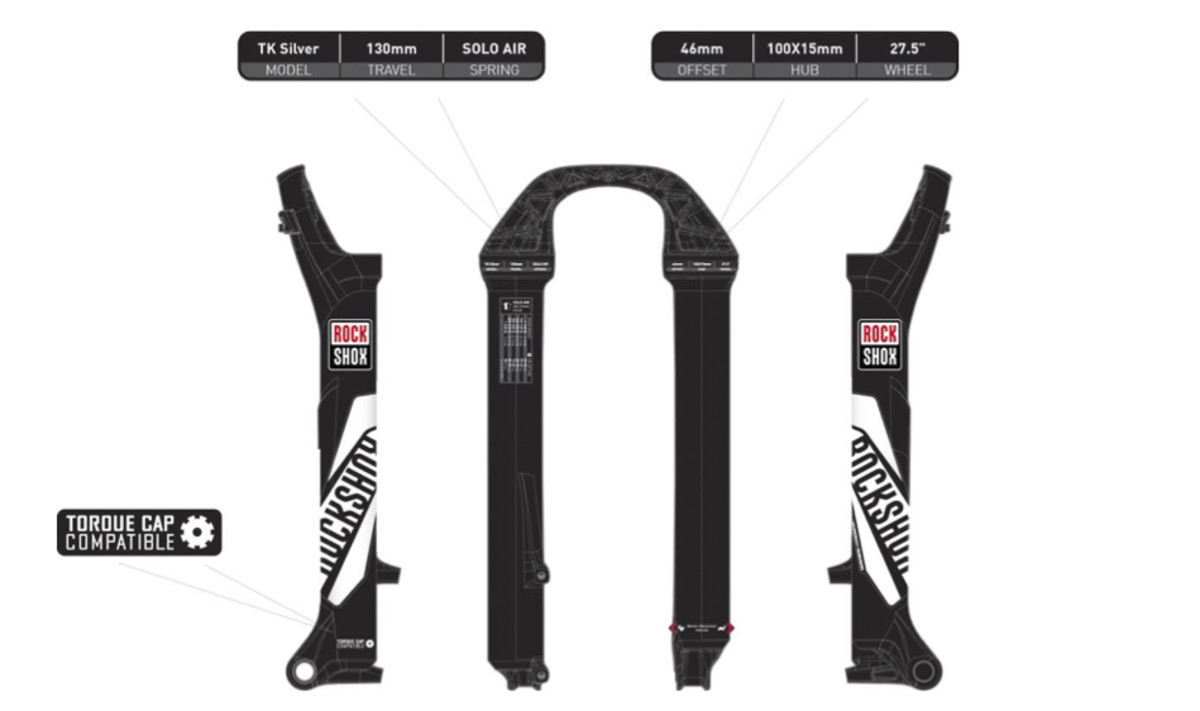 Our Blueprint video will give you perspective on the new axle width standard: