Deity has announced its new Bladerunner pedals, promising improved durability over other thin-bodied pedals. Read on for more info from Deity, as well as a chance to win a pair for yourself.
FROM DEITY:
In development for over two years, the Bladerunner sees Deity step away from the basic pedal designs that it's been known for and enter new pedal territory.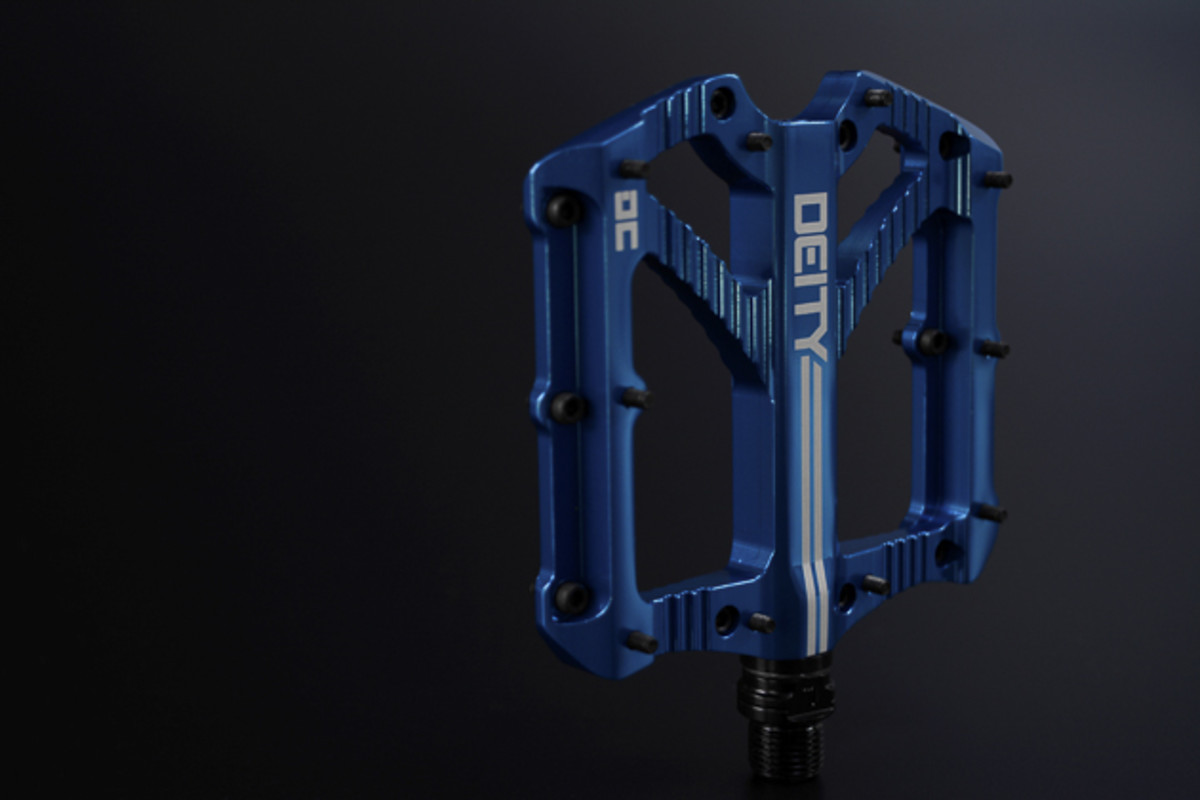 "Our pedals have always been successful for us, but as we started this company on limited sources, we did not have the sufficient funds to own our own pedal tooling in the past. To reduce costs, we shared pedal molds for our past pedals which has been a thorn in our side, but necessary at the time. Things have changed dramatically over the past years and everything we have been doing and investing into has been with a goal to develop our own pedal tooling, own our pedal designs, make the best product possible, and to push our boundaries. It is almost a sigh of relief to move forward with the Bladerunner and finally start showing people what we are capable of in the pedal realm." Eric Davies (Deity, Owner)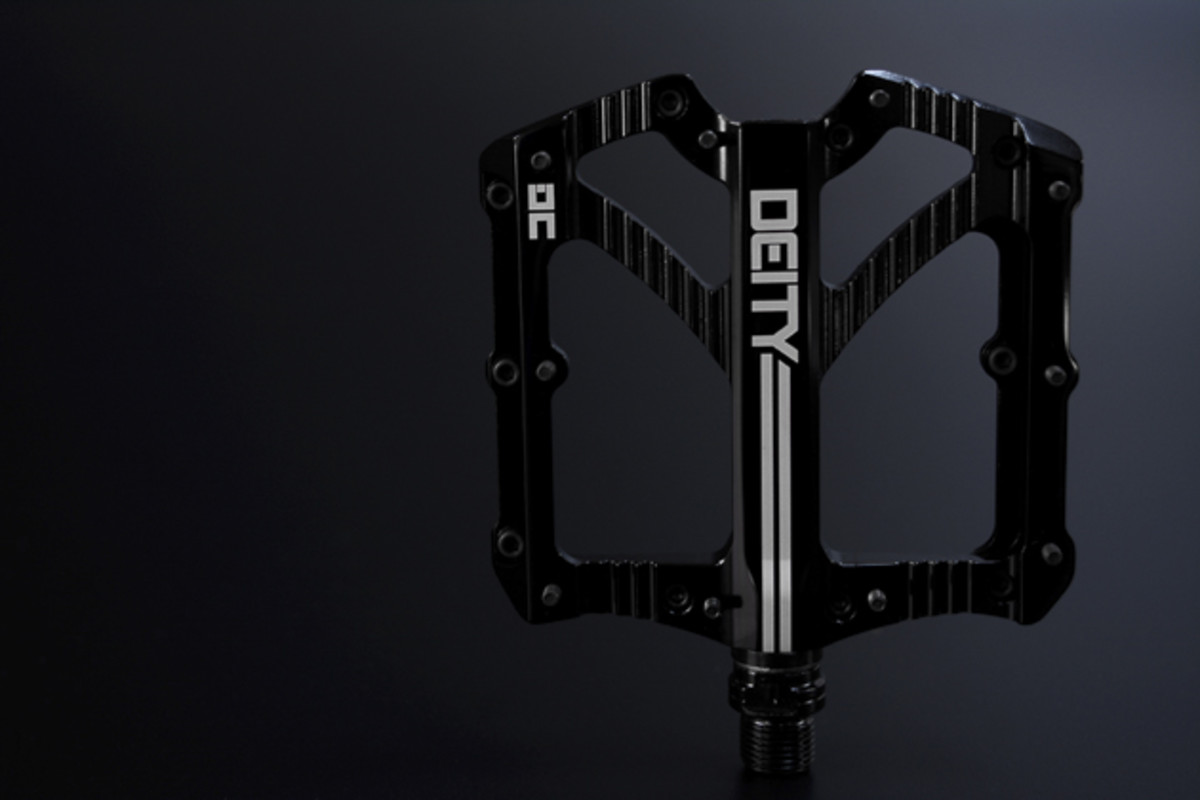 With thousands of pedals moving out of the Deity warehouse annually and a variety of price points to hit almost every target market possible, the Deity Bladerunner pedals are a product born from the limitations of previous open source molds, the needs of riders looking for a larger pedal, and a desire to improve the durability of today's super thin pedals.
"Our goal with the Bladerunner was to offer riders a larger functional platform size, keep a thin profile, and focus on the weak area of thin pedals, the internals and pedal profile. By going to the drawing board, we were able to develop two new molds that would allow us to create a two part series of pedals that will reach two very different ends of the spectrum. The specific focus with the Bladerunner Pedals was to keep them as thin as possible, find ways to maximize internal durability, offer a larger footprint without adding weight, reevaluate pin locations, and create a damn sexy set of pedals." Eric Davies (Deity, Owner)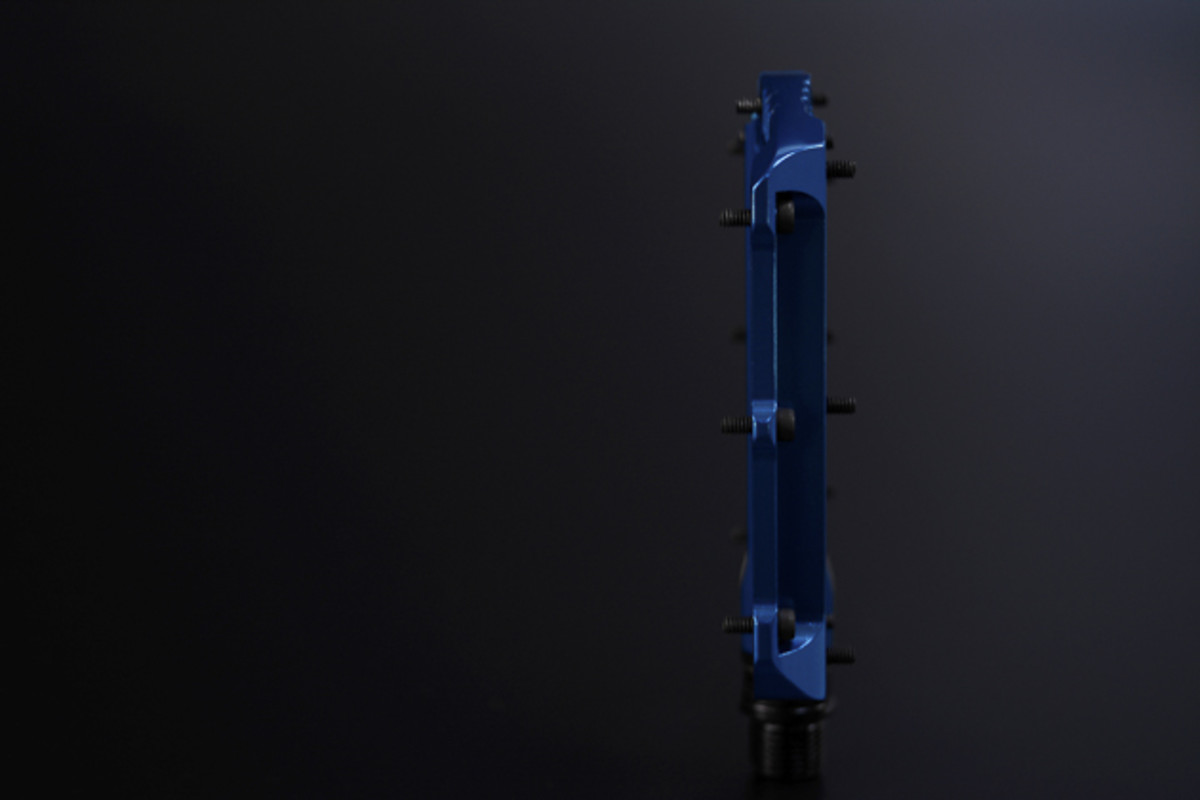 The new Deity Bladerunner pedals feature a 103mm x 100mm platform size that spins on a new Deity DU bushing and a series of micro-sealed bearings. To protect the pedal from bearing failure due to side impacts, crashes, or rock strikes, the internals of the Bladerunner pedals are reinforced by a load distribution top hat ABS spacer that prevents side loads from affecting the bearings. Tested for almost two years, the Bladerunner pedals will be replacing two of the current crop of Deity pedals as the company moves towards a revamped focus in their pedal line. With titanium spindles planned, a signature pedal design in production, and a slew of aftermarket upgrades in the works, the Bladerunner pedals are only the start of exciting things to come from Deity.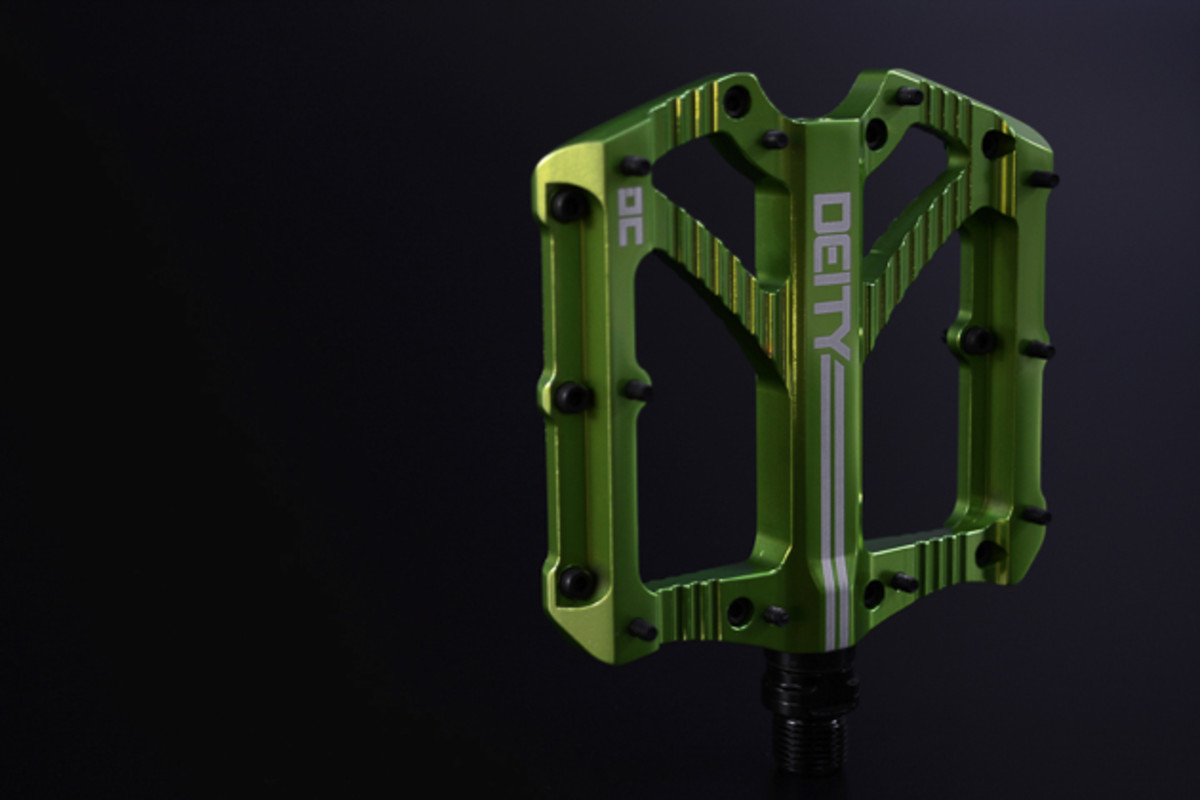 Specs:
– Extruded and machined from molds and 6061 T6 aluminum
– The largest Deity pedal to date
– 103mm x 100mm footprint
– 11mm thin at the exterior edges
– Concave pin profile
– Load distribution system to prevent bearing blowout
– Multi micro-sealed bearings and Deity DU Bushing internals
– Machined traction grooves
– Minimal material in key areas to shed weight and mud build up
– Available in five high-polished ano colors and also white powder coat
– 370 grams
– MSRP of $143.99 USD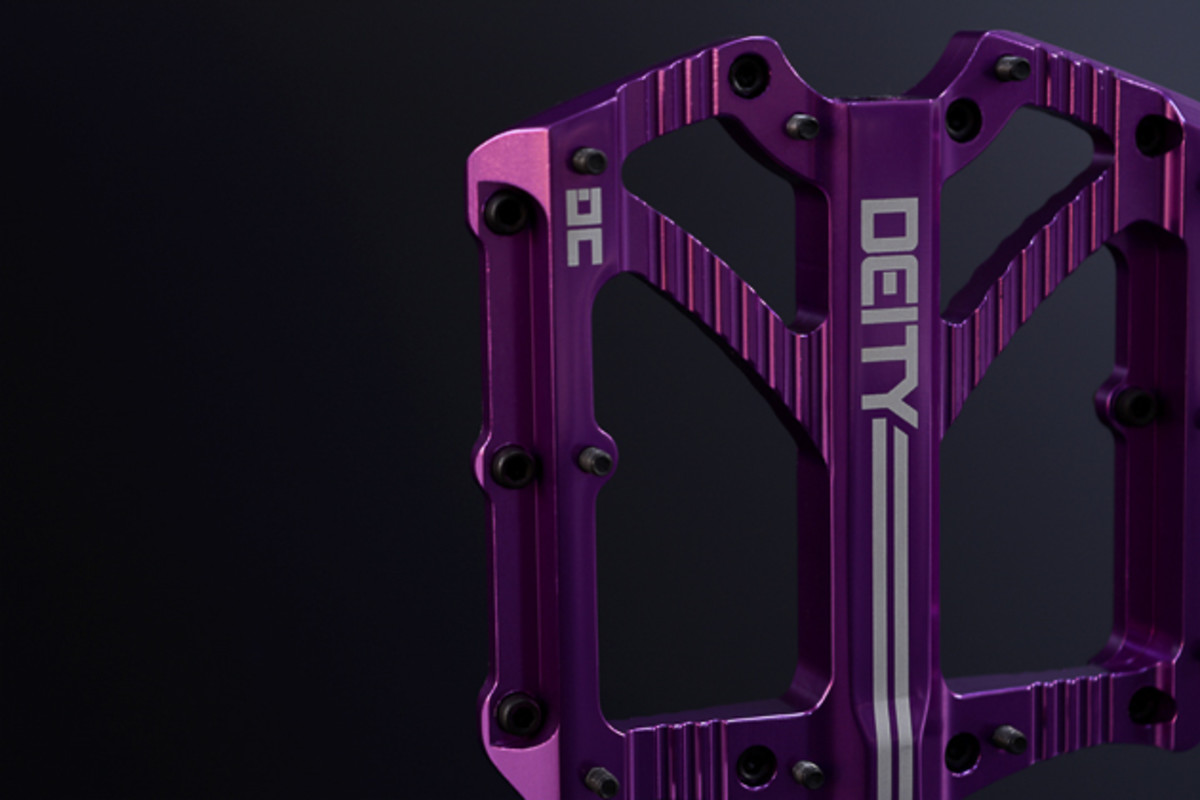 "The Bladerunner pedals hit a higher pricepoint, so they will be replacing our magnesium Decoy LT pedals and the Skyskraper pedals. Don't sweat though as we will be continuing to offer our popular cost effective Compound and Decoy pedals. The Bladerunner pedals are our opportunity to design the best pedal this market has seen and we are so pumped to finally get them out to everyone!" Eric Davies (Deity, Owner)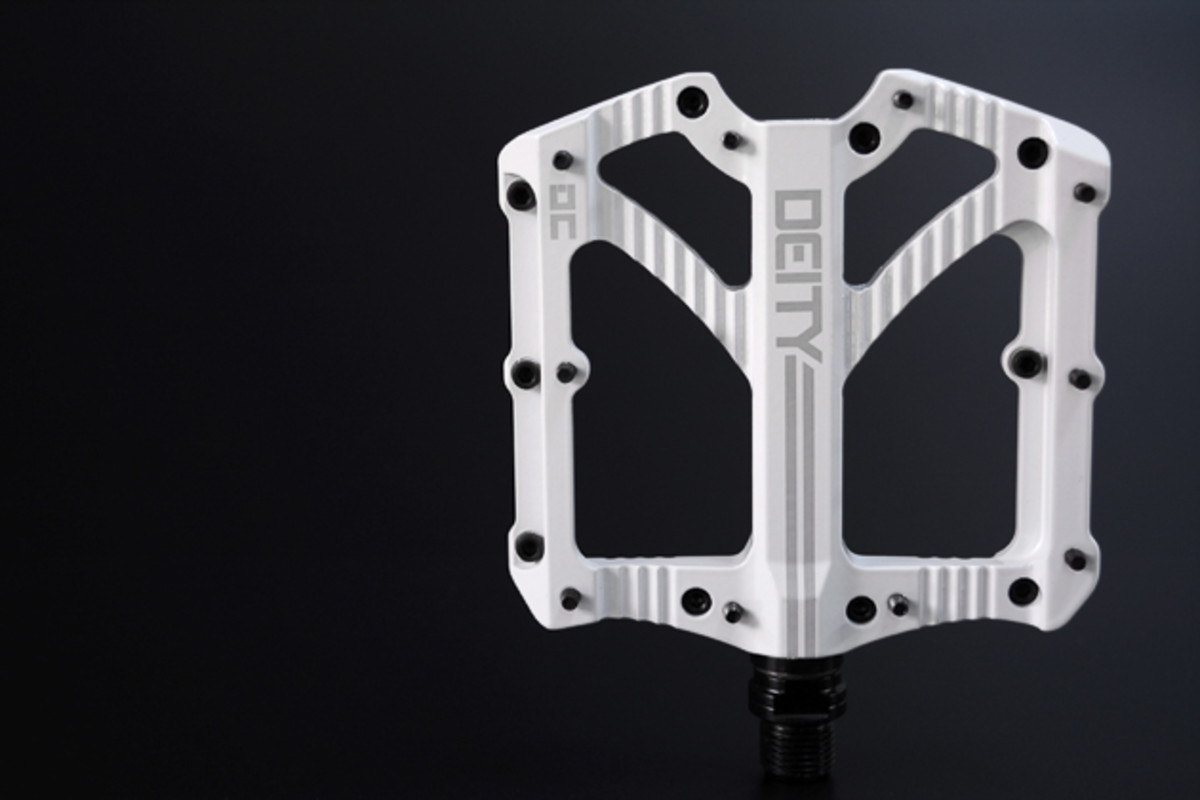 ENTER TO WIN!
In celebration of the first of many massive product launches for Deity in 2015, our rider-owned crew is giving away five pairs of Bladerunner pedals for FREE to five people in need of some fresh new contact points on their ride! To enter, hit up deitycomponents.com, submit your information, and stay posted for a list of winners on April 24th!