Photos by Jon Weber
A spokesperson for the popular German brand Canyon confirmed last week that its entry into the U.S. market is forthcoming.
"The demand in the U.S. is super high," Frank Aldorf, Canyon's chief brand officer, said during an interview at the Eurobike tradeshow, held annually in southern Germany. "There's no set date, but it's moved from something talked about to working on it."
Aldorf said having a presence in the high-potential U.S. market is a top priority in terms of market expansion for the brand, but that the 20-year-old consumer-direct brand wants to grow deliberately and responsibly.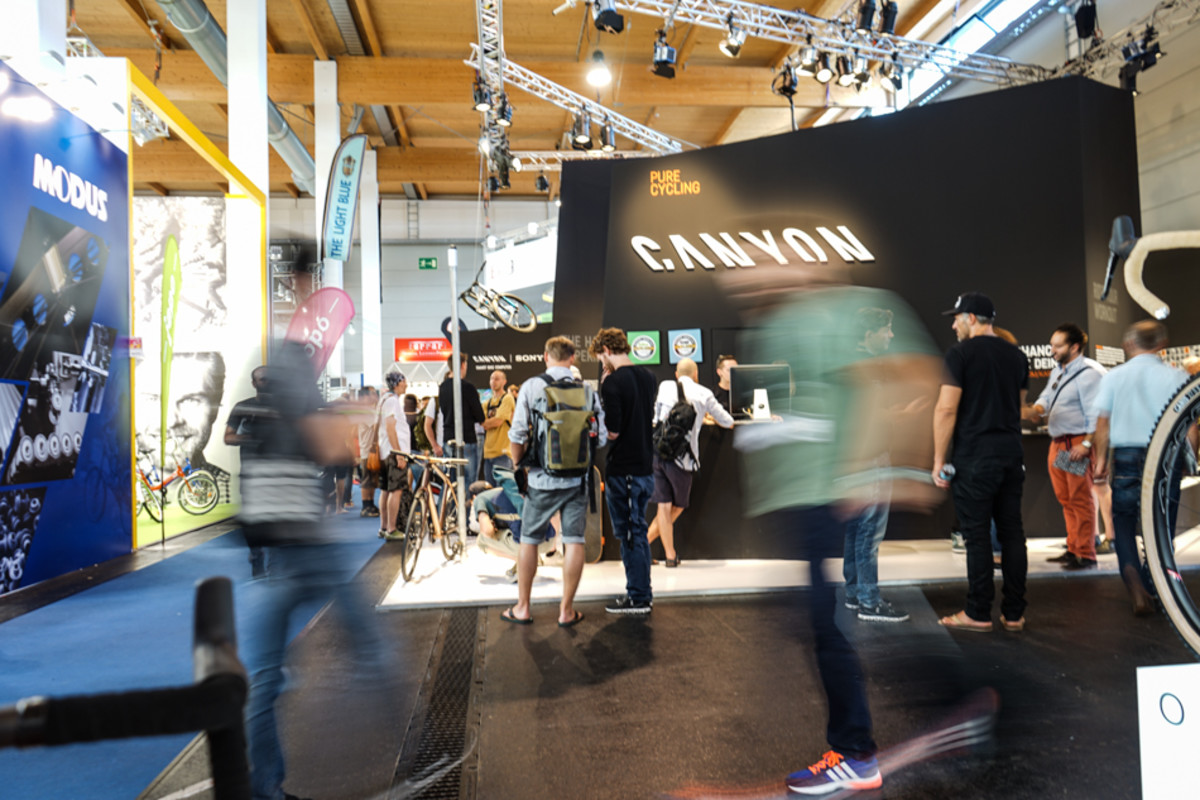 In the U.S., Canyon has partnered with a third party to help it establish a system for customer service, technical support and warranty. Since Canyon doesn't sell its bikes through a traditional brick-and-mortar retail model, having the right process in place to field customer inquiries is imperative.
"We really need to nail the high-standard quality to achieve the great success overseas that we've seen here," Aldorf said. "The U.S. is very spoiled with customer service. We have to step up our game if we're going to play a successful role in the market. We're after return customers not one-time shoppers."
Although Canyon has been around for nearly two decades, global buzz around the brand has intensified in recent years as word spreads about the solid German engineering, high-quality bikes and leading R & D for which the brand is known in Europe. In recent months, it has grown into Japan and South Korea and is currently opening an office in Australia to handle that market as well as New Zealand. It's now in 15 countries
From the start, Canyon's founder Roman Arnold has employed a direct sales strategy, a move that was "disruptive," when the brand was born, Aldorf said, especially in the late '90s before internet sales were much of a thought in most bike companies' long-term plans. But it backed up that decision with strong customer service–many Canyon buyers send their bikes back to the service center at its headquarters in Koblenz, Germany, for work as simple as a tune-up–and it developed trust among consumers that it wasn't a here-today-gone-tomorrow online brand. Since it doesn't share margin with a distributor or retailer, Canyon can pass savings on to the consumer, so its bikes generally offer a pretty killer value proposition.
The company invests money back into the sport through sponsorship of top-level road, mountain and triathlon teams. On the mountain side, it sponsors enduro, xc and freeride teams (the factory enduro team, led by Fabian Barel, is at the top of the Enduro World Series team rankings heading into the final two rounds).
Canyon assembles and ships all its bikes from its headquarters in Koblenz, and each bike is inspected and test-ridden by an employee before it leaves the building. This fall, it will open a new, 36,000-square-foot $20 million assembly facility that will bring assembly capacity up to 450 bikes per day during peak production. The state-of-the-art factory will be modeled after an auto assembly plant, with bikes passing through 18 individual stations via conveyer belt. Each station will be equipped to allow workers to swiftly switch between bike types and builds depending on what comes down the line, in order to increase efficiency and output.
The additional capacity is a move by Canyon to ready itself for the inevitable spike in production as its global business grows, and North America will undoubtedly be a significant part of that.
Related:
Intense Announces M16 Carbon Downhill Bike – Eurobike 2015