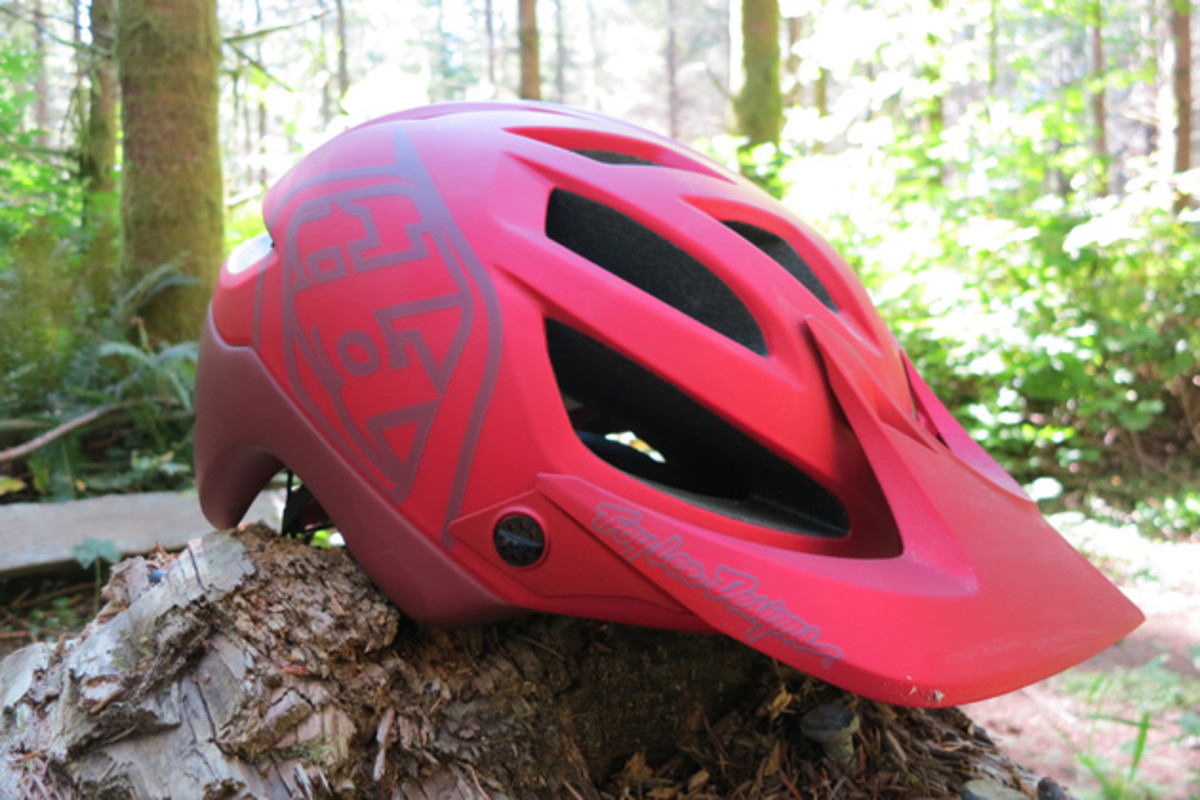 By Vernon Felton
Tested: Troy Lee Designs A1 Drone | $140
Remember when helmets came in two flavors: full-face storm trooper or swiss-cheese forehead thong? It was a bit of an all or nothing kind of proposition. Okay, that's probably overstating things since even the most waifish of cross-country brain buckets actually provides an outstanding level of impact attenuation (i.e., they do a marvelous job of preventing your skull from fracturing). Still, there's no denying that most mountain bike helmets were hunched over on either end of the protection spectrum, which is crazy. Most riders don't categorize themselves as either cross-country or downhill racers, so why were helmet designs ignoring the vast middle ground?
And then along came the fuller-bodied helmets. Whether you want to argue that the enduro helmet trend began way back when with the Giro Xen or more recently with the Poc Trabec is sort of a moot point—these happy middle ground lids are becoming the norm for trail riding. That's a good thing. Any time you can increase coverage, improve ventilation and maintain the protective quality of the average helmet is a very good thing. Bikes have only gotten better in recent years and many of us are riding faster, more technical lines than we would have dreamed possible a decade ago. We can use the extra coverage.
Which brings us to Troy Lee Designs' A1 Drone helmet. Originally introduced a year ago in a finish that would have fit right in at the annual Players Ball, the A1 is now available in several more mass-friendly colors, including this fetching red-anodized "drone" finish.
The A1 is a Troy Lee lid, so you probably expect it to look good. That's kind of what TLD does. He makes gorgeous brain buckets and the A1 is no exception. But you probably don't give a damn about how bitching your head looks when you auger at Mach 5 into something sharp and pointy.
The designers at Troy Lee Designs spent three years sweating the details on this helmet alone. That is a metric shit-ton of time, but when you strap on the A1, you start to appreciate that level of OCD. Troy Lee's A1 is, in my book, the most comfortable trail-riding helmet on the market. Period. That's saying a hell of a lot.
It's not like Bell, Specialized, Giro, Poc or any of the other scores of helmet manufacturers have been passed out in the gutter lately. There are a ton of great helmets pummeling one another for primacy in this niche. Still, I've ridden the bulk of them and nothing fits my noggin like the A1. Granted, fit is a personal thing, so you can take my assessment with a pound of salt, but still this thing is impressive as hell. The A1 sports a very plush comfort liner that holds up well over time and resists funk (it's anti-microbial). What's more, the retention/adjustment system is excellent. The large dial is easy to spin, even with gloved hands, and gives precise, even tweaks to the tension.
My only gripe with the helmet is the ventilation, which isn't bad, but could be better. It's not as if the A1 is lacking for vents. It has 16 of the suckers and they are pretty damn big vents at that. Still, air doesn't flow through the A1 as consistently and forcefully as it does on some of the best helmets in this category. Don't get me wrong, I'm not suggesting that this is a sauna for your brain, it's just that air flow is the one area where the A1 doesn't outright shine. I've gone back and forth all spring and summer between an A1 and a handful of other lids and I keep coming to that conclusion.
Still, I wouldn't let that stop you from checking out this helmet. For starters, when the mercury isn't soaring, this is one damn comfortable helmet. More to the point, the fit and finish are absolutely impeccable.